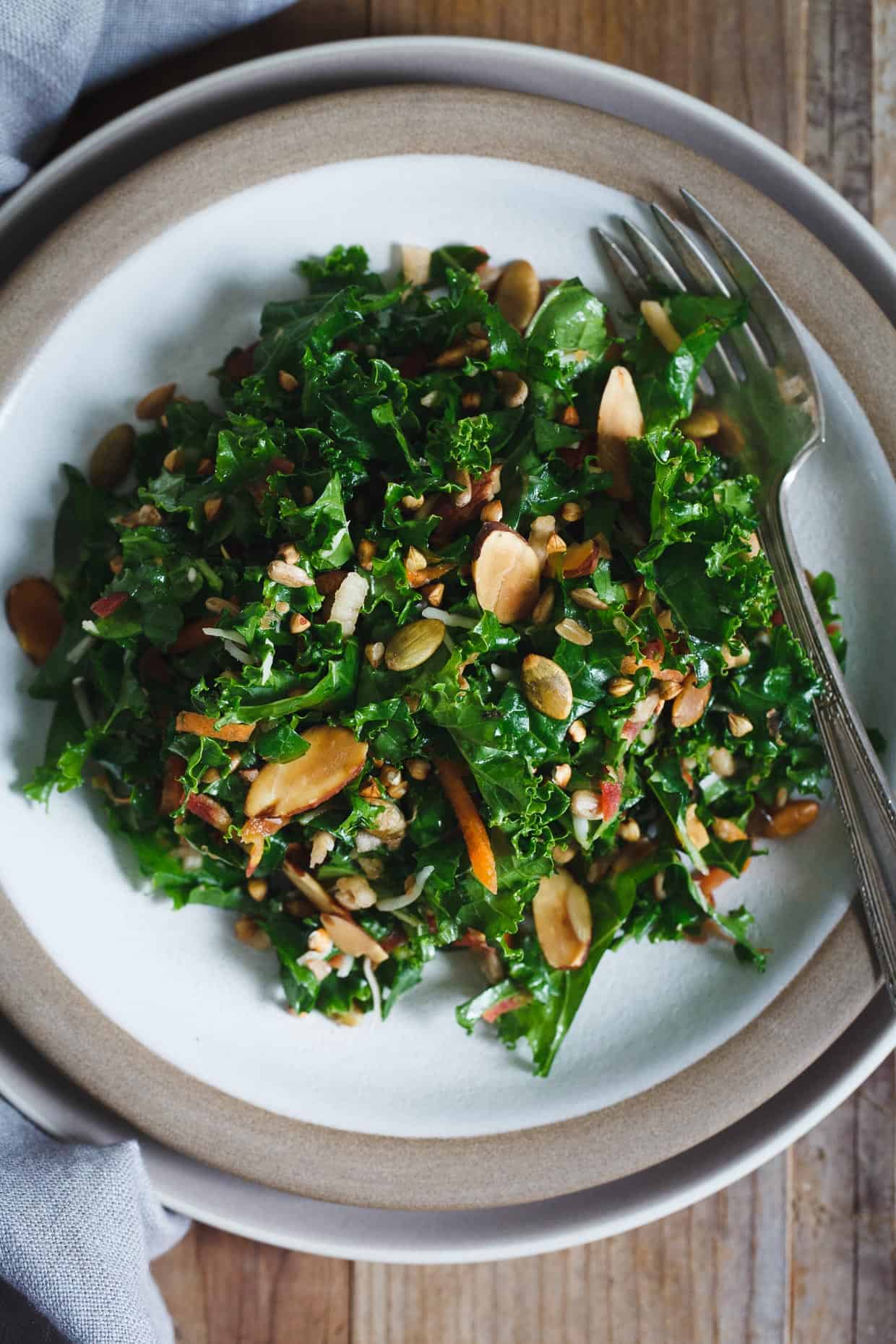 We've been eating a lot of quick meals since Zoella was born. And we're doing a killer job of cleaning out our pantry, fridge, and freezer, all while trying to avoid going to the store with a baby who hates the car. This chopped kale salad with shredded apples, carrots, and allofthenuts/seeds/grains satisfies both those demands.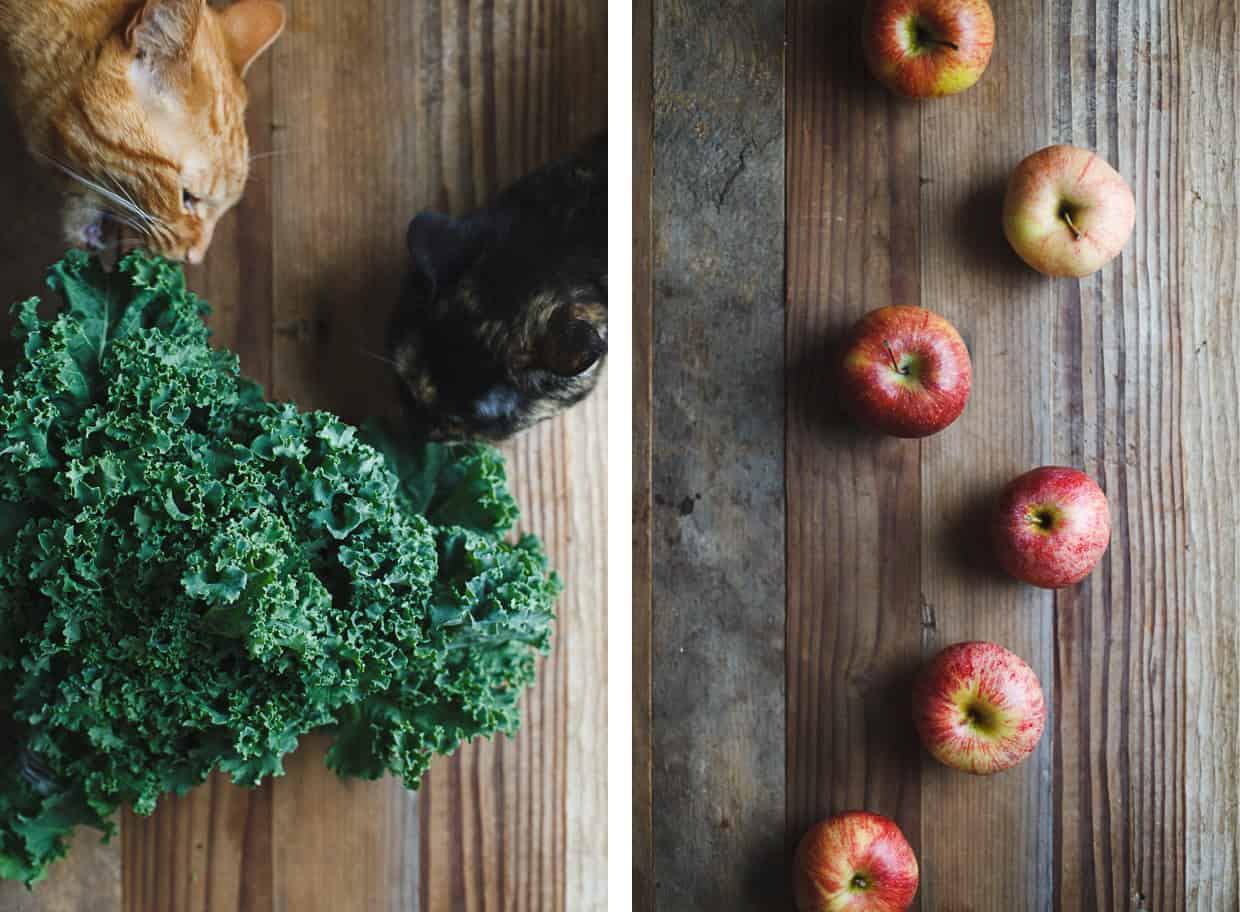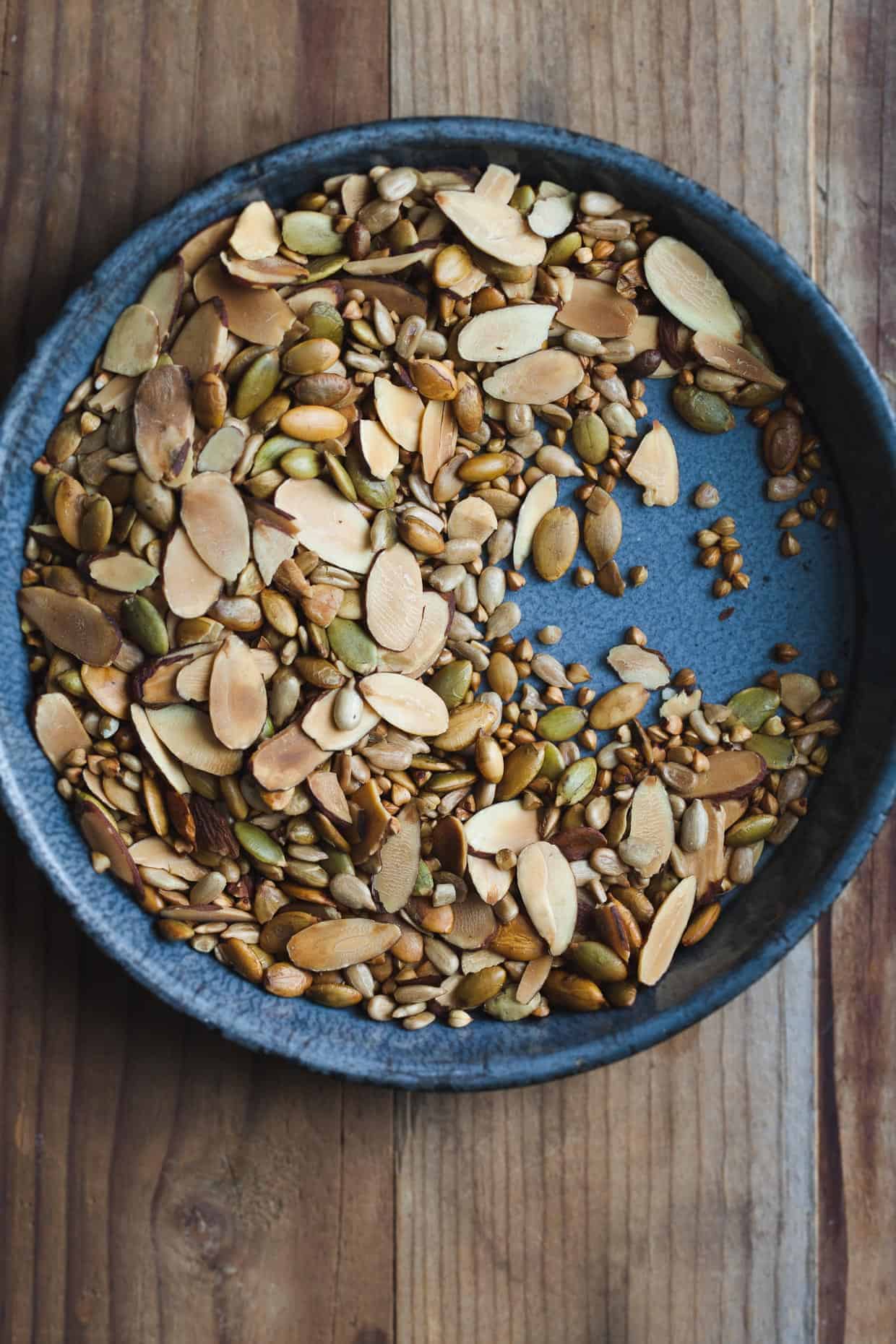 I composed lines of this post in my head as I went to bed last night, which was clearly productive (sarcasm) as I remember none of them and is most definitely a bad way to lull yourself to sleep because I woke from a stress nightmare at 4am in which I was under deadline to read two novels and write three 15-page papers by today, all while attending a full day of classes.
...Metaphor for new mamahood?
But the perks of parenting are much much better. Since I last posted (a month ago - eep!), Zoella has become a regular smile charmer. I've never been an early riser (or really one who likes getting out of bed ever - I can sleep until 1pm easy), but waking up to a bright-eyed, ear-to-ear gummy smiler chattering away is the best. The very best. Even if she's just delighted by her morning poops - each toot inciting a little more giggle than the last. I get it, girl.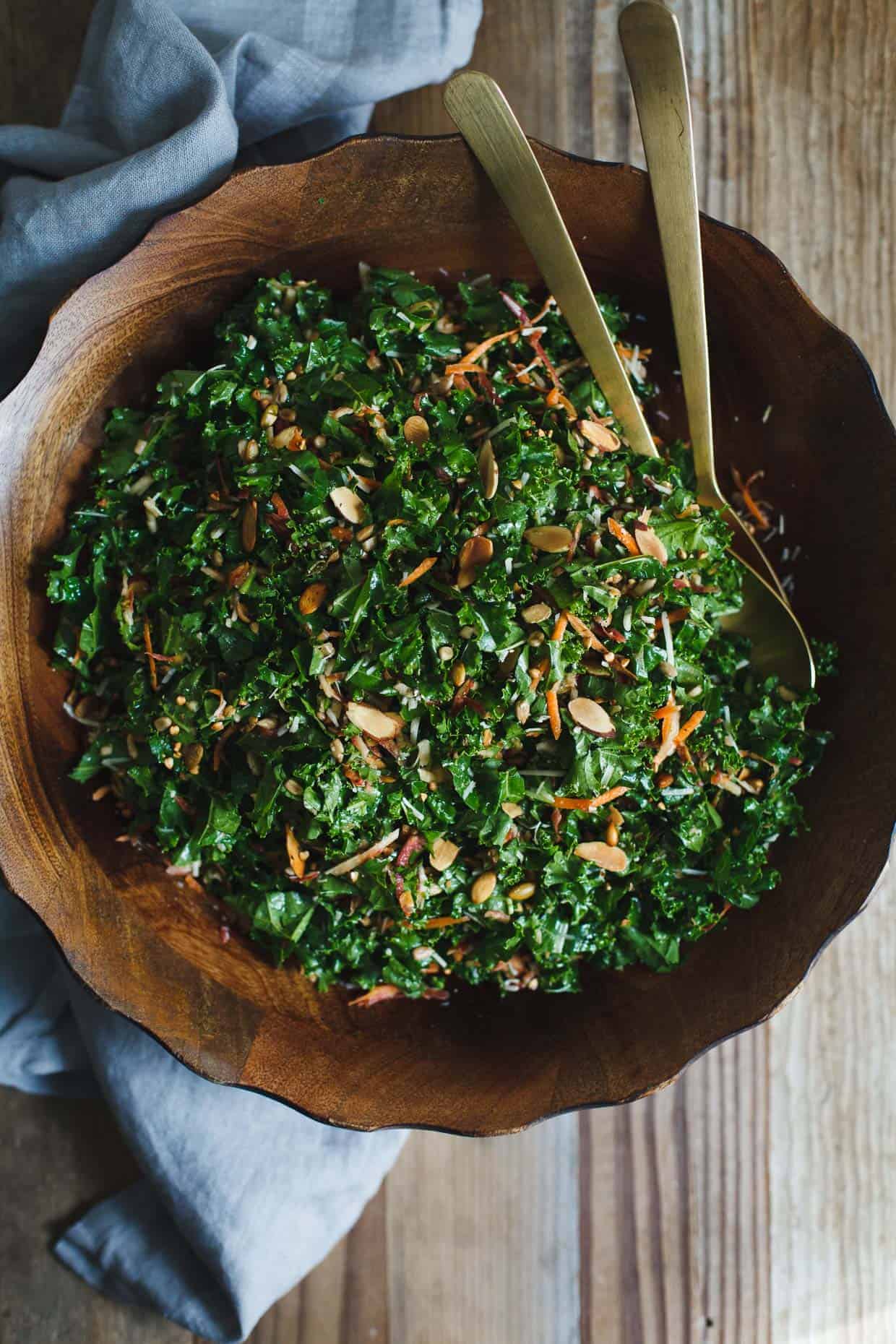 Since my KitchenAid stand mixer is too heavy to drag around on a walk with us, we've found a baby-approved portable soothing sound iPhone app. My phone is no longer my phone. It is a hairdryer and it belongs to the baby. The choice is: listen to a hairdryer or a screaming baby. At least now I never misplace my phone. Never mind the curious looks from passersby when I'm trying to keep the babe from losing her cool on the walk home from the market. Simply smile and wave, "just out on a walk with my hairdryer!"
Todd suggested I carry an actual hairdryer around with the cord tucked into my pocket. You know, so people aren't confused.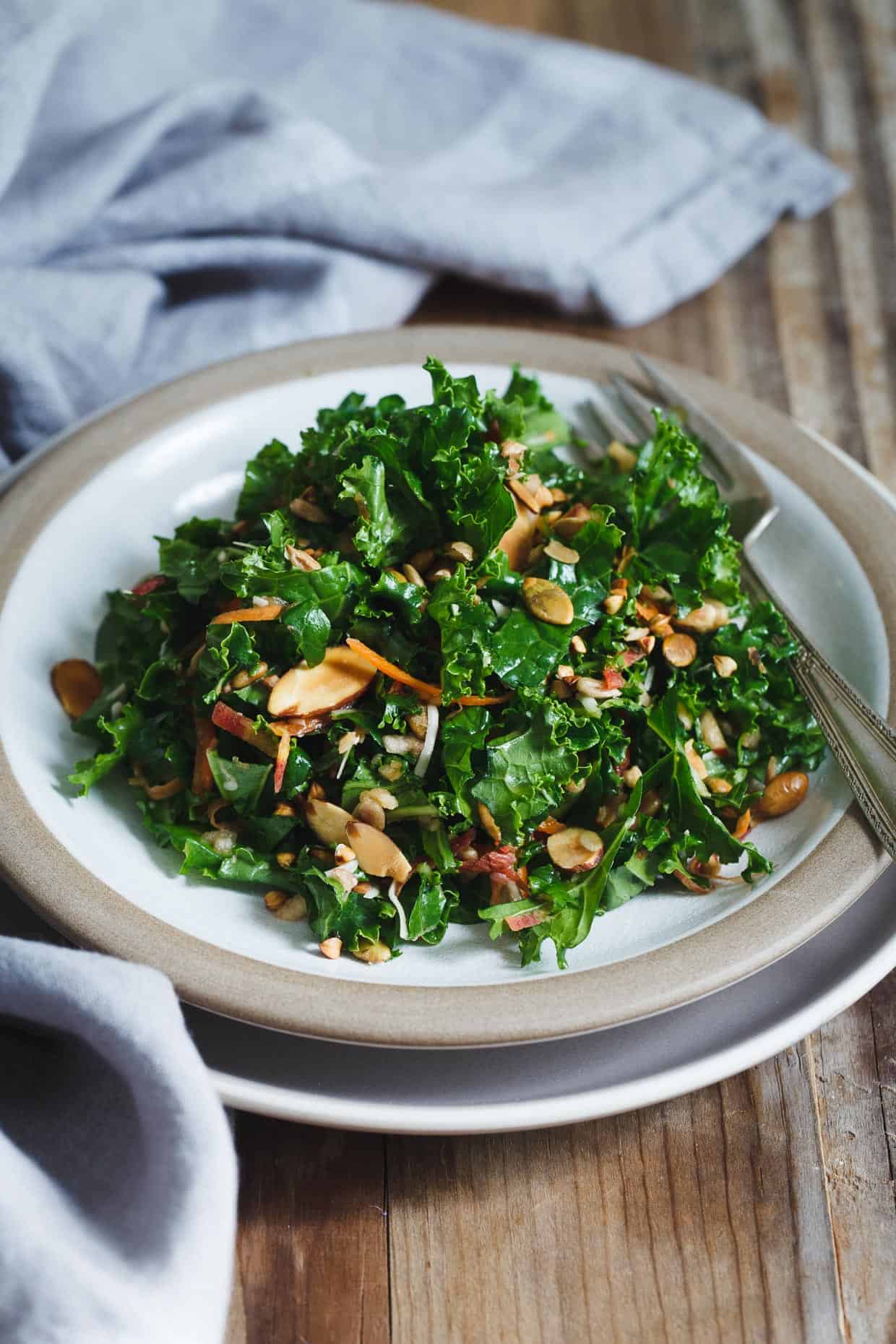 This chopped kale salad is courtesy of the remnants of my fridge and pantry. Really just an excuse to work through the bags of nuts, seeds, and grains occupying an entire shelf in our (albeit tiny) pantry. I've kept a bag of chopped kale in our fridge for salad emergencies ever since Alanna and I styled this lemon garlic kale salad for the New York Times. My festive rainbow version draws inspiration from the simplicity of that salad and the tart shredded apples in the kale salad from Poulet here in Berkeley.
Massaged with olive oil and lemon juice, kale softens into submission. Shredded apples and carrots add a punch of sweet and a pop of color, and the toasty roasty nuts, grains, and seeds give it sticking power, turning the whole affair into more of a hearty meal than a salad. Serve it as a side or toss in some seared tofu cubes as a main course.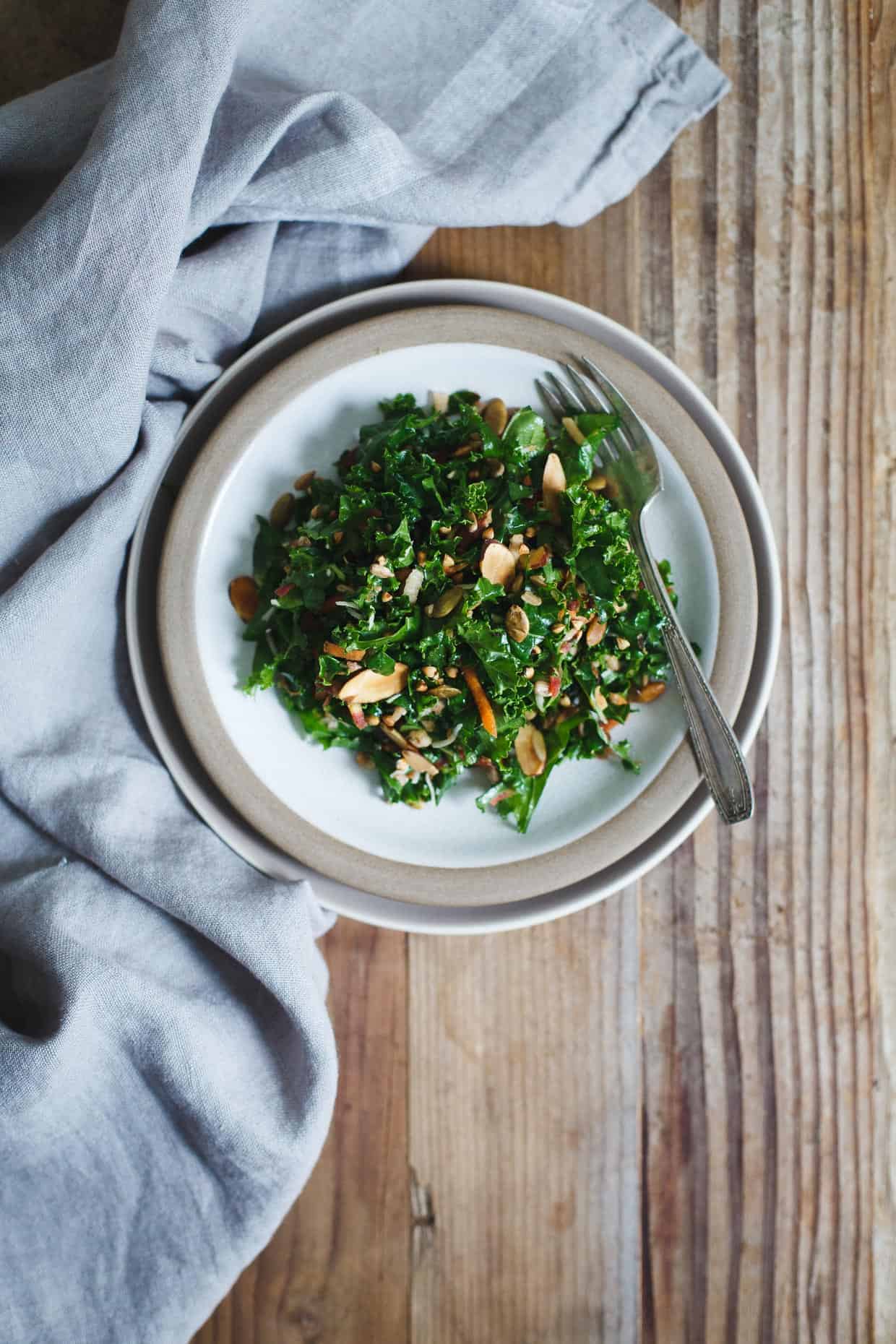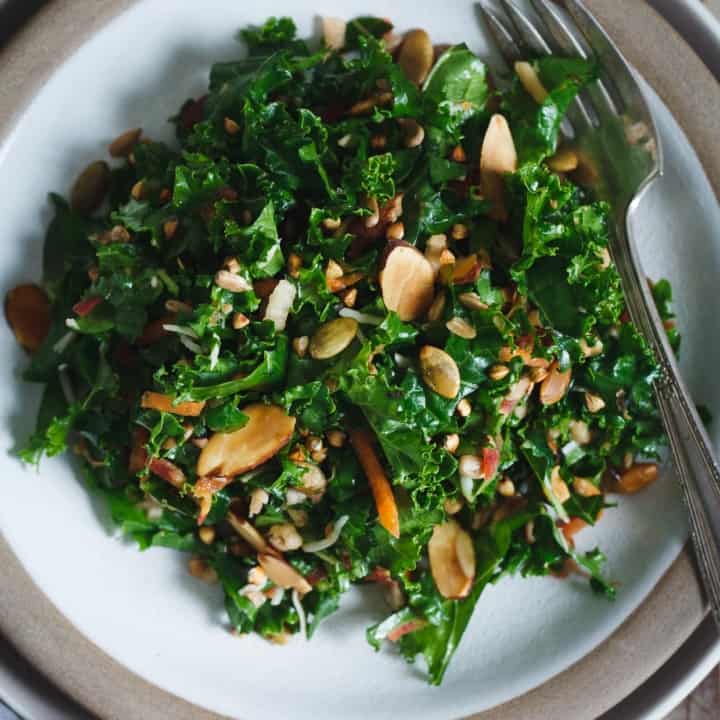 Kale Salad with Toasted Nuts, Seeds, & Buckwheat
Ingredients
⅓ cup pepitas
⅓ cup sliced almond
¼ cup sunflower seeds
¼ cup buckwheat groats
½lb washed and dried stemmed kale leaves, chopped (from a 10-12oz bunch)
1.5 tablespoons olive oil
2 gala apples, cored and shredded*
2 large carrots, shredded
¾ cup freshly grated parmesan cheese
2 tablespoons lemon juice from 1 large lemon
Salt & pepper, to taste
Instructions
Preheat the oven to 325°F. Combine the pepitas, sliced almonds, sunflower seeds, and buckwheat groats on a small baking sheet and toast in the oven until lightly browned and toasty, 15-18 minutes. Let cool.
In a large bowl, massage the olive oil into the chopped kale leaves and let rest while you prepare the rest of the ingredients.
Toss in the shredded apples & carrots, grated parmesan cheese, and two tablespoons of lemon juice. When the seeds and nuts have cooled, toss them into the salad and season to taste with salt & pepper.
Notes
*Really any apple will work, but I chose gala as they're less prone to browning quickly! If you're planning on serving it right away, no need to worry about this!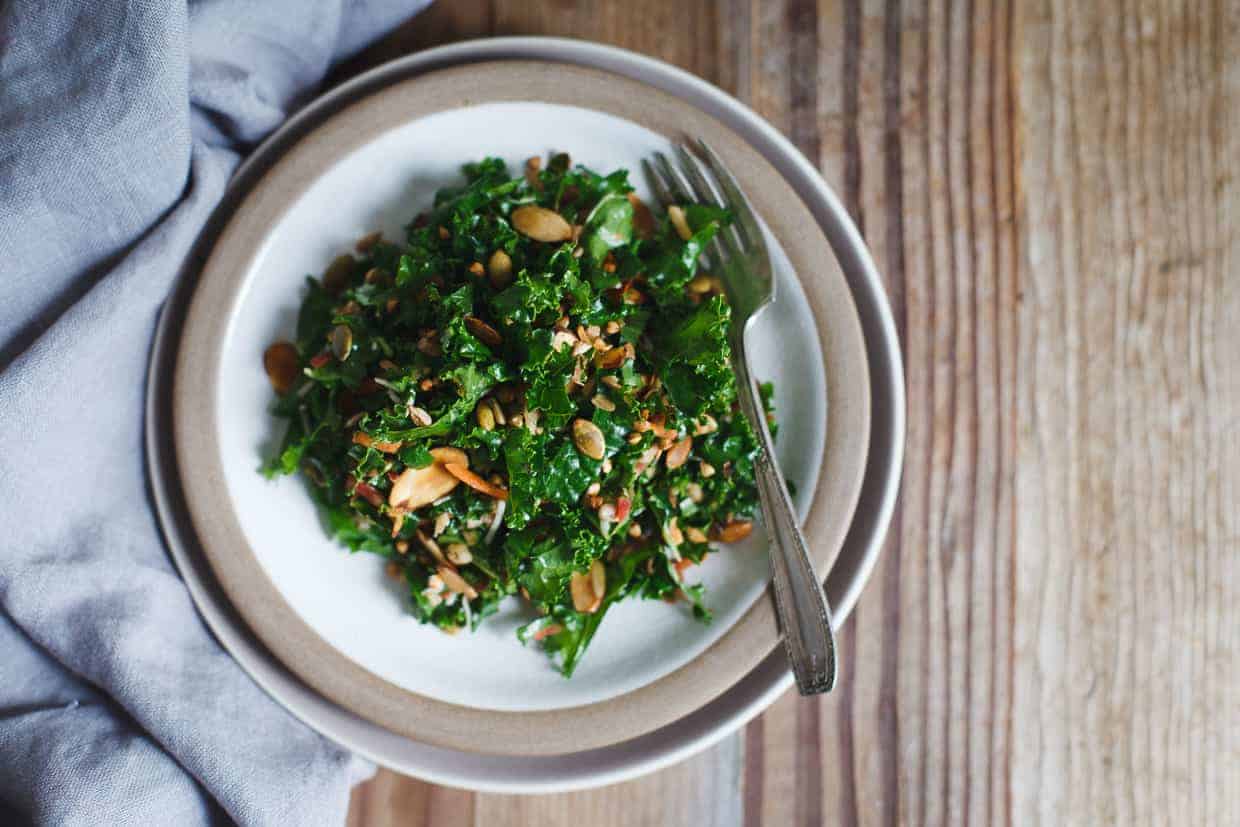 This is a spring pantry purge, so don't feel stymied by my almond/buckwheat/sunflower seed/pepita combo - just toast up whatever you've got on hand!