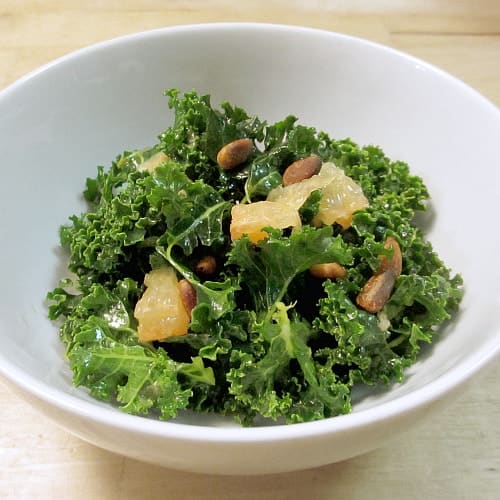 In addition to my citrus kick, I've been on a mission to figure out a way to cook kale. Truth be told, it's always scared me; I once baked kale chips and they were a little bitter. I never ate kale growing up, and I'm not sure I've ever been served a dish with kale. What does it taste like? What if I hate it? What if it's poisonous?! Worse, WHAT IF IT TASTES LIKE CILANTRO?!!! Today, I would face my fear and tackle the leafy green that the produce market is busting at the seams with. Maybe if I pair it with my beloved citrus, I could guarantee a win? To attempt this pursuit, I've been scouring the blogs for a foolproof kale recipe for the past week. In this quest, I came across a kale salad with grapefruit idea and decided to make it happen. And, by incorporating grapefruit, this salad was a perfect addition to citrus saturday (spiced orange buttermilk biscuits and seared scallops with blood orange gastrique).
We ate kale tonight AND WE LOVED IT. I think Lucas's exact words were, "where has kale been all my life?" I need to get with the program and serve kale more often. I tweaked the above recipe, using lemon infused olive oil, adding balsamic vinegar, and substituting roasted pine nuts for pumpkin seeds. The best part is, kale is super sturdy and stands the test of time; I made the kale salad, dressing and all, and though we didn't enjoy it until two and a half hours later, it was still crunchy and full of life. If this experience is at all telling, it's an ideal salad for a potluck or picnic!
Kale, ruby red grapefruit, and pine nut salad (Adapted from Sage Recipes)
Serves 2
½ a bunch of kale, center stalks discarded and leaves ripped into bite size pieces
½ tablespoon lemon infused olive oil (or extra virgin olive oil)
1 teaspoon balsamic vinegar
¼ teaspoon kosher salt, or to taste
Freshly squeezed juice of one lemon
1 ½ ruby red grapefruit
3 tablespoons pine nuts, roasted
In a large bowl, add olive oil, balsamic vinegar, salt, and lemon juice to kale pieces. Using hands, massage the kale for a few minutes until the leaves are softened and coated with oil.
Slice off the top and bottom of each grapefruit. Run the knife down the sides of each grapefruit removing the peel and pith. Using a paring knife, cut the fruit segments apart form in between the membranes. Cut pieces into bite-sized chunks.
Add the grapefruit pieces to the kale and top with pine nuts.