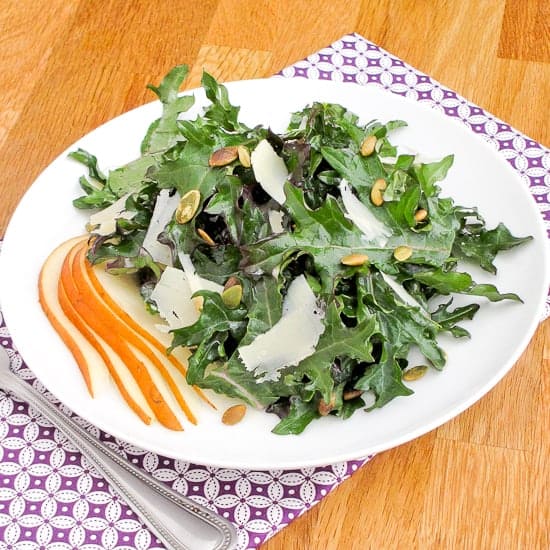 At first glance, it appears that I cook with kale all the time. This assumption isn't all that accurate since I've only cooked with it a total of three times - they just all happen to be within the past month. What is true is that I've been trying to become more aware of what's in season, and I've consequently become much more adventurous in my eating habits. Kale is an addition from this endeavor that will take up permanent residence in my rotation of recipes.

The kale featured in this salad came from our excursion at my cousin's farm - freshly picked less than 24 hours prior to being served. Scott recommended serving it with bacon, and I have no doubt that it would have been incredible, but I didn't plan my lunch ahead of time and all the stores were closed for President's Day. At around midnight last Sunday, I realized that I had invited my friend Sarah over for lunch the next afternoon and it was too late to go shopping. Not my namesake Sarah - you'll discover I have no less than a billion Sarahs in my life. With the challenge of using only ingredients I had on hand, this salad was born. Wow. It is super tasty - well done, kale, well done. The pear, pepitas, and parmesan paired well with the lemony greens to create a really light, healthy, and tasty salad.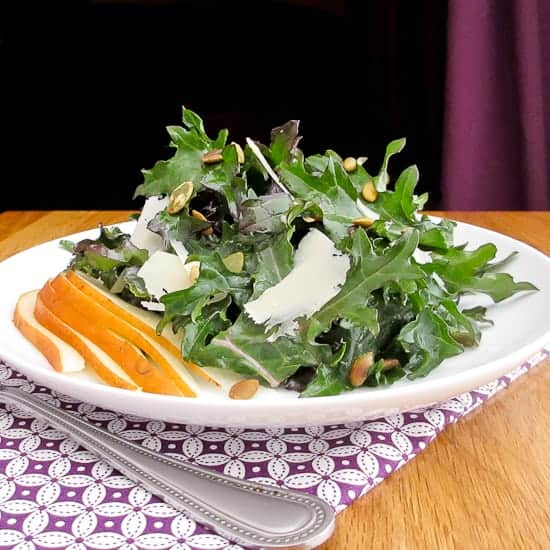 Arugula used to be my go-to leafy green, but I think kale is sharing its spot on the pedestal. Kale is bursting with flavor where other greens are often lacking; a sampling of a fava leaf on the farm paled in comparison. As a result, you don't really need much dressing to make a kale salad delicious; I just rubbed some fresh lemon juice and olive oil on the leaves. What's more, kale is also chock full of beta-carotene and many other super beneficial nutrients.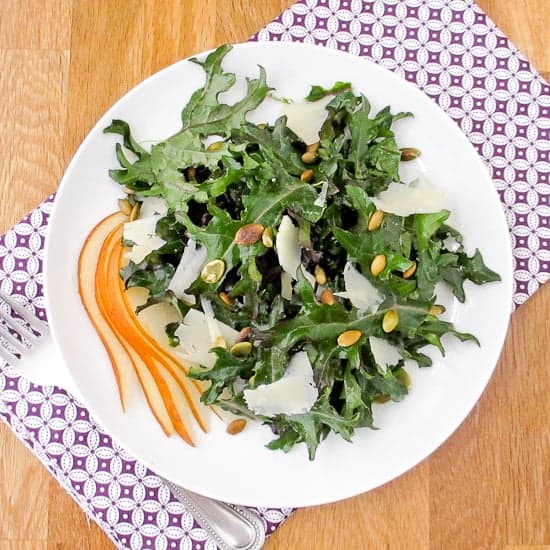 I realize I'm a bit late in posting this, but my photo editor boyfriend was off in Taiwan being all important for about 17 hours each day. Add the 16 hour time difference to his busy schedule and coordination was next to impossible. Less than two hours after touching down at SFO, we packed up the car and headed up for Tahoe to test our ski legs out on some rock hard ice. So I'm sorry for the delay - I hope you're not starving.
Lemony kale, pear, and pepitas salad
Serves 2-4
1 bunch of kale, ribs removed and leaves ripped into bite-sized pieces
1 Bosc pear, quartered, cored, and thinly sliced
Freshly shaved parmesan, to taste
⅛ cup pepitas, lightly toasted
1 lemon
1 teaspoon - 1 tablespoon olive oil, to taste
Kosher salt and freshly ground pepper, to taste
Sprinkle olive oil and lemon juice over kale. Use hands to massage oil and juice into leaves until every leaf looks moist. Add salt and pepper to taste.
Top with pepitas, parmesan, and pear. Serve. The salad can be made ahead of time and stored because kale is just that awesome.