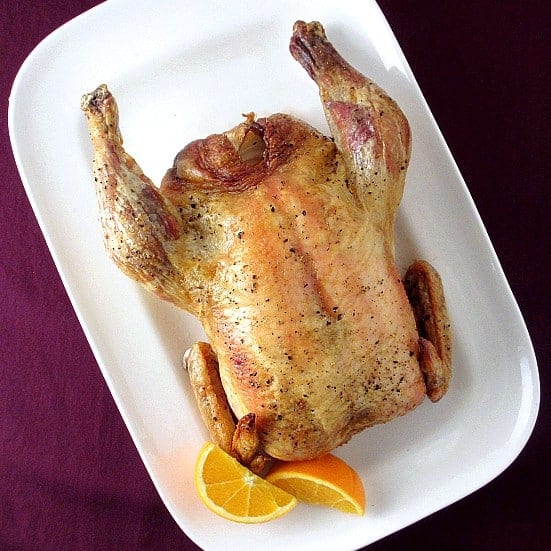 It's hard to get motivated to cook elaborate meals for one when your boyfriend is out of town. Lucas had planned to be in Taiwan this week when I made my ambitious plan to roast a whole chicken to use in all my dishes throughout the week. His work schedule kept him in the bay after all, but I decided there was no use re-drafting the rest of my week's worth of meals and I forged right ahead with my original plan. This week, then, is dedicated to all those people cooking for one. This project is inspired by my mom, who, now that my dad is traveling during the week for work, creatively finds ways to turn one ingredient (like a whole roasted chicken) into multiple delicious meals. I hope to prove you can still eat flavorful dishes when you're cooking for one (and don't want to put forth the same effort as when you've got a guinea pig someone else to enjoy your food with you).
I've never roasted a whole chicken before, and, in retrospect, it probably wasn't a grand idea for someone with an oven that barely fits a 9x12 baking pan and can't control its own temperature. Oh, and did I mention that I don't own a meat thermometer (adding that to my dream kitchen wish list)? My plan got off to a rough start when I accidentally grabbed the scalding hot oven rack with my bare hand (rather than the one donning a bright orange oven mitt). Oops. The burn from when I punched the broiler on New Year's Eve hadn't even finished healing yet! After the NYE incident, Lucas and my mom found me a pair of gardening gloves that I was instructed to wear while cooking, but I gave up after one use when I realized the gloves fooled me into thinking I was wearing mitts and I still grabbed the blazing cast-iron skillet. It seems I need a second oven mitt, and I need to wear them anytime I'm near a kitchen.
I'm happy to report that after 1 hour and 20 minutes in the oven, the chicken ended up with a much better fate than my left hand. Luckily I was able to borrow a meat thermometer (that read in °C) from my landlords (they are always coming to my rescue whenever I decide on a whim to make a dish like mashed potatoes without a potato masher). I pulled the chicken out of the oven after the thermometer read 83°C and the dial pointed to the picture of the chicken. It took only 5 minutes longer than the butcher predicted, and I think it was the juiciest chicken I'd ever eaten. I didn't add any spices to the rub - just olive oil, salt, and pepper - because I am going to flavor it later in the week when I add it to (SPOILER ALERT) dishes like tortilla soup, veggie burritos, and savory crepes. I did, however, add a sliced up orange and half an onion to the cavity, which I'd like to say helped make it so tasty, but I cannot conclusively say whether it had an effect. Maybe next time I'll be scientific and test it without to compare outcomes. Regardless, I feel pretty successful with my first whole roasted chicken - maybe I'm ready to bake the turkey on Thanksgiving? (HA!).
Whole Roasted Chicken
1 whole chicken (I used a 4¾ pound free-range organic chicken)
Kosher salt and freshly ground pepper to taste
Approximately 1 tablespoon olive oil
½ onion, quartered
1 orange, quartered
Your favorite spices (optional)
Preheat oven to 375°F.
Remove the giblets and refrigerate for future use. Put the chicken on a wire rack above a roasting pan (or, as in my case, a broiler pan). Rub chicken with olive oil, salt, and pepper (and other seasonings of your choice, if you wish). Stuff the cavity with orange and onion slices.
Roast until a meat thermometer shoved into the thickest part of the thigh reads 180°F. The rule I've heard is that you need about 20 minutes for each pound, plus an additional 20 minutes, but I checked my bird every 10 minutes after the hour and took it out as soon as it hit the right temperature to make sure it was super juicy.
Let stand for 20 minutes. Carve and serve with your favorite sides (we pair it with paprika roasted broccoli and a soy sesame vinaigrette salad).