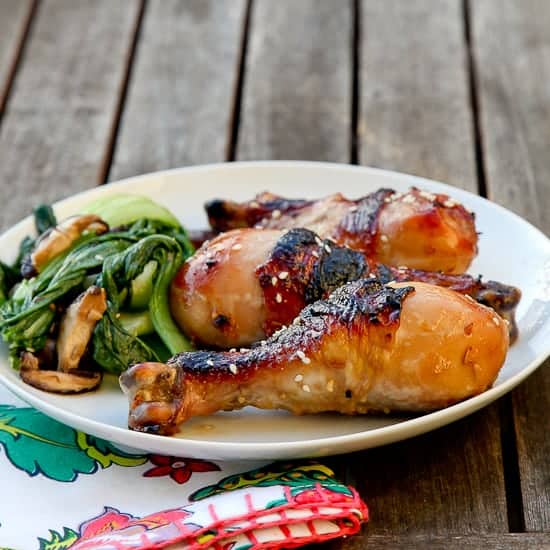 Getting a cold in July is the pits! It's sunny & warm, and all you want to do is go play outside, but you're stuck on the couch with a box of tissues. That's how I've spent the past four days. The weather was perfect for grilling this weekend, but even the thought of spending more than five minutes tending to dinner made me tired. Baked chicken is my favorite solution for times like these. Perfect for when I'm too sick to cook or just don't feel up to fussing over dinner, but I still want to eat something tasty and homemade.
Chop, marinade, bake, eat. That's it! The amount of active time required for this chicken is less than what it takes to heat up a bowl of chicken noodle soup. To be upfront with you, I didn't bake this chicken this weekend while sniffly, but rather on a day when I just didn't have any energy left to plan and prepare a meal. Oh, the life of a grad student studying for quals! However, given that I was able to muster up enough steam to make grilled cheese and spinach sandwiches on Sunday, I could have easily saved myself time by just sticking this chicken in the oven. If the hardest part of a dish is chopping some garlic and ginger, there's really nothing stopping you from making it.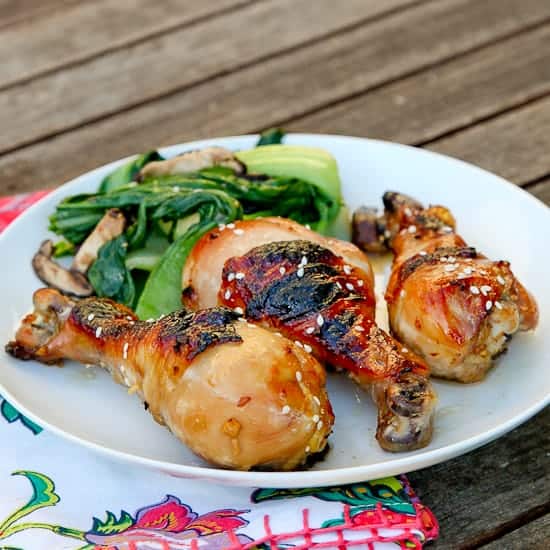 Rather than my go-to quick lemon pepper chicken, I swapped out the lemon juice with honey soy sauce marinade for a sweet and salty makeover. These drumsticks looked and tasted like they were tossed on the grill, but required way less hassle. When you're feeling exhausted, this dish gives you the feeling of something that took time and forethought without all the work. Each bite is super moist and so addicting that you won't be able to keep yourself from licking the sweet and savory glaze off your fingertips.
Honey soy sauce chicken drumsticks
Ingredients
6 chicken drumsticks
2 tablespoons honey
3 tablespoons soy sauce
1 tablespoon garlic, minced (about 1-2 cloves)
½ tablespoon ginger, minced
½ teaspoon sesame seeds
Instructions
Combine the honey, soy sauce, garlic, and ginger in a Ziploc bag. Add the chicken and seal, removing as much air as possible. Refrigerate to marinate for an hour.
Preheat oven to 425ºF
Lay chicken on a parchment-lined baking sheet. Bake for 25-35 minutes, or until a thermometer inserted into the thickest part reads 160ºF. Every 10 minutes, brush some of the remaining glaze on the drumsticks.
Turn on the broiler and boil the chicken for 3-5 minutes, until crispy. Top with a sprinkle of sesame seeds and serve.