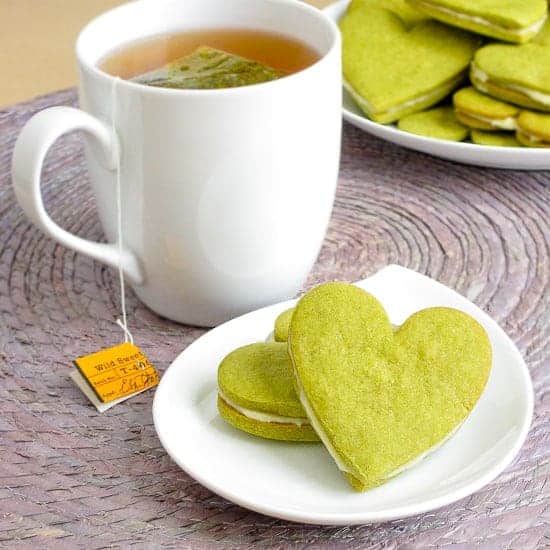 Phew! I churned out a 22-page paper yesterday, and I'm celebrating this small success with cookies. Yes folks, that means there's a draft of my third qualifying paper on the table! Major edits will be in the works over the next couple weeks, but for now, I've composed some semblance of a theory on how discursive positioning relates to students' developing mathematical identities. Just putting something down on paper is a major hurdle in my writing process, one that helps me see that there's an end in sight and I'm making strides toward it. This deadline crept up and surprised me; as it turns out, time doesn't stop when I'm off at conferences. Combine the sneaky due date with my notorious procrastination and you'll understand why there's been radio silence on my end. When I finally buckled down and got to work, distractions weren't allowed - no sleeping, no showering, no sunlight, no blogging, no fun. I justified an exception for cooking, because I needed brain food, of course. And, as a big blue monster once taught me, cookies are the only acceptable snack in these situations.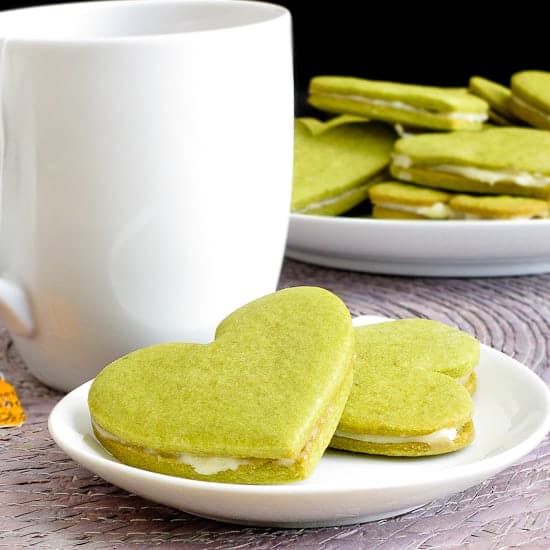 The mere thought of these cookies made my tummy grumble enough to make me go get one before I could continue writing. A friend who dates back to my elementary schools days came for tea on Sunday afternoon, so a sweet to nibble on was in order. What's more fitting to accompany tea than tea cookies? Better yet, tea-flavored tea cookies. A little baggie of matcha powder has been tempting me from atop the fridge, leftover from St. Patrick's Day cupcakes. When you really think about it, these are tea tea cookies as a side dish for tea time. Tea treats are usually tiny, meant to discourage large portions, and, in that respect, these cookies failed; like pringles or popcorn, you can't eat just one...or two...or three. They're that delicious.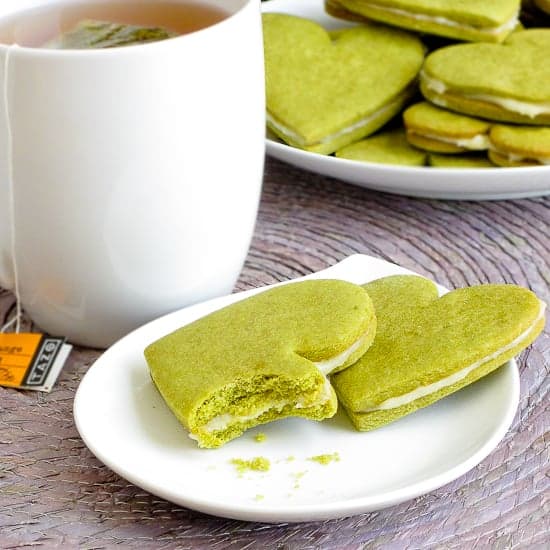 In an early morning text chat with my Nana, she offhandedly recommended sandwich cookies for the occasion. This baking advice was a stroke of genius - a thin layer of creamy honey frosting made each bite taste like a refreshing cup of sweet green tea. Taken from my pumpkin cupcakes (you'll get a taste of these come fall), this frosting is so addicting that you'll find that it's hard to resist eating it by the spoonful. As soon as the matcha cookies emerged from the oven, Lucas was hovering close by, dunking them in the mixing bowl of frosting one after another. We devoured eight sandwiches between the two of us for dessert that night - keep in mind that's 16 cookies and about 8 tablespoons of frosting...we're impressive, I know. After hand-cutting heart tortilla chips for Valentine's Day, Lucas's mom gifted me this heart-shaped cookie cutter, which was the perfect way to honor Nana's brilliance with her favorite shape.
Honey green tea sandwich cookies (Adapted from Bijouxs)
Makes about 15 sandwiches
Cookies
½ cup unsalted butter, plus 2 tablespoons
¾ cup sugar
1 egg
½ teaspoon baking soda
1 ½ teaspoons white distilled vinegar
2 ⅓ cups flour
½ teaspoon kosher salt
2 tablespoons matcha powder
Frosting
¼ cup butter, room temperature
½ cup cream cheese, room temperature
¼ cup honey
Whip the butter and sugar together in the bowl of an electric mixer until light and fluffy.
Add the egg and mix until combined.
Dissolve the baking side in the vinegar, and add it to the butter mixture. Mix until combined.
In a medium bowl, whisk together the flour, salt, and matcha powder.
Slowly add the dry ingredients to the batter, mixing until a crumbly dough forms.
Use your hands to form the dough into a ball. Wrap it in plastic wrap and flatten to form a disk. Chill for 30 minutes.
Meanwhile, preheat the oven to 350ºF.
Once the dough has chilled, roll out half of it on a floured surface to a ¼-inch thickness. Keep the other half wrapped to keep it from drying out. Use a cookie cutter to cut your favorite shapes and transfer to a parchment-lined baking sheet., leaving about ½-inch between cookies. Repeat with remaining dough.
Bake for 8-10 minutes, until just beginning to turn golden brown. Let cool before frosting.
While the cookies cool, combine the butter, cream cheese, and honey in the bowl of an electric mixer and beat until well mixed.
Spread just under a tablespoon of frosting between two cookies and serve with a cup of warm tea!