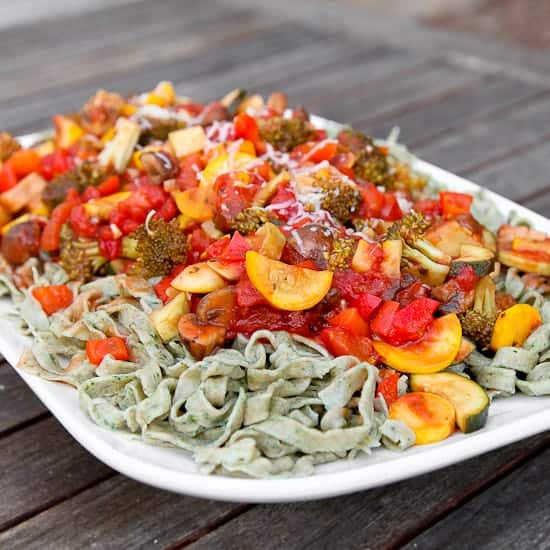 I have a secret to admit. I took a break from cooking for the past week. The cold that crept up on me in July kept me out of the kitchen. Now that I'm mostly recovered, I'm finding it very hard to get motivated to cook for one person with Lucas in China. The good news is that I've been slowly making a dent in my frozen leftovers - ha! After digging into a subpar ready-made burrito for dinner, I'm ready to put my apron on again. My cooking hiatus is giving me time to finally share some recipes I've been saving for a rainy day. This healthy whole wheat spinach pasta recipe has been sitting in my queue for over a month just itching to be shared.
I created this recipe together with my friend Anjali of The Picky Eater, a vegetarian food blog focused on healthy living. Back in March, we chatted about making a long overdue double dinner date. Her husband is in my program, and even though I see him at our weekly research group meetings, it'd been over a year since we'd all gotten together outside of school. Our calendars were so full though that the first evening our schedules coordinated was in June! I felt so silly making dinner plans three months off, but if that's what it took to see each other, then so be it! Even with all this advanced warning, we waited until the night before to plan our meal, like truly organized cooks. When Anjali mentioned she'd never made pasta from scratch before, we knew what we had to do. We set about covering the kitchen in a blanket of flour while rolling out our fresh pasta sheets with the KitchenAid mixer.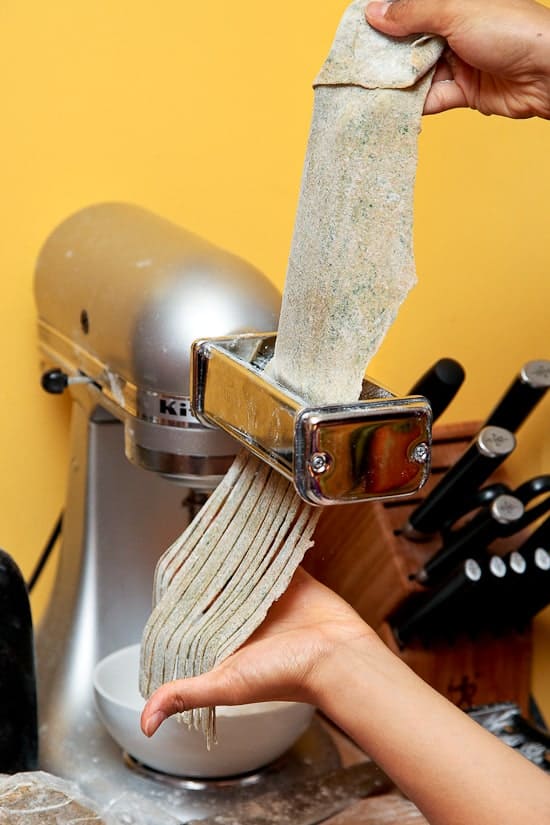 As it turns out, Anjali doesn't yet have her own stand mixer. Knowing how much she likes to cook, I teased her about it, joking that she should have put one on her wedding registry 5 years ago. She admitted that at the time she was more concerned with kitchen basics like plates and forks. Then she recounted a story of trying to make dinner as a newlywed. Not knowing how to open a can, she mutilated the top of the soup can with a kitchen knife trying to get it open. I find this story so endearing because now she's a whiz in the kitchen, coming up with all kinds of unique healthy vegetarian recipes.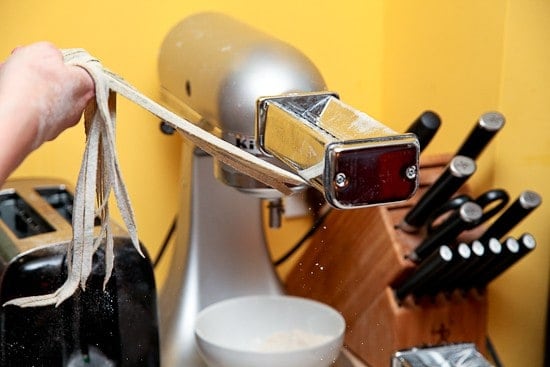 Even though I'd eaten boxed whole wheat pasta plenty and made fresh pasta more than a dozen times, I'd never actually made whole wheat pasta from scratch before. A super woody tasting homemade whole wheat pizza crust I made awhile back left me highly skeptical that I'd like fresh whole wheat pasta. Since Anjali aims to find healthy ways to enjoy delicious food, I put aside these inhibitions and we gave it a shot. Hoping the result wouldn't be too grainy, we added spinach to the dough to offset the often overwhelming whole wheat taste. It worked! To my surprise, this spinach whole wheat pasta is much more mild on the wheat flavor than many whole wheat options, and it isn't gritty at all. The loads of fresh summer vegetables soaked in tomatoes added texture and refreshing flavors, making a usually heavy pasta dish feel light and healthy.
Homemade spinach whole wheat pasta primavera (Made with The Picky Eater)
Serves 6-8
Spinach whole wheat pasta
5 ounces spinach leaves (about ¼ cup puréed)
2¾ cups whole wheat flour
1 cup all-purpose flour
5 large eggs
2 tablespoons olive oil
¾ teaspoons salt
Bring a medium pot of water to boil. Add the spinach and boil for about 5 minutes. Strain and let cool.
Once cool, ring the spinach dry with a paper towel or kitchen towel to remove as much water as possible.
Purée the cooked spinach in a food processor for a minute or two. At this point, you should have about ¼ cup of puréed spinach.
In the bowl of an electric mixer, sift together the flour and salt.
In a separate bowl, whisk together the eggs, olive oil, and spinach purée.
Add the the egg mixture to the flour and, using the paddle attachment, mix until combined. The mixture will still be crumbly at this point.
Using your hands, knead until the dough forms. In my experience, the mixture tends to be dry, so I add ½ teaspoon of water at a time while kneading, as needed. Knead until dough is smooth and elastic. Wrap in plastic wrap and let rest for 30 minutes.
Meanwhile, prepare your pasta sauce.
Bring a large pot of salted water with a splash of olive oil to boil.
After 30 minutes, cut dough into 6 equal pieces.
With a rolling pin or with a pasta maker attachment, roll out one piece at a time, reserving the others in plastic wrap. I had a really hard time rolling the dough by hand before I had the pasta maker attachment, but I hear it's possible. If using a pasta maker, I roll dough to 5 thickness for fettuccine. Be sure to flour both sides of the rolled out pasta as you go so it doesn't get too sticky. Either by hand or using the fettuccine cutter attachment, cut each sheet into thin noodle strips.
Boil the pasta for about 3 to 4 minutes, stirring to keep it from sticking. Reserve 1 cup of pasta water and strain the pasta. Add the reserved water to the noodles before serving with primavera sauce and parmesan cheese.
Primavera sauce
5 cloves garlic, minced
2 tablespoons olive oil
1 crown broccoli, coarsely chopped
1 red bell pepper, chopped
2 cups chopped cremini mushrooms, sliced
About 3 cups of assorted squash (we used about 7 baby squash)
28-ounce can of crushed tomatoes
14.5-ounce can of diced tomatoes
2 teaspoons dried oregano
¼ teaspoon crushed red pepper flakes
Salt and pepper to taste
½ cup to 1 cup Fresh parmesan cheese, grated
Heat the olive oil over medium heat in a large skillet. Add the garlic and cook for 1-2 minutes.
Add the chopped broccoli and bell pepper and cook for about 4 minutes, until beginning to soften.
Add the cremini mushrooms, squash, crushed tomatoes, diced tomatoes, oregano, and red pepper flakes. Cook, stirring, until the vegetables are cooked through and the tomato juices have cooked off. Season with salt and pepper, to taste.
Serve over fresh spinach whole wheat pasta with grated parmesan cheese.