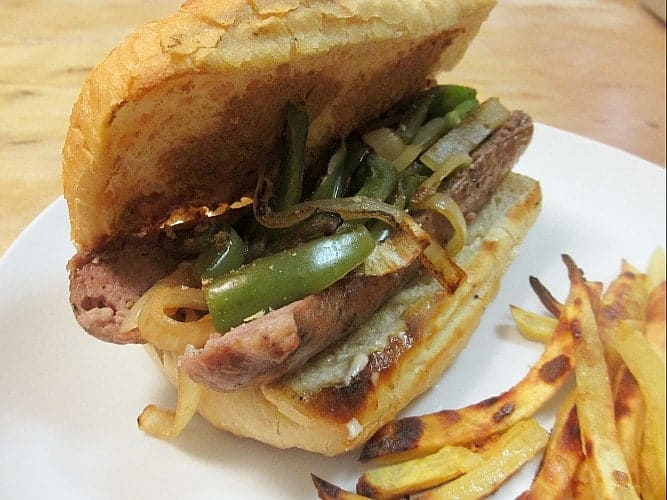 My KitchenAid mixer is one of the most used tools in my kitchen. We recently bought ourselves the food grinder and sausage stuffer attachments, and had been stewing over the different types of sausages we could make. The first time we attempted sausage with our KitchenAid, it was a bit of a flop. Our butcher had scratched out a recipe on a napkin for me when I picked up the meat. I mean, the sausage was delicious (how can you really go wrong with fatty pork ground up with spices?), but we misread the meat grinder instructions and ground the meat twice, when the last line clearly states, "for fatty meats grind once." The sausage was dense.
If at first you don't succeed, brush yourself off and try again, right?. My mom gave Lucas Bruce Aidell's Complete Sausage Book for Christmas, so we've been itching to improve our technique. When I went to buy the pork, the butcher said, "you're gonna make sausage again?!" This is how amazing the meat market is - they not only remember your face and what you purchased, but also what you cooked.
Sausage sandwiches might as well be a traditional Nix family dish with how often we ate them growing up, but we never made our own sausage. My dad came for dinner tonight, and arrived just in time to help me stuff the sausage into the hog casings and light up the grill. Then we waited for Lucas to come home so he could test out his new grill tools! Just as we always have, we served the sausages on buns with peppers and onions, and a bit of mayonnaise and mustard. We used mustard that our landlady brought us from her hometown, Düsseldorf, this fall.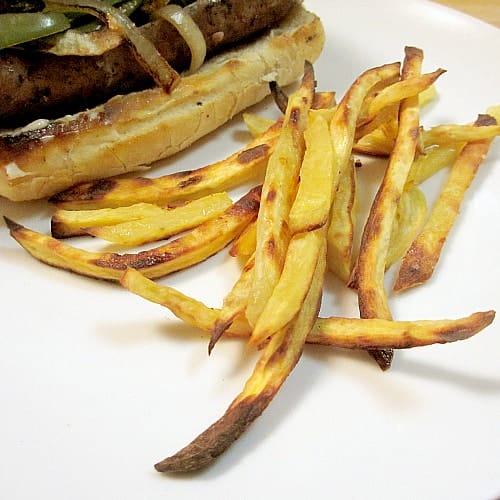 And, no sausage sandwich is complete without a side of fries. I don't fry in my kitchen, since our fire alarm goes off when I sauté vegetables and we don't have a vent to get rid of the smoke. Also, there's something about seeing food get fried that makes me feel terribly unhealthy (don't get me wrong, I'll eat my fair share of churros and shrimp tempura, just as long as I don't have to watch it get dipped in fat). I think these baked sweet potato "fries" taste just as delicious as if they were actually cooked in a vat of oil, but save you some calories and a big mess. I imagine that they'd taste even better if my oven were big enough to fit a full-sized baking sheet and the fries weren't totally cramped in the oven.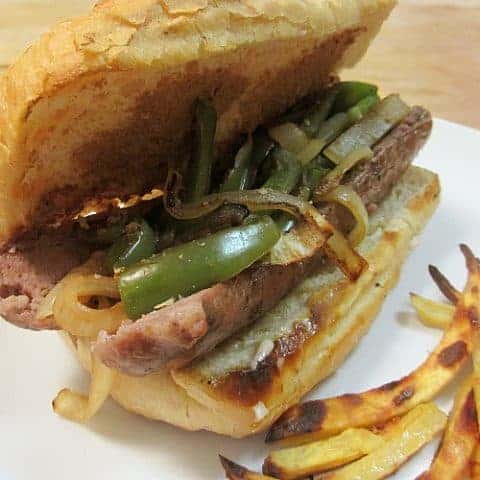 Homemade sausage sandwiches
Yield:
5-6 sausage sandwiches
Ingredients
Italian Sweet Fennel Sausage 
3 pounds fatty pork butt (make sure to ask the butcher for a piece with extra fat)
½ cup dry red wine
4 garlic cloves, minced
2 tablespoons fennel seeds
1 tablespoon freshly ground black pepper
4 teaspoons kosher salt
1 teaspoon dried oregano
½ teaspoon red pepper flakes (this wasn't part of the recipe we used, but unanimously decided that next time, the sausage needed a bit more kick)
⅛ teaspoon ground allspice
Medium hog casings (I get these from the butcher)
Sandwiches
Italian sweet fennel sausages (above)
6 sourdough sandwich buns
1 bell pepper, sliced
1 onion, sliced
Mayonnaise, to taste
Mustard, to taste
Instructions
Put the pork in the freezer for 2 hours (not longer or it'll be too frozen to cut)
Slice the pork into long thin slices and grind through a ⅜-inch plate.
Combine the pork with wine, garlic, fennel, black pepper, salt, oregano, red pepper flakes, and allspice.
Feed through sausage stuffer into hog casings and tie into 5-inch links.
Sauté bell pepper and onion in medium skillet over medium heat until tender.
Grill sausages until cooked through. Cut in half lengthwise from the center (keep one edge connected).
Toast sandwich buns under broiler for ~2 minutes on each side.
Spread mayonnaise and mustard on sandwich buns. Serve with sausage, peppers, and onion.
Baked Sweet Potato "Fries"
3 sweet potatoes, peeled and sliced into ¼ inch fries
1 ½ tablespoons olive oil
Kosher salt, to taste
Preheat oven to 450°F.
Toss sweet potatoes with olive oil and salt.
Arrange sweet potatoes in single layer on parchment-lined baking sheet (be sure not to overcrowd).
Bake fries for approximately 20 minutes, turning halfway through, until potatoes are golden brown and tender.