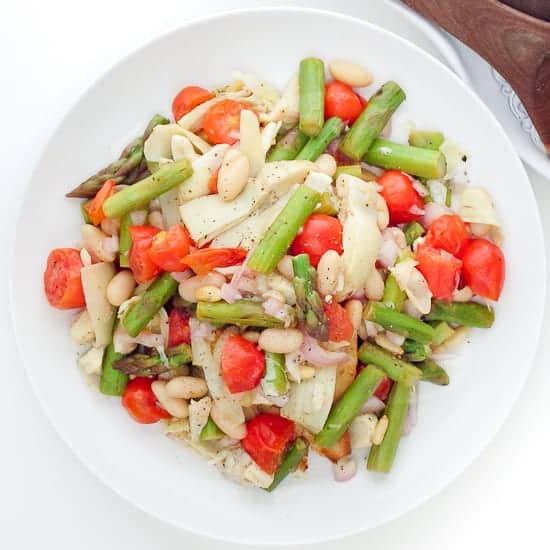 There's barely any snow covering the dirt and rocks in Tahoe for warm weather skiing as Spring comes barreling past me. (Seriously, where did March go and why haven't I anything to show for it?). When winter avoids California like the plague for an entire season, Cali's gotta load up the ski gear and head out on a hunt for snow. As I drive up into the snow-covered mountains of Canada, today marks the beginning of a month of back to back travel. Cooking might be scarce this month as I trek from Seattle to Whistler to Vancouver to New Jersey to Philadelphia to Tahoe to Boston and back (with short stints at home in between). I'm so busy that a few weeks ago in March, my friend Anjali (The Picky Eater) and I pulled up our calendars to make dinner plans and our soonest coordinating evening was in June! I've got a packed schedule, but sometime between now and Boston, I have to pump out that qualifying paper that's urgently starred at the top of my agenda. All that stress looming over me, yet somehow I opt for expending my creativity in the kitchen instead. With that, I present you this refreshing spring salad.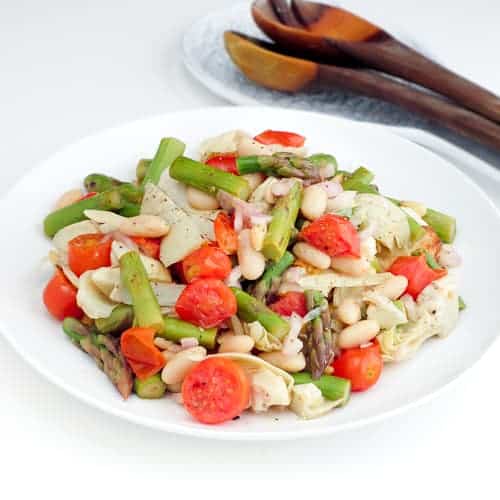 The Philly stop on my travels has got me shivering with anticipation. Not just because I'll be presenting my research on my own for the first time, but also (and mostly) because I'll get chance to catch up with my Teach for America friends that are still in the area. And catching up always requires a good meal. Gal pal Ashley knows me too well and offered to dine with me at my favorite restaurant, Tria, four nights in a row if that's what my heart desires. I wouldn't do that to her, but it's tempting. Especially with this spring salad on the menu. Maybe we'll eat there just two nights;) Being 2,508 miles from my favorite restaurant is no easy task - your hunger for it haunts your dreams, turning into intense withdrawal, until you find yourself curled up on the floor crying "no food will ever taste as good!" I'm telling you, it's just that tasty and addicting. Can you tell that I haven't eaten yet today? In addition to the common "never go grocery shopping while hungry" rule, I should also rule out "writing about food while hungry." As part of my recovery from the pain of losing this neighborhood restaurant, I've been working my way through Tria's menu in my own kitchen, and this salad comes quite close to the real deal.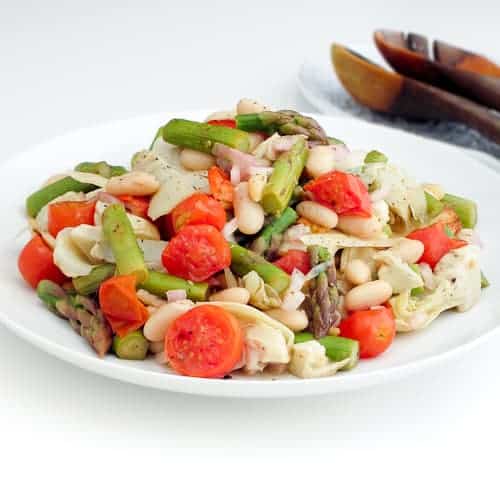 You might be thinking, "a salad without lettuce?! Impossible!" but let me tell you, that's part of what makes this dish so hearty and filling. Packed with protein, this spring salad works perfectly as a main course. What's more, the elements are so divine as is that it requires very little dressing, making it that much more healthy. It's a super quick way to add loads of flavor to your dinner plate while still eating healthy, which is just what I need when I'm spending all my free time packing and unpacking from various trips. My version substitutes gigante beans (which I've read are available at Mediterranean markets) with cannellini beans because that's all I could find. As is, I could eat this salad everyday for lunch, but if I could find gigante beans, I'd put on a dress and marry the salad.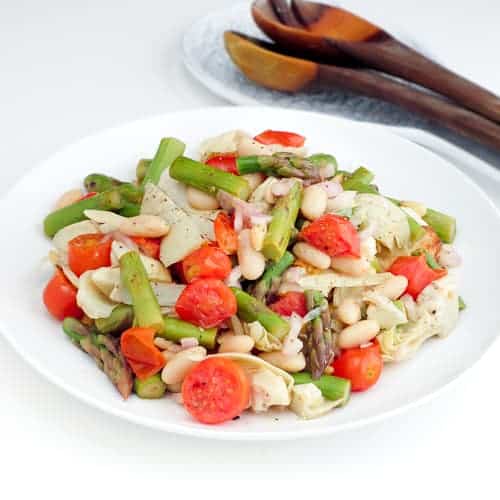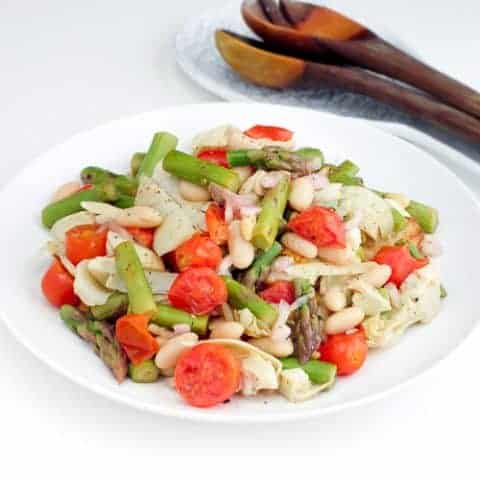 Healthy spring salad
Ingredients
Dressing
1 tablespoon olive oil
1 teaspoon honey
1-2 teaspoons apple cider vinegar
Juice of half a lemon
1 teaspoon dijon mustard
Kosher salt & freshly ground pepper, to taste
Salad
½ lb asparagus, bottom inch of stems removed and discarded, then cut into 1-inch pieces
1½ to 2 cups sugar plum tomatoes, sliced in half
½ shallot, diced
1 cup white cannellini beans (or gigante beans if you can find them)
1 cup canned artichoke hearts, quartered, then cut in half
½ cup pine nuts
Optional: 4 slices of good quality baguette
Instructions
Whisk all ingredients in a small bowl until emulsified.
Taste and adjust amounts to taste, adding salt and pepper (I prefer a little less vinegar than other people, so you might like more!).
Heat a medium skillet over medium heat. Add chopped asparagus and cook, mixing occasionally, until tender, about 5-8 minutes. Transfer to a large bowl and set aside.
Add the shallot to the skillet and cook for 2 minutes, until it begins to soften. Add tomato halves and cook until the tomatoes are softened, about 4-5 minutes. Add to the asparagus bowl.
Add beans, artichoke hearts, and pine nuts to the bowl and mix to combine.
Add dressing, to taste, and toss to coat.
Toast baguette slices and split them between two plates. Serve salad over toasted baguette slices.