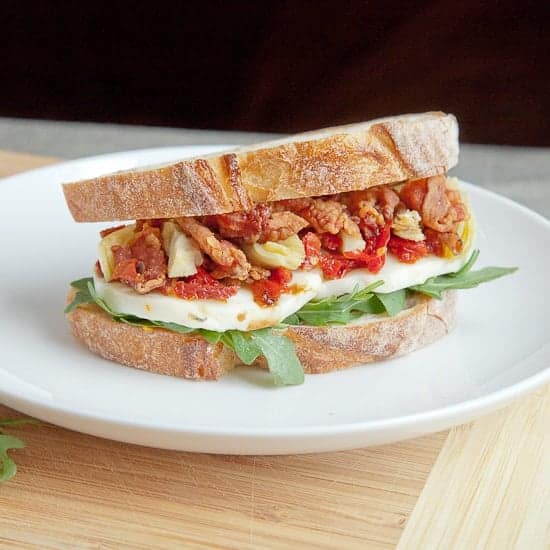 I'm not much of a sandwich person, but when you go skiing, that's the most portable lunch. At the last minute, we wound up not going skiing this weekend, but I had already bought a loaf of fresh sour batard for our sandwiches. To use up this bread, I made one of our favorites, the BLT - gourmet style. I replaced bacon with pancetta, tomatoes with sun-dried tomatoes, lettuce with arugula, and tossed in some artichokes and fresh mozzarella. The result was all my favorite flavors in one bite, and I didn't even realize I was eating a sandwich. I'm serious about not being a sandwich lover; when I was in elementary school I didn't have the heart to tell my mom I didn't like them, and threw out or traded my sandwich every single day - such a waste, I know, don't get me started (this is now my biggest fear when I pack Lucas's lunch).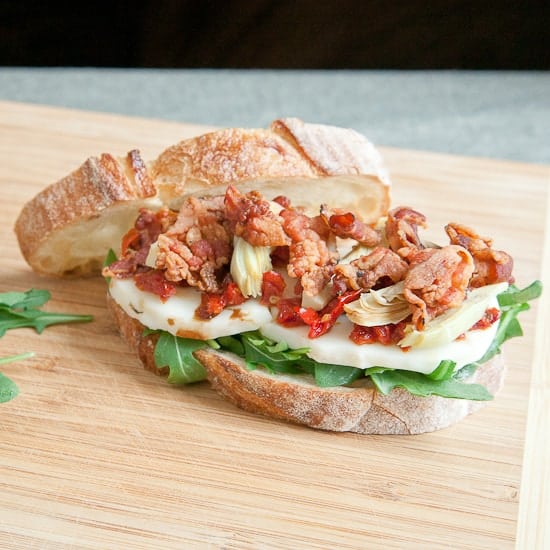 We've made a variation of this sandwich before (minus the pancetta) and it comes with an amusing story. Before a Thao and Mirah concert at the Great American Music Hall in SF, Lucas and I sat on a curb in the Tenderloin scarfing down our sandwich dinner. As can be expected in this neighborhood, we were approached by a scraggly fellow asking if we could share our food (I think he had his eye on our Dr. Pepper). Since I had already eaten quite a bit, I offered half my sandwich to him, holding up the foil wrapping platter. While keeping the sandwich in my hands, he picked through every ingredient, shoving his fingers in between the layers, and exclaimed, in disgust, "what IS this? I can't eat any of this stuff!" It was as if he thought I might yell, "no give backs" if he took the sandwich from me during his inspection. He pulled out the chunk of cheese, leaving the mangled use-to-be sandwich still in my possession, and walked off. In short, he ensured that if he couldn't have the sandwich, no one could. Although the sandwich wasn't up to his standards, I assure you that this combination of ingredients will knock your socks off.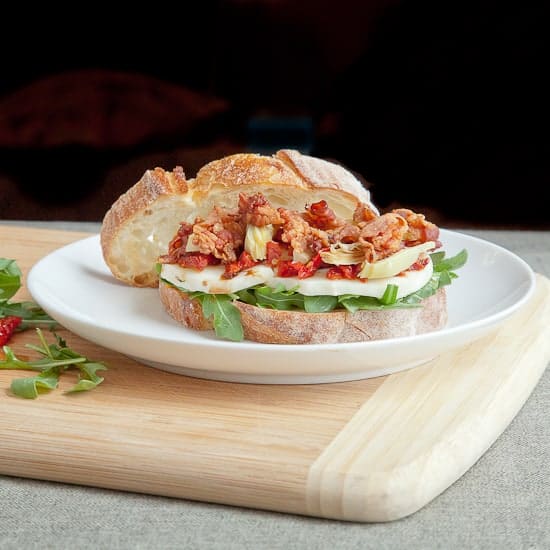 Gourmet BLT
Serves 2-3
Your favorite bread (I've made it on rolls before, and this time, on slices of toasted sour batard).
1 cup arugula
3 oz pancetta, thinly sliced
10 sun-dried tomatoes in olive oil with herbs, finely chopped (I used Bella San Luci brand because they're made in my hometown) (reserve rest of jar for later use)
10 canned artichoke quarters, cut in half (reserve rest of can for later use)
4-6 slices of fresh mozzarella
1 teaspoon balsamic vinegar
Cook the pancetta in a medium skillet on medium heat until browned. Transfer to a paper towel and pat to remove excess grease.
Put a handful of arugula on the bread, layer on mozzarella, sun-dried tomatoes, artichokes, and pancetta.
Sprinkle with balsamic vinegar. Top with other layer of bread and serve.