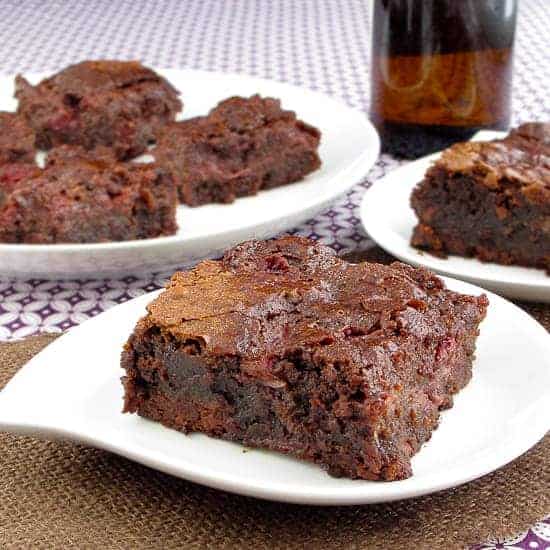 When Chuy read about the strawberry cupcakes I made a couple of weeks  back, he exclaimed in disbelief, "YOU NEVER MAKE INTERESTING CUPCAKES FOR ME!!!" Let me start by saying: this is just not true - he got to enjoy the green tea cupcakes from St. Patrick's Day. Nonetheless, since he truly felt this way, I had to make up for it on his birthday. The super quick pizza quesadillas I made for dinner were strategically planned to give me plenty of time to ensure I could serve him a proper dessert. Five o'clock rolled around, however, and I was still furiously working on my conference presentation with no groceries in the house. The likelihood of freshly baked cupcakes quickly diminished - planning, shopping, mixing, baking, cooling, and frosting, while still making a meal was way too many steps for 3 hours.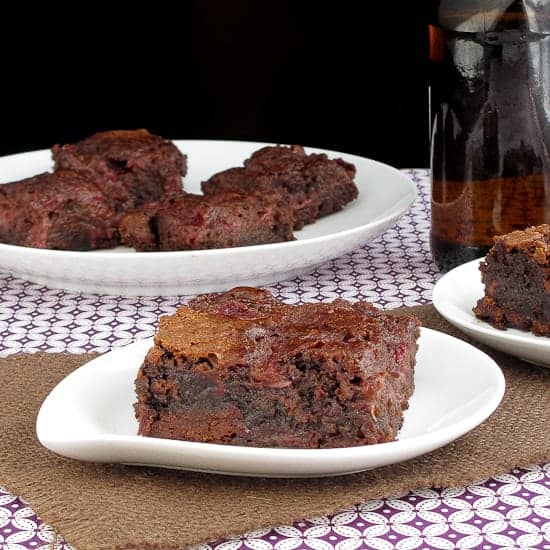 Brownies, on the other hand, are no-fuss; they don't need fancy frosting and individual liners to give you all the sweet-tooth pay off of a decadently iced cupcake. Mix, pour, bake, cut, and VOILA! Regular ol' chocolate chip cocoa brownies wouldn't satisfy Chuy's request for creativity, though. So, since strawberry cupcakes were what got his panties in a twist, I threw two cups of sliced strawberries into the batter and hoped for an edible and toothsome outcome.
The result was just that. We put an impressive dent in the platter of brownies over the course of the next 24 hours, but since I left for Philly a day later, I selfishly hoarded a couple of bars in the freezer for my return. As I write, I'm warming a bench in an underground station to catch the train to the airport for my flight home to these tasty brownies. FINALLY.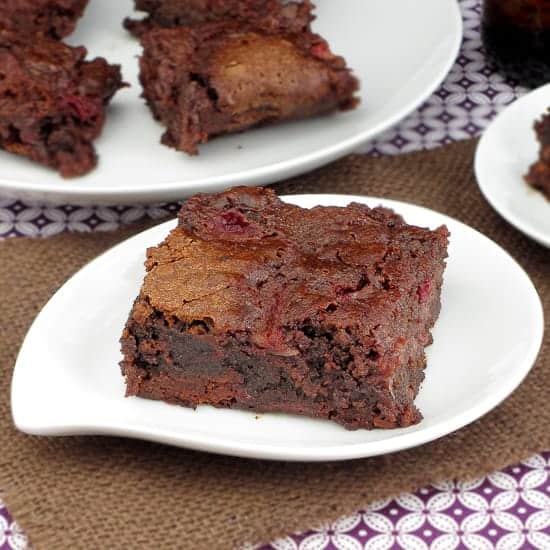 Only two days at home in the past two weeks has left me very homesick, but on the upside, I've been able to catch up with my long-lost Philly friends. Seeing old pals in between conference sessions requires that we share a meal, and since I was in my old 'hood, I had to use every opportunity to visit all my most-missed eateries. My food binge in Vancouver was just the practice round for The City of Brotherly Love; it's surprising that I'm still mobile with the amount of meals I've consumed. In an impressive feat, I managed two trips to Tria in just four jam-packed days. Salad is about to become the main staple in my diet for the next month while my body forgives me for being so gluttonous. Even amidst all this fantastic fare, I dreamed about these strawberry brownies when I finished my presentation on Tuesday evening (and I don't even LIKE chocolate!). I treated myself to a local cupcake that paled in comparison (so subpar that I wasn't even sad when the top of the $4 treat slid off and landed splat on the sidewalk).
These gooey strawberry chocolate chip cocoa brownies are a totally different story. As a self-proclaimed chocolate-hater, trust me when I tell you that this brownie recipe will impress any audience. Who can resist a union of chocolate and strawberries? Name one person. I dare you. You can't. Adding strawberries to the batter turned out to be a brilliant move that made already swoon-worthy bars even gooier and melt-in-your-mouth delicious. This recipe has the perfect balance of cake-y and fudge-y that produces a texture even better than—dare I say—your favorite boxed brownie mix (I admit, Ghirardelli knows how it's done). As is, these brownies are fantastic, but because I like over-the-top desserts, I served them with extra sliced strawberries and homemade whipped cream. Sinful.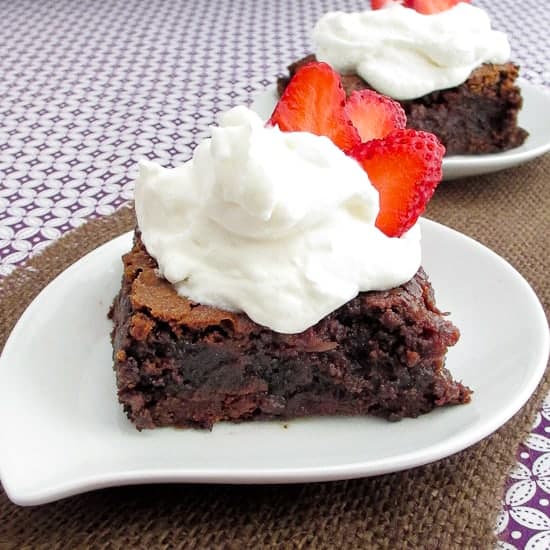 Gooey strawberry chocolate chip brownies (Adapted from Just Putzing Around the Kitchen)
Makes 16 (9x9 dish)
½ cup vegetable oil
1¼ cups sugar
 2 eggs
1 teaspoon pure vanilla extract
⅓ cup unsweetened cocoa powder
½ cup all-purpose flour
½ teaspoon salt
¼ teaspoon baking powder
½ cup chocolate chips (I used milk chocolate chips)
2 cups sliced fresh strawberries
Preheat oven to 350oF.
Combine oil, sugar, eggs, and vanilla in a large bowl until smooth (or the bowl of an electric mixer).
In a medium bowl, whisk together cocoa powder, flour, salt, and baking powder.
Slowly add dry ingredients to the oil and sugar mixture, and mix until smooth.
Gently fold in chocolate chips and sliced strawberries.
Pour batter into a parchment-lined 9x9 baking pan or casserole dish.
Bake for 45-55 minutes, or until a toothpick comes out with just a few crumbs. Adding strawberries made the baking time a bit longer than the original recipe, so just be sure to check it every 5 minutes after about 35 minutes in the oven.
Let cool for 15 minutes before cutting. When cool, use the edges of the parchment paper to lift the brownies out of the pan. Cut and serve topped with whipped cream and strawberries (optional).