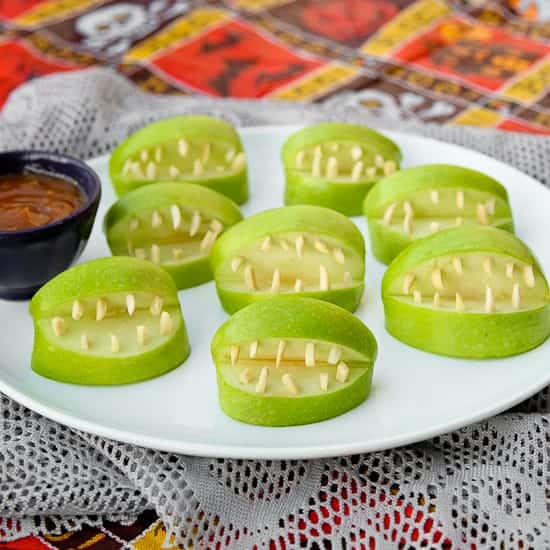 You didn't really think I'd let Halloween come and go without some kind of food to mark the occasion, did you?! I may not be dressing up this year, but since I have to eat anyway, why not make it fun and festive? These goblin grins and monster mouths add creativity to a boring fruit and vegetable platter, making them a perfect appetizer for a creepy costume party on October 31st (one that I'll regrettably miss while I hole up in my house reading - sadface).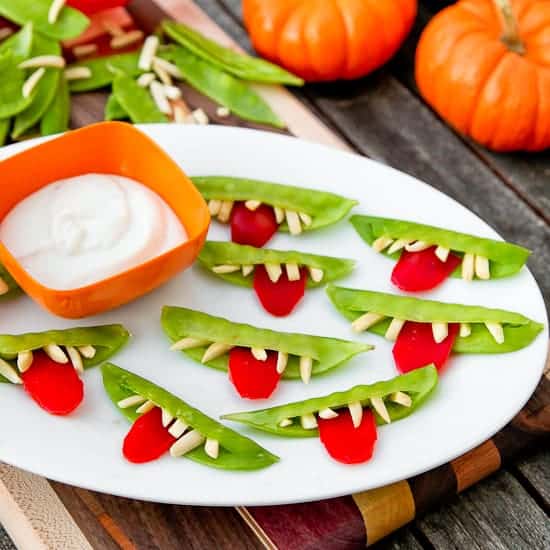 Lucas was shocked that I wouldn't be going all out for Halloween this year; it is my favorite holiday, after all. I delight in sewing entirely homemade topical costumes, and pretty much anyone who's ever met me knows I have a wicked weakness for sugary treats. Needless to say, not partaking in the merriment this year is making me sad. And since I'm certainly not one to give up an opportunity to concoct themed kitchen creations, I share with you these super quick eerie eats I whipped up this weekend to get in the holiday spirit. These two spooky snacks are much healthier than celebrating by digging into a bag of discounted fun-sized candies I could pick up at Walgreens on November 1st.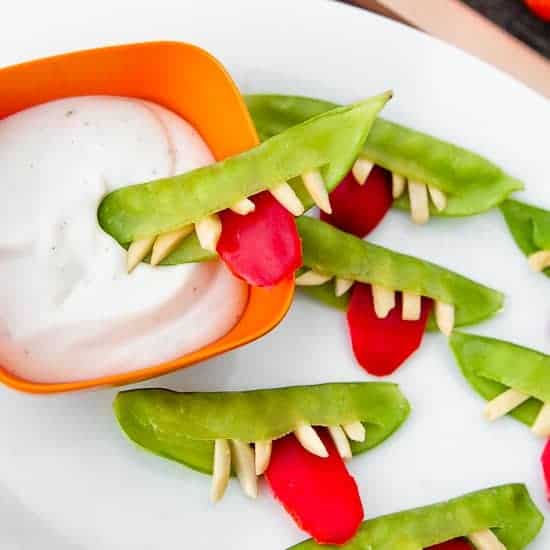 Goblin Grins
~15 snap peas
1 small red bell pepper
Handful of almond slivers
Teaspoon of cream cheese
Optional: Ranch dressing for serving
Cut the bell pepper into tongue-shaped pieces. If you have a really thick pepper, you might want to use a sharp knife to slice out some of the inside flesh to make it thinner.
Using a sharp paring knife, slice a thin strip near the bottom of the snap pea, so that you cut only through one layer.
Put a small bit of cream cheese on the back of the top edge of the tongue and insert it into the slit on the pea pod.
Insert some almond slivers as teeth, using cream cheese on the ends to help them stay in.
Serve with a small bowl of ranch dipping sauce.
Monster Mouths
 2 green apples
Handful of almond slivers
Optional: Caramel sauce for serving
Cut the apple into quarters.
Carefully cut the core off of each piece.
Cut a wedge out of the skin side of each quarter.
Insert almond slivers into the mouth for teeth.
Serve with a small bowl of caramel dipping sauce.