These soft cut-out gluten-free sugar cookies are decorated with super easy icing and festive sprinkles. They're the perfect gluten-free holiday cookie to leave out for Santa!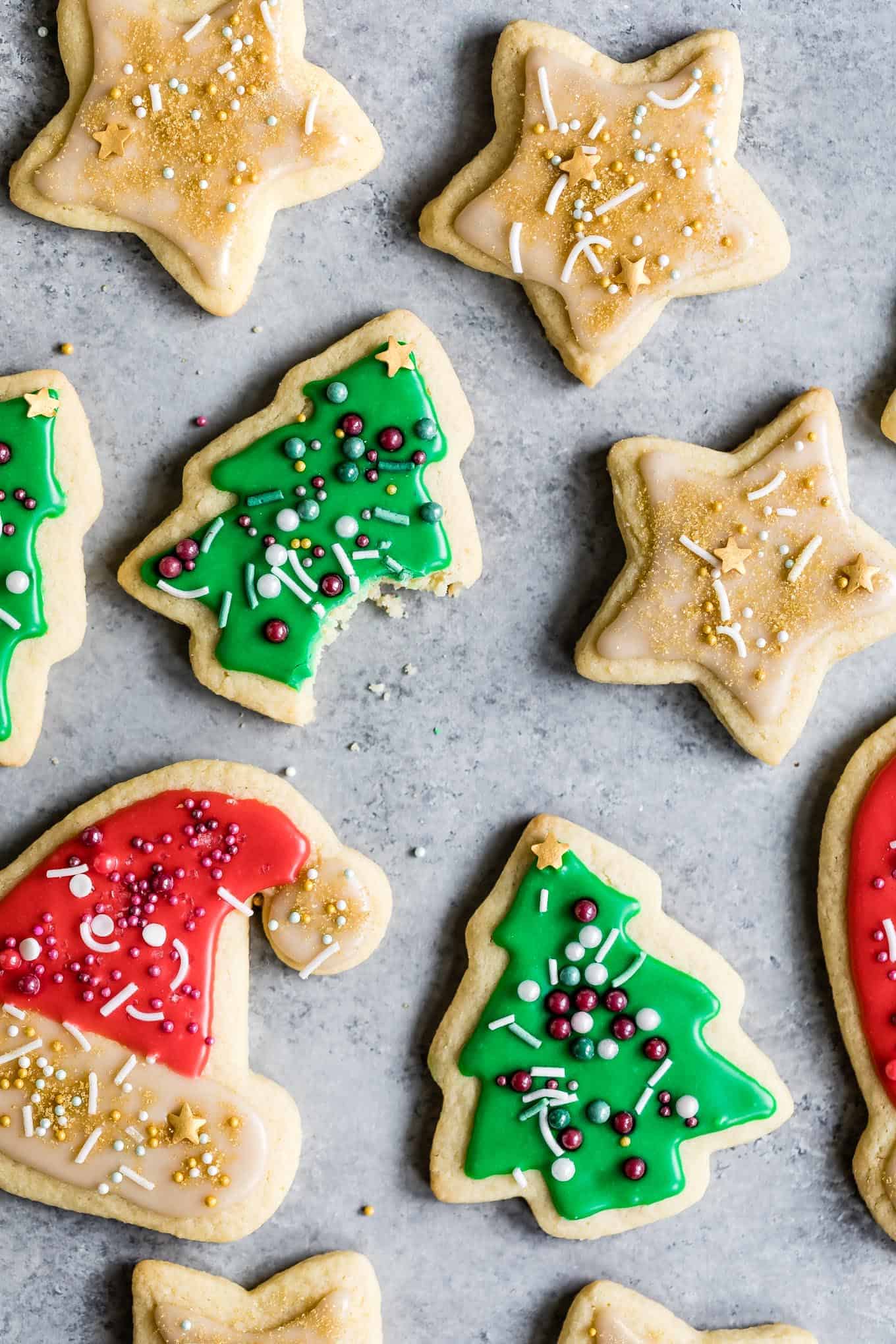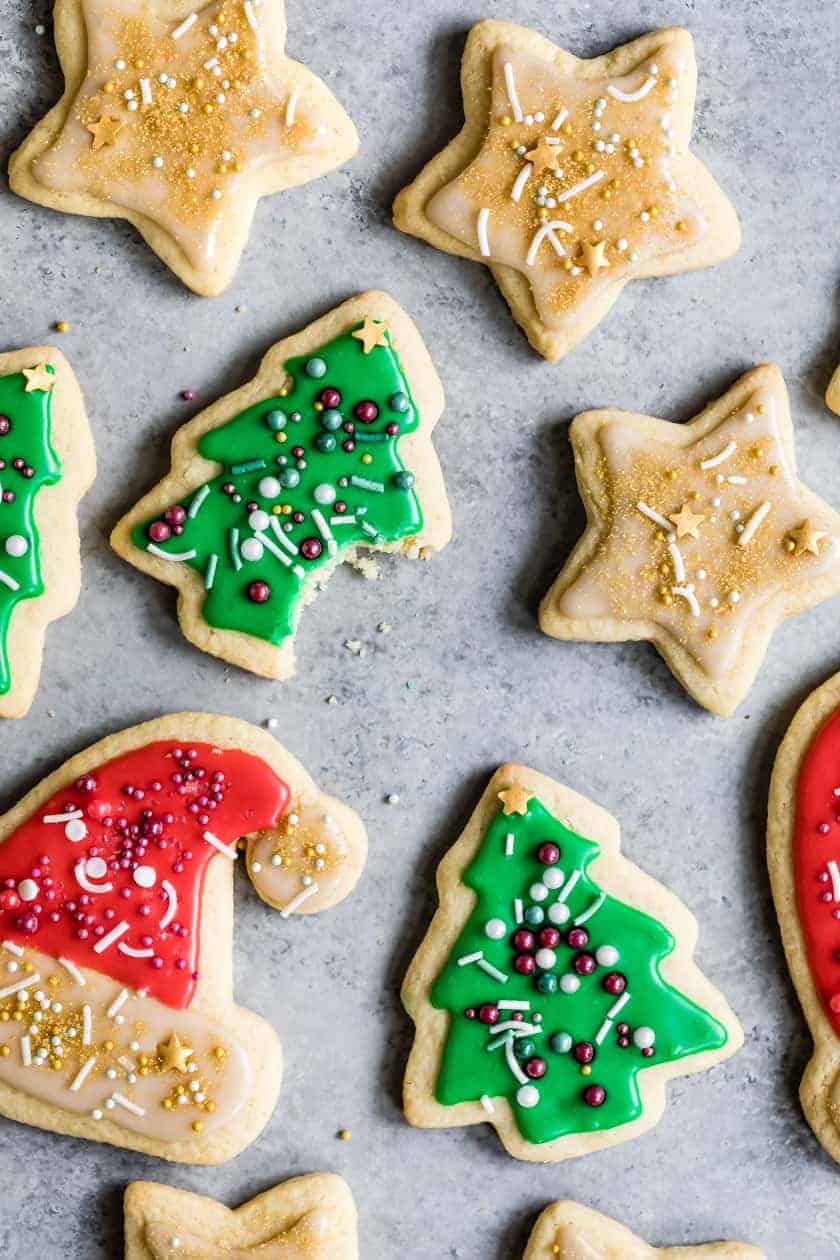 When I picked up Zoella from daycare and told her in my most enthusiastic holiday voice that I made cut-out SUGAR COOKIES, she snapped back "NO!" with her most toddler-tempered attitude. I shrugged off her outburst as hanger. Then, as though you could hear Santa's sleigh bells through my voice, I continued to sell her on my Christmas cookies, "I put SPRINKLES on top of -" Sprinkles are hot currency for her, second only to unicorns and stickers. I expected glee.
But instead she cut me off mid-sentence, "No!! I don't want you to!! I want to make the cookies! I want to put the sprinkles!"
Mom-of-the-year right here. In my excitement to share these gluten-free sugar cookies with her, I stole the joy of decorating cookies right out from under her!
Don't worry, her pouty anguish just as swiftly passed when she saw the sparkly sprinkles on top and claimed a Christmas tree for dessert. And let me just say this: Never in my whole life have I seen someone take so damn long to eat a cookie. She savored every single sprinkle and crumb. Then went to bed a half hour late all hyped up on sugar.
We made a second batch of gluten-free Christmas sugar cookies over the weekend to ease my mom-guilt. Pulling from deep in my cookie cutter collection, she made mostly festive porcupines and hippos. Then smothered them in icing and a generous handful of sprinkles whenever I'd glance away.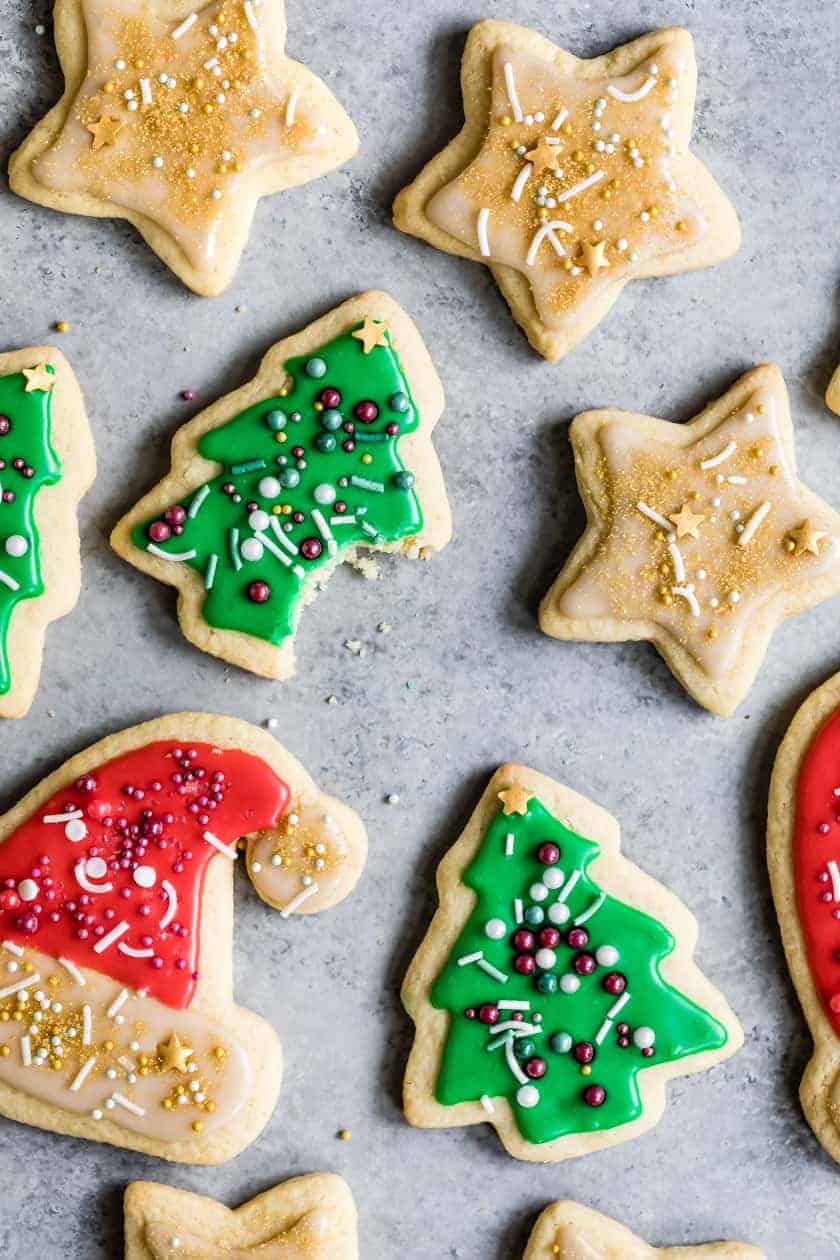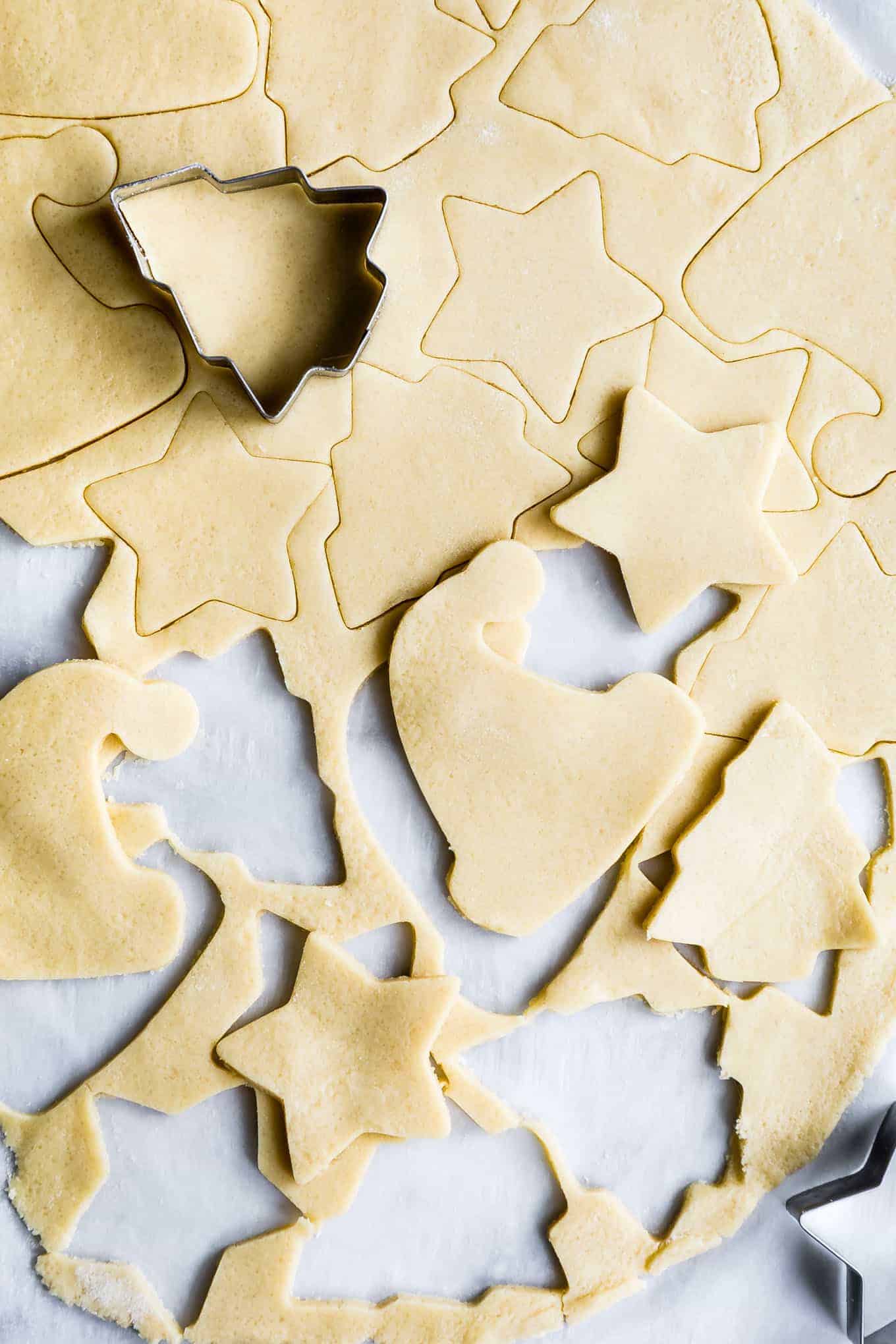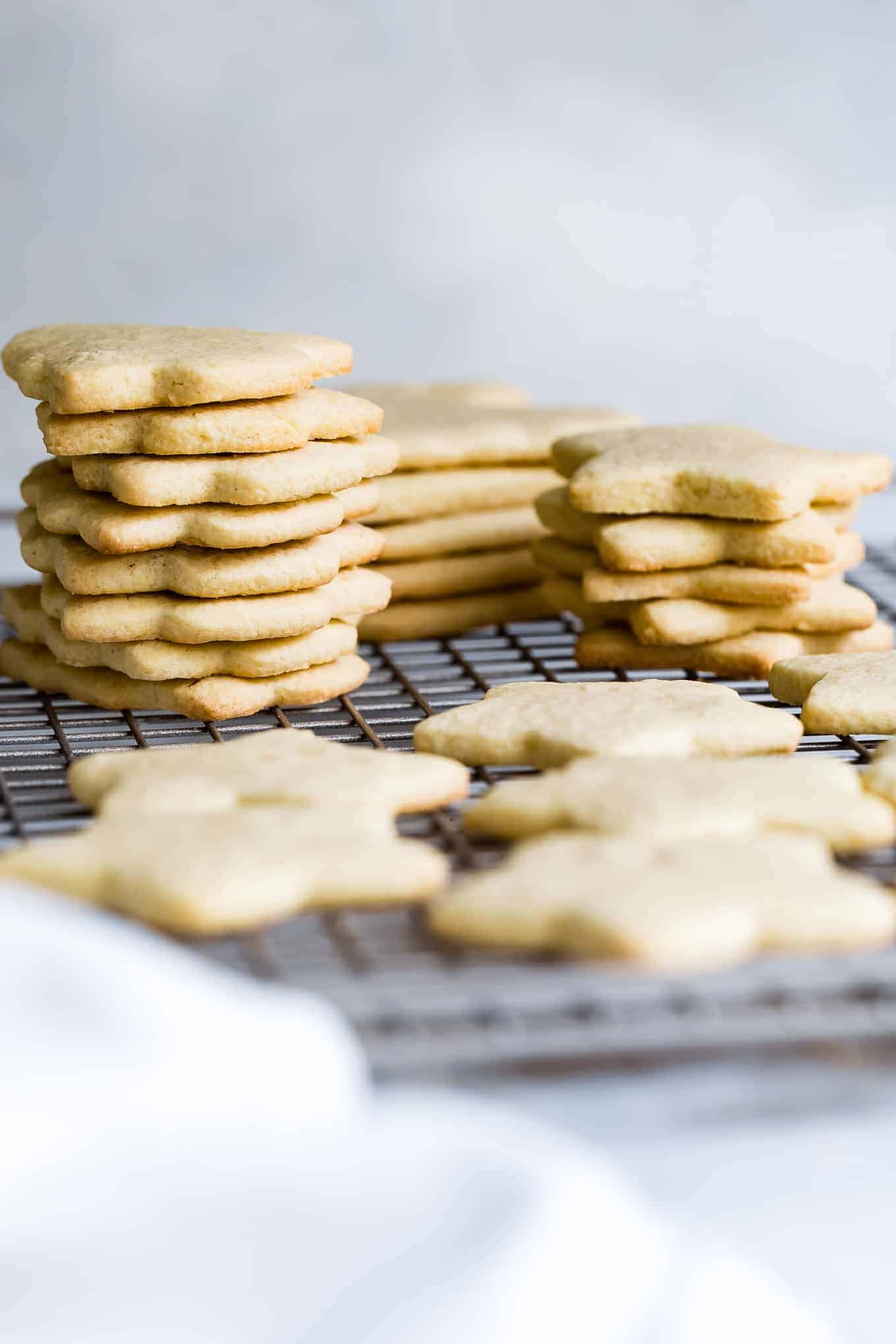 How to make soft cut-out sugar cookies
Folks all have different opinions on the ideal texture of a sugar cookie. Snappy through and through? Crisp edges with soft centers? Soft and pillowy? Does your opinion come from your nostalgic experiences with sugar cookies as a kid? Many recipes for soft cookies suggest simply baking for less time. That works here too - if you like soft cookies right off the pan, bake on the lower end of the range. If you like crisp edges, bake on the higher end of the range.
Whichever way you like them, these gluten-free sugar cookies are great the instant the icing hits the cookie. But - and here's my secret - I've found that they're even more fabulous a few hours later or the next day, if you can wait that long. Giving the cookies time to ripen, per se, lets the moisture from the icing soften the cookie into clouds. Soft pillows of sugar cookie perfection.
Whereas most cookies are best devoured warm and gooey, sugar cookies mature with age. For that reason they make the best cookie for gifting, arranging on a dessert platter, or leaving out for Santa. And they're so good no one will suspect that they're gluten-free.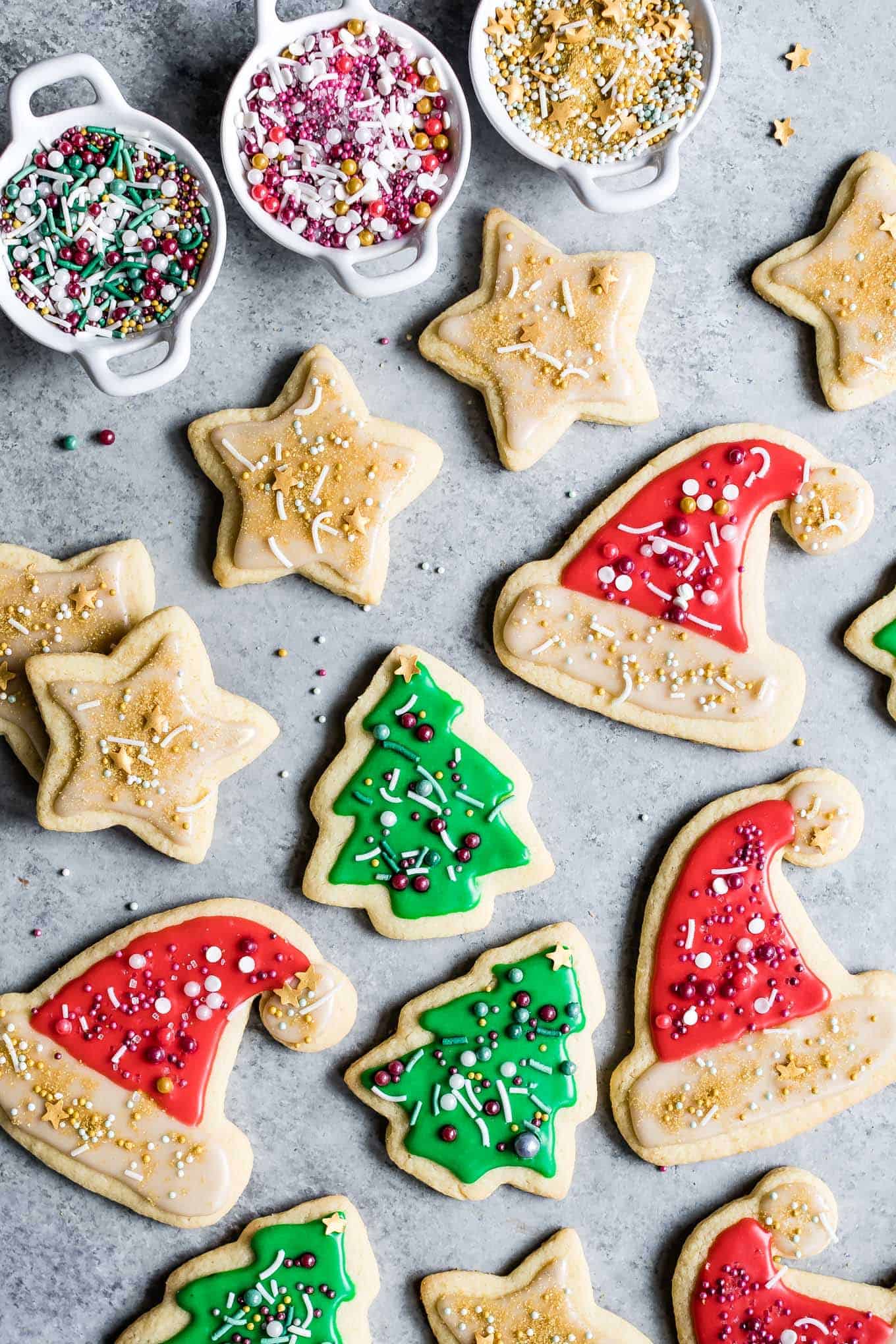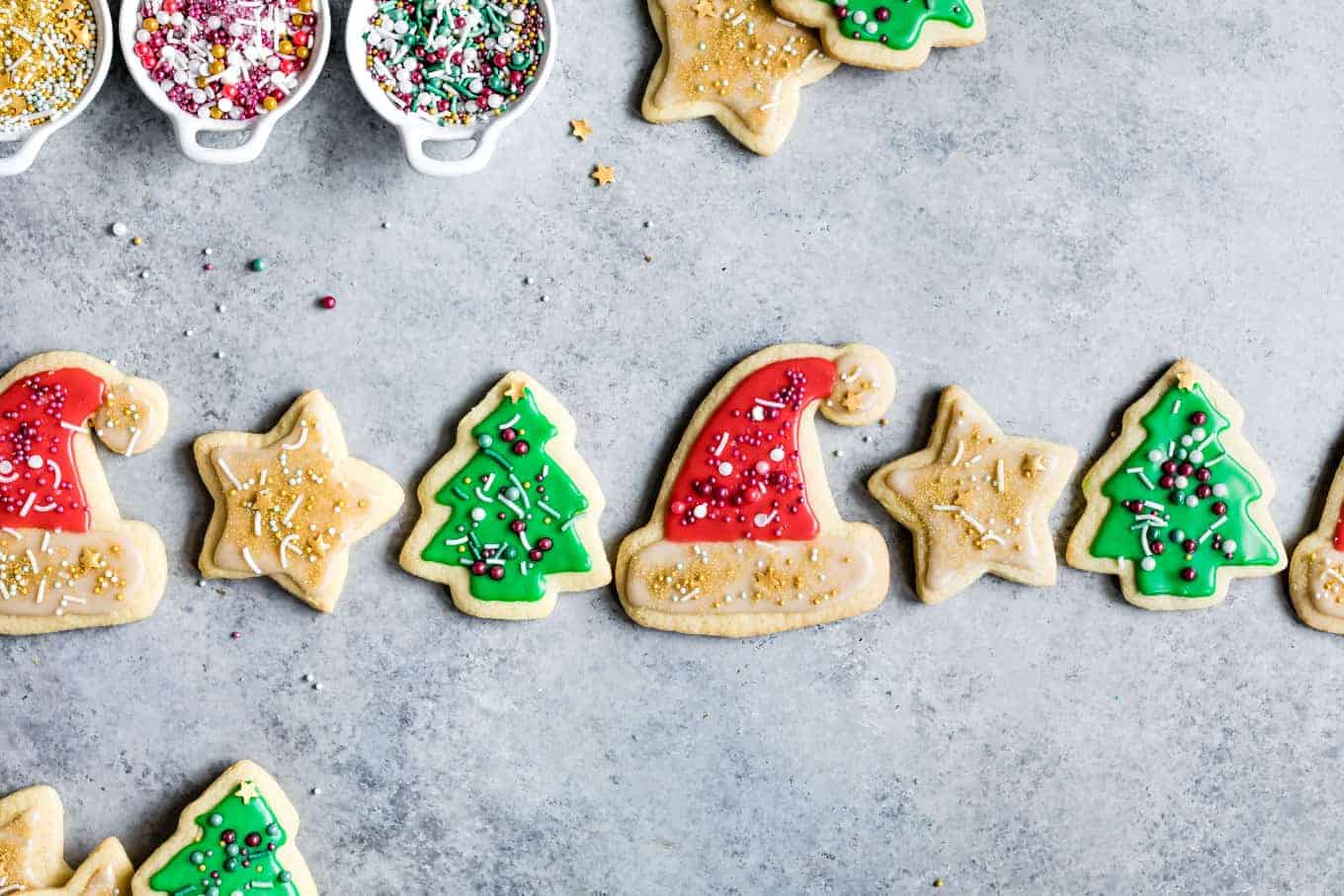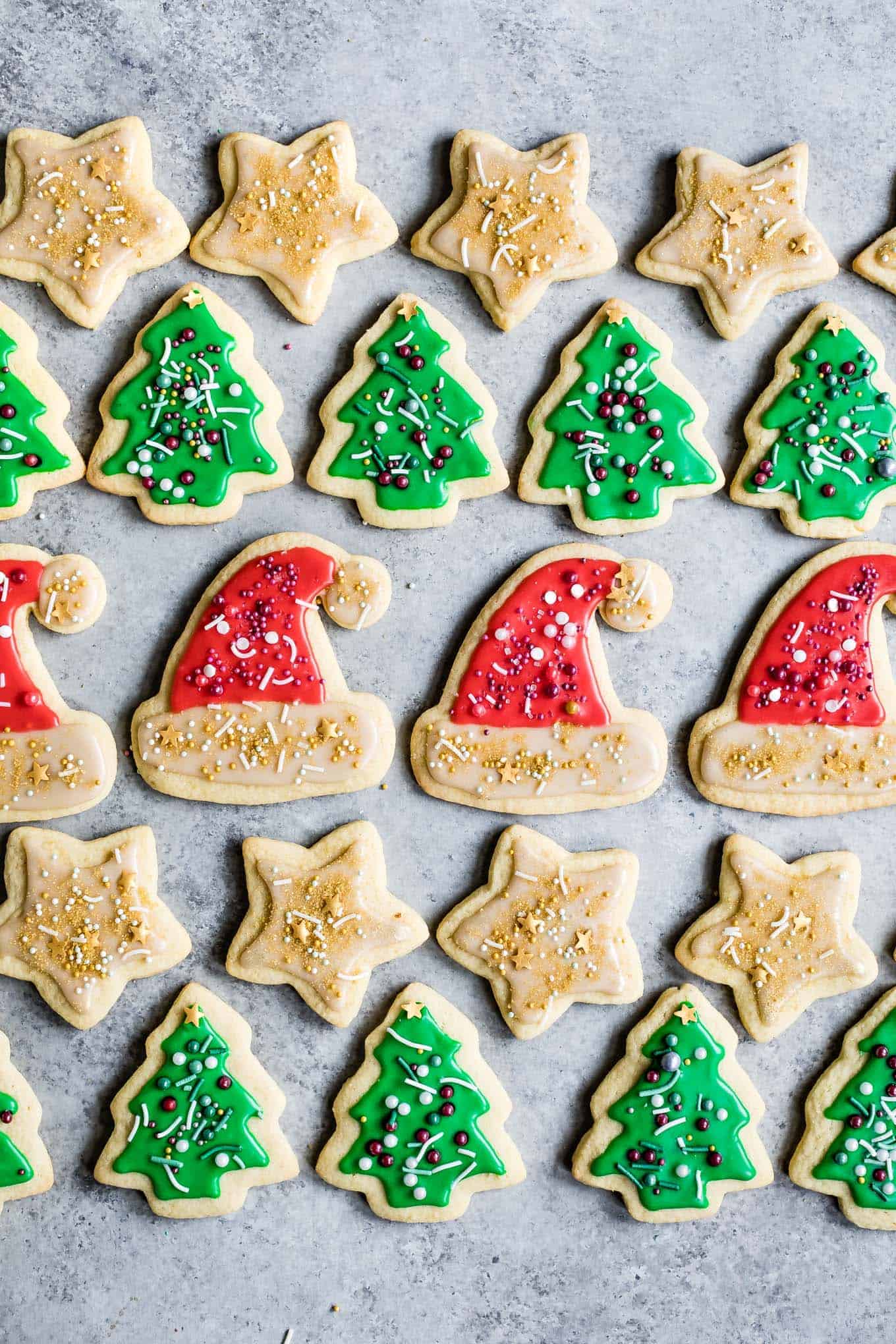 Tips for making gluten-free sugar cookies
Chill. To keep these gluten-free cut-out sugar cookies from spreading into flat blobs, you must chill the dough. But if you're like me and lack patience and forethought, chill the dough after rolling it out. Just roll the dough into two sheets and chill on a baking sheet. And if you've got the space, chill them in the freezer to speed things up even more! Wash a few dishes then you'll be ready to cut. After you cut your shapes and arrange them on the baking sheet, chill them again.
Roll out as few times as possible. I've also found that the more times you roll out the gluten-free sugar cookie dough, the more your cookies will spread. Try to cut your shapes as close together as possible to keep from having to roll the scraps out again and again. Plus, the more you handle the dough, the softer it gets. You may find you have to chill the dough again after re-rolling, depending on how long it's been out.
Bake them by size. Divvy them on baking sheets based on the size of the shape. Smaller shapes take less time to bake, so separating by size will keep the little ones from getting too dark while the larger shapes bake through. If you find that after you've finished cutting them out they're took soft and delicate to move on the baking sheet, just chill the sheet for a few minutes.
How to make sugar cookie icing that hardens and glistens without corn syrup
It doesn't get much simpler than this sugar cookie icing. Unlike with royal icing, we're not messing with egg whites. To get sugar cookie icing that hardens and glistens, you can do without corn syrup as well. Instead, the trick is just a bit of honey. Mix sifted powdered sugar, milk, honey, vanilla, and a pinch of salt until smooth.
The icing will firm up in about 10-15 minutes, making the cookies stackable without messing with your beautiful artwork!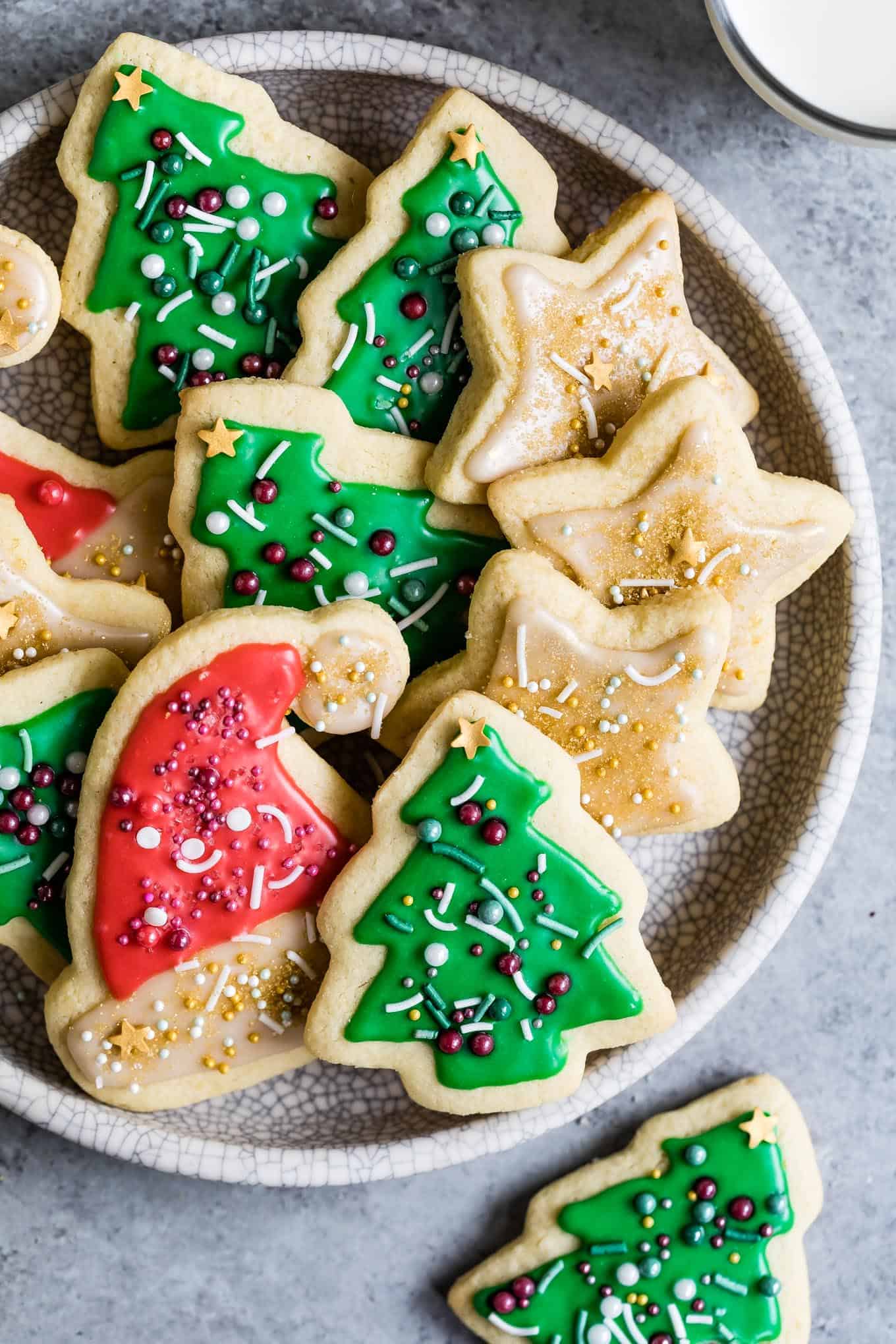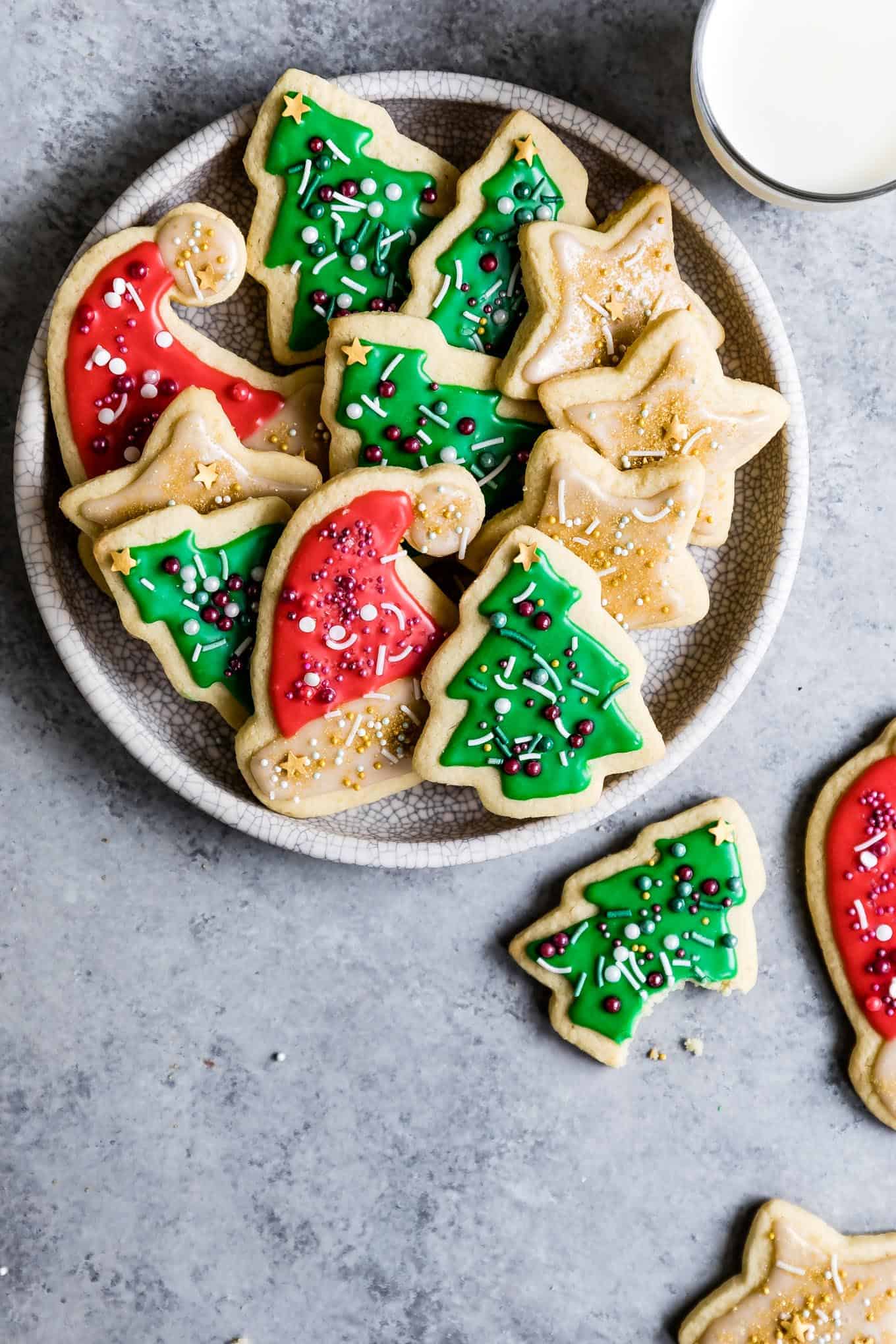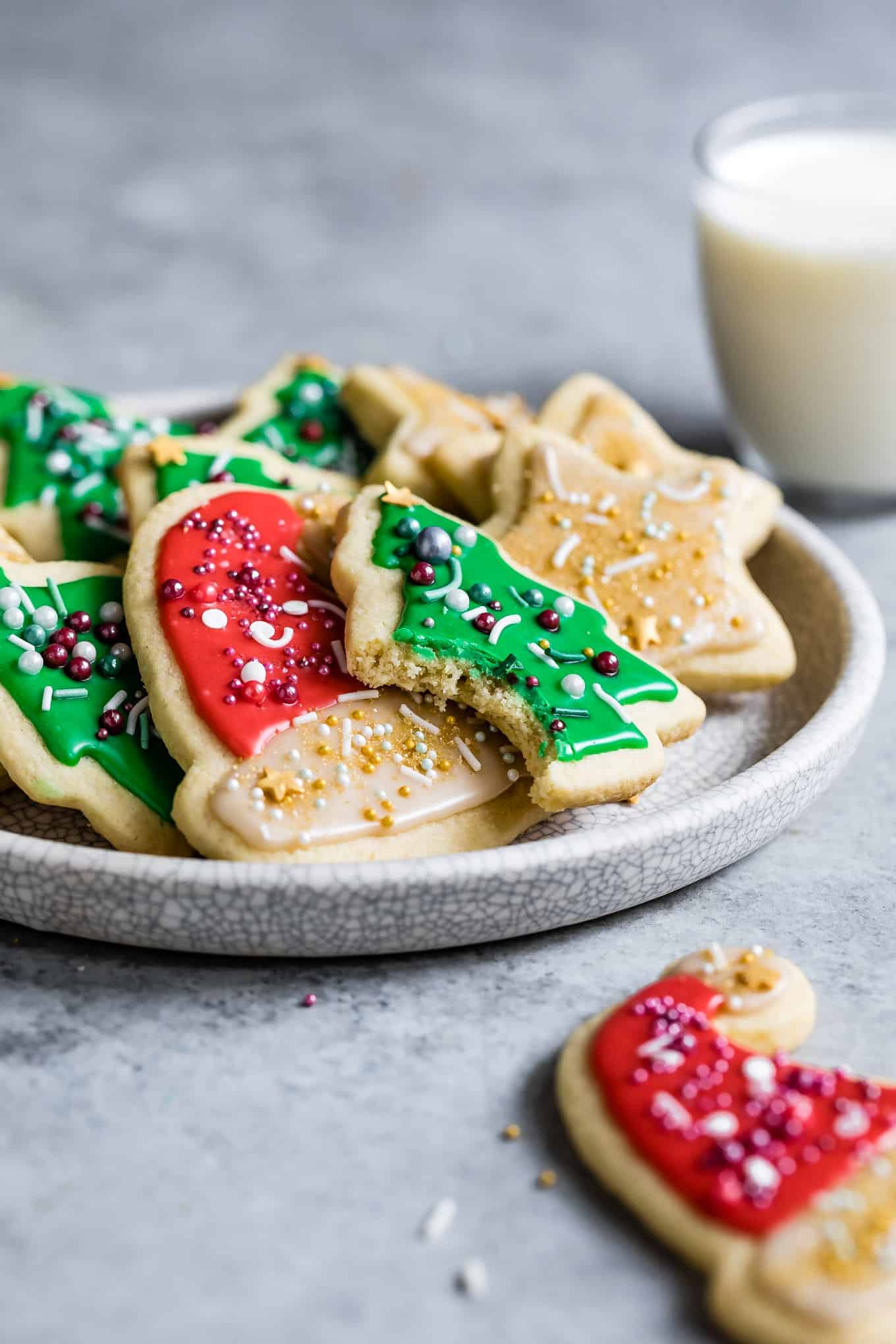 Gluten-Free Christmas Cookies
If you're looking to build out an impressive gluten-free Christmas cookie spread, here's a list of a few of my favorites. If you're feeling overwhelmed by buying different gluten-free flours, you can also use my recipe filter to sort recipes by gluten-free flour type to use up what you've got.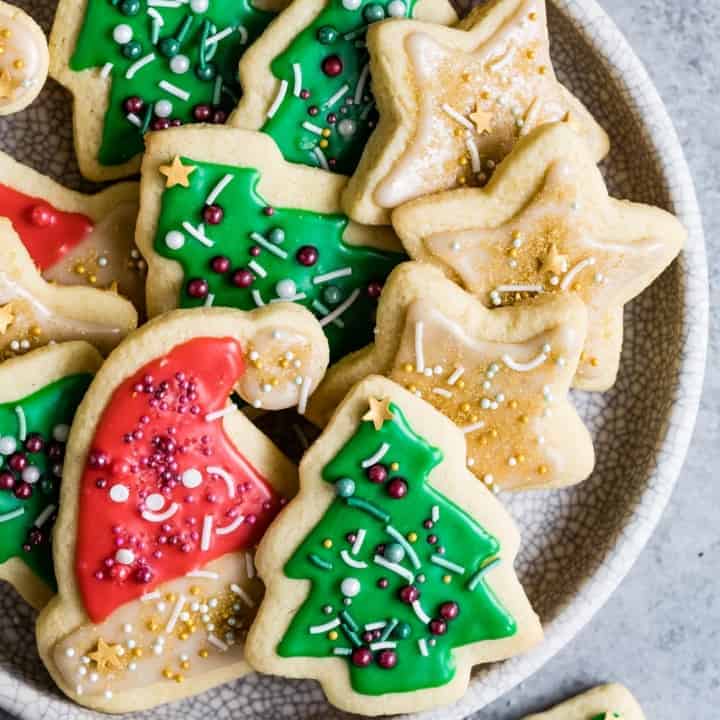 Gluten-Free Sugar Cookies with Easy Icing
Yield:
4-5 dozen, depending on size
Decoration & Chill Time:
2 hours
Total Time:
2 hours
45 minutes
These soft cut-out gluten-free sugar cookies are decorated with super easy icing and festive sprinkles! The perfect gluten-free holiday cookie to leave out for Santa!
Ingredients
1⁄2 teaspoon baking powder
1⁄2 teaspoon kosher salt
1 cup (226g) unsalted butter, slightly softened
1½ cups (309g) granulated sugar
2 eggs, room temperature
1 teaspoon pure vanilla extract
Vanilla Icing*
3 cups powdered sugar, sifted
3-4 tablespoons milk
2 teaspoons honey or brown rice syrup
1½ teaspoon vanilla extract**
Pinch salt
Optional: gel food coloring and sprinkles
Instructions
In a medium bowl, sift together the almond flour, millet flour, tapioca flour, baking powder, and salt. Set aside.
In the bowl of a stand mixer fitted with the paddle attachment or a mixing bowl with a hand mixer, cream the butter and sugar together on medium high speed until light and fluffy, 3-5 minutes. Add the vanilla and mix until combined.
Add the eggs, one at a time, mixing just until combined after each egg, scraping down the sides and bottom as needed.
With the mixer on low, slowly add the dry ingredients. Increase the speed to medium and mix until just combined, scraping down the sides as needed.
Divide the dough in half and form into two discs. Roll out each disk between two pieces of parchment paper dusted well with millet flour to ⅛-1/4 inch thickness. Chill on a baking sheet for at least an hour in the fridge or 15 minutes in the freezer.
Working with one half at a time, use cookie cutters to cut out your shapes. Roll the scraps up with more millet flour dusted on the table and cut out cookies again, chilling the dough for 5-10 minutes as needed as the dough gets softer. Transfer your cut cookies to a parchment-lined baking sheet, 1.5 inches apart.
Chill the cookies on a parchment-lined baking sheet in the fridge for 30 minutes or in the freezer for 15 minutes.
Meanwhile preheat the oven to 400°F. One sheet at a time, bake the cookies for 5-7 minutes, until just set and the very bottom edges begin to turn golden. For softer centers, aim toward the lower end and crispy edges, the higher end (and this will vary depending on the size of your cookies!).
Let the cookies cool on the baking sheet for 5 minutes before using a thin metal spatula to transfer them to a wire rack to cool completely before icing. Repeat with remaining baking sheets.
While the cookies cool, make the icing. In a medium bowl, whisk the powdered sugar with 3 tablespoons of milk, honey, vanilla, and salt until smooth. Add another teaspoon of milk at a time until the icing is the proper consistency. When you lift the whisk up and drizzle icing back into the bowl, the stream should sit on top for a few seconds before incorporating back into the bowl. Divide icing between cups and color with gel food coloring as desired.
To pipe the icing, fill a small pastry bag fitted with a small round tip with icing. Pipe an outline around the outside of the cookie with icing. Begin to flood the outline with more icing using the tip or a toothpick to move the icing to the edges. Top with sprinkles and let sit for 10 minutes until the icing sets.
Enjoy immediately or, if you prefer softer cookies, store them in an airtight container overnight and enjoy them perfectly soft the next day. In my opinion these cookies are best on day 2!
Notes
*If you plan to pipe the icing, make the icing recipe as is. If you plan to decorate the cookies with eager messy toddlers or kids, double the icing recipe. This will make sure you have enough and will also allow you to divide it among more colors.
**If you use regular pure vanilla extract your plain icing will be a little more tan/beige than white, as in the stars above. You can avoid this by using imitation vanilla.