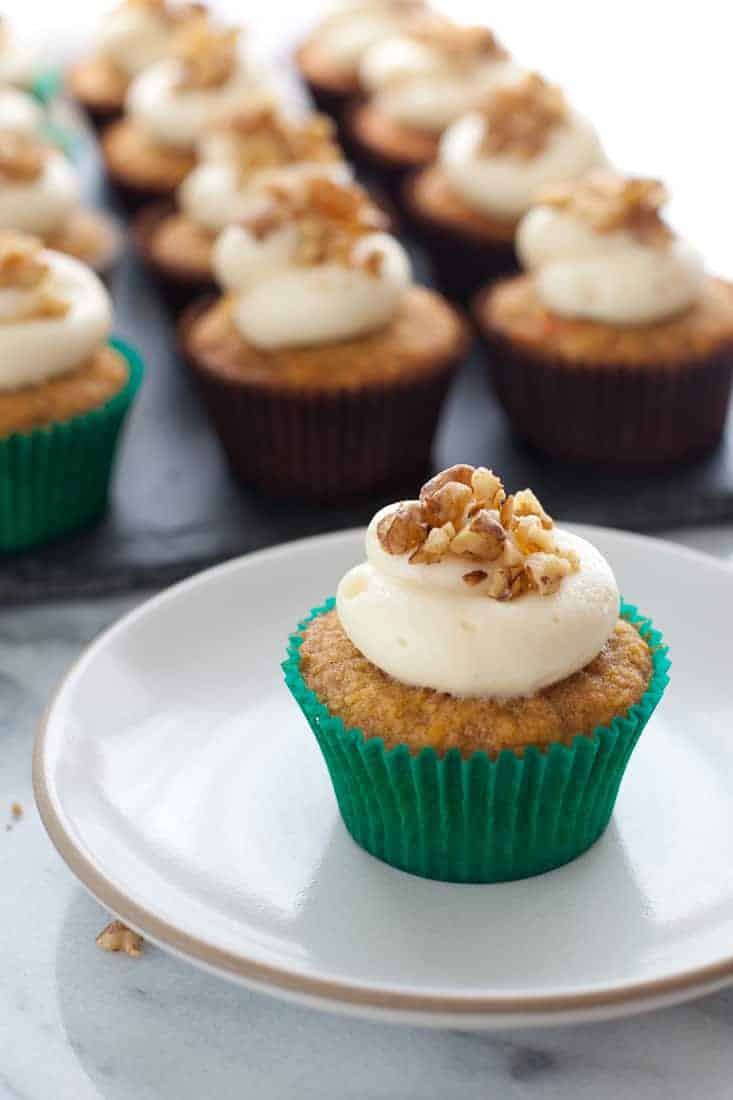 My college boyfriend thought I was a terrible cook. I was offended, and the fact that he explicitly told me so was a pretty clear sign there were better fish in the sea. To his credit though, he was probably right. One of my $1.50 gourmet dinner specialties in college was 35-cent top ramen noodles – replace the seasoning packet with mushrooms, chicken, and snap peas sautéed in soy sauce. I definitely never made anything as fancy as gluten-free carrot cupcakes with honey cream cheese frosting.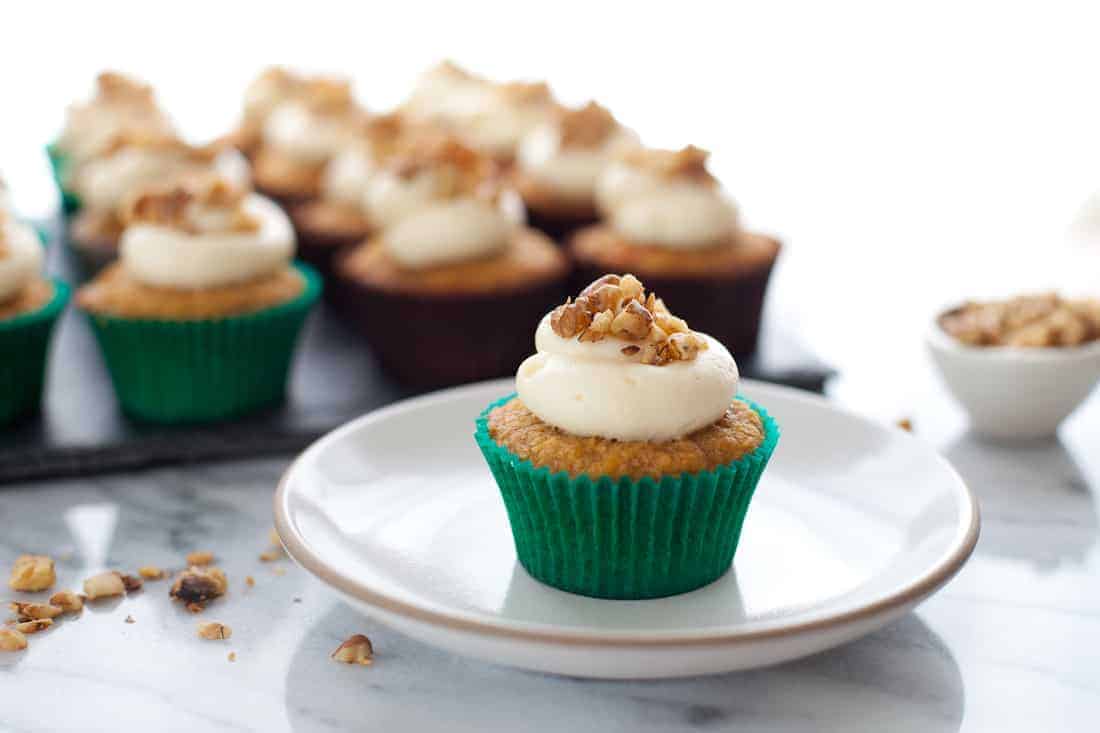 In an effort to recreate part of my family's tradition, on my first Easter away from home, I served him some deli ham slices and mixed a bucket of cool whip with fruit salad. Barely homemade, but so proud. Now I know you're probably thinking my creamy fruit salad is dangerously close to one your grandma served with some green JELLO in the 50s, but listen, there isn't a single thing wrong with whipped cream and fresh fruit. The problem lies in the fact that I served it as a main course on Easter…and it was the most elaborate thing I made.
My husband, on the other hand, thinks I'm a fantastic cook. Even after eating a burrito I fed him that was filled with cinnamon instead of cumin – proof of his patient and kind soul. This Easter Sunday, I'll be serving, among other things, my aunt's scalloped potatoes and, for dessert, these gluten-free carrot cupcakes with honey cream cheese frosting. From scratch.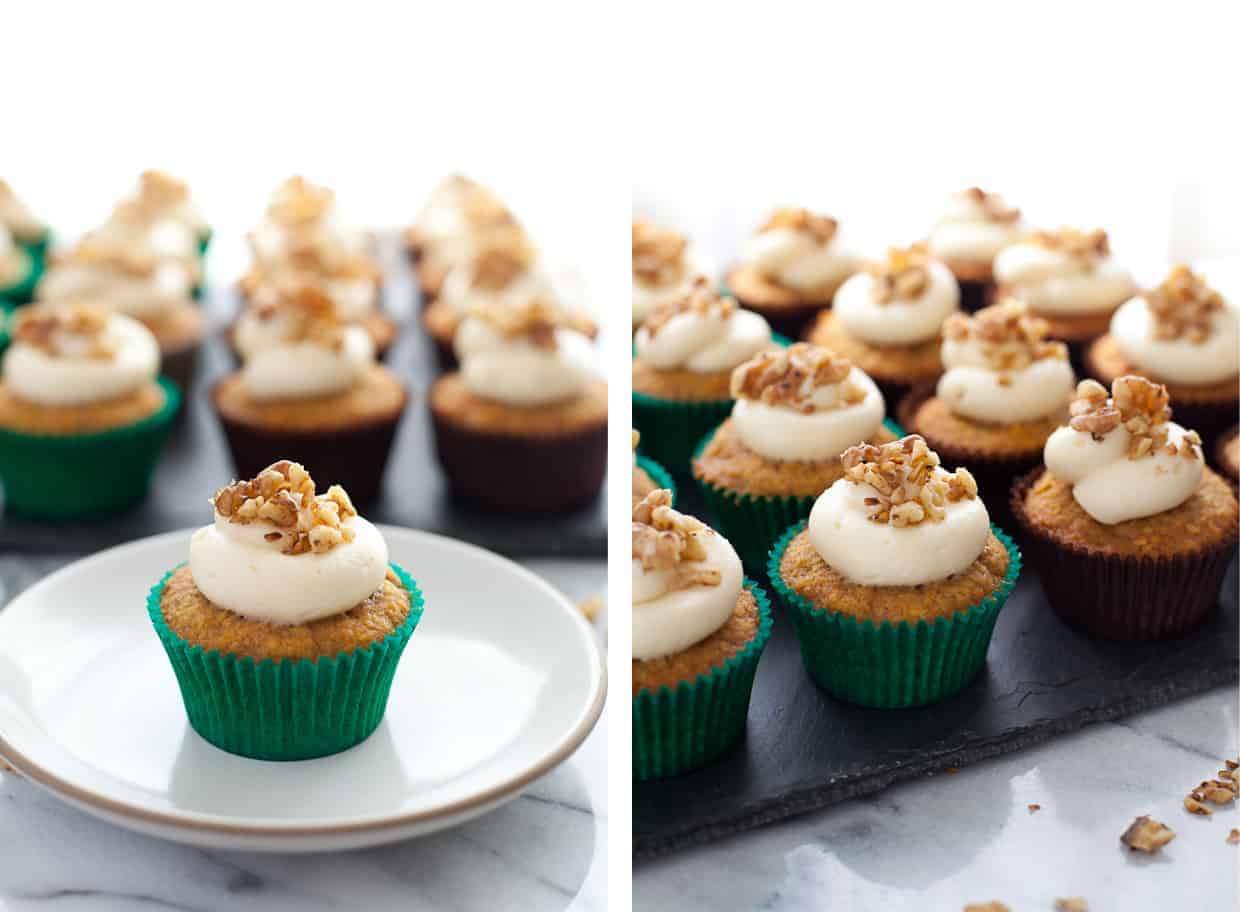 (You drooling yet, Mom?) Carrot cake is my mom's weak spot. Remember how every Christmas, my mom Santa would fill my stocking with chocolate candies even though he knew perfectly well I wasn't a fan of chocolate? Well, this also happened with homemade carrot cake on my 5th birthday. Just what every kid wants – carrot cake topped with tons of shredded coconut dyed green to look like grass and a little bunny figurine as a token of my spring birthday.
Clearly it made an impression - you've got a girl who loves sweets and you serve her everything that 5-year-olds find yucky about dessert - vegetables and the texture of store-bought shredded coconut. Apparently she also played this mean trick on my brother one year too. And guess what? He also wouldn't eat his cake. Here's the thing, if she'd left off the coconut and called it something other than carrot cake, it maybe would have stood a chance.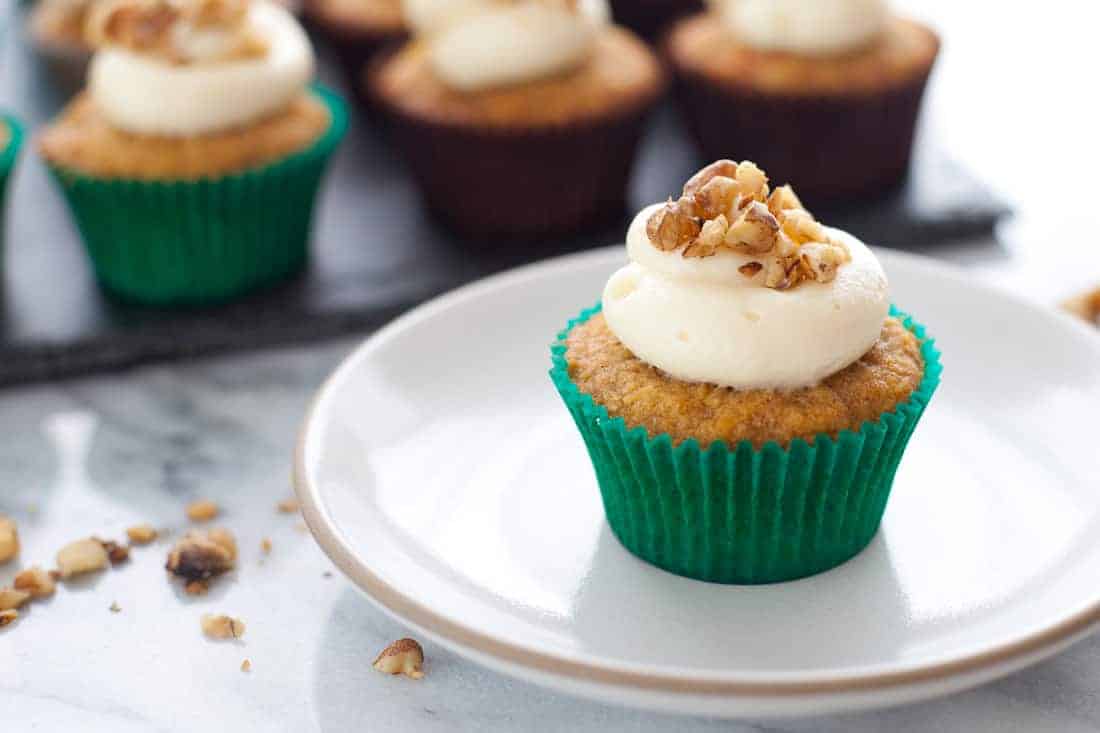 Lucky for mom, I've come around to carrot cake in an intense way. If I'm at a wedding and carrot cake is an option, I'll always take it. Especially if it's topped with a sweet cream cheese frosting. I've been tinkering with this carrot cake recipe over the past month to get it just right. I first made a batch for my undergraduate research assistant's birthday, and while the cupcakes tasted spectacular, they were very fragile and peeled completely away from the wrappers as soon as they cooled.
For my second iteration, I changed a few things: I increased the amount flour, increased the oven temperature and baking time, and reduced the amount of oil/butter a smidgen. I served this batch up at my birthday pig roast. When I announced to the folks with the small kids who were escaping the rowdy action and the cold by playing with blocks in the living room that I'd put the cupcakes on the dessert table, they were first in line. And our 5-year-old neighbor was super pleased with the carrot cupcake.
With how moist and fluffy they are, you'd never know these carrot cupcake were gluten-free. This is not a "sub in for gluten carrot cakes, but not quite as good" cupcake - no, this cupcake is delicious in its own right. In fact, my friend Jen was shocked last week when I mentioned that the carrot cupcakes from the pig roast potluck were gluten-free.
The orange zest pops amid the sweet cooked carrot and coconut flavors and the creamy honeyed frosting ties it all together. I could eat so many of these in a row that I've even tried convincing myself this is a muffin and it's totally okay to eat as breakfast. There's carrots and oats in it - that makes it breakfast, right? That's a thing, right?....right? No matter what your dietary restrictions, these will be a hit at your next party.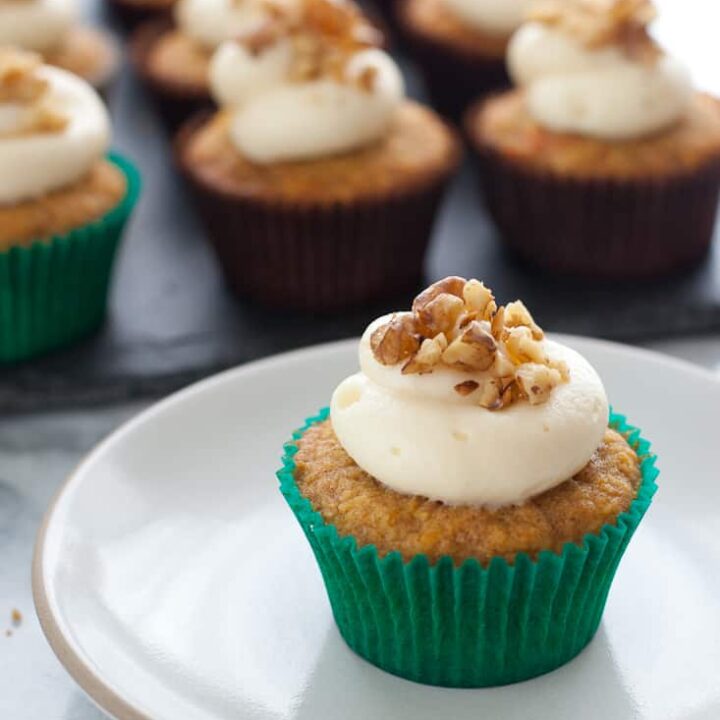 Gluten-free carrot cupcakes
Ingredients
1 cup chestnut flour
1½ cups oat flour (to make oat flour, just put rolled oats into the food processor and mix until it becomes a fine flour)
1½ cups sweet rice flour (also known as glutinous rice flour)
1 teaspoon baking soda
1½ teaspoons baking powder
1 teaspoon cinnamon
2 cups + 1 tablespoon baker's sugar (granulated sugar will also work just fine)
¾ cup unsalted butter, room temperature (1½ sticks)
¾ cup coconut oil, microwaved for 10-20 seconds to liquefy just below room temperature
1 teaspoon pure vanilla extract
4 eggs
6 tablespoons buttermilk (My go-to substitution: mix 6 tablespoons non-fat milk with ½ teaspoon vinegar and let stand for 10 minutes before using)
4½ cups shredded carrots (from about 3-4 carrots)
1½ cups unsweetened shredded coconut
2½ tablespoons orange zest (from 1-2 oranges)
¼ cup chopped walnuts, lightly toasted (optional)
Honey cream cheese frosting (recipe below)
Instructions
Preheat the oven to 350°F and line a cupcake tray with 2 dozen wrappers (or work in batches if you have smaller trays).
In a medium bowl, whisk together the chestnut flour, oat flour, sweet rice flour, baking soda, and baking powder. Set aside.
In the bowl of a stand mixer, mix together the sugar, butter, and coconut oil.
Add the eggs, buttermilk, and vanilla and mix until just combined.
Add the grated coconut, carrots, and orange zest and mix well to combine. Make sure the carrot is evenly distributed.
Slowly add the dry ingredients to the wet ingredients and mix until combined.
Fill each prepared cupcake liner ¾ full and bake for 20-22 minutes, or until a toothpick inserted into the middle comes out clean or just a few crumbs. Transfer to a wire rack to cool completely before frosting the cupcakes.
Once cool, frost each cupcake and add a sprinkling of walnuts for decoration (optional)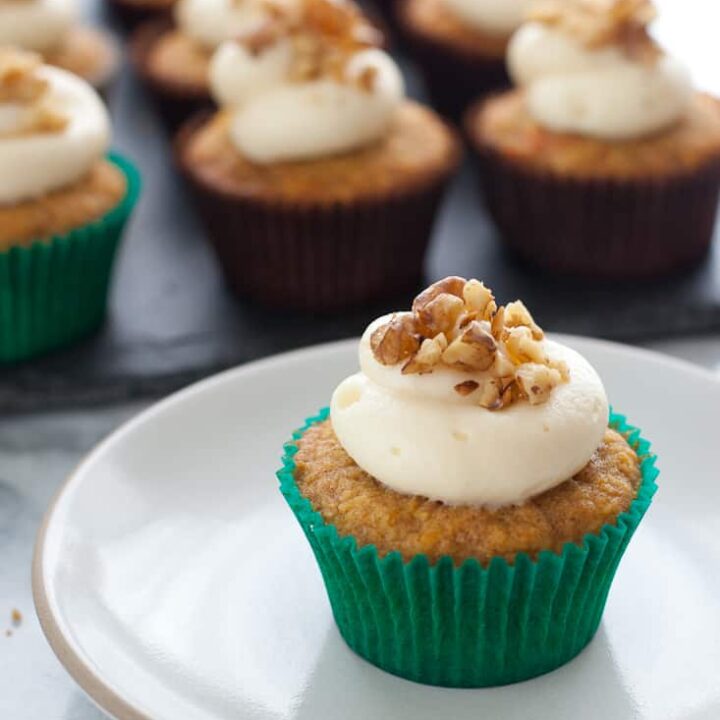 Honey cream cheese frosting
Ingredients
2 8-ounce blocks of cream cheese, room temperature
1 cup unsalted butter, room temperature
3 cups powdered sugar, sifted
1 teaspoon vanilla extract
4 tablespoons honey
Pinch of salt
Instructions
In the bowl of a stand mixer, cream the butter over medium speed.
Add the cream cheese and whip until combined.
Add the powdered sugar, in thirds, mixing on slow speed until combined.
Add the vanilla, honey, and salt, and beat on medium speed until smooth.
Transfer to a pastry bag fitted with your favorite tip.