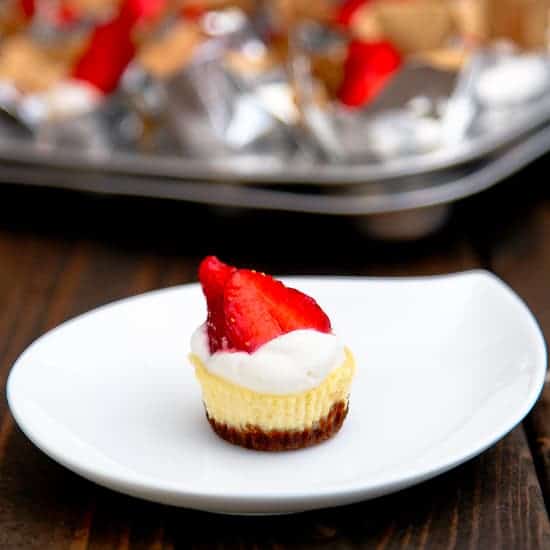 I've been in a funk lately. With all this travel, life's been piling up to-do tasks and I feel like I've got no time to do them. To make matters worse, when there are a billion important things to do (like telling you about these cheesecake bites), I have a terrible tendency of avoiding doing anything on my list. My logical self knows that's not how things get done, but my irrational side hopes tomorrow there'll be way less to do. And besides, there's SO much on my list that I'll never make a dent in it, so why bother? After convincing myself that this is a totally sane thought-process, I take another trip to the fridge to see what's to eat. Nothing. Again. Add grocery shopping to the insurmountable list. When procrastinating, I never even do anything remotely productive in other aspects of my life.  You'd think that when skipping out on a run or reading a journal article, I might take a break to post about my delicious kitchen creations...but no! I somehow simultaneously convince myself that I haven't earned that time and contradictorily settle for crummy TV or a nap. Please tell me I'm not alone. Alas, I'm two weeks late sharing the most incredible dessert I've ever eaten at a BBQ. Hands down.
But first, I'll keep the suspense for a bit longer! As promised, here's a picture of the homemade teak salad spoons Lucas and I made for our friends' wedding last weekend. This is our fourth pair of spoons we've made as wedding gifts over the past year (so if you're getting married soon, you now know what to expect;). After trying several different types of wood, we've decided teak is the easiest to work with and as an added bonus, it leaves the prettiest patterns. The bride Margot was in disbelief when she found out we made them in our backyard with just a jigsaw borrowed from the library and lots and lots of sandpaper. We still have five pairs to craft in coming few months, but luckily Lucas has honed his woodworking skills and we can whip up a set in an afternoon.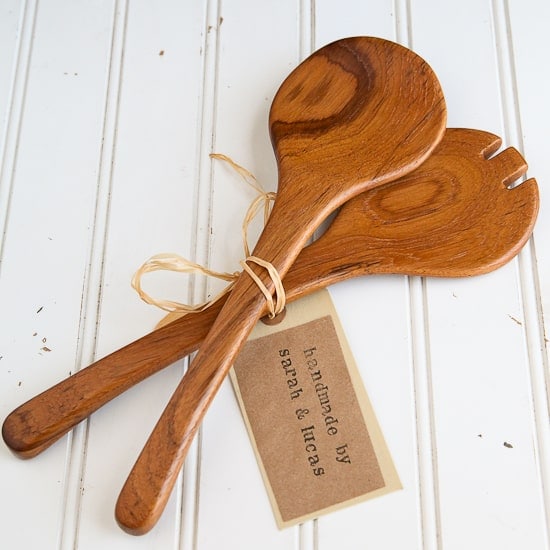 Now for the main event. We scarfed down these gingersnap strawberry cheesecake bites at our memorial day barbecue. Normally we invite 20 people over, expecting about four or five to show, and prepare accordingly. The Sunday sun brought a change of fate and by Saturday afternoon 18 of Lucas's college friends (who usually stay confined to the South Bay) had RSVP'd yes. I had to rethink my planned strawberry pie to accommodate; I only own one pie pan (which I conveniently bought the day before just for the occasion), and I couldn't fathom slicing my pie into 18 slivers. With basket-loads of strawberries as inspiration, these mouth-watering bite-sized treats were born. Not only were they way more fun because they were mini, but they were also incredibly addicting.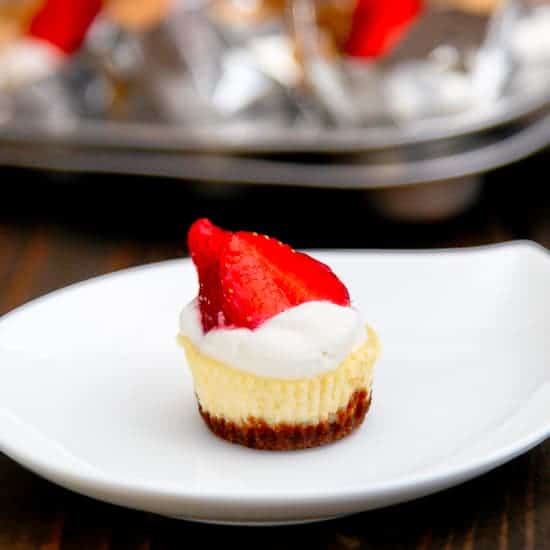 As a bite-sized dessert, I say with confidence that these treats are much easier for a novice chef than baking a whole cheesecake. During my last week of teaching in 2009, I attempted a peanut butter cheesecake from scratch for my students. The water bath surrounding the foil-wrapped springform pan seeped in, leaving the crust with the texture of soggy crackers. And, on top of that, the cheesecake didn't set very well, so it served more like pudding. My students didn't complain and ate the whole thing anyway, but I've been a little scared of baking cheesecake since. Add my wonky oven to the mix and it surely won't turn out properly. These mini sweets, on the other hand, are foolproof, and are arguably more delicious than sliced cheesecake.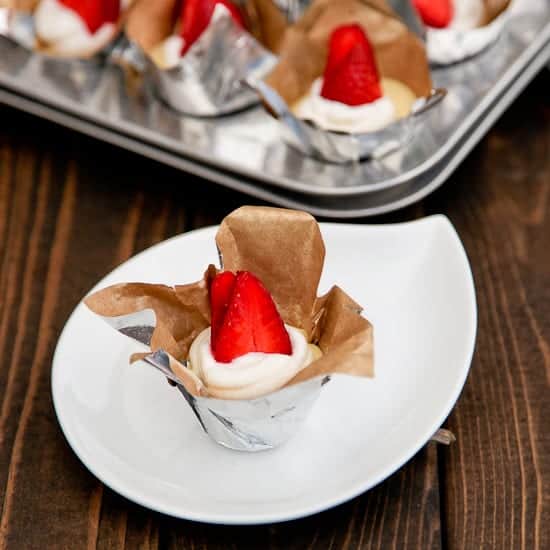 Rather than traditional graham crackers, this crust uses crumbled gingersnaps, which adds impressive spicy sweetness. Packed with distinct flavors from the gingersnaps, cheesecake, whipped cream, and strawberries, each bite melts in your mouth, leaving you wanting more. And the dangerous part is that you can easily convince yourself that it's just fine to eat 5 or 6 since they're only one bite each. And that's just what happened at our BBQ; the 14 friends that showed up devoured all 36 servings in less than 5 minutes. Now if only I'd doubled the recipe so I could have leftovers!
Gingersnap strawberry cheesecake bites
Makes 36
Crust
1 cup gingersnaps, crumbled (I prefer Trader Joe's brand)
2 tablespoons sugar
2 tablespoons butter, melted
Cheesecake
1lb cream cheese, softened
½ cup plus 2 tablespoons sugar
A pinch of salt
½ teaspoon vanilla
2 eggs
3 tablespoons sour cream
1 pint of strawberries, sliced
Preheat the oven to 350ºF. Line three mini muffin tins.
For the crust, mix the gingersnap crumbles with 2 tablespoons sugar. Add the butter and mix thoroughly .
Press about a teaspoon and a half of the gingersnap mixture into the bottom of each liner. Hint: I used silicone mini liner to press it down and it worked great.
Bake the crust-lined trays until set, about 7 minutes. Cool on wire racks.
Reduce the oven temperature to 275ºF.
Meanwhile, in the bowl of an electric mixer, beat the cream cheese on medium speed until smooth.
Add the sugar, salt, and vanilla. Beat until combined.
Add the eggs, one at a time, mixing until well combined.
Add the sour cream and combine.
Drop about a tablespoon and a half of the cream cheese mixture into each crust-lined cup.
Bake for about 20 minutes until just set (It's okay if it's just a little jiggly in the center).
Chill for at least 4 hours in the refrigerator before serving.
Just before serving, top each with a dollop of whipped cream (recipe below) and 3-4 strawberry slices.
Whipping Cream
½ cup heavy whipping cream
¼ cup powdered sugar
¼ teaspoon vanilla
With stand mixer or by hand, beat heavy whipping cream until it begins to froth, a couple of minutes.
Add powdered sugar and vanilla. Continue beating until soft peaks form.