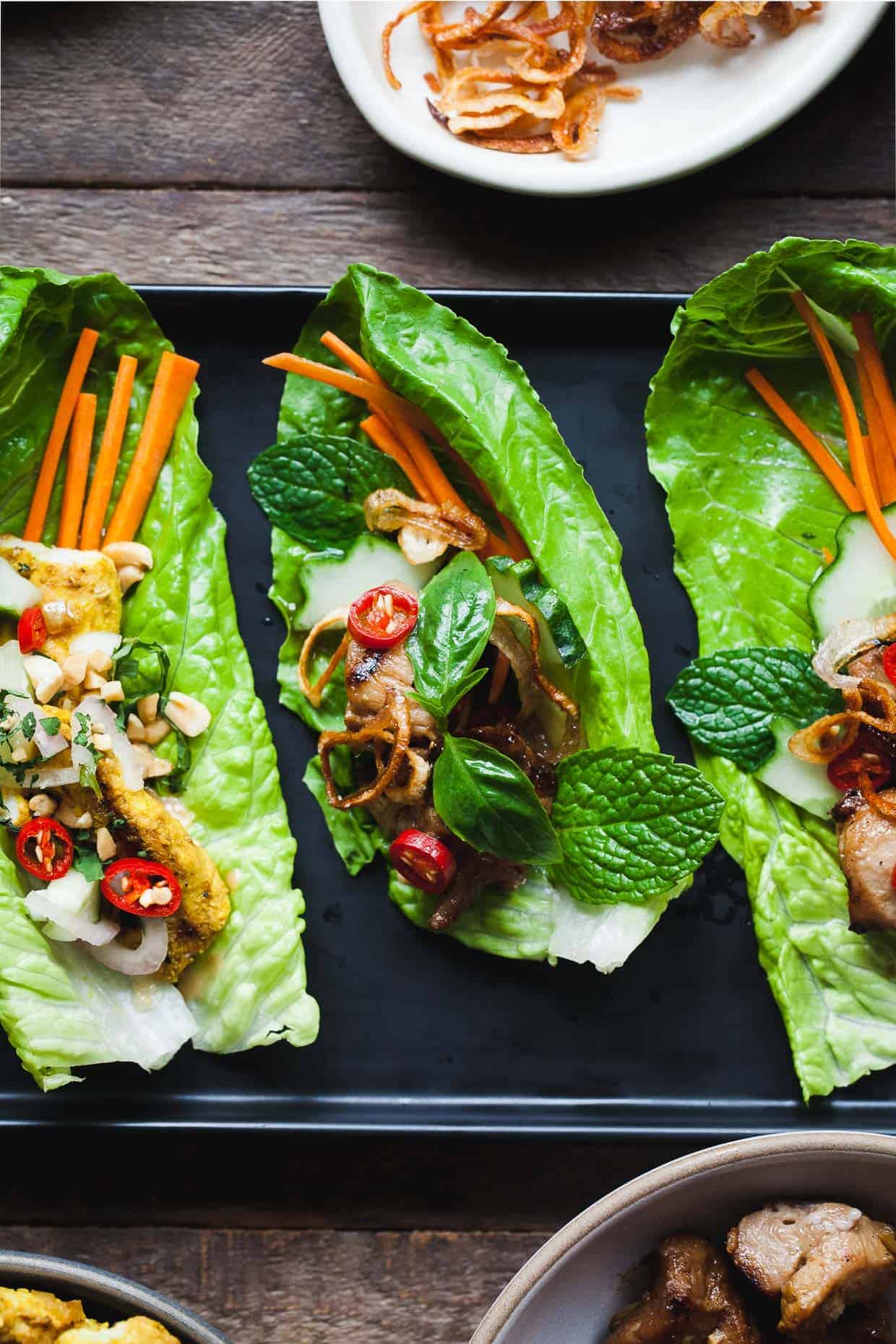 These ginger lemongrass pork lettuce wraps with nuoc cham sauce are my contribution to a lettuce wrap party for two with Todd of Honestlyyum . When we hatched plans to use a lettuce wrap collab to try our hand at stop-motion video (inspired by Betty's tutorial), I could have sworn he said "Hey, can I come over and hold your baby?" (What's that? You heard it too?)
It's a good thing he's a dad and likes babies because there was a lot of that.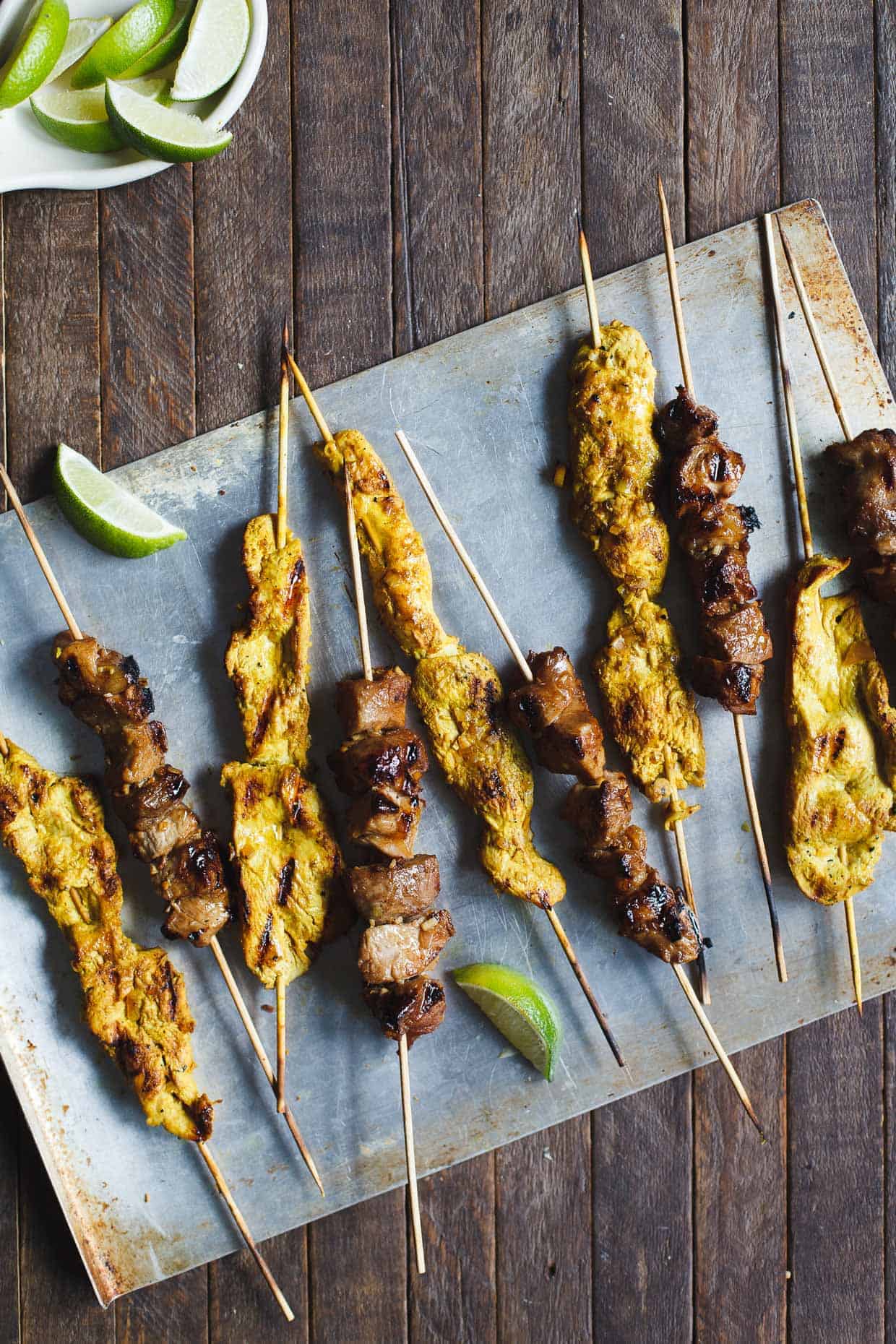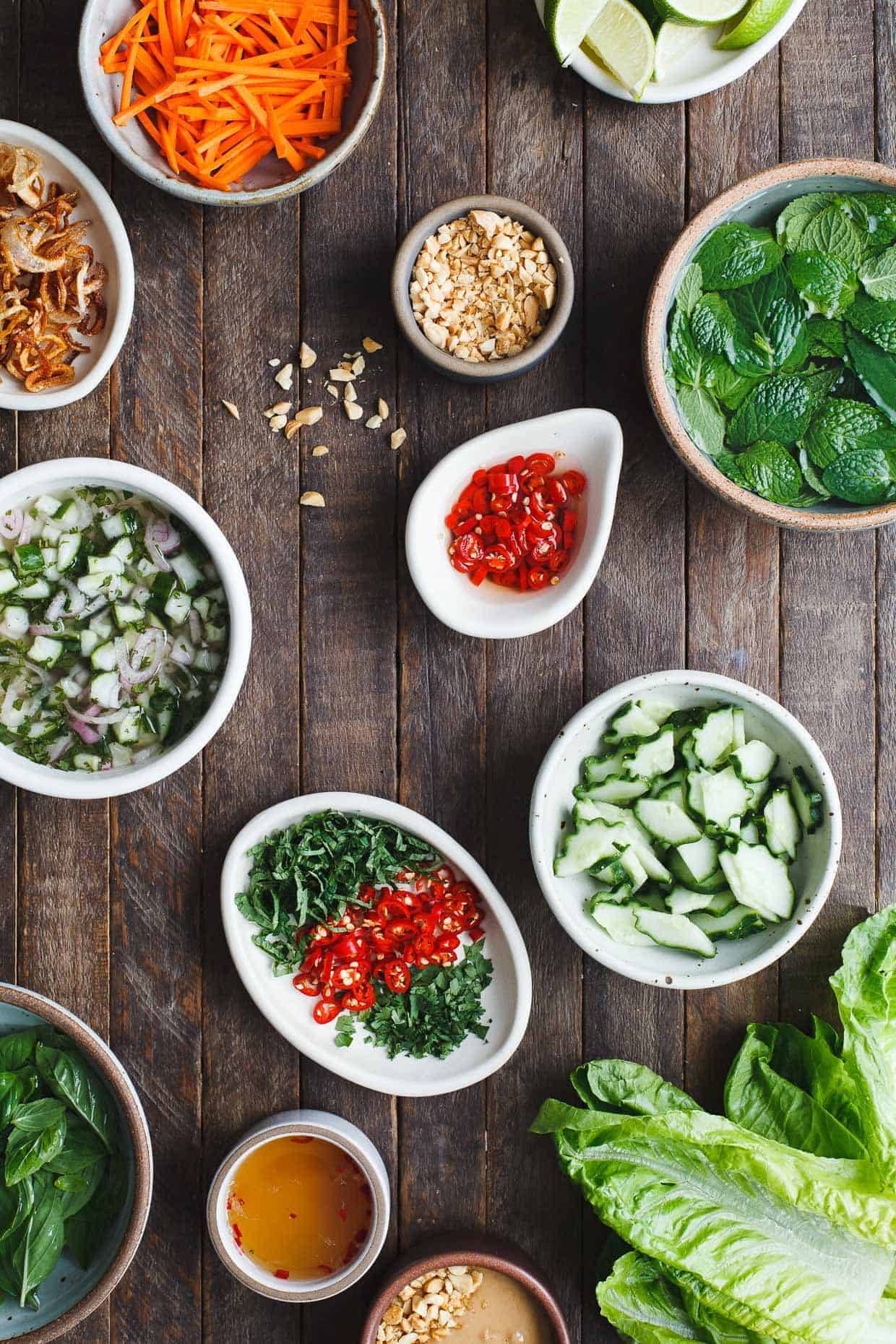 Even though we planned the shoot around Zoella's naps, cooking and styling took a little longer than expected, as is my MO. Todd came over with his garnishes pre-cut, his meat marinating, and his sauce ready to go. Meanwhile, I felt proud that at least I'd gotten my meat marinating the night before.
The afternoon turned into a game of pass Zoella back and forth while the other person cooked or took pictures. In other words: Todd was either holding my baby or cooking my food at any given moment.
It's also a good thing Todd has a bit of scruff on his chin because I don't know if you know this, but facial hair is HILARIOUS to babies (or is that just my baby?).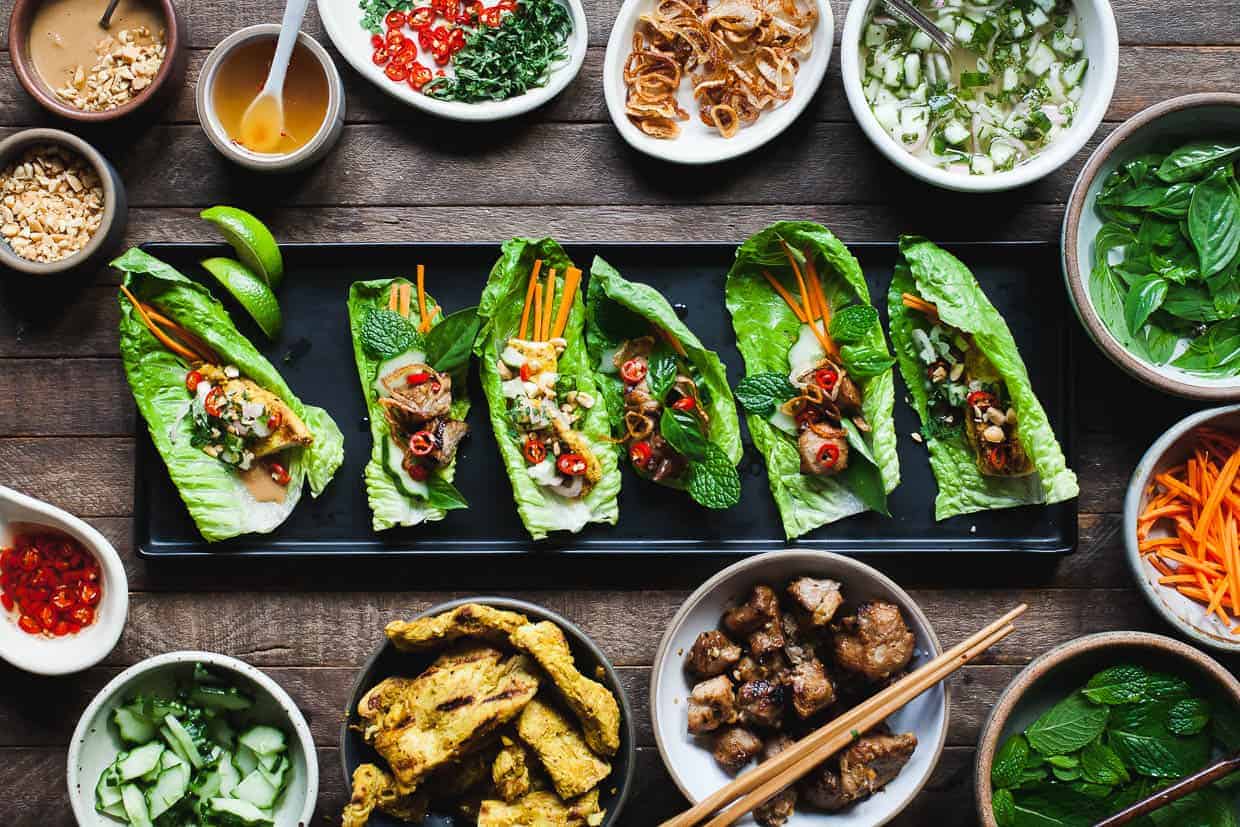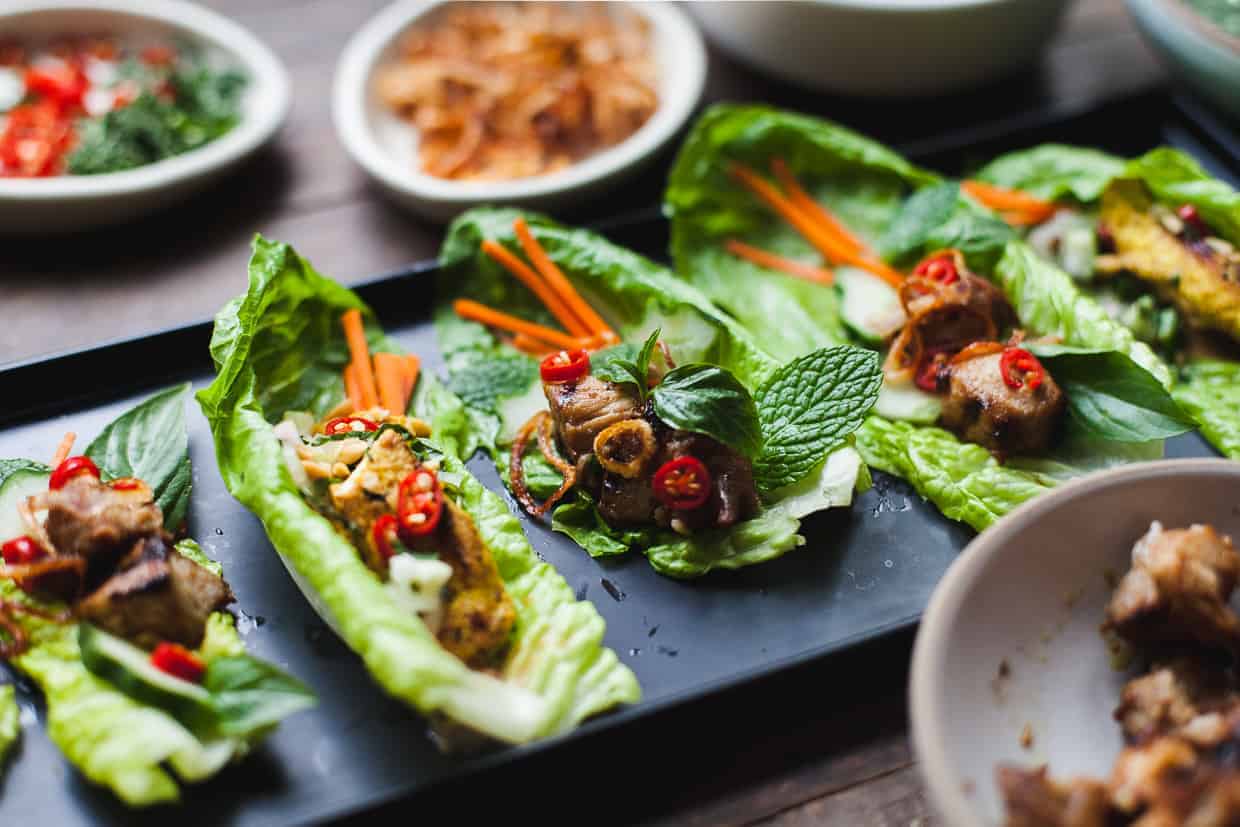 We're bringing you two versions of lettuce wraps: my ginger lemongrass pork with nuoc cham sauce and Todd's chicken satay with peanut sauce (both nestled together in these pics). We also made a stop motion gif of the assembly!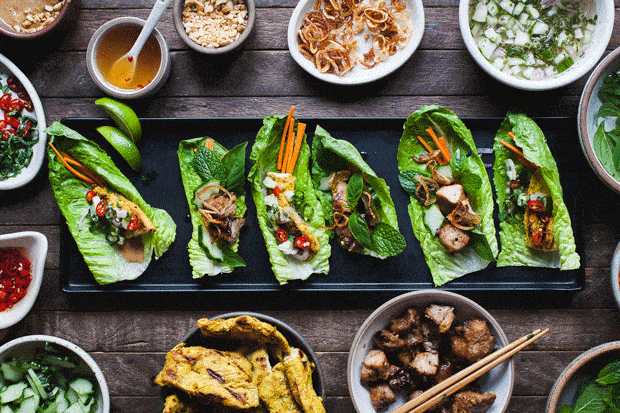 The flavors for my ginger lemongrass pork lettuce wraps are inspired by the Hue Rolls at Mau and the Pho Rolls at Rice Paper Scissors here in SF - both places wrap up marinated meat and other goodies in thick pho rice noodles as finger food. Though I have found full sheets of fresh rice noodles here in the Bay, I thought lettuce wraps would be more accessible and just as tasty.
I've filled crisp lettuce cups with ginger soy lemongrass pork, carrots, cucumber, mint, thai basil, cucumber, spicy thai bird chiles, and topped it all with crispy fried shallots and a drizzle of Vietnamese nuoc cham sauce. I first made these with quick pickled thai bird chilies, which I thought would tame the heat, but it didn't make much difference, so I've left that out of the recipe. I also thought the recipe would serve 4, but they were so addicting that they definitely only served two.
I'm obsessed with Todd's peanut sauce and marinade, so be sure to check out his chicken satay lettuce wraps too!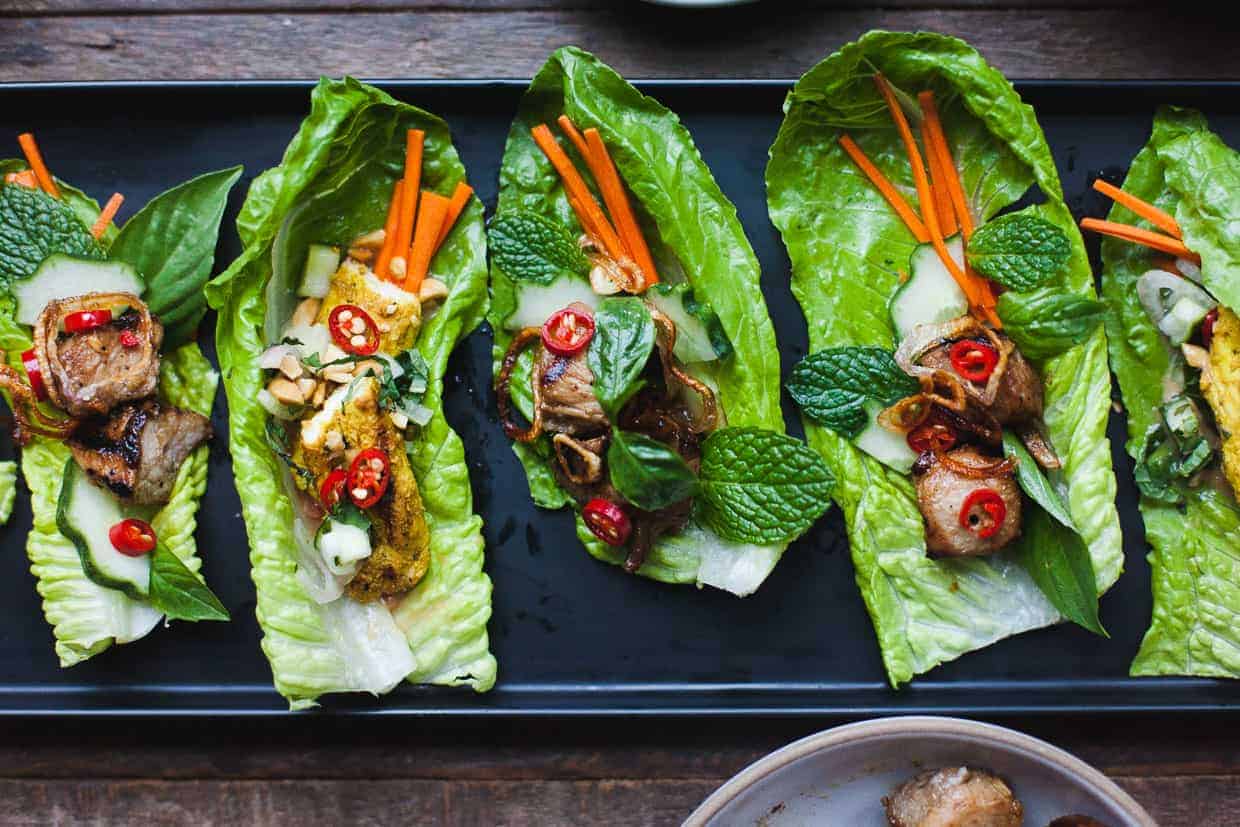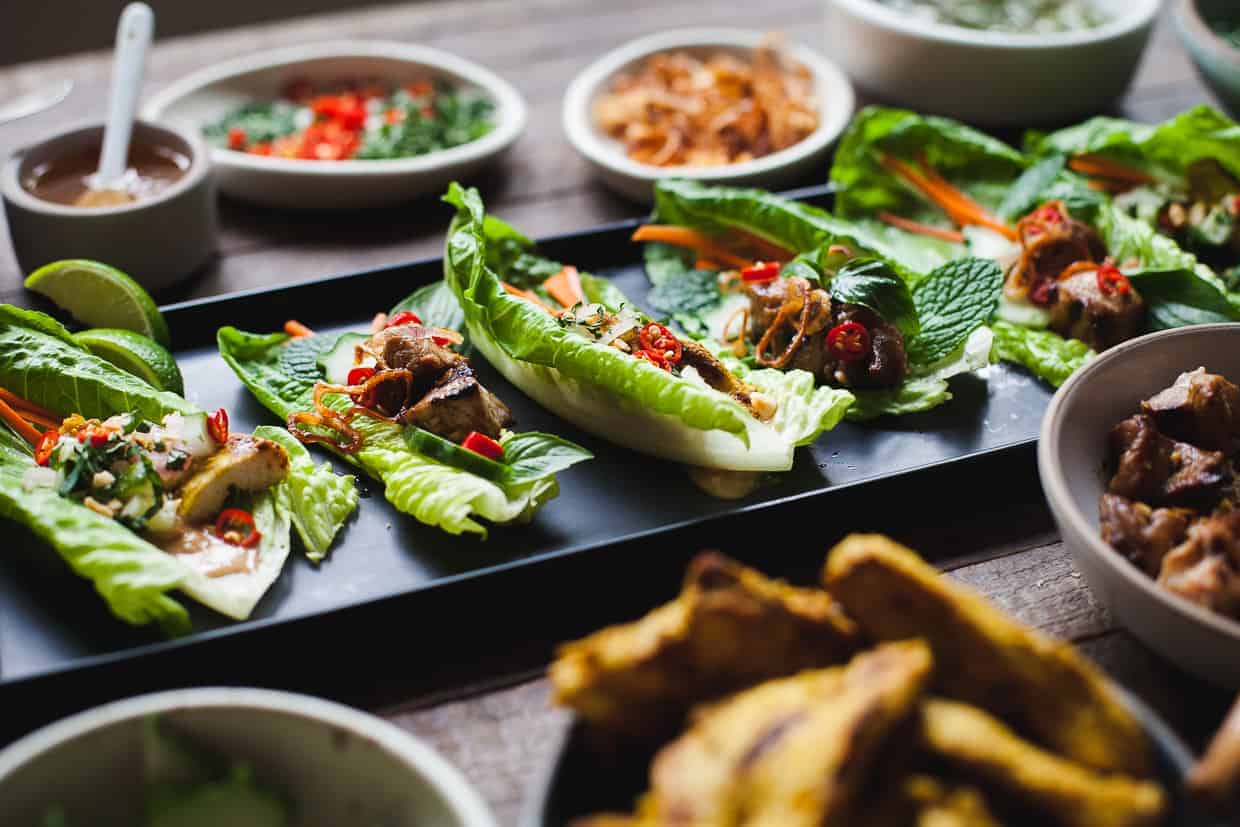 Thanks for reading Snixy Kitchen! To stay up on what's coming out of my kitchen, follow me on Facebook, Instagram, Twitter, Bloglovin', Pinterest, or subscribe via e-mail to get new recipes right to your inbox.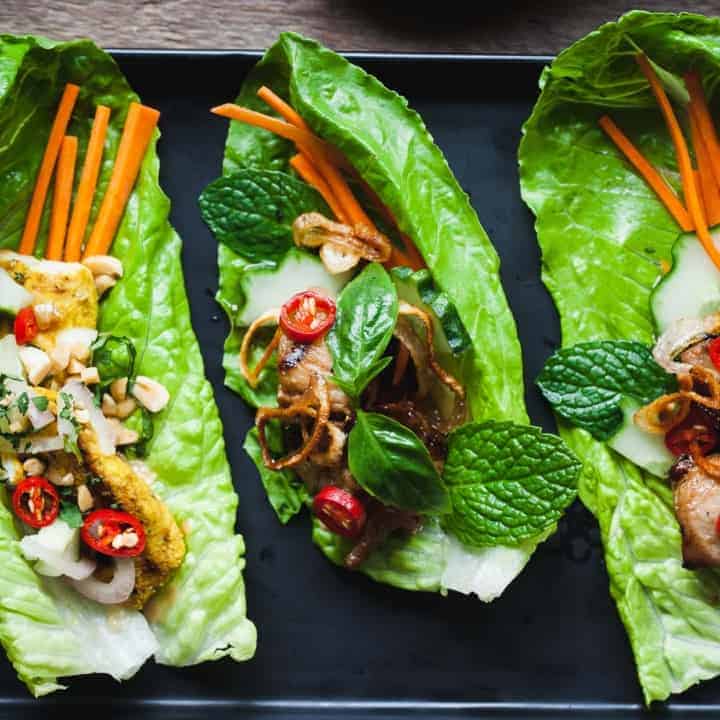 Ginger Lemongrass Pork Lettuce Wraps with Nuoc Cham Sauce
Yield:
2 servings - 12-14 lettuce wraps
Ingredients
Ginger Lemongrass Pork Marinade
3 tablespoons packed dark brown sugar

3 tablespoons tamari sauce
3 tablespoons vegetable oil
2 tablespoons fish sauce (preferably Vietnamese fish sauce - nuoc mam)
2 tablespoons finely chopped fresh lemongrass 
(4-5 stalks, peeled, pressed, and chopped)
1 tablespoon freshly chopped ginger
1 large shallot, finely chopped
4 cloves garlic, minced
1lb pork sirloin, cubed into 1-1½ inch cubes
6 wood skewers, soaked in water for 5-10 minutes.
Crispy Fried Shallots
1 large shallot, peeled and thinly sliced
¼ cup vegetable oil
Nuoc Cham Sauce
½ cup hot water
¼ cup sugar
6 tablespoons freshly squeezed lime juice (from 3-4 limes)
¼ cup fish sauce (preferably Vietnamese fish sauce - nuoc mam)
2 medium garlic cloves, pressed
1 small bird's eye chili, minced
Lettuce Wraps
1-2 heads of romaine hearts (or butter lettuce)
1 small bunch fresh mint leaves (20-30 leaves)
1 small bunch fresh Thai basil (20-30 leaves)
½ large carrot, peeled and cut into matchsticks
½ large English cucumber, thinly sliced and cut into halves or quarters
4-6 Thai bird chiles, thinly sliced
1 lime, cut into wedges, for serving
Instructions
Combine all of the ingredients for the ginger lemongrass pork marinade in a medium bowl. Add the cubed pork and toss to coat. Cover and let marinate in the refrigerator at least two hours or overnight.
Meanwhile, prepare the crispy fried shallots. Heat ¼ cup vegetable oil over medium heat. Add shallots and cook, stirring, until they turn golden brown, about 5-10 minutes. Use a slotted spoon to remove the shallots to a paper towel-lined plate (they'll crisp up as they cool). Set aside.
Prepare the nuoc cham sauce. Combine all the ingredients of the nuoc cham sauce in a small bowl.
When the meat is done marinating, preheat a grill pan over medium high heat (or an actual grill) and thread the pork onto skewers.
Grill the pork skewers for 3-5 minutes per side, until cooked through and lightly charred. Remove pork from skewers and set aside.
Build the lettuce wraps. Place 2 pieces of pork inside a piece of lettuce. Top with 2 mint leaves, 2 thai basil leaves, carrot matchsticks, cucumber slices, 2-3 slices of thai bird chiles, crispy fried shallots, and a small drizzle of nuoc cham sauce. Serve with lime wedges.