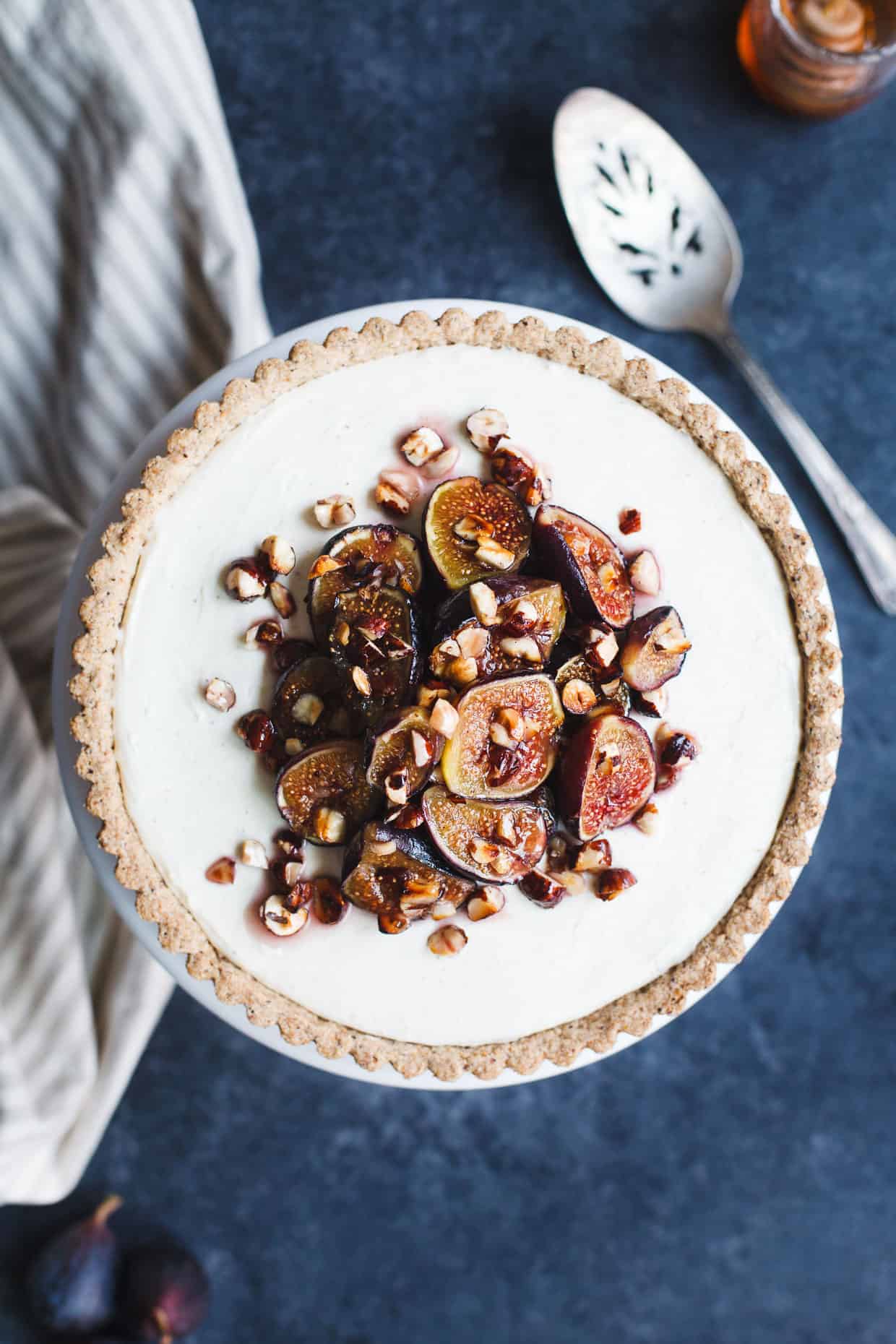 In case you're wondering when the best time to make friends with someone is, it's right when they're pitching a gluten-free baking cookbook to publishers. I know because that's when I met Alanna. It's also when I willingly accepted my new role as dessert taste tester, with a constant rotation of Alanna's latest cookbook creations showing up at my house. It's a tough job being friends with Alanna.
At the end of *cough*waytoolong*cough*, Alternative Baker is FINALLY ALMOST HERE!! I'm so stinkin' excited to share Alanna's masterpiece with you via this ginger goat cheese cheesecake tart inspired by her flavor pairings and built on a crust adapted from the book.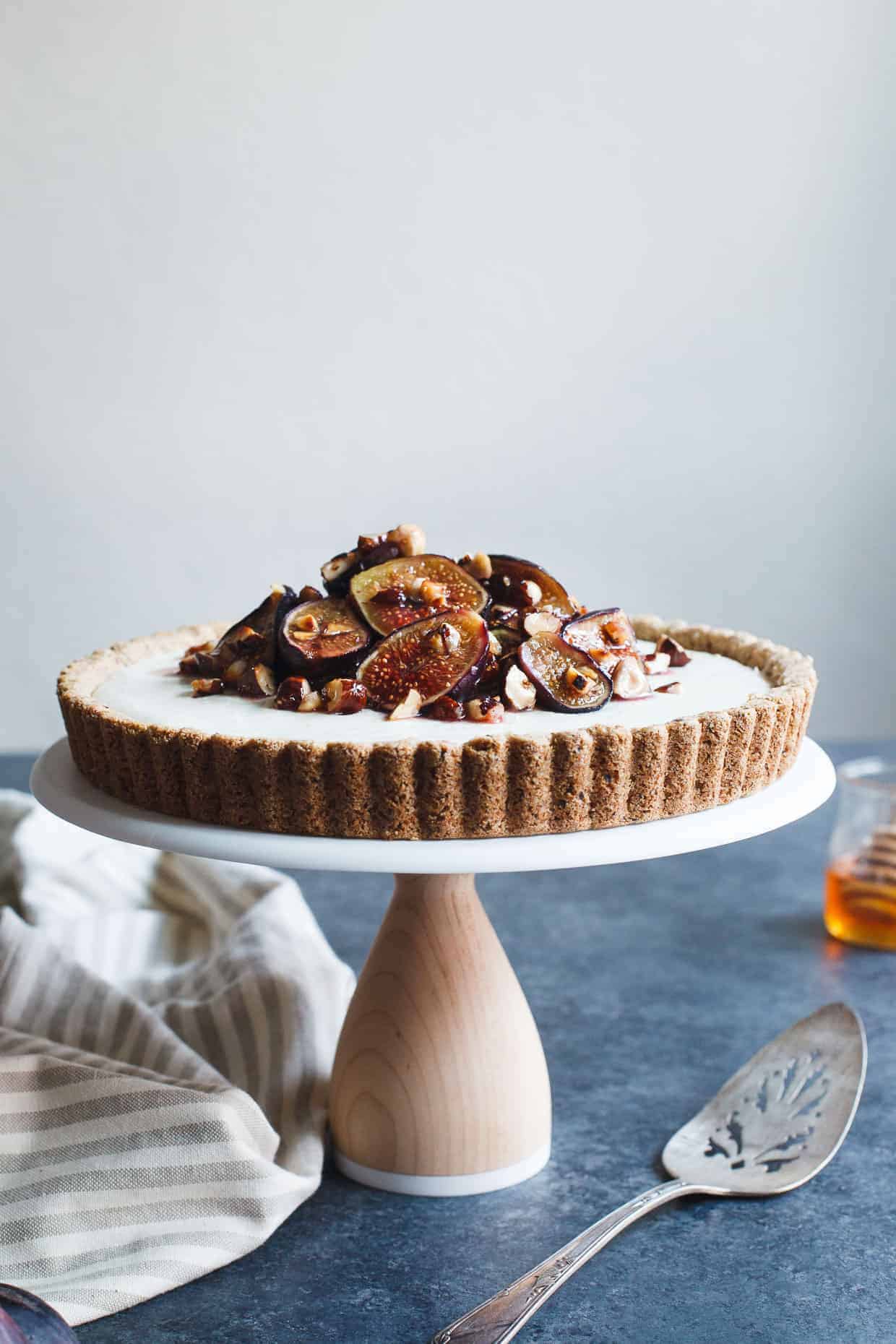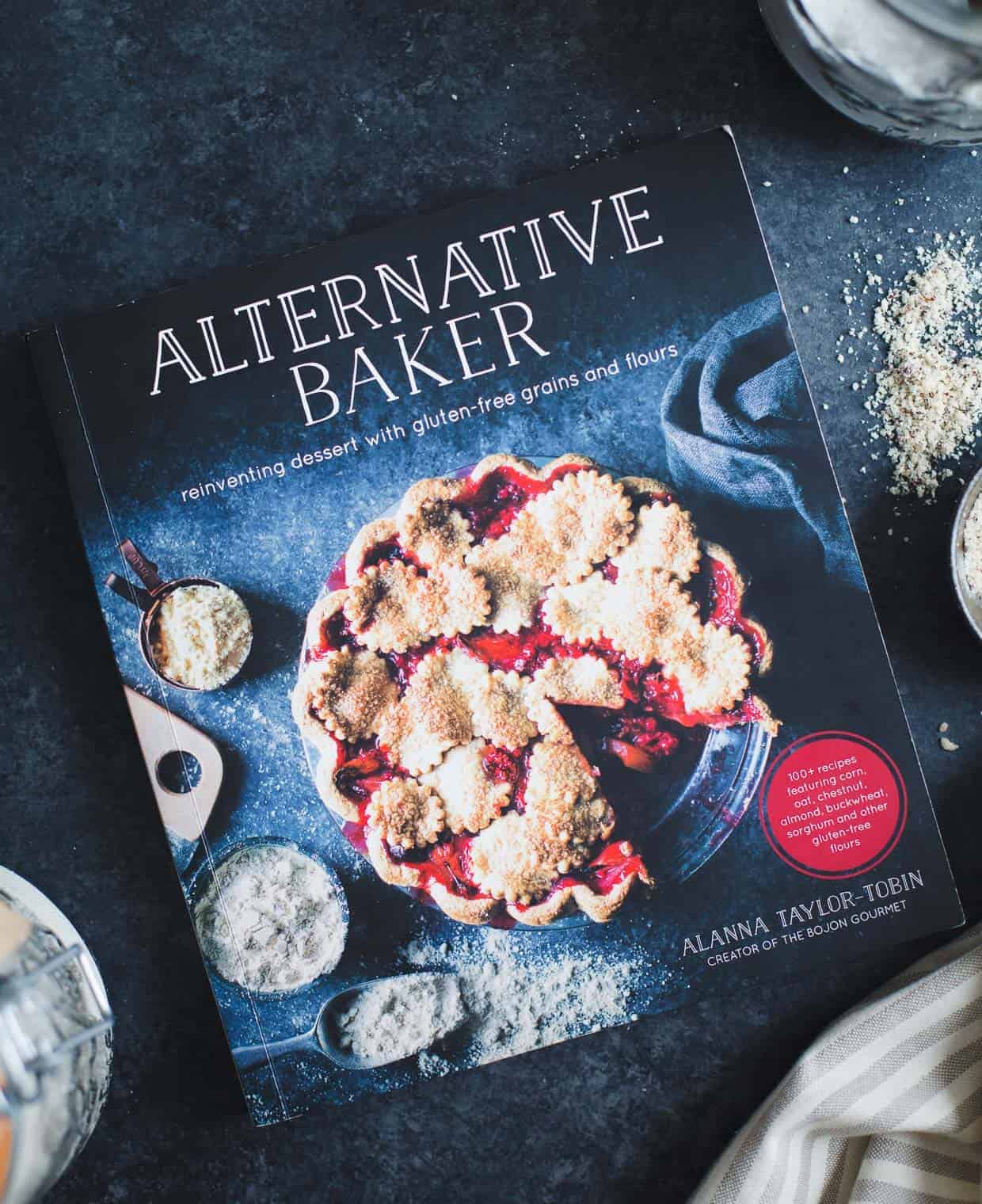 Before we talk about this ginger goat cheese cheesecake, pull up a chair to watch the trailer Alanna and I made for her cookbook.
With a gorgeous photo for every recipe, you'll probably be tempted to lick the page. (It doesn't work like Willy Wonka's wallpaper, I tried). She lent me her only copy this week and I'm sorry to report that I "lost" it, Alanna. I'm definitely not lying. But even if I were, I licked it, so it's mine.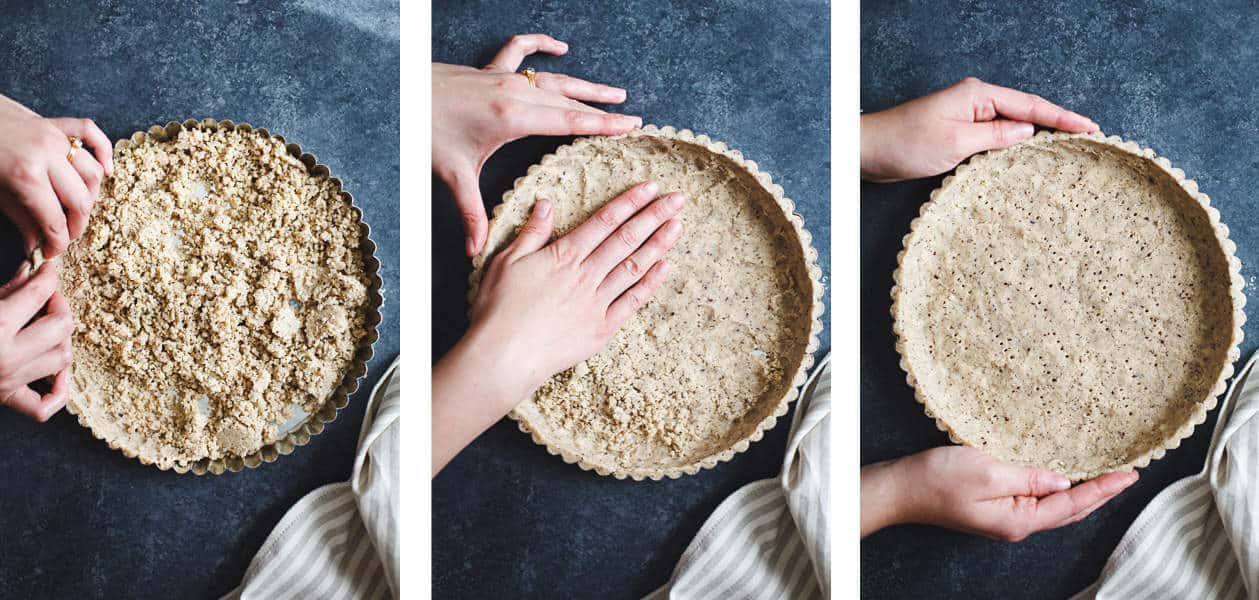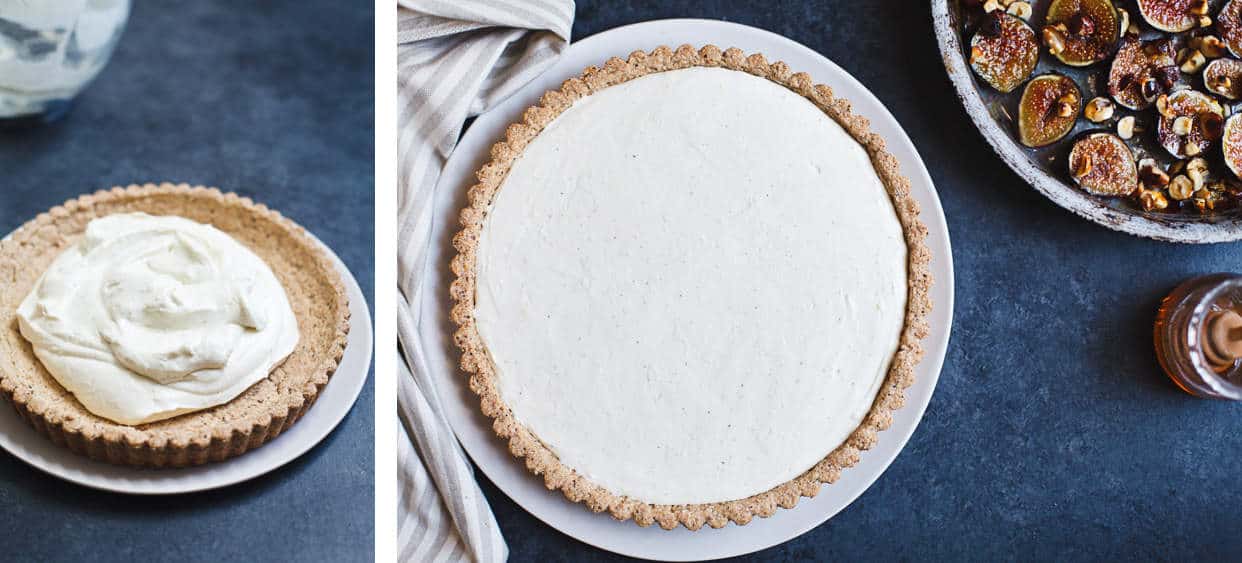 While Alanna worked tirelessly on her cookbook baby, I worked on gaining sympathy weight from taste testing allofthedesserts (like I said, tough job). About halfway in, I figured what better way to hide it than actually getting pregnant. So I did that and then got to taste-test for two. See also: best time to be pregnant.
After tasting about 75% of the recipes in the book and then flipping through (and drooling on) the pages of the first print copy, ecstatically announcing "I've eaten that!" about 100 times, trust me when I say you should go pre-order your copy as soon as you can. Like now.
Are you a newbie to baking? Alanna will hold your hand. Order a copy.
Are you into baking? Alanna will challenge you with completely new flavor mash-ups. Order a copy.
Do you or do you know someone who bakes gluten-free desserts? Order a copy.
Are you none of the above, but you're still into gorgeous coffee table eye candy? Order a copy.
Alternative Baker is not just a book for gluten-free diets, either. Alanna imparts rich flavors into dessert by way of their unique flours. The desserts just taste more exciting than their gluten-filled counterparts because of the roasted notes in chestnut flour, the sweet flavors of corn flour, and the delicate nuttiness of almond flour. Her recipes are a refreshing reprieve from the oft bland hockey pucks that have given gluten-free baking a bad rep.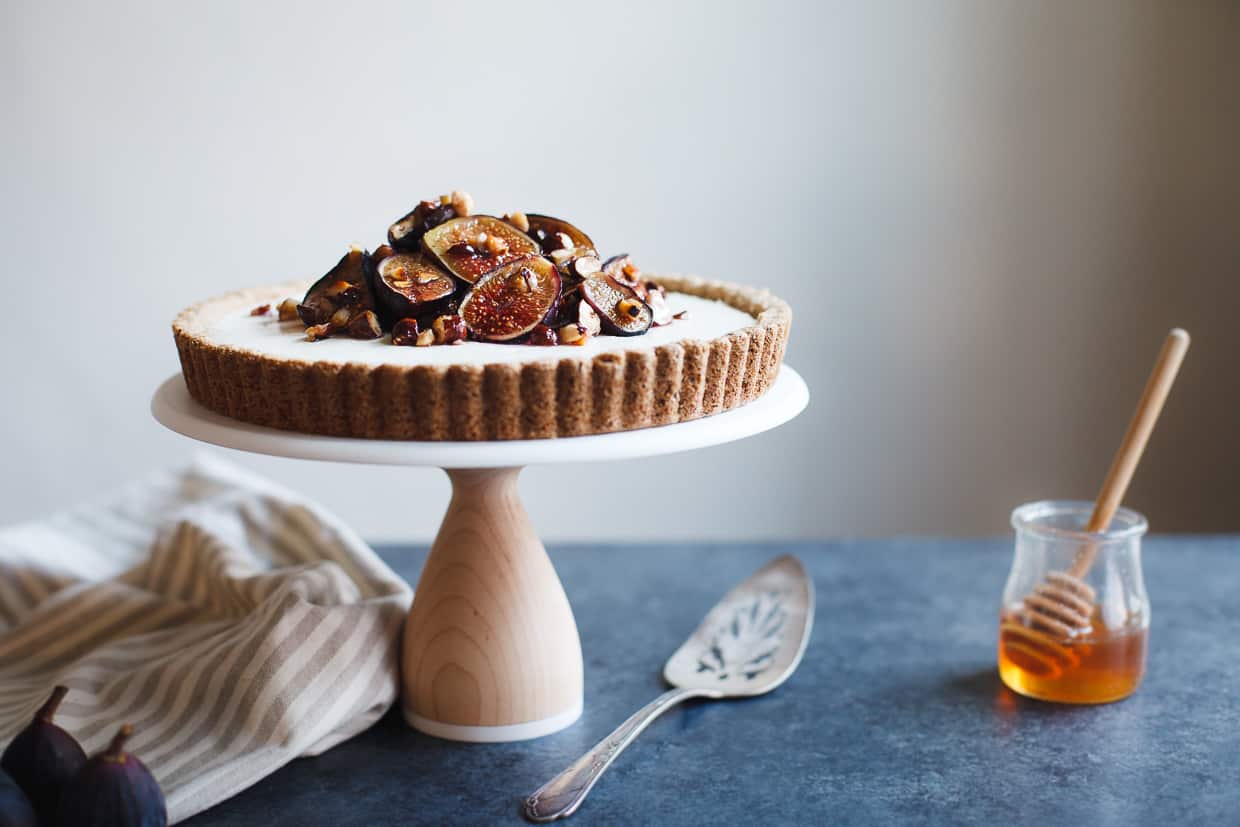 My no-bake ginger goat cheese cheesecake is built on a vanilla hazelnut tart crust (barely) adapted from Alternative Baker's Vanilla Almond Tart Crust. While it's certainly a hard choice, this tart crust is my favorite thing in the book; I could eat it as a cookie without any filling. It's thick and sturdy enough to hold cheesecake, but delicately crumbles at the prong of a fork and bursts of nuttiness, vanilla, and butter.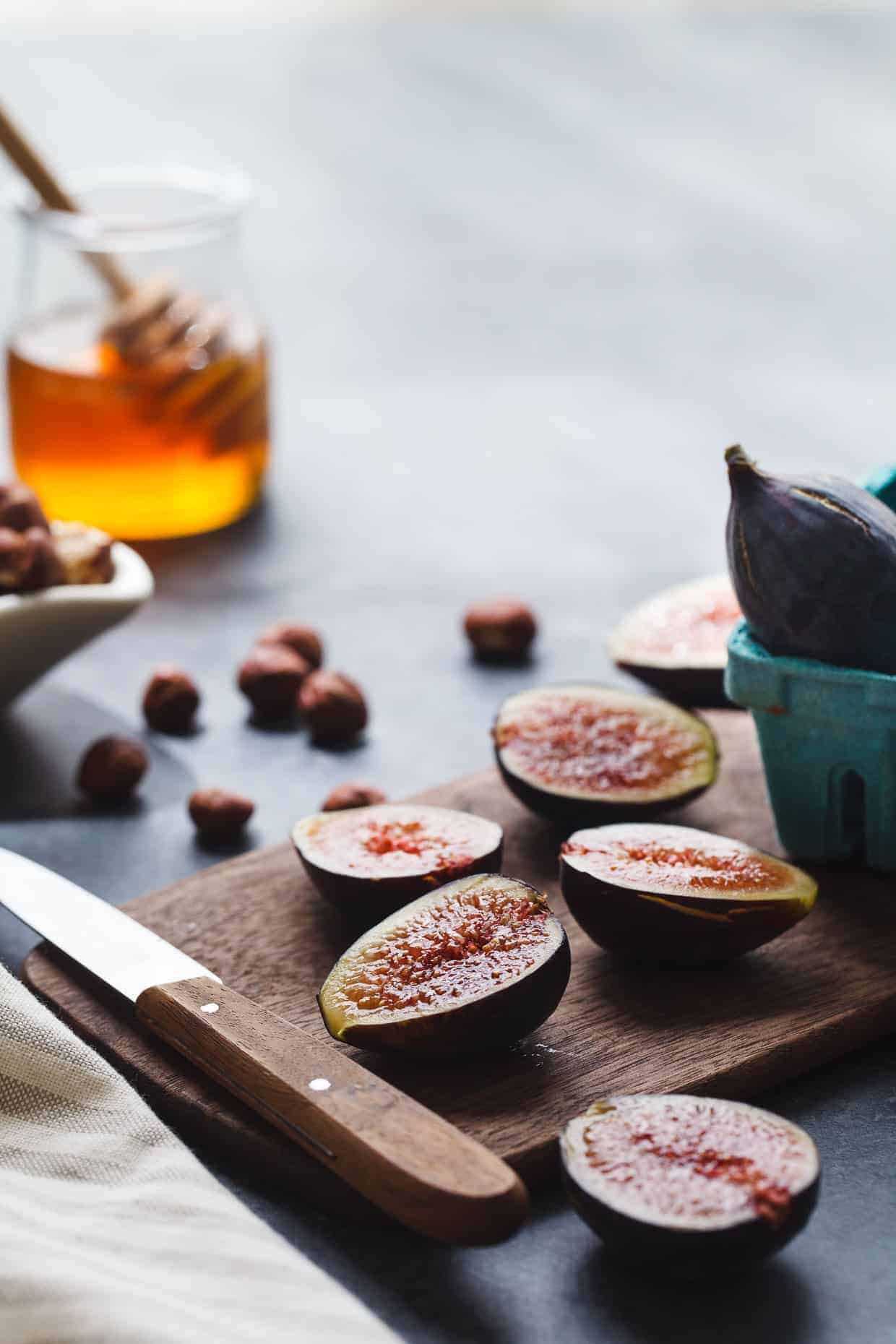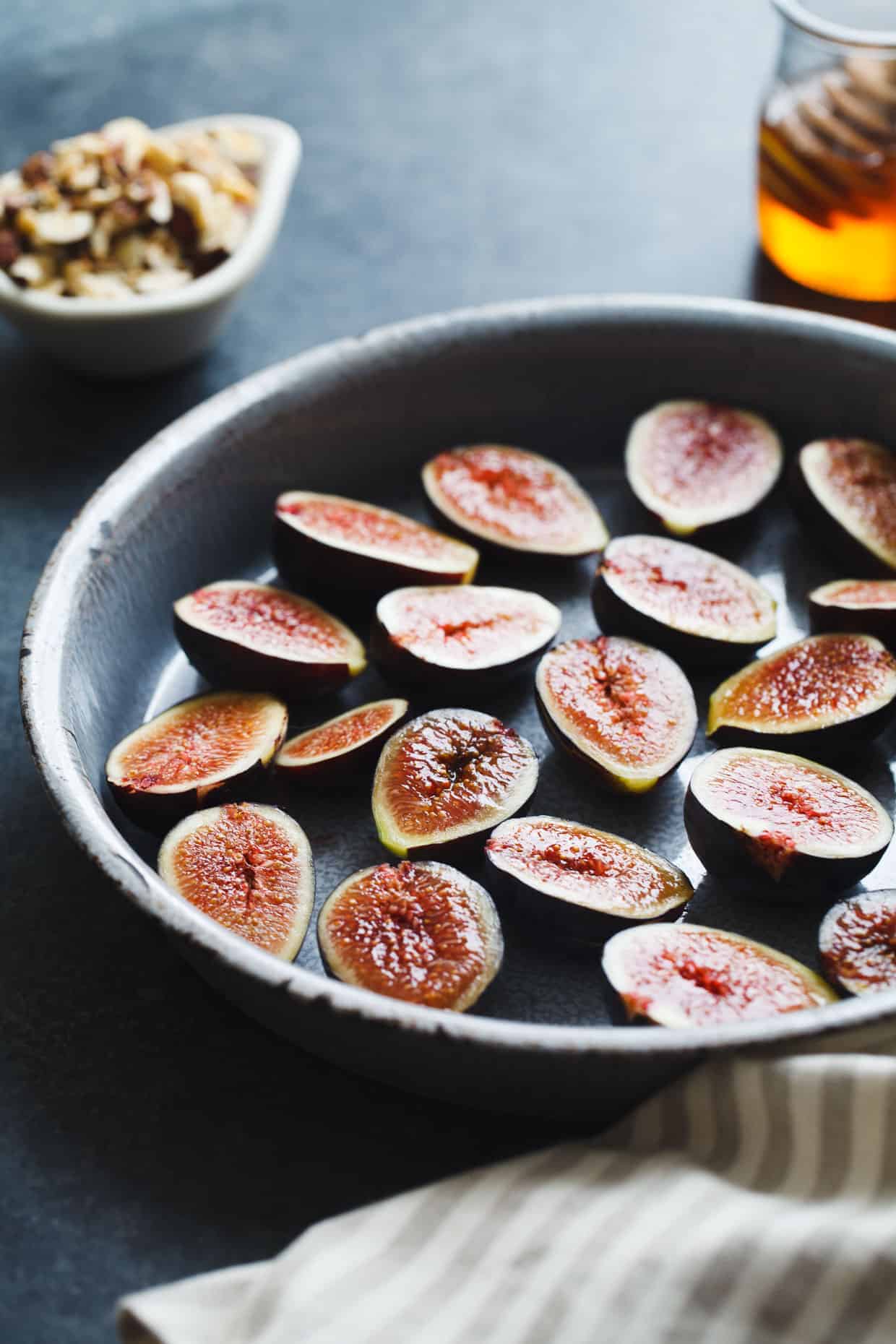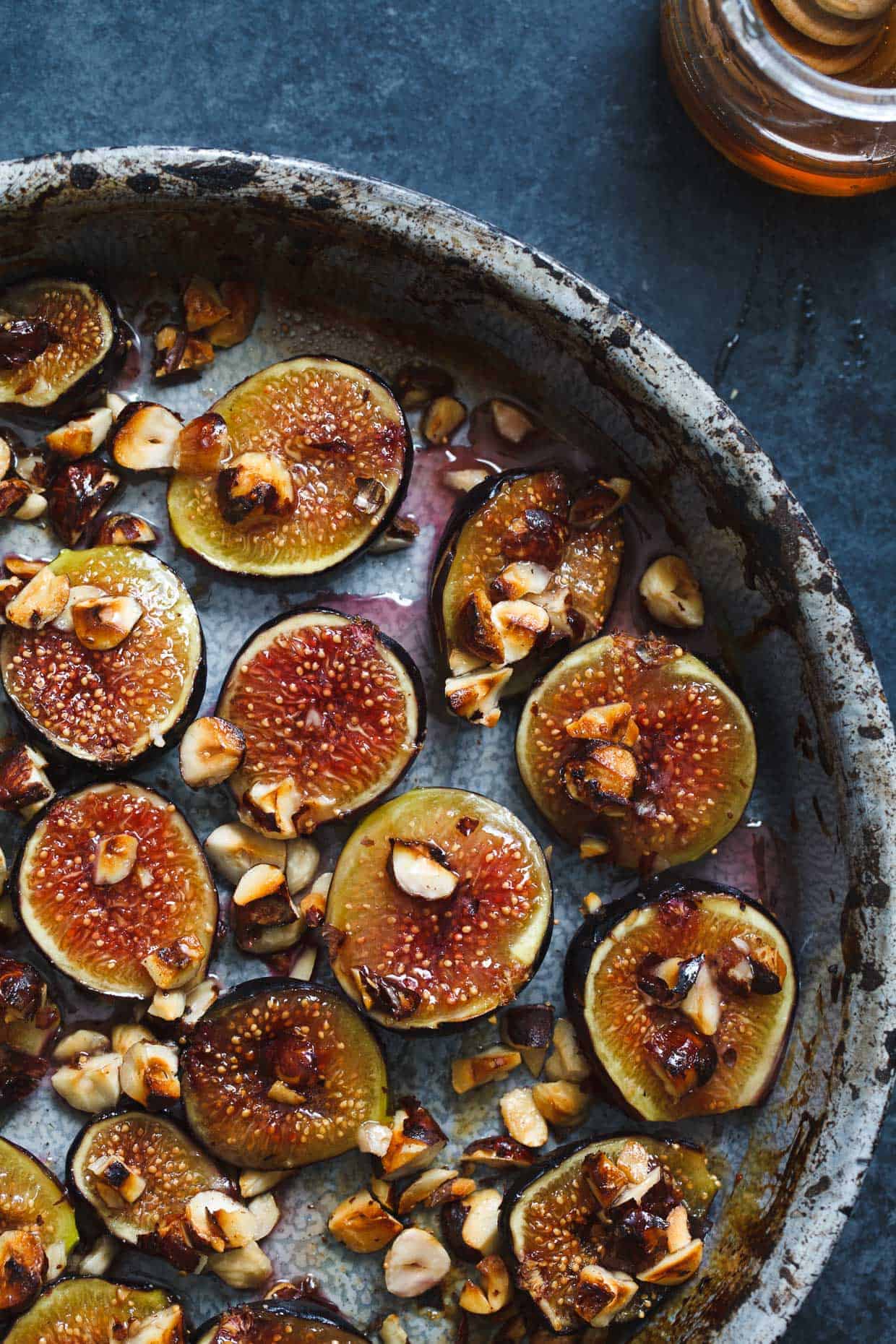 This honey-roasted fig topping to the tart draws inspiration from Alanna's extensive pairing of seasonal fruits with gluten-free grains and flours (and comes from a method I stole from her blog).
Real talk: you know how long it took me to come up with a fruit pairing she hadn't already used for my adaptation? A SUPER DUPER LONG TIME. She's filled the book to the brim with the most luscious fruits paired with flour flavors that enhance their subtle notes.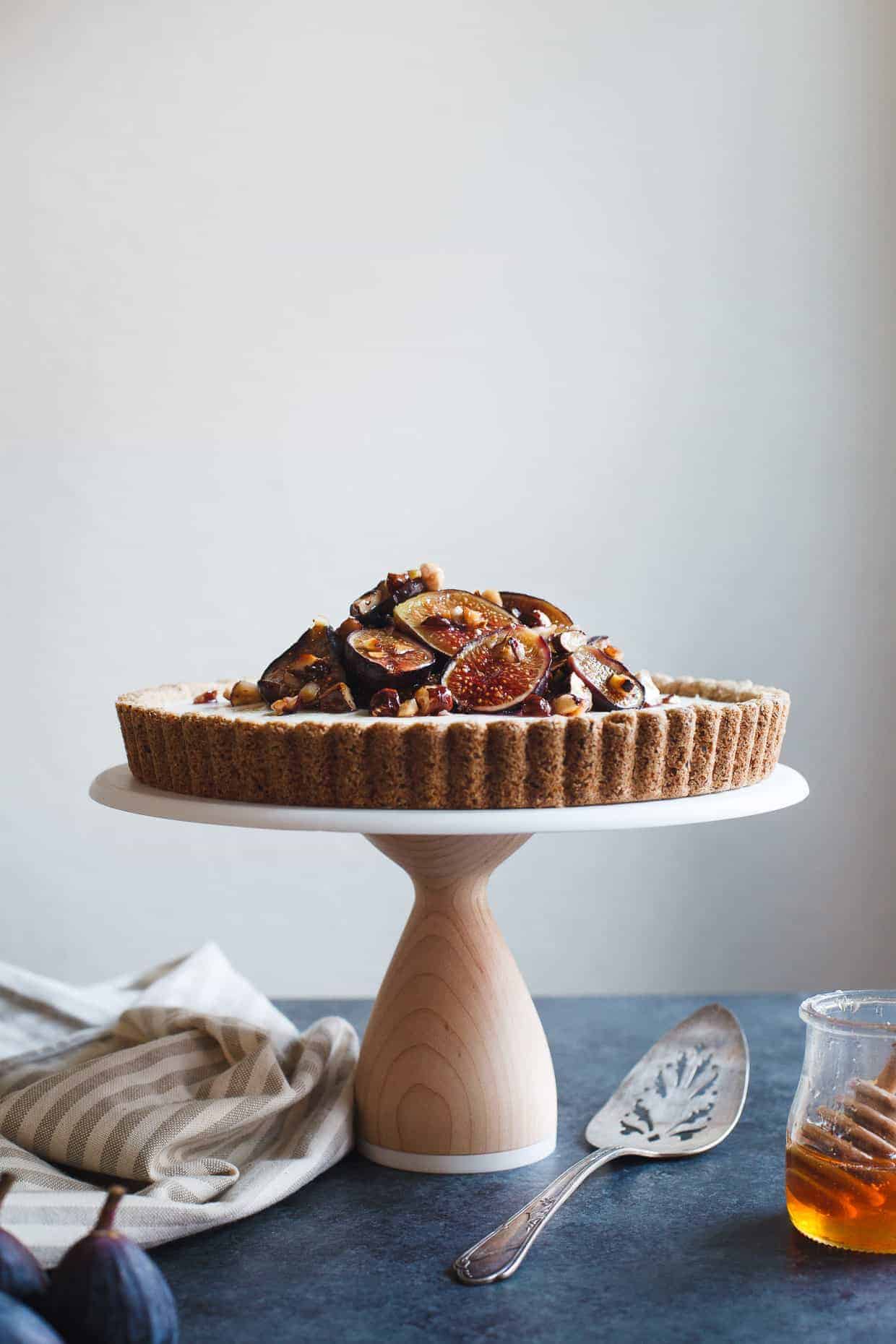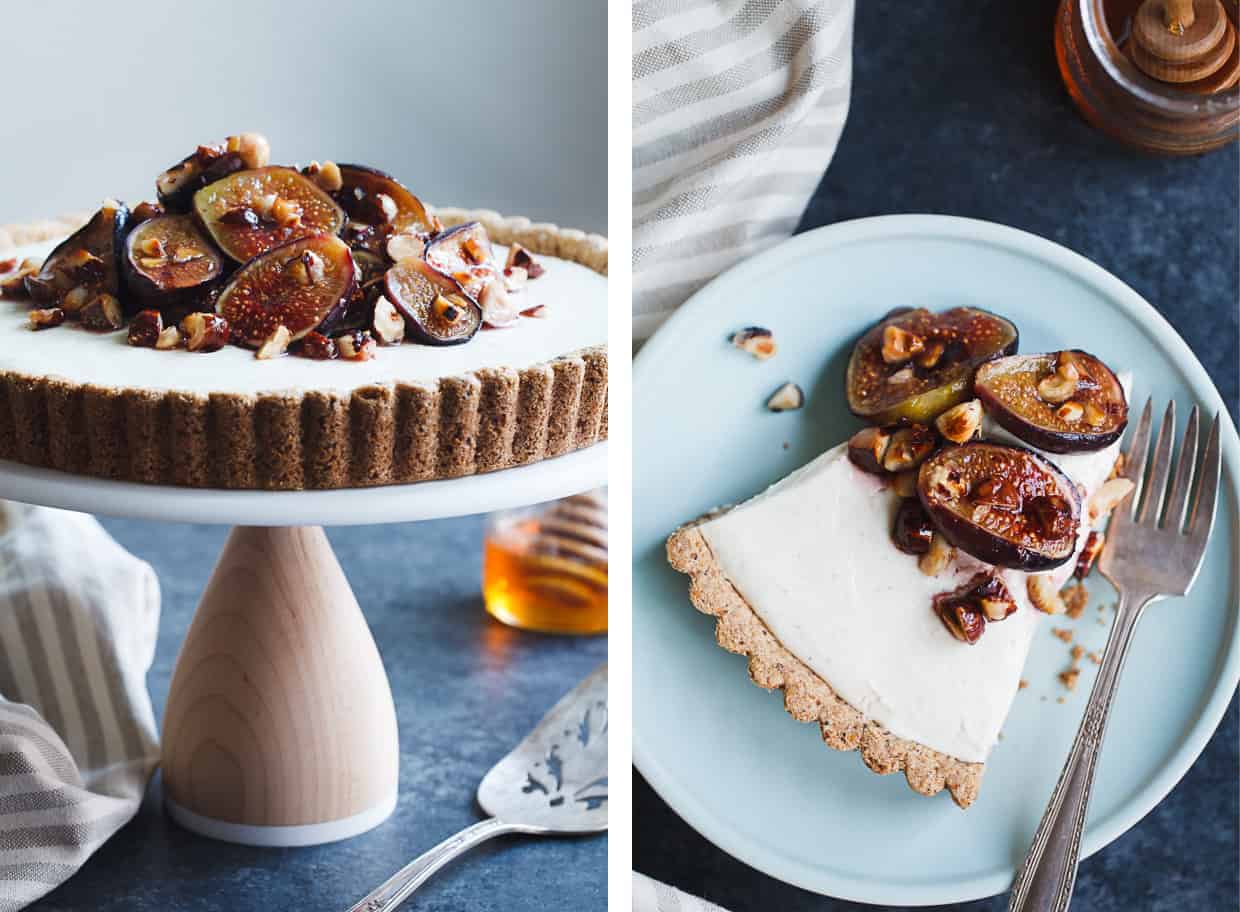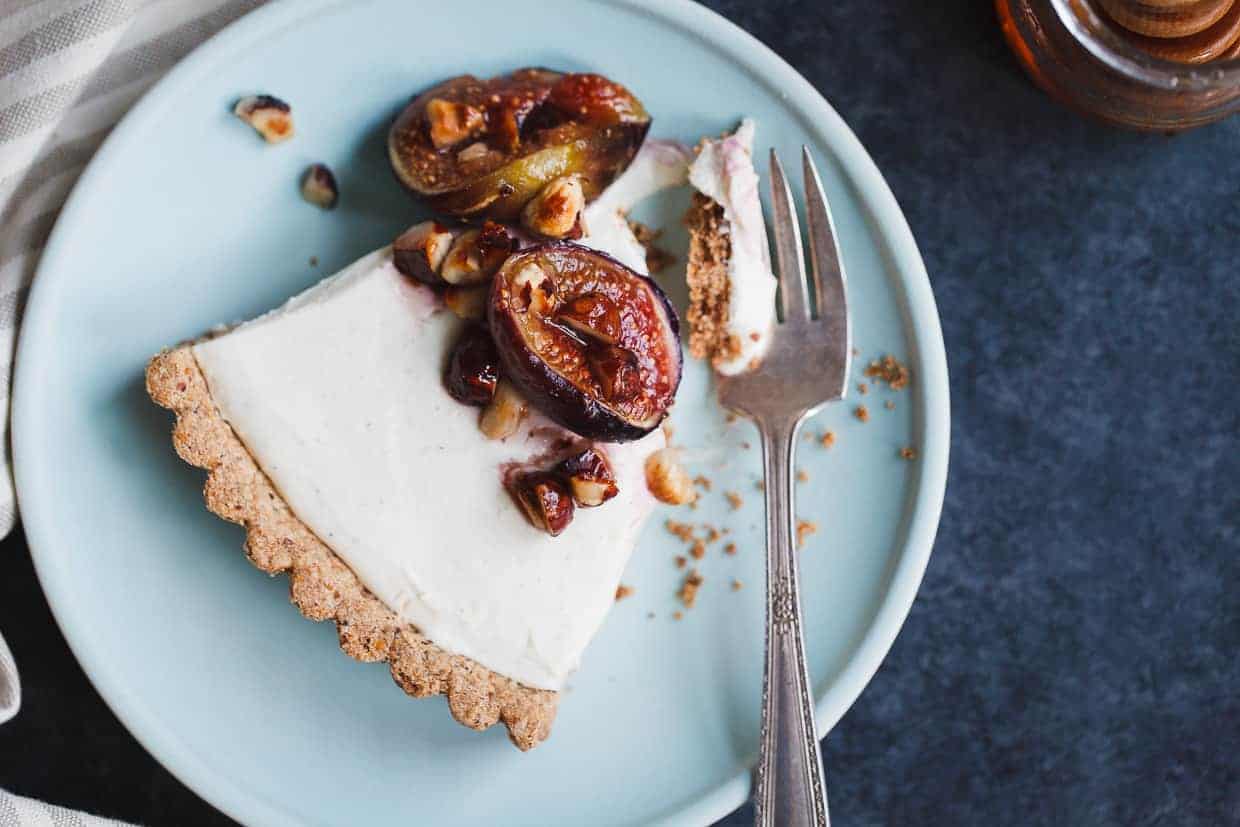 For my goat cheese cheesecake tart, I swapped in hazelnut meal for almond flour - hardly an adaptation - but the more assertive hazelnut stands up against a background of tangy goat cheese and earthy jammy figs.
A drizzle of honey sweetens up the goat cheese filling, turning the traditionally savory goat cheese and fig pairing into a velvety dessert. Folding in vanilla whipped cream adds a light almost mousse-like texture and freshly grated ginger gives it a subtle bite that pairs with the caramelization in the fruit and nut topping for a dessert that, like black mission figs, dangerously walks the line between summer and fall.
Did I mention that you should pre-order Alanna's cookbook, Alternative Baker? Do it.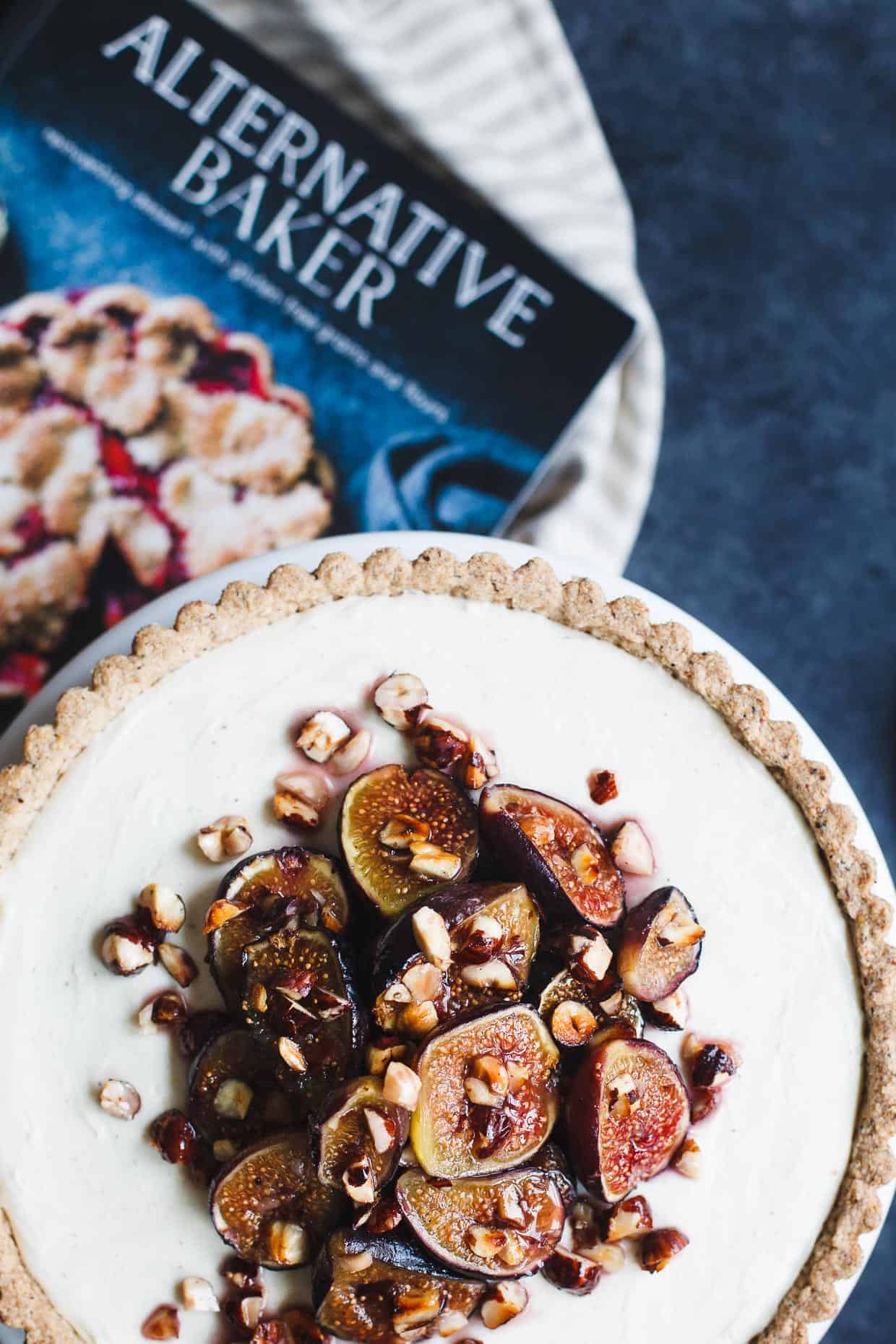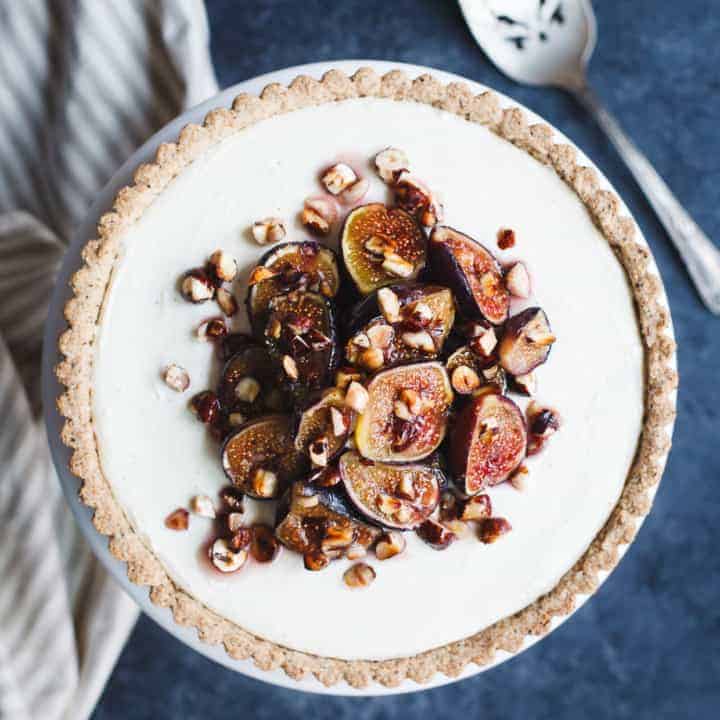 Ginger Goat Cheese Cheesecake with Honey Roasted Figs & Hazelnuts + Alternative Baker Cookbook
Ingredients
Gluten-free Vanilla Hazelnut Tart Crust
1⁄2 cup (55g) oat flour
*
1⁄4 cup (50g) granulated sugar
1⁄4 teaspoon fine sea salt
6 tablespoons cold, unsalted butter, cut into 1⁄2-inch cubes
1 teaspoon vanilla extract
Honey Roasted Figs & Hazelnuts
10 ripe black mission figs, halved
⅓ cup chopped hazelnuts
3 tablespoons honey
Ginger Cheesecake Filling
⅓ cup heavy cream, whipped
¼ cup + 2 tablespoons powdered sugar, sifted
8 ounces goat cheese, room temperature
8 ounces cream cheese, room temperature
1 teaspoon vanilla paste
3 tablespoons honey
2 tablespoons freshly grated ginger
Instructions
Gluten-free Vanilla Hazelnut Tart Crust
In the bowl of a stand mixer fitted with the paddle attachment, combine the hazelnut meal, sweet rice flour, oat flour, tapioca stach, cane sugar, and sea salt.
Sprinkle the butter cubes on top and drizzle with vanilla extract.
With the mixer on medium-low, beat until the dough begins to clump and the butter has been completely combined, about 3-5 minutes.
Dump the dough clumps into the bottom of an 9-inch tart pan with a removable bottom and begin pressing the dough evenly into the pan, starting with the sides and then moving to the bottom. Your crust should be between ⅛ and ¼-inch thick with the top edges squared off (this takes about 10-15 minutes of patience).
Prick the bottom all over with a fork and place in the freezer until firm, 15-30 minutes.
Meanwhile, preheat the oven to 375°F.
Remove the tart shell from the freezer and place on a parchment-lined baking sheet for easy clean up. Bake on the middle rack for 23-27 minutes, until lightly golden brown.
Remove from the oven and while the crust is still hot, use the back of a spoon to gently press down on the sides and bottom to help hold it together as it cools.
Once cool, life the tart crust from the pan and transfer to a cake plate or stand.
Honey Roasted Figs & Hazelnuts (Adapted from The Bojon Gourmet)
While the crust cools, preheat the broiler.
Lay the figs in a baking pan, cut side up, and spoon 2 tablespoons honey over the figs.
In a separate bowl, toss the hazelnuts in the remaining tablespoon of honey.
Broil the figs 6-inches from the heat for 3 minutes. Sprinkle the honeyed hazelnuts over the top and broil for an additional 2-3 minutes, until the hazelnuts are toasted.
Remove from heat and let cool for a few minutes. Transfer to the refrigerator to cool completely before topping cheesecake.
Ginger Cheesecake Filling
In the bowl of a stand mixer fitted with the whisk attachment, whip heavy cream until light and foamy. Add powdered sugar and whip until soft peaks form. Transfer to bowl and set aside.
In the same bowl with the paddle, beat the goat cheese and cream cheese on high speed until smooth and creamy.
Add the vanilla paste, honey, and ginger and beat until combined and smooth.
Fold in the whipped creamed until just combined.
Spread filling in cooled tart shell and smooth it out with an offset spatula.
Chill for at least 2 hours before serving.
Just before serving, top with cooled honey roasted figs and hazelnuts.
Notes
*I make my own oat flour by grinding gluten-free oats in a blender or food processor and sifting out the large pieces