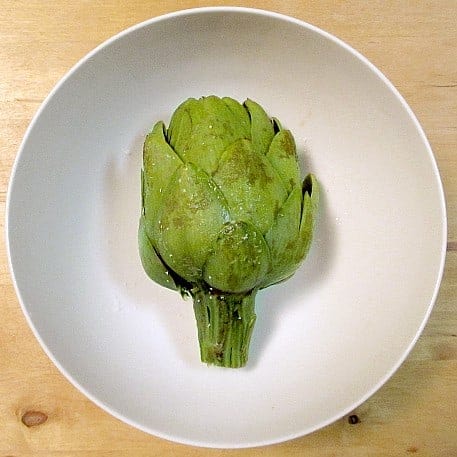 Once, while out at a nice restaurant, Lucas and I observed a patron at the table next to us using a fork and knife to cut and eat her artichoke; I imagine that after unsuccessfully chewing on the artichoke's tough leaves she thought, "how disgusting." Meanwhile, Lucas and I tried our darndest to keep a straight face (for those of you who have never experienced an artichoke at its best, here's a terrible but informative video to show you the appropriate way to eat an artichoke). Growing up in Northern California, not far from artichoke country, I have eaten (and loved) fresh artichokes my whole life (although I'm a bit ashamed to admit that we dipped the leaves in mayonnaise). I never knew that all across the country there were people being deprived of the artichoke's tender flesh. That is, until my college friend Cassandra, from Illinois, told me she'd never eaten an artichoke that didn't come in a can. Since then, I've gone on a mission to introduce all my friends to artichokes, and I've turned Lucas a devout fan as well. In fact, we love artichokes so much that we named our first cat after them (we call him Arti for short), and his sister after a dip for artichokes, Aioli.
Don't let this artichoke's ragged appearance fool you - it is oh-so-delicious. And it cost me 33 cents - beat that!
Cooking Instructions
I've cooked artichokes a number of ways, but this particular artichoke was cooked in a pot boiling salted water for approximately 25 to 30 minutes (until the stem was tender when pierced with a fork*), sprinkled with kosher salt, and served with melted butter as a dip. Sometimes we forget the melted butter and don't even notice because artichokes are just that scrumptious. If you've never had a fresh artichoke, I demand you go out and buy one tomorrow.
If you're pressed for time, you can also microwave the artichoke. Just put it in a microwave safe bowl with an inch of water, cover the bowl with plastic wrap, and heat for about 10 minutes (or longer depending on the size of your artichoke). If the outer row gives you leaves that are too tough to scrape with your teeth, don't stress, that's normal.
If you are feeling courageous and fancy, I recommend boiling the artichoke for about 15 minutes, and broiling it for an additional 4 minutes on each side. To use this method, after removing the artichoke from the boiling water, use a serrated knife to cut it in half. Remove the inner spiky leaves with a knife and/or spoon. Brush both sides of the artichoke with olive oil and sprinkle with kosher salt. Broil in the oven, turning once until slightly crispy on both sides.
*Be sure to trim the stem before cooking it. If the leaves have sharp points, I recommend using scissors to cut off the tips or your boyfriend might prick himself and have mixed feelings about whether he should be upset that his thumb is hurt or happy because he's eating an artichoke.