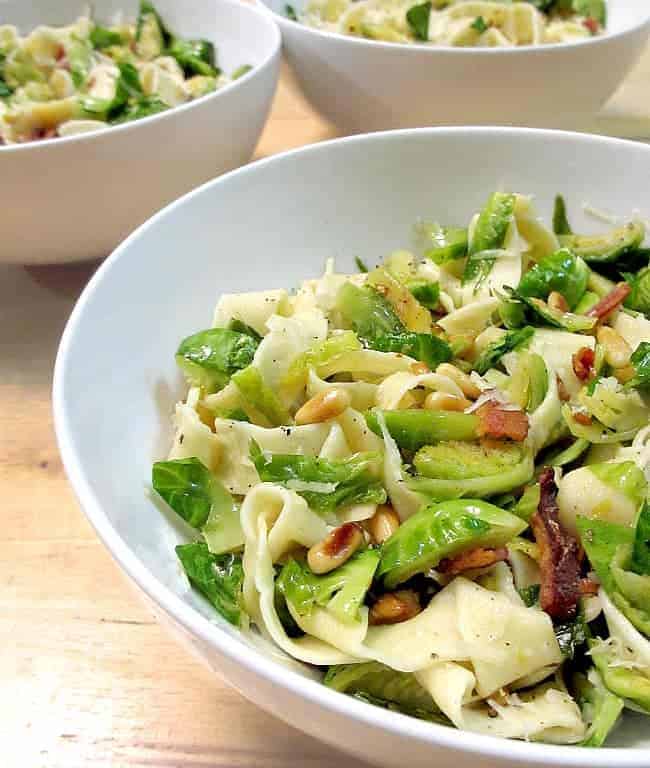 I've been craving fresh pasta for the past few days, but also wanted to make a new dish beyond my current repertoire, which requires some amount of forethought. Lucas and I spent a majority of this past weekend working on designing the (yet to be shared) blog layout, and as a result, I didn't do my normal meal planning and sunday grocery shopping, which I always regret. During the week, I am tired and uncreative; I find we typically eat tastier and healthier food when I've designed a course of action in advance. When I don't make this plan, I end up going to the market daily to get ingredients for that day's meals, and, because I love food, I wind up adding other vegetables that scream out my name to the cart. Brussels sprouts were SHOUTING at me yesterday, "Take me!" And I did...without a plan.
Whenever my friend Chuy does favors for us (like cat-sitting or fixing my computer), I pay him back with home cooked meals. So today, I woke up knowing three facts about dinner: 1) Chuy was coming over so I wanted it to be delicious, 2) I yearned for fresh pasta, and 3) brussels sprouts needed to be invited to the party. Think of it like a puzzle that needs to be solved. Usually I sauté the mini cabbages in butter or roast them in the oven, and serve them up as a side dish. Tonight, though, I decided to give brussels sprouts a starring role and feature them in a pasta dish of their own.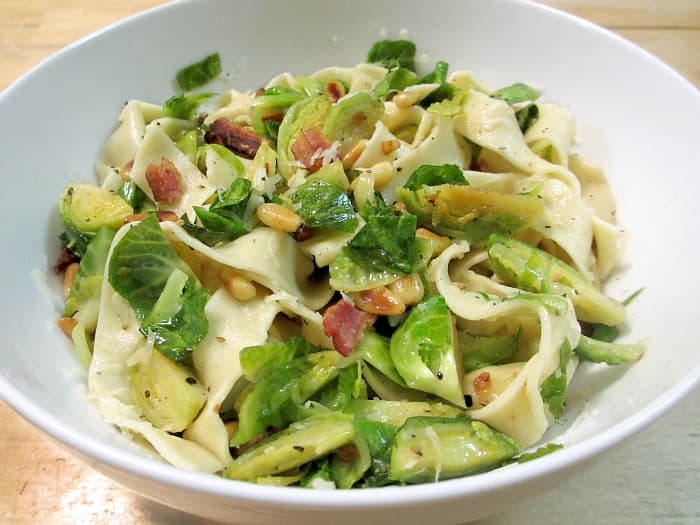 Halfway through cooking up the sprouts, I paused and asked Chuy if he even liked brussels sprouts (not that it mattered; I would feed him mushrooms even if he hated them and he would pretend to like them...or perhaps wind up having a change of heart:). He replied, "eh, I'll eat them," which translates to a polite "no." Chuy got to experience brussels sprouts in a new light, and, judging by the bowl he cleared, I think he might actually like them now . The dish is a variant on a broccoli and pancetta pasta recipe passed down from Big Sarah that frequents our dinner table. Lucas admitted that the brussels sprouts and pine nuts added an extra oomph that made it a keeper; maybe I'll let brussels sprouts shine in the foreground more often.
Fresh pasta with brussels sprouts and pancetta
1 pound fresh pasta (see below for recipe)
About 30 fresh brussels sprouts, ends trimmed and discarded. Sliced like apples into 6-8 slices each
5 ounces pancetta, thinly sliced
3 large cloves garlic, finely chopped
¼ cup pine nuts, roasted (I toasted them on the stove in my cast-iron skillet)
1 cup freshly grated parmesan cheese
1 tablespoon olive oil
1 tablespoon butter
Juice of 1 lemon
Kosher salt and freshly ground pepper, to taste
Heat salted water in large pot for pasta.
Heat olive oil in large skillet over medium high heat. Add pancetta and cook until golden brown and crispy. Transfer to paper towel to drain. Chop or break into tiny pieces.
Add garlic and sauté until lightly browned (be careful not to burn it). Remove garlic with hand strainer and set aside. There should still be pancetta grease in the pan.
Add brussels sprouts and butter to pan and sauté until tender, but still bright green. Add salt and pepper to taste. Remove from heat and stir in garlic, chopped pancetta, and roasted pine nuts.
Cook pasta (below) for 3-4 minutes until cooked. Reserve ½ cup of pasta water, and strain. Add fresh lemon juice and reserved water to pasta and toss to combine.
Serve topped with brussels sprouts mixture and parmesan cheese.
Basic egg pasta dough (Same recipe from earlier post)
3 cups all-purpose flour, plus extra for kneading and rolling
4 large eggs, plus 1 for binding ravioli
1 tablespoon olive oil
½ teaspoon salt
Water, as needed
Sift the flour into a large bowl (or KitchenAid bowl with flat beater attachment).
In a separate bowl, beat 4 eggs, olive oil, and salt together until combined.
Pour egg mixture into flour and mix (it may be crumbly still).
Using your hands, knead until dough forms. In my experience, the mixture is really dry, so I add ½ teaspoon of water at a time while kneading. Knead until dough is smooth and elastic. Wrap in plastic wrap and let rest for 30 minutes. Prepare sauce or vegetables.
After 30 minutes, cut dough into 6 equal pieces. With rolling pin or with a pasta maker attachment, roll out one piece at a time, reserving the others in plastic wrap. I had a really hard time rolling the dough by hand before I had the pasta maker attachment, but I hear it's possible. If using a pasta maker, I roll dough to 5 thickness for wide noodles (just a bit narrower than pappardelle). Be sure to flour both sides of the rolled out pasta as you go so it doesn't get too sticky.