The BEST gluten-free chocolate cake topped with naturally pink ombre hibiscus cream cheese frosting. Light and tender cake with a moist crumb and rich dark chocolate notes that balance with tart hibiscus cream cheese frosting.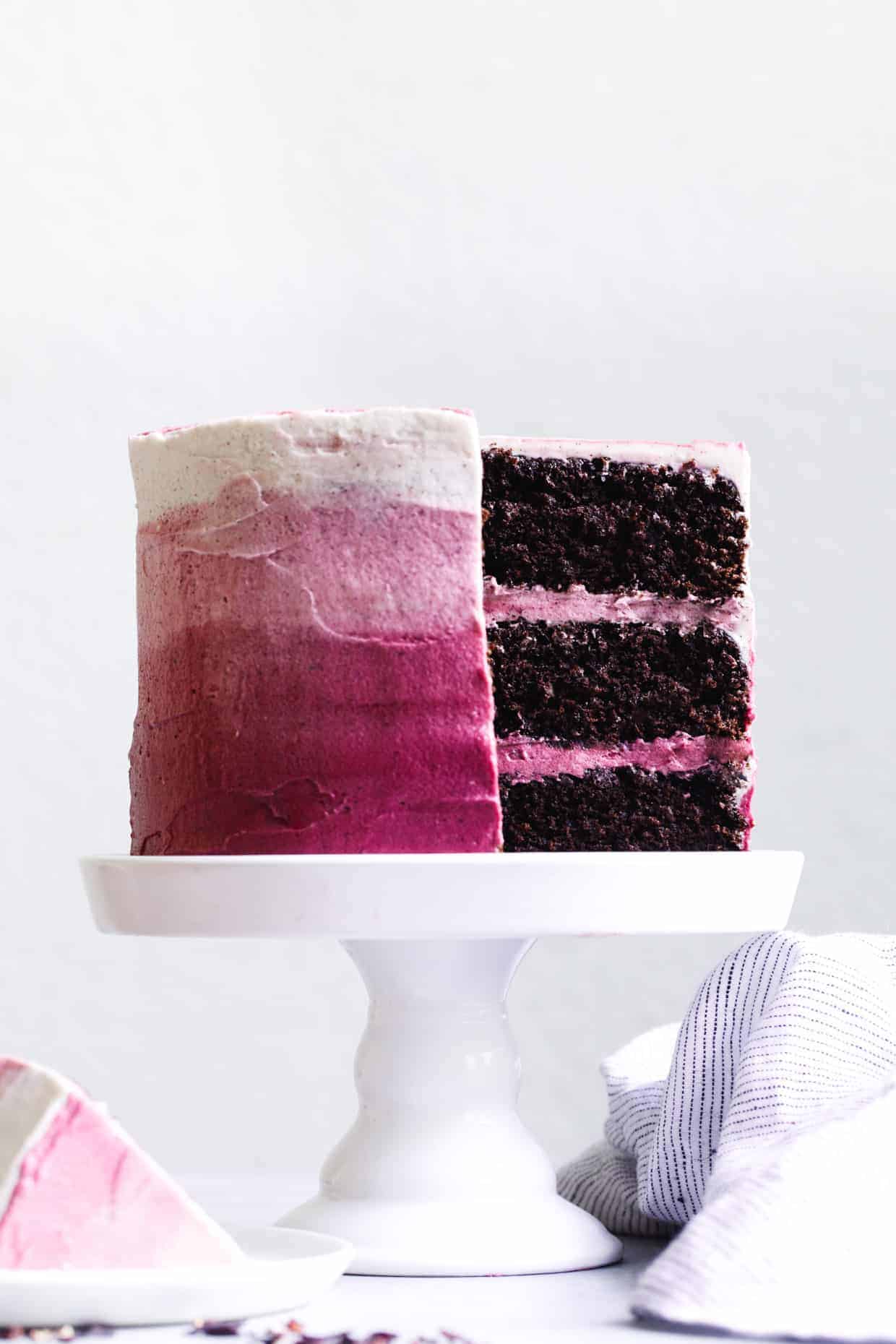 At this time last year, I was approximately 1 billion pounds heavier, awaiting the arrival of #cheesebabygirl. We'd just thrown one last "you probably won't see us for a while" pre-baby dessert shindig (we were right). I spent an entire day baking for it and my feet were trying to quit my body. They were going on strike, swelling up like balloons, and throwing in the towel along with any hopes of homemade Valentine's Day treats. With Zoella's February 7th arrival and our unexpected week-long hospital stay, our Valentine's Day dessert was a heart-shaped Whole Foods cheesecake shared over hospital trays with visiting friends and a snuggly soft baby that smelled like fresh laundry.
I'm making up for no homemade treats last year by getting a head start with this (naturally) ultra-pink ombre layer cake. I've waited months for the perfect occasion to share this chocolate cake - this is not any ol' chocolate cake. The base is my absolute favorite chocolate cake EVER. I considered going as far as titling it "the best gluten-free chocolate cake in all the land," but decided to tone down my intensity. But, in my not so humble opinion, it is just that.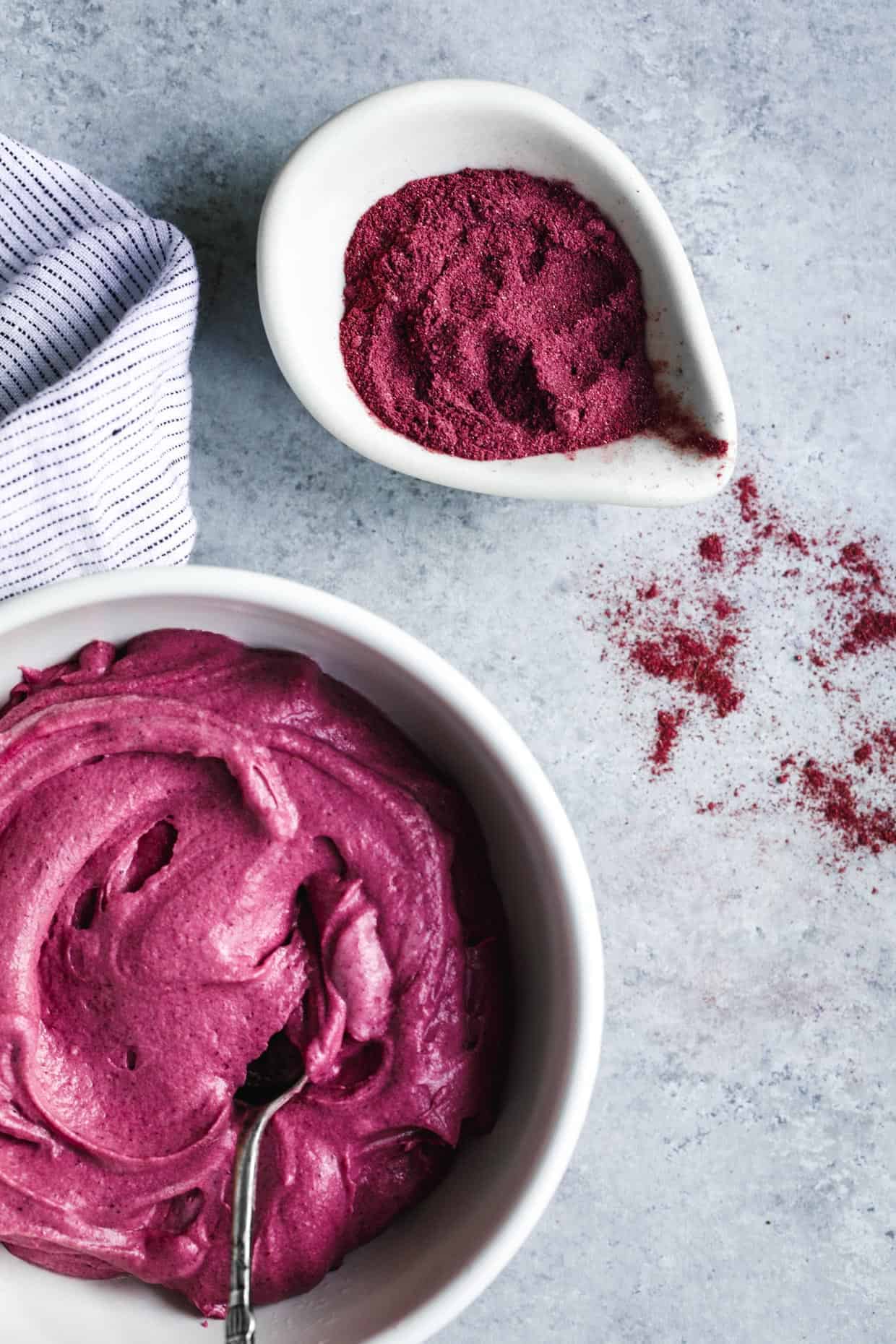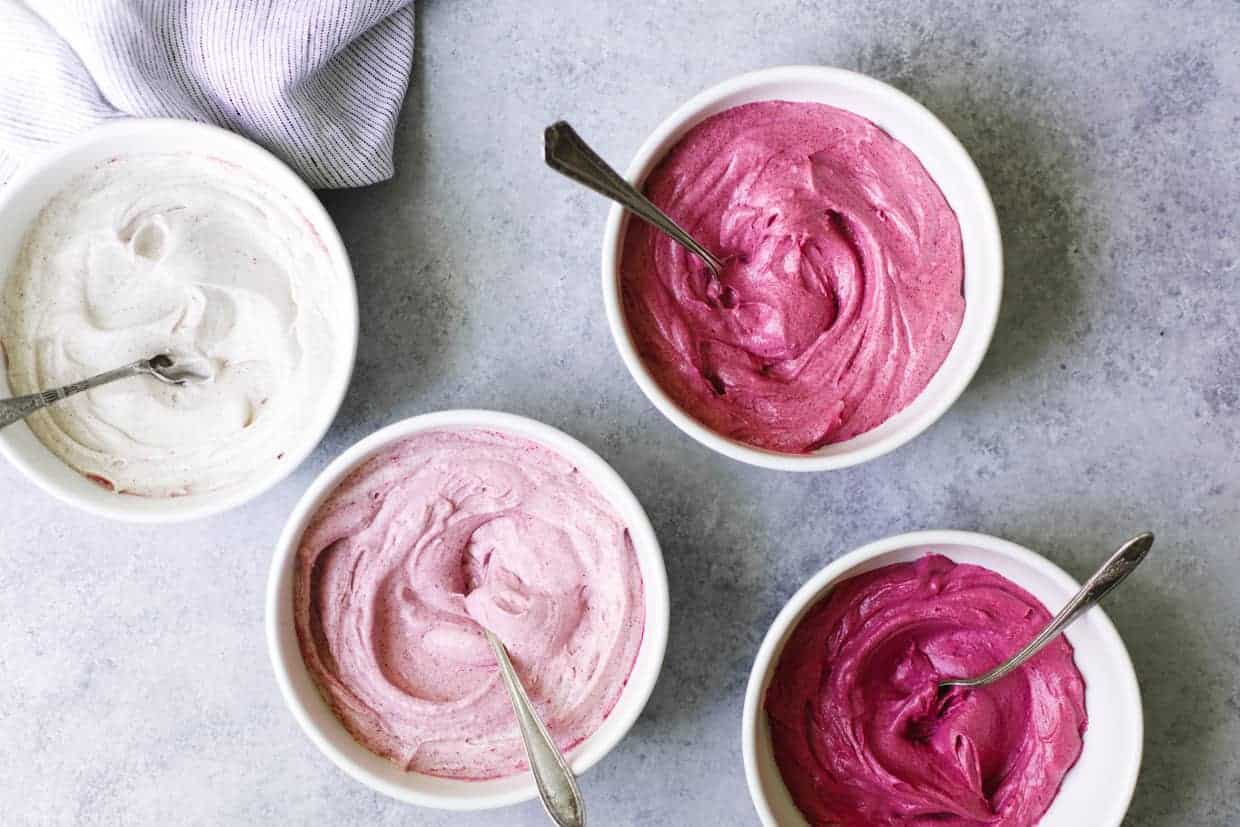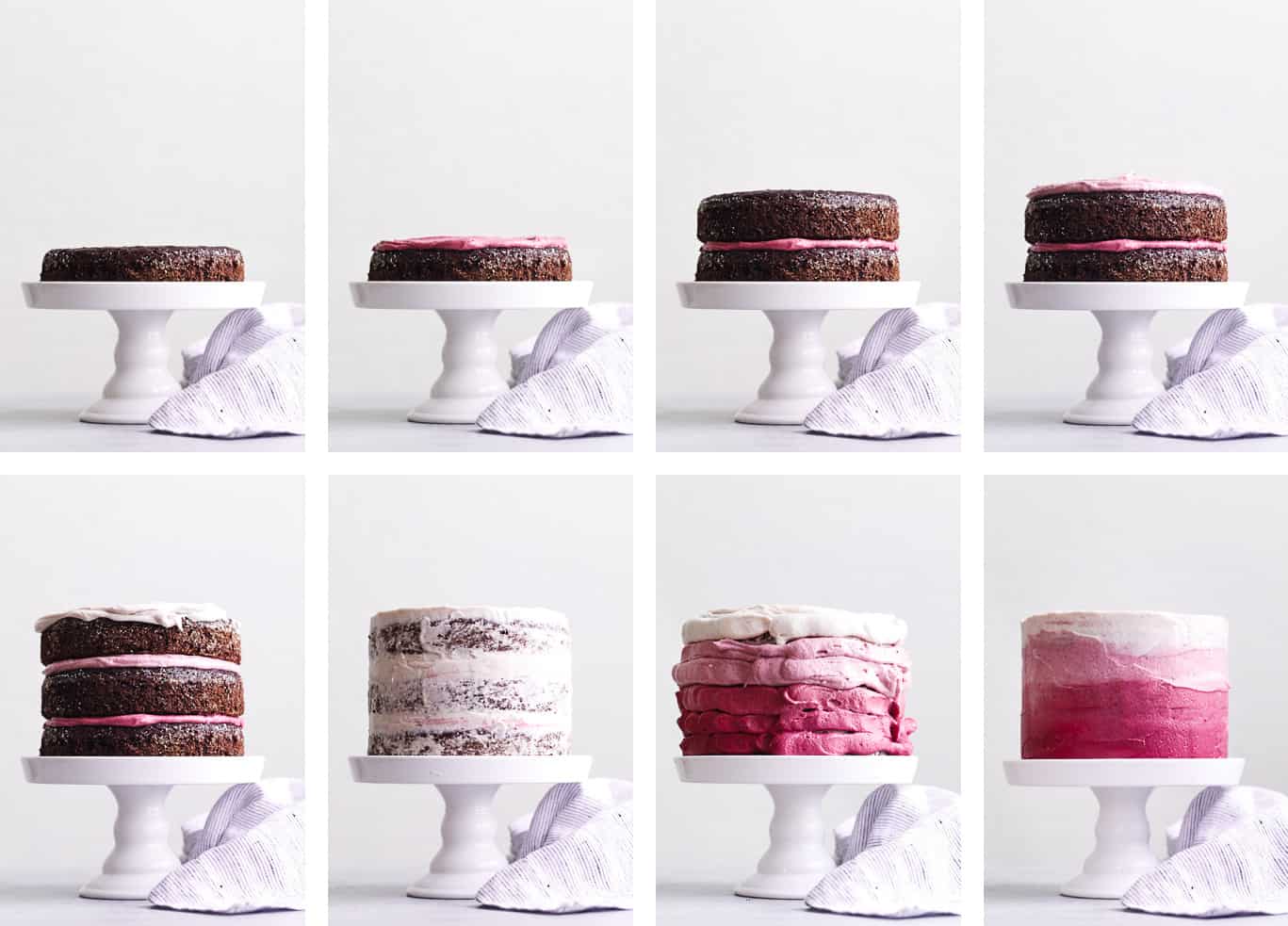 I've been baking and tweaking this cake for years - this is the chocolate cake I baked for my birthday party two years ago that ignited a matcha + chocolate rampage. It's the chocolate peanut butter layer cake I made for Father's Day. In short, any time there's a need cake or cupcakes (read: often), I turn to this trusty cake. For this iteration, I simplified the flours to just three and removed all the gums, which will be my new go-to recipe.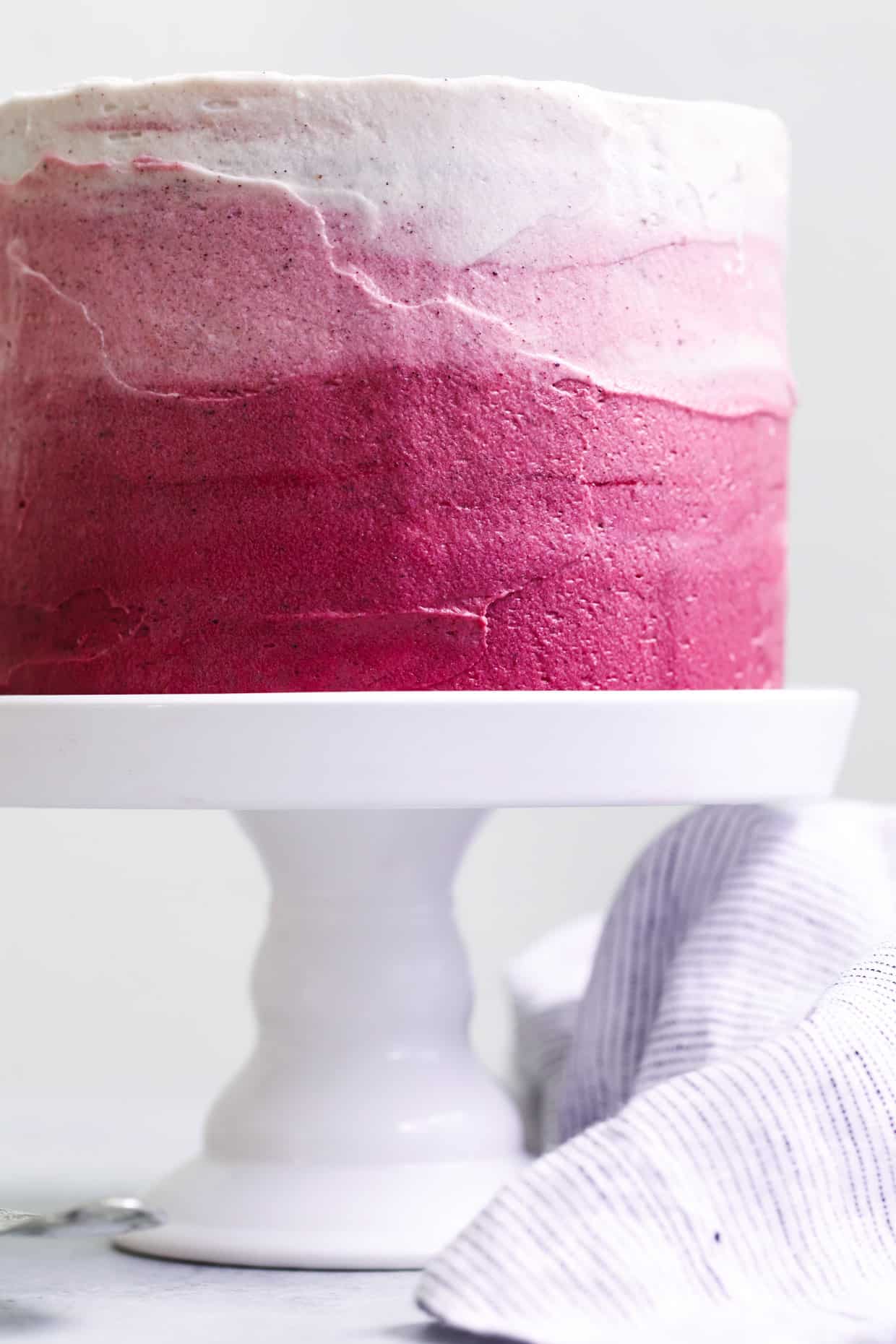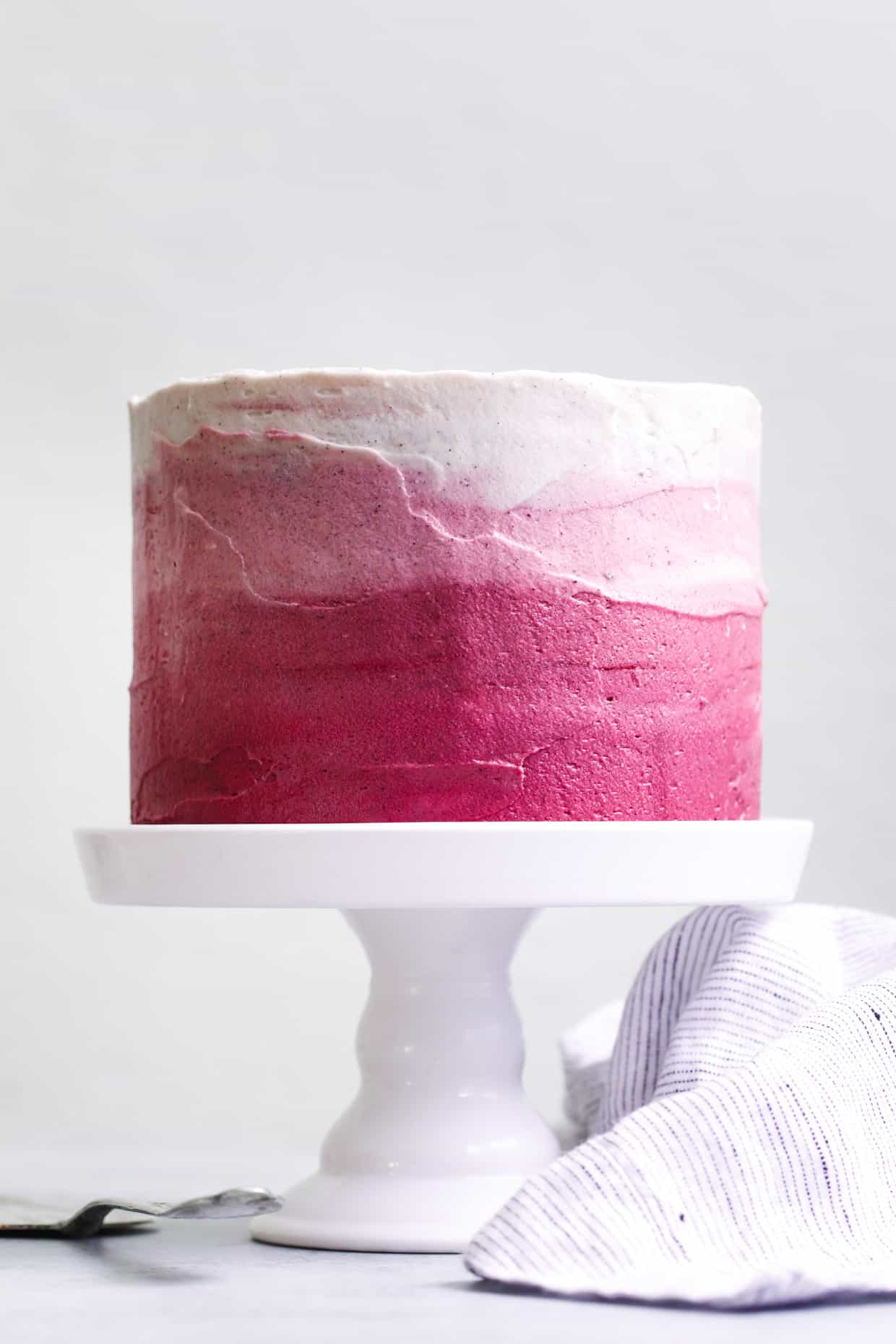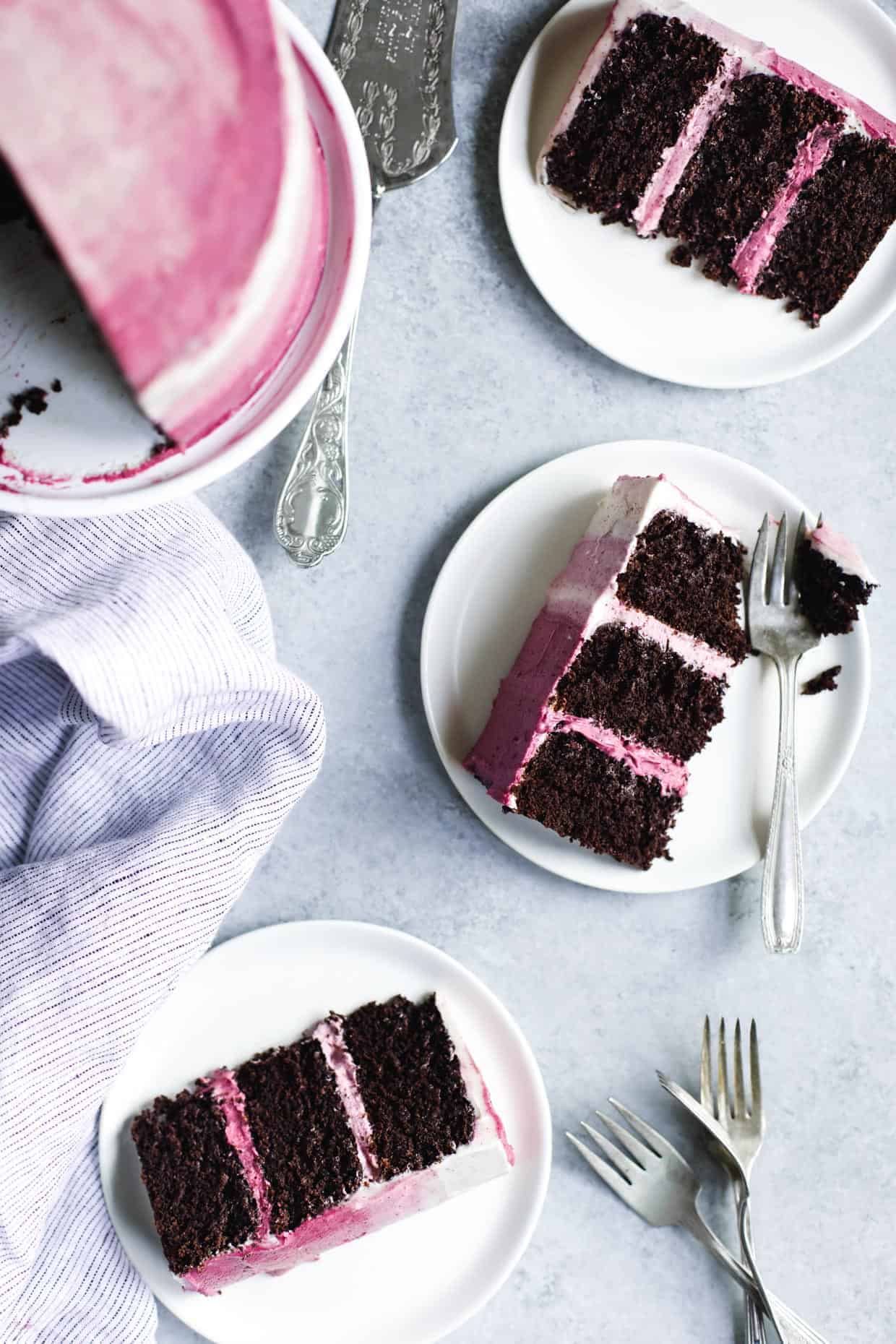 Between my blog and styling for The New York Times, Alanna and I have made a lot of baked goods last year. And thus, Lucas's office has consumed a lot of baked goods last year. Enough that warranted building a PieBox-sized rack on the back of his bike. Even when we send the less than stellar flops, no one ever seems to complain - lovingly (and unknowingly) earning his office the nickname "the trough," where no crumb is left behind.
This week, I sliced and packed up this gluten-free chocolate cake with hibiscus frosting. When Lucas inquired whether I intended it to go to the trough the next day, I said, "it could." He quickly replied, "no, it can't. It's staying here." (You hear that, trough? Lucas likes this cake more than he likes your happiness).
I don't blame him though, this cake is light and tender with a moist crumb and rich dark chocolate notes that balance with tart hibiscus cream cheese frosting. Naturally pink hibiscus frosting adds bright notes and dresses it up for Valentine's Day.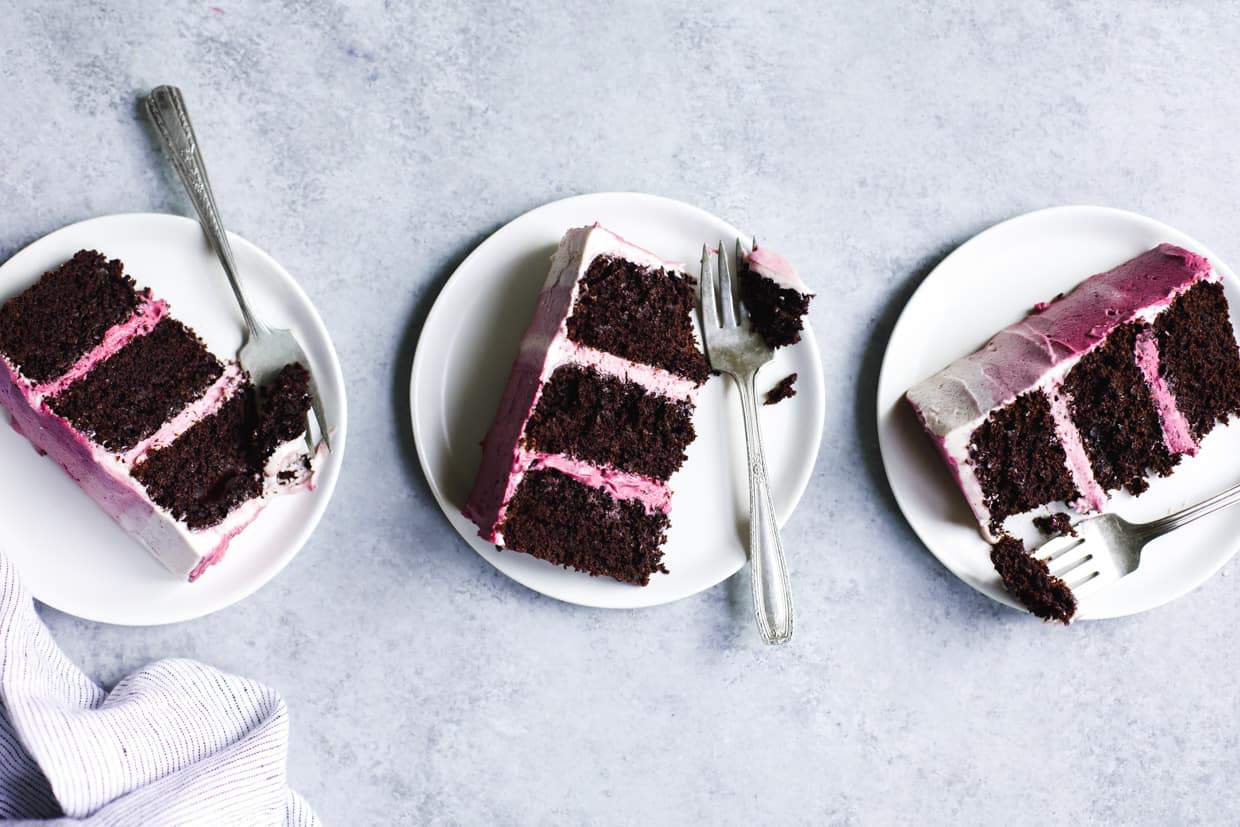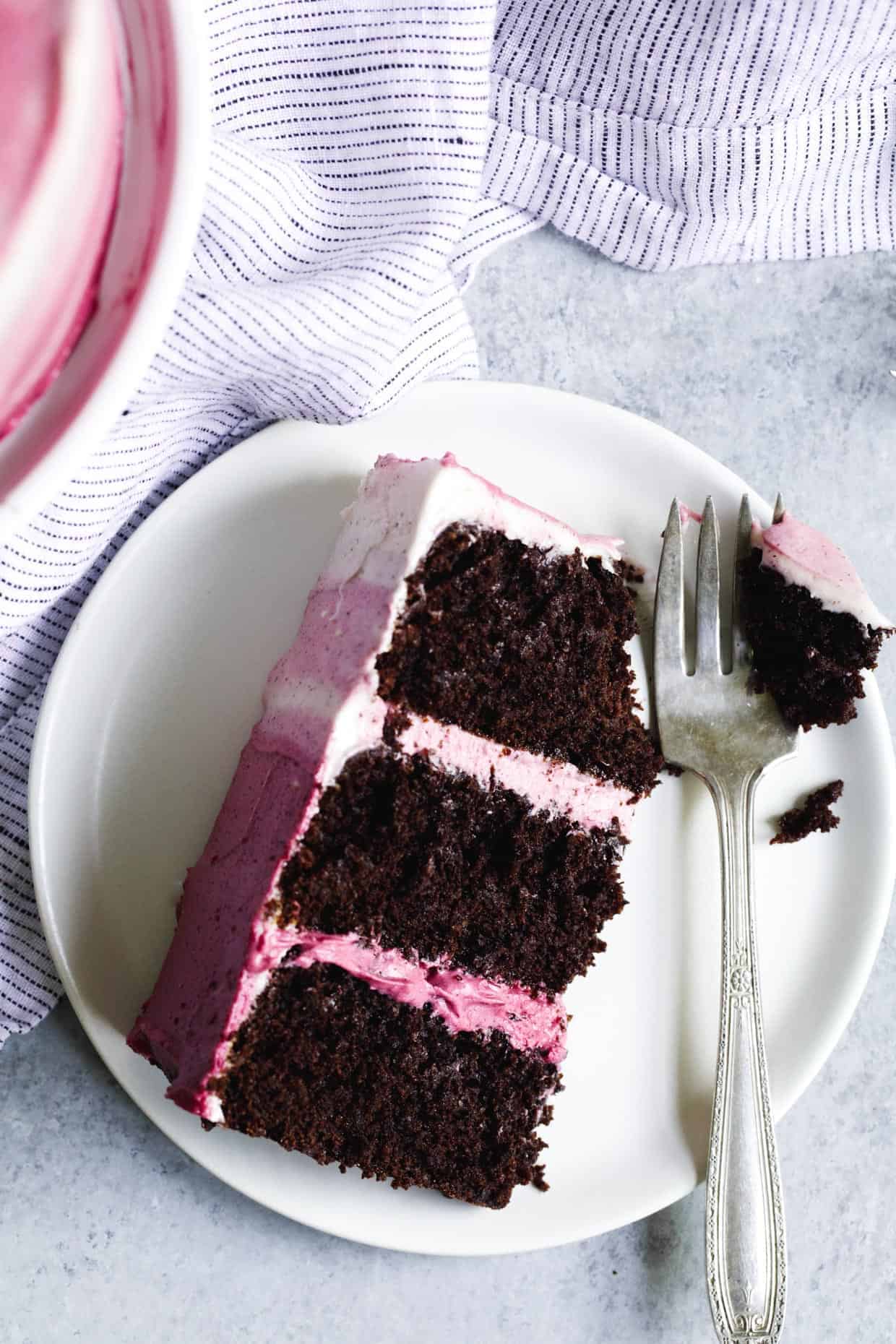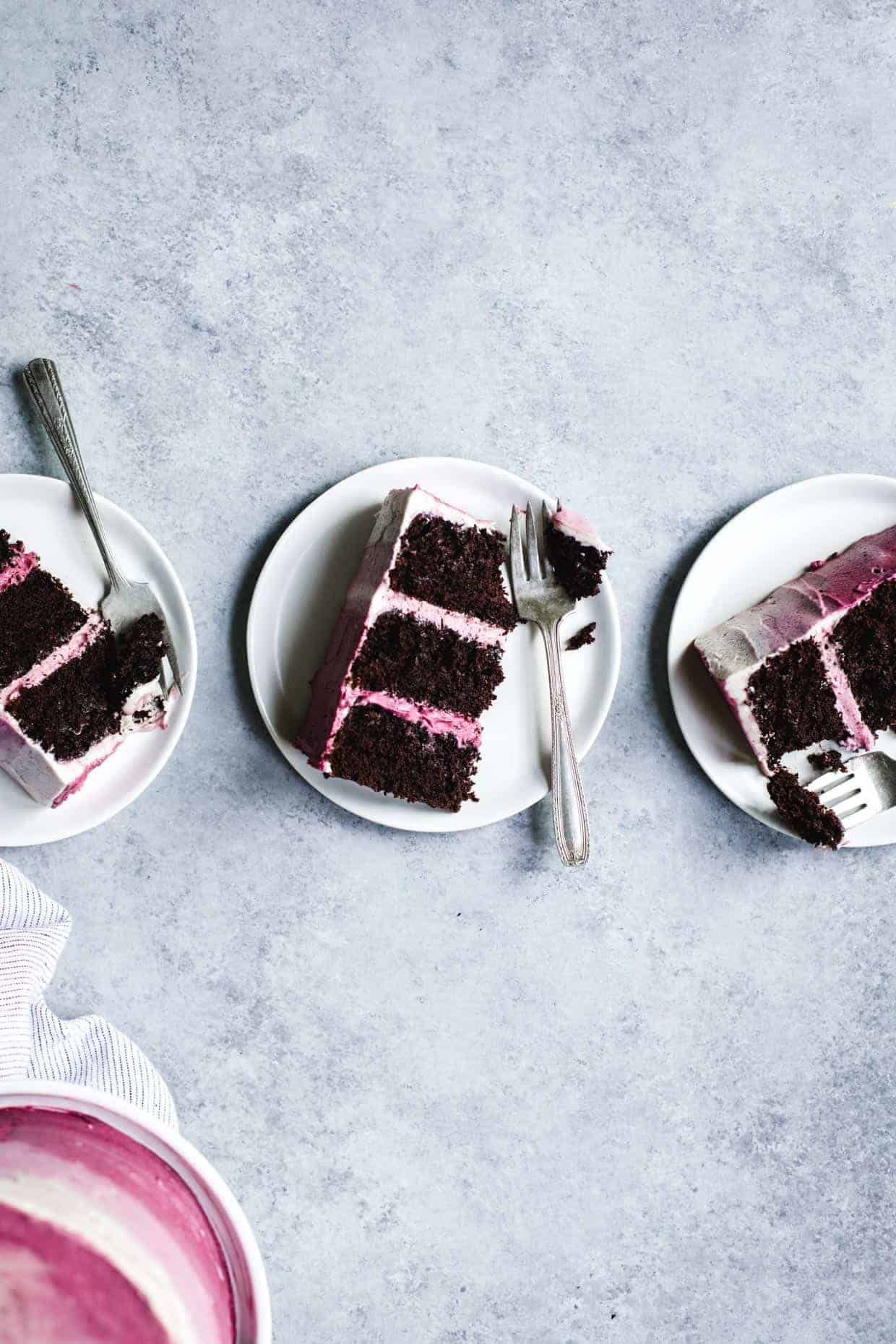 If a three-layer ombre frosted cake eludes you, I don't blame you. Frosting a cake is no cakewalk - just look at mine! I'm going for the painted plastery look but mostly not by choice (just go with it, ok?). If you'd rather not fuss with smoothing frosting, halve the recipe and make 12 cupcakes! Either way, there's not much more festive that this naturally hot pink Valentine's Day chocolate cake.
Thanks for reading Snixy Kitchen! To stay up on what's coming out of my kitchen, follow me on Facebook, Instagram, Twitter, Bloglovin', or Pinterest, or subscribe via e-mail to get new recipes right to your inbox.
The BEST Gluten-free Classic Chocolate Layer Cake with Ombre Hibiscus Cream Cheese Frosting
Yield:
6-inch 3-layer cake, 8-inch 2-layer cake, or 24 cupcakes
Ingredients
Chocolate Cake
Scant ⅔ cup milk (⅔ cup minus 1 tablespoon, or ⅔ cup buttermilk and skip the vinegar)
1 tablespoon white vinegar
1½ cups + 2 tablespoons (335g) organic cane sugar
1½ teaspoons baking powder
½ teaspoons baking soda
1 teaspoon kosher salt
2 large eggs, room temperature
3 tablespoons safflower oil (or vegetable oil)
⅔ cup hot water
Hibiscus Frosting
16oz cream cheese
1 cup unsalted butter
3 cups powdered sugar, sifted
¼ teaspoon kosher salt
Instructions
Chocolate Cake
Preheat the oven to 350°F. Prepare three 6-inch cake pans or 2 8-inch cake pans by lightly oiling them, lining them with a round of parchment paper, then lightly oiling and dusting the bottom and sides with oat flour. Or, for cupcakes, line a muffin tin with 24 liners.
Combine the milk and vinegar in a small cup and let sit while you measure the flour, at least 5 minutes.
Whisk the sweet rice flour, oat flour, millet flour, cocoa powder, sugar, baking powder, baking soda, and salt together in a medium bowl.
In a separate bowl, whisk the milk and vinegar mixture with the egg, oil, vanilla extract, and chocolate extract together until smooth. Pour this mixture into the dry ingredients and stir lightly.
Pour the hot water into the dry ingredients and mix until completely smooth, scraping up the sides and bottom to completely incorporate.
Divide the batter among the 3 prepared cake pans and smooth the tops. (Or cupcake liners)
Bake for about 33-37 minutes, or until a toothpick inserted in the center comes out clean or with just a few moist crumbs and the center bounces back when poked. In my experience, it's best to err on the side of an extra minute or two to be sure - this cake is very moist so it won't over bake very easily! (For cupcakes bake for 18-22 min)
Let cool in the pans for 5-10 minutes, then overturn the cakes onto wire racks to cool completely.
Meanwhile prepare the frosting.
Hibiscus Frosting
In the bowl of a stand mixer fitted with the paddle attachment, cream the butter over medium speed.
Add the cream cheese and beat until completely smooth.
Slowly add the powdered sugar, in thirds, mixing on low speed until combined.
Add the vanilla and salt, and beat on medium speed until smooth.
For a purely pink cake, add the hibiscus powder and beat until smooth. For an ombre cake like the one shown here, divide the frosting into four bowls and add the hibiscus and beet powder as follows: Dark Pink: ¾ cup frosting + ¾ teaspoon beet powder + ½ teaspoon hibiscus powder - Medium Pink 1½ cups frosting + 1 tablespoon hibiscus powder - Light Pink: ¾ cup frosting + ¾ teaspoon hibiscus powder - White: 2 cups frosting + ½ teaspoon hibiscus powder
To frost the cake, place one cake layer on the cake stand, spread ⅓ cup frosting (medium pink if making ombre) in an even layer. Place the second cake layer over the top and spread another ⅓ cup frosting (light pink if making ombre). Use the white frosting to create a very thin crumb coat layer and chill for 10 minutes. Frost the whole cake, smoothing with an offset spatula. For ombre, pipe 1-2 large rings of each color of frosting around the cake, as shown, finishing with white frosting on top. Smooth with an offset spatula, wiping after each use. Enjoy!