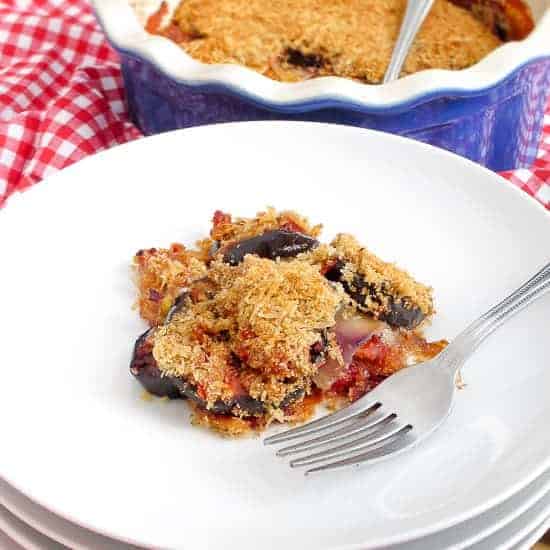 After my calzone night cravings, I rebelled against Chuy's anti-vegetable crusade and cooked a dish made up entirely of veggies. Oh, and cheese too (obviously). I suggested this idea to Chuy when planning the menu for his visit, but he turned nose up at me and remarked in disgust, "not excited." Actually, it was over text message, but I imagined that he was speaking in a super dreary voice with his face all crinkled up. Either way, HIS LOSS because it turned out delicious.
I shared the leftovers with my friend Tyler for lunch the next day, and he admitted that up until he ate this gratin, he hated eggplant...or so he thought. I'm changing picky eaters one step at a time! Well, fresh produce are doing all the work; people don't give them a fair chance - they form rash judgements about fresh veggies based on experiences with their canned and frozen counterparts, when all they want to do is be good for you! It's really an unfair world for vegetables - being rejected without a fair trial.
I recently noticed that I rotate between my favorite four or five veggies and don't cook eggplant all that often, which is a cryin' shame because it's quite yummy. The last time I ate eggplant was when Sofia (my namesake's daughter...aka my "cousin") was in town on break from college. When she's visiting home, the three of us--Sofia, her mom, and me-- always plan a girl's night to make a tasty meal and sip some wine. Last summer, we made a casserole with layers of eggplant, mozzarella, and red sauce. Wow, now I'm starting to feel terrible about how much I've neglected this purple produce! I felt inspired by that memory of eggplant, but was simultaneously craving this fennel gratin I eyed on Closet Cooking. Since I'm terribly indecisive, I married the two dishes into one and the result was surprisingly harmonious. This gratin is great as a side dish or even a main course - it's rich and flavorful like lasagna without all the carbs.
Update: The funny part is that I mistakenly bought a leek because they're just so pretty and distracting, and didn't realize that I was still calling it fennel until 4 days after I posted my recipe...doh. I know the difference between fennel and leek, but apparently my brain felt like swapping them. It wasn't until I was laying in bed dreaming of this casserole that I thought, "THESE ARE LEEKS!!!" Haha.
Eggplant & Leek Gratin
Serves 4 to 6
3 small Italian eggplant (or any kind, but I used the Italian, which are skinny)
2 large leeks, white parts only
A few tablespoons olive oil
1 jar of your favorite pasta sauce (I made my own using some stuff I had on hand and I'll post the recipe below, but I think that a jar of pasta sauce would speed this recipe up and be just as delicious - that's what I'll do next time)
½ cup to 1 cup grated mozzarella cheese
1 cup freshly grated parmesan cheese
½ cup breadcrumbs (I used panko)
If making your own pasta sauce, prepare it first. If not, skip to step two.
Preheat oven to 375ºF.
Bring a pot of water to boil.
Meanwhile, slice eggplant into ¼-inch thick coins. Slice the leeks in quarters, lengthwise.
Blanch the eggplant coins in the boiling water for 2 minutes. Transfer to a paper towel and pat to dry.
Heat enough olive oil to coat the bottom of a skillet over medium heat. Cook eggplant pieces in batches for 1 minute on each side. Transfer to a paper towel to drain.
Cook the leeks in the same pot of boiling water for 5-6 minutes. Drain.
Mix the mozzarella and ½ cup of the parmesan together.
Combine the remaining ½ cup of parmesan with the breadcrumbs and bit of olive oil.
In a lightly oiled casserole dish (I used a 9" circular dish), layer eggplant, red sauce, leeks, cheese in 3-4 layers. Top with breadcrumb mixture.
Bake for 30 minutes, covered. Uncover and cook another 10 minutes until the cheese is melted and top is golden brown.
Homemade Pasta Sauce (optional)
½ tablespoon olive oil
1 large clove of garlic, diced
1 teaspoon flour
1 (14.5 oz) can diced tomatoes
¼ cherry tomatoes, cut in half
2 tablespoons tomato paste
Dash of crushed red pepper
Dash of oregano
Dash of sugar
1 tablespoon fresh basil, finely chopped
1 strand of saffron
1 bay leaf
Salt and pepper, to taste
Heat the olive oil in a medium sauce pan over medium heat. Add garlic and cook, stirring, until lightly browned. Add flour and cook for a couple minutes.
Add the rest of the ingredients, reduce heat to low, and simmer for about 20 minutes, adding ½ cup of water if it reduces too much. Remove bay leaf. Leave sauce chunky or use an immersion blender to purée.