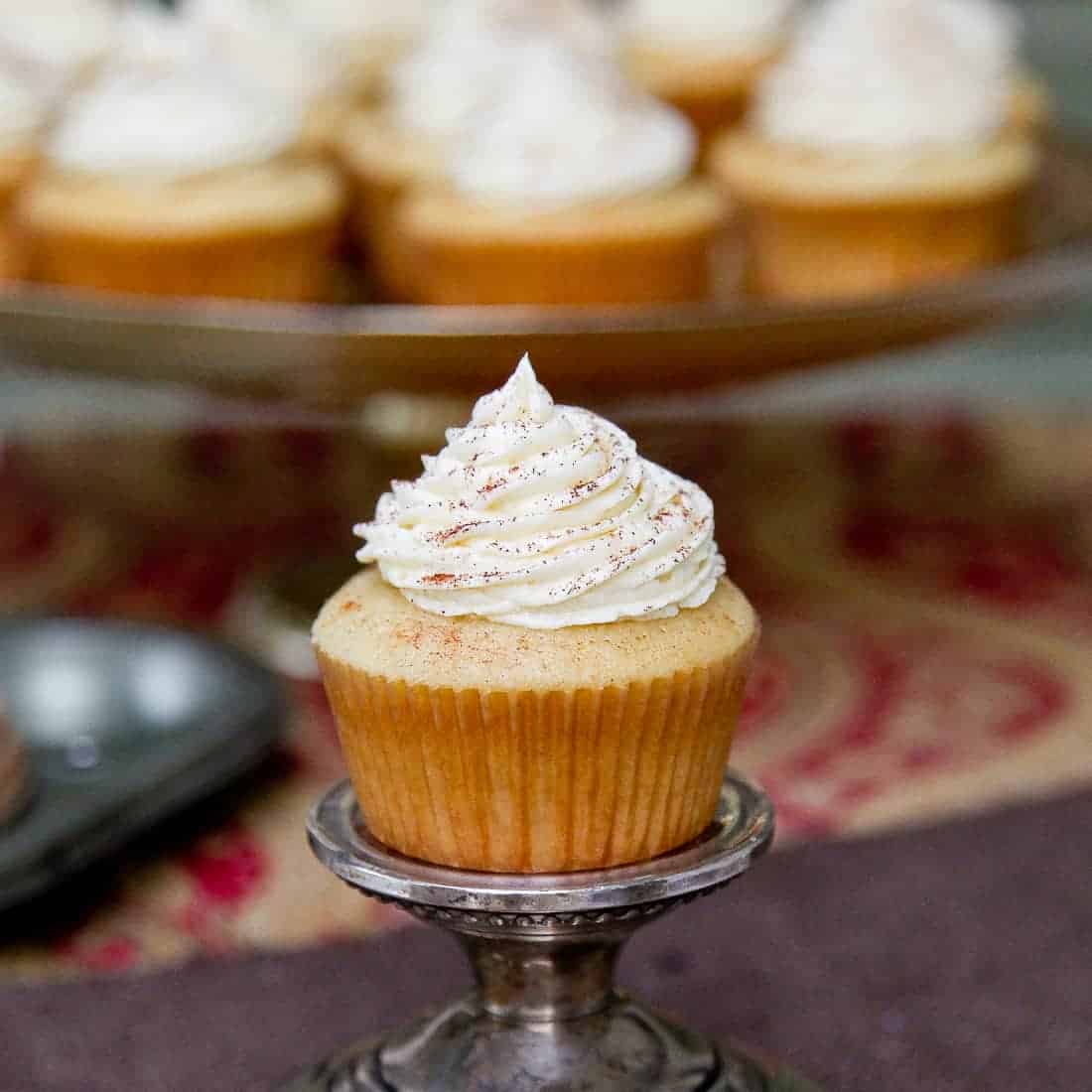 Hands up if you pigged out on sugar and sweets over the holidays! I know I did. That's what the holidays are for - complete gluttony...a free pass to disregard your pre-wedding diet and dig into a plate of cookies, cupcakes, or mom's almond toffee. And down it with a glass of eggnog. As a kid without concern for calorie intake, eggnog was my Christmas crack. I'd drink a whole carton by myself. Nowadays, I can handle only a few sips of the rich creamy drink at a time. So instead I threw it into a fluffy cupcake, added brandy for an adult flare, and enjoyed every bite.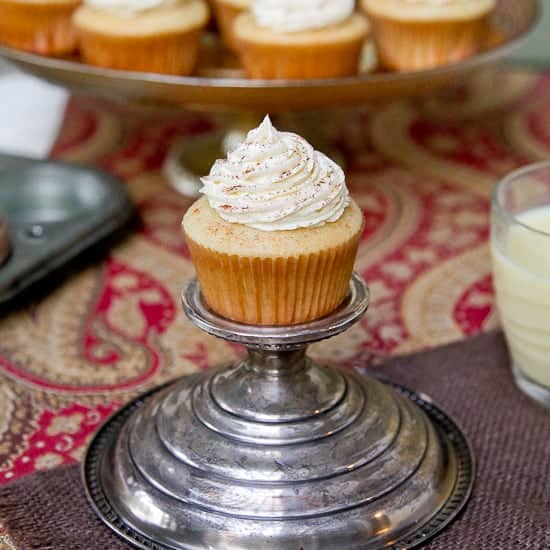 Last Christmas, I baked about a billion mini pumpkin cupcakes with my brother's girlfriend. No, that is not an exaggeration, I counted. You calling me a liar? When you accidentally double the amount of milk, you have no choice but to pull out the flour and make it work. A few hours of frosting later, tiny cupcakes covered every kitchen surface. There are worse mistakes you can make while baking. No one complains about too many cupcakes. Too many incredibly moist and delicious cupcakes. I recall my cousin Alex shoving about 15 in his mouth before dinnertime. Notice that I'm pointing the attention toward Alex so no one notices the couple dozen I snuck.
I now had a baking tradition to keep up this Christmas. People wanted their cupcakes. Okay, so it was really just me - I wanted cupcakes...but who doesn't love a good cupcake - amiright? This year's holiday cupcakes are a throwback to a nostalgic wintertime beverage - the same one I saw my Uncle Jeff spike with rum every Christmas Eve. The brandy addition adds only a spicy sweetness to the light fluffy cake. Did I mention that these cupcakes are fluffy yet? They're seriously the most fluffy and moist cupcakes I've ever made. The kind of cupcake worth opening a bakery for. High-five worthy.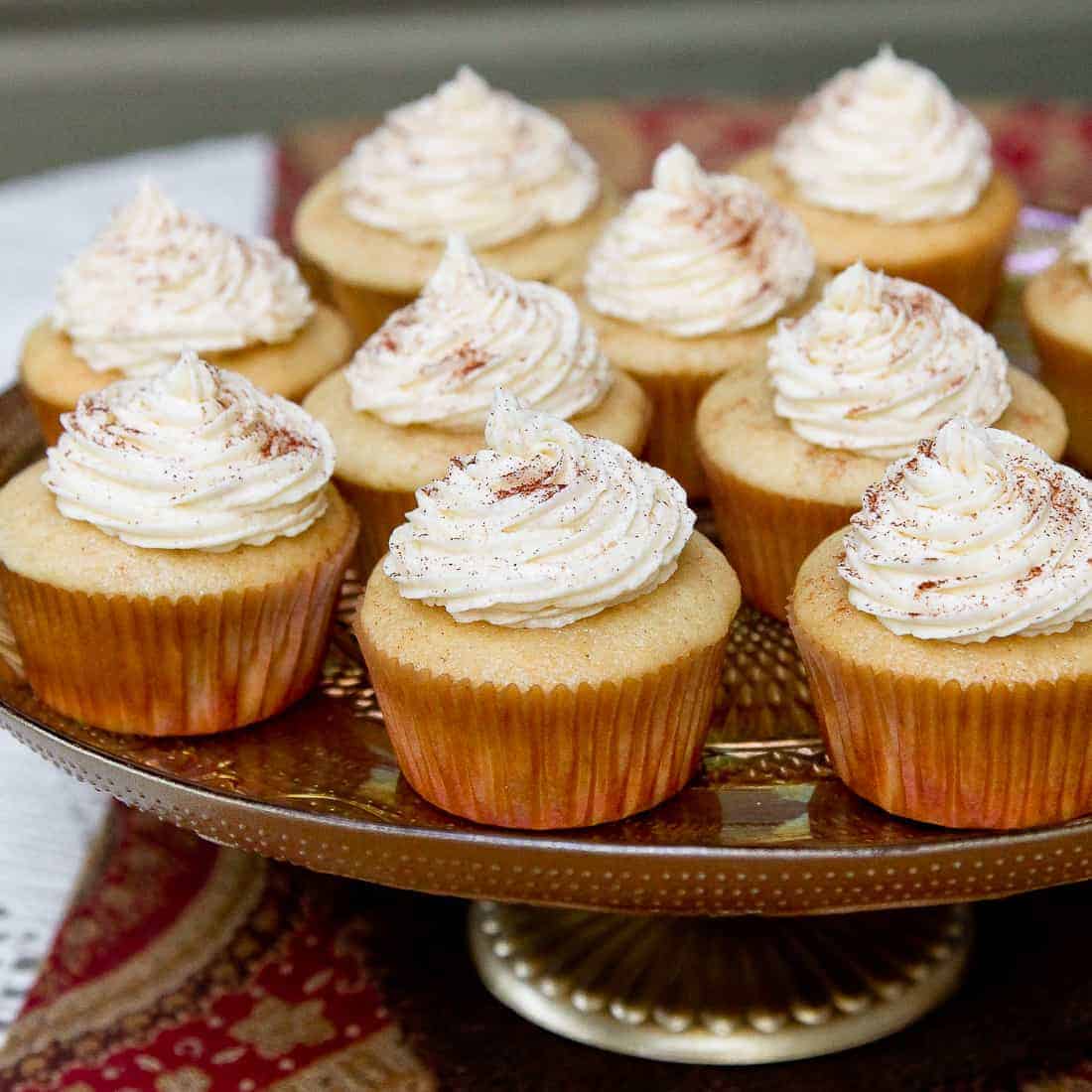 I hope you all had a very happy holidays! Lucas and I (and the kitties) spent a much too short 5 days at my parents' house - it was so relaxing to cozy up next to the warm fireplace playing cards and building puzzles with the whole family. The baby kitties loved having free reign over a space probably ten times bigger than our pint-sized apartment...until my brother brought over his 10-month old golden retriever who hasn't yet figured out that cats have no interest in being his friend. And I've mentioned before the added bonus of baking in Mom's kitchen when we go to visit - it's amazing how yummy cupcakes turn out when you don't have to open the door every 5 minutes to monitor the cooking temperature on your elderly over-enthusiastic oven. I brought these eggnog treats to Christmas Eve dinner with our close family friends. After multiple bowls of soup, Dad gobbled down one cupcake after another. The holidays aren't over yet; it's not too late to whip up a batch of these sugary treats for your NYE festivities!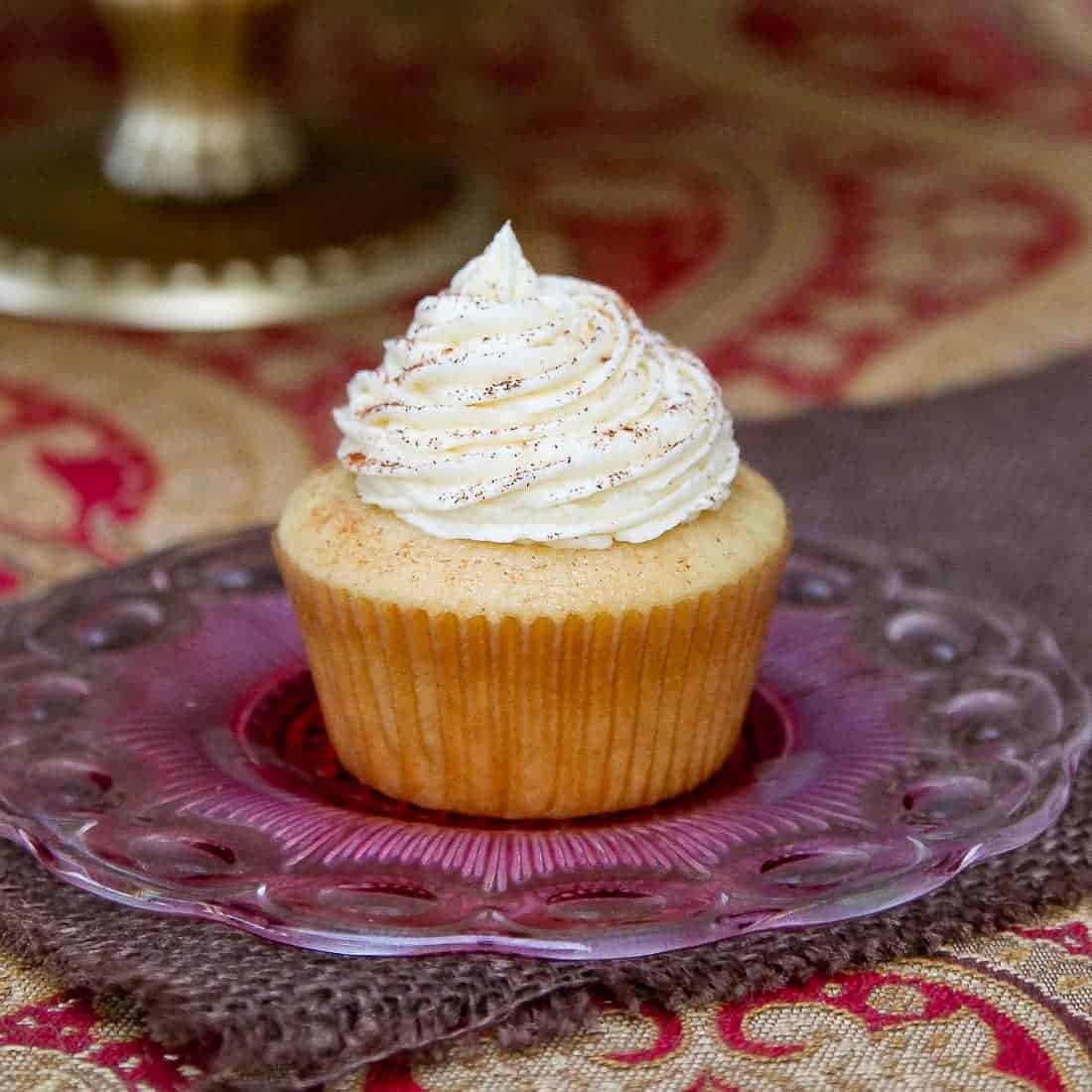 Eggnog cupcakes with whipped eggnog buttercream 
Makes a dozen
Cupcakes (Slightly adapted from Annie's Eats)
1 ⅓ cups all-purpose flour
¼ teaspoon. baking soda
½ teaspoon baking powder
½ teaspoon salt
¼ teaspoon ground nutmeg
¼ cup brandy
1 cup light eggnog
¼ cup canola oil
1 tablespoon apple cider vinegar
1 teaspoon pure vanilla extract
1 cup sugar
Preheat the oven to 350˚F. Line a muffin tray with cupcake liners.
Sift together the flour, baking soda, baking powder, salt, and nutmeg in a medium bowl.
Over medium-low speed, beat together the brandy, eggnog, canola oil, apple cider vinegar, and sugar in the bowl of stand mixer.
With the mixer on low speed, slowly add the dry ingredients, mixing until just combined.
Divide the batter among 12 cupcake lines, until each is about ⅔ full.
Bake for about 22 minutes, or until a toothpick inserted in the center comes out clean or with just a few dry crumbs.
Allow to cool for 5-10 minutes, then transfer the cupcakes to a wire rack to cool completely before frosting.
Whipped buttercream eggnog frosting
1 cup light eggnog
5 tablespoons all-purpose flour
1 teaspoon vanilla extract
1 cup butter, room temperature (if you don't have a lot of time, slice the butter into tablespoons and zap it for 5-10 seconds in the microwave, or until JUST barely soft to the touch)
1¼ cup sugar (not powdered sugar)
1 teaspoon cinnamon
In a medium saucepan, mix together the eggnog and flour over medium heat, whisking constantly for about 6-7 minutes. At this point, the mixture will have thickened considerably.
Remove from heat and whisk in the vanilla extract.
Transfer the eggnog mixture to another bowl to let cool completely, about 30 minutes. Mix it up every 5-10 minutes to help release the heat.
In the bowl of an electric mixer, cream together the butter and sugar on medium-high speed until light and fluffy, about 3 minutes.
Once your eggnog mixture is completely cooled to room temperature (this step is important because if it's too warm, the butter will melt when incorporated), add it to the butter/sugar mixture and beat on high speed until smooth and blended.
Transfer to a pastry bag and frost cupcakes. Sprinkle with cinnamon and serve.