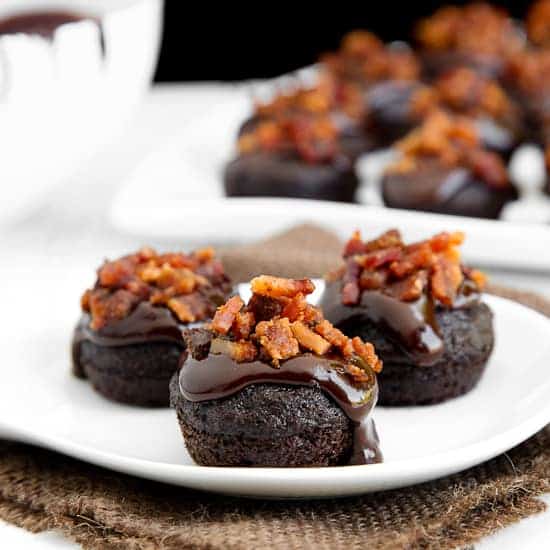 Candied bacon is all the rage these days, and pairing it with chocolate seems to be a popular choice. To test the fad, Lucas and I shared a strip of chocolate covered bacon on a candy shop stop on our Colorado trip earlier this year. Who knew the salt and sugar combination would be so tasty? These double chocolate bacon cupcakes add extra intensity to those sweet shop flavors, combining the texture of ooey gooey ganache with crispy oven-baked bacon sprinkles.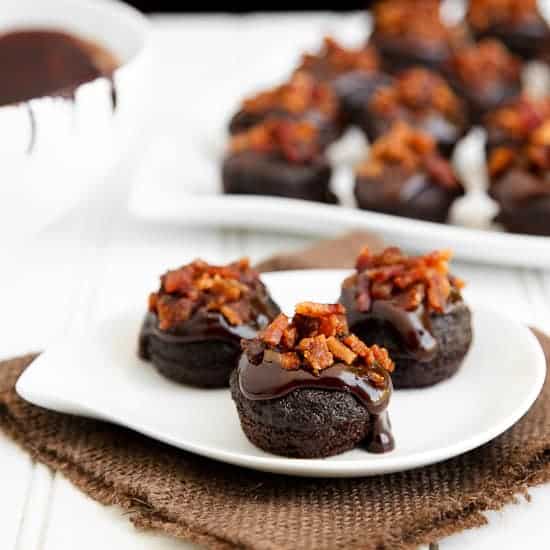 Now, under normal circumstances I wouldn't choose double chocolate cake, but these cupcakes weren't for me. The boyfriend is catching up to me in age and deserved a baked good to celebrate turning 26. Lucas isn't a huge fan of sweets, but he will never turn down a piece of bacon. So it's no surprise that I worked candied bacon into his birthday dessert last night. In fact, bacon was the theme of the meal, starring in both the main course and the dessert. Before I share the savory bacon entrée though, I'll spoil your appetite by telling you about these incredible bites. They're so rich and decadent, it's worth filling up on dessert first. You'll thank me when you take your first bite.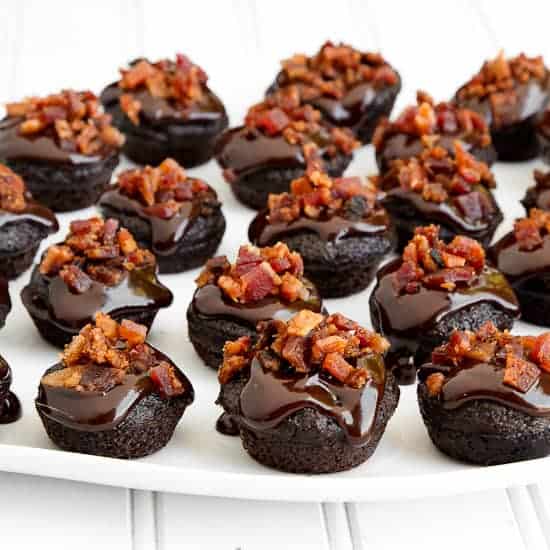 As a die-hard dessert lover, I usually only swoon over truly sweet (and typically fruity) confections. That is, until I met brown sugar-coated baked bacon. If you've never baked bacon encrusted with brown sugar before, you are in for a treat that will rock your world. You thought bacon was the bee's knees, but candied bacon blows traditional pan-sizzled bacon out of the water. It took every ounce of my being to resist snacking on spoonful after spoonful of candied bacon sprinkles while I topped the cupcakes. Personally, I preferred the specks of sugary bacon by themselves, but the birthday boy was in heaven over the marriage of the double chocolate cake and candied applewood smoked bacon bits. Here's a creation that'll make you forget that you're a vegetarian or that you've already had your daily allotment of Weight Watchers points. As proof, two of my usually vegetarian friends caved to the salty sweet combination at our research meeting today. With moist chocolate cake, warm velvety chocolate ganache, and crisp sugary bacon, these cupcakes are dangerously delicious...the perfect way to feel young and reckless. Happy birthday, Lucas!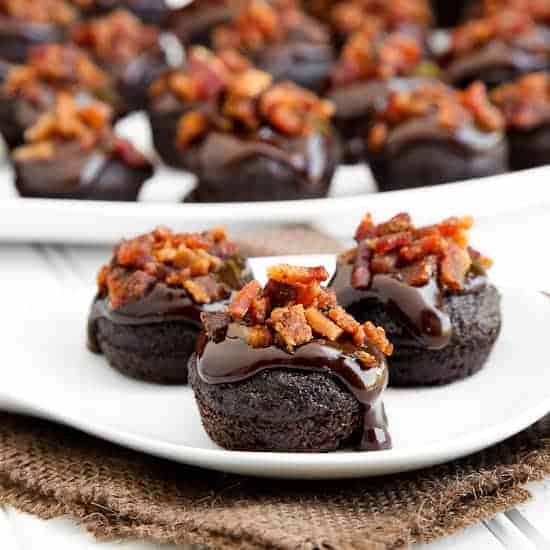 If you're still skeptical about candied bacon, check out my friend Tina's chocolate beer battered cupcakes with maple bacon frosting for more evidence that the pairing is out of this world.
Double chocolate bacon cupcakes
Makes about 3 dozen mini cupcakes
Candied bacon
5 strips of applewood smoked bacon
About a cup of packed brown sugar
Preheat the oven to 350ºF.
Line a baking sheet with foil and place a wire rack across the top.
Spread the brown sugar out on a plate and press each strip of bacon into the sugar to thoroughly coat each side.
Place each sugared strip of bacon on the wire rack, making sure they aren't touching one another.
Bake for 20-30 minutes, until the bacon is crispy, but not burned (My oven is wonky, so it took a few minutes longer for me).
Remove from oven and let cool. Chop into tiny pieces.
Chocolate cupcakes
Scant ⅜ cup milk
Scant ½ tablespoon white distilled vinegar
6 tablespoons unsweetened cocoa powder
¾ cups all-purpose flour
¾ cups sugar
¾ teaspoons baking soda
¼ teaspoon plus 1 dash baking powder
¼ teaspoon plus 1 dash teaspoon salt
1 large egg
6 tablespoons warm water
1½ tablespoons canola oil
½ teaspoon pure vanilla extract
Combine the milk and vinegar in a cup and let sit for 10 minutes.
Preheat the oven to 350ºF. Prepare a mini muffin tin by spraying it with Pam.
Sift together the cocoa powder, flour, sugar, baking soda, baking powder, and salt in the bowl of an electric mixer (or a medium bowl if working by hand).
Add the egg, water, milk, oil, and vanilla, and stir until just smooth.
Fill the prepared mini muffin tin ⅔ full.
Bake about 8-12 minutes, until a toothpick inserted in the center comes out without any batter and perhaps just a few crumbs.
Let cool on a wire rack.
Pour a teaspoon of ganache (recipe below) over each cupcake and sprinkle with a teaspoon of candied bacon bits. Serve with a glass of milk.
Chocolate ganache
½ cup heavy whipping cream
1 cup semisweet chocolate chips*
In a medium saucepan over low heat, bring the cream to boil.
Pour the cream over the chocolate chips and let sit for 2-3 minutes.
Stir until thoroughly combined (at first, it'll look too milky like it won't combine, but it'll eventually turn into velvety ganache).
*I made a batch with semisweet chocolate chips and with bittersweet chocolate chips and found the latter too overpowering for my taste.