Last updated on December 29th, 2012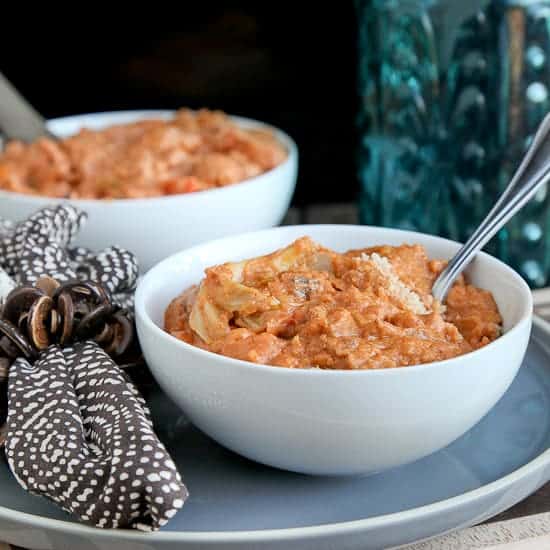 We're getting ready to head North to my parents' house for a Thanksgiving feast (and lots of card games), but first I want to share with you a totally non-Turkey related recipe I've been keeping from you. It's appropriate that I share this recipe today since it comes from my dear friends Cas and Brian, who are heading up with us for our third annual Thanksgiving together. Save this recipe for about a week after T-day when you just can't have another leftover turkey and stuffing sandwich. You'll be happy you did.
In the holiday spirit, I want to start by saying a few things I'm thankful for this year. I am thankful for so many things, but here are just a few (in no particular order):
My handsome fiancé who will clean the bathroom without complaint when he sees there's no chance I will pull myself away from studying for the next week and a half (eee!)
My family (duh) and the fact that my brother finally came to his senses and moved back down to California
My family-to-be who loves us even when Lucas and I spend an entire google hangout session chatting with them while wearing pirate hats and eye patches
The baby kitties who always know just the right time to snuggle
My classmates (and friends) who will spend their Monday morning prepping me for my qualifying exam and offer hugs when my brain forgets to reset overnight and ends up sending me into a frantic stress-mobile (this is a real thing)
Skinny Cow mint ice cream sandwiches for rewarding me each night for studying
r/aww because cuteness make studying so much easier (I see a study-related theme emerging…)
My pal Cas who, among other things, shared this savory recipe with me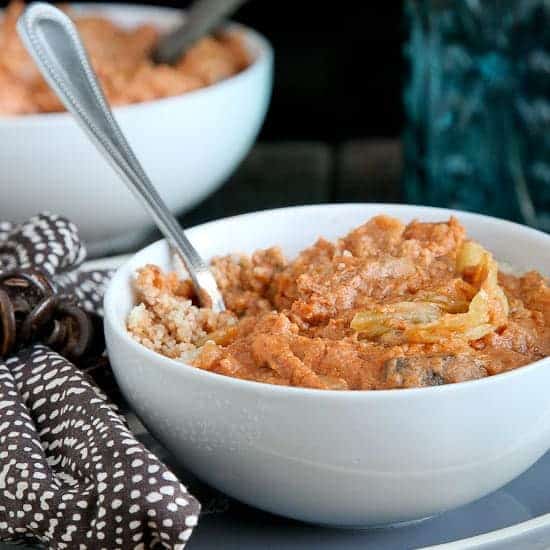 Let's stay there for a second. Almost exactly a year ago, Cas and I both got matching Crock Pots (for free!) on black friday; mine, as it turns out, was defective…transforming juicy meat into rock hard beef jerky in just a couple of hours. Getting a Crock Pot from CVS is a gamble, but Cas's works just great and she's always got something brewing inside. So when I finally replaced my Crock Pot a few weeks ago, I turned to her for ideas. I had wanted a dish that would last for a week, but took very little hands-on time to prepare. And one that was warm and delicious, no less. Cas's peanut stew fits that bill perfectly; it's Crock Pot friendly, and will leave you licking your plate at the end of the night.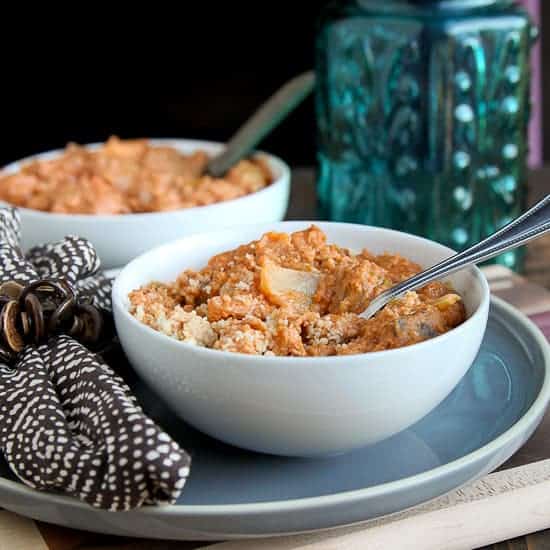 Now I've told you little snippets about Cas several times now, but what you don't know about this amazing gal is that while I was living in Philly, Cas spent three years in the Peace Corps in The Gambia (where she met her boyfriend, Brian). When she learned to make domoda–or African peanut stew–she didn't use a recipe, and, she says, whatever vegetables they added rotated as the seasons changed, making each bowl a little different. The dish is a staple throughout West Africa in varying forms, but is typically served family-style and eaten with hands. The rich version I'm sharing, filled to the brim with fresh veggies and chicken thigh, is more typical of a special occasion rather than the version prepared as a daily meal. In addition to being super flavorful and filling, I love that you can feel free to toss in whatever vegetables suit your fancy and let the Crock Pot work its magic. About 5 hours later, you'll have a steaming hot rich and hearty peanut stew with a mild touch of spice to comfort you on chilly night.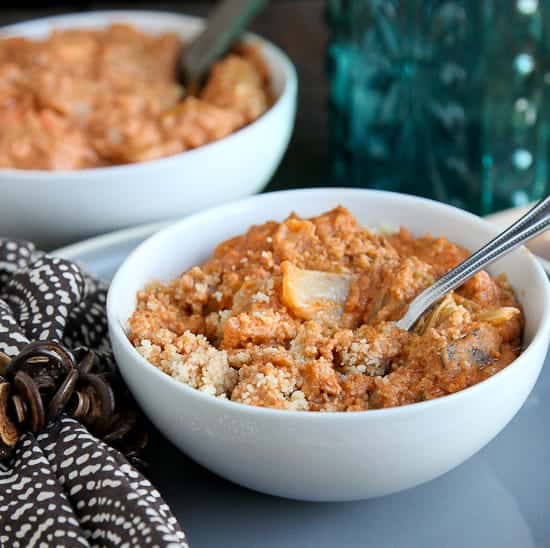 Beware, the recipe below makes a TON, so if you're just two people, you might consider halving it or else plan to freeze some for a night when cooking just isn't going to happen.
Domoda: African peanut stew
Serves 8
½ pound boneless skinless chicken thigh, chopped (omit for a vegetarian version)
1½ 24-oz jars natural crunchy peanut butter (peanuts and salt only, no added sugars or oils)
8-oz can of tomato paste
5 chicken bouillon cubes
1½ teaspoon cayenne pepper
¼-½ teaspoon red pepper flakes (I am not big on spicy, so I used only ¼ teaspoon)
Salt and pepper, to taste
4-6 cups water, depending on how thick you like the sauce.
1 large russet potato, cut into bite-sized pieces
1 carrot, sliced into bite-sized pieces
2 cups eggplant (~2 small eggplant), cut into bite-sized pieces
½ small head of green cabbage, sliced into 1-inch wide strips
2-3 small sweet potatoes, cut into bite-sized pieces
1 large onion, coarsely chopped
5 cloves garlic, diced
Cooked couscous, for serving
Preheat a 6-quart slow cooker to high. (Note: You can also cook this in a large pot on the stove. Adjust the cooking time to about an hour if cooking on high on the stove).
While you prepare the vegetables, throw the chicken chunks into the crock pot for a few minutes, stirring occasionally. (Skip this step if you're making a vegetarian version)
After about 10 minutes, add the peanut butter, tomato paste, crushed up bouillon cubes, cayenne pepper, red pepper flakes, and salt and pepper, and water. Stir to combine.
Add all of the chopped vegetables and stir to combine.
Let it cook on high for 5-6 hours, until the vegetables and chicken are cooked through. Add more salt pepper, or other seasoning to taste.
Serve over cooked couscous.