These homemade dark chocolate honey fig walnut truffles are a decadent yet healthy addition to a DIY chocolate box. With honey, figs, and chocolate, they're the perfect holiday gift or after-dinner treat! Plus they're easier to make than you might think!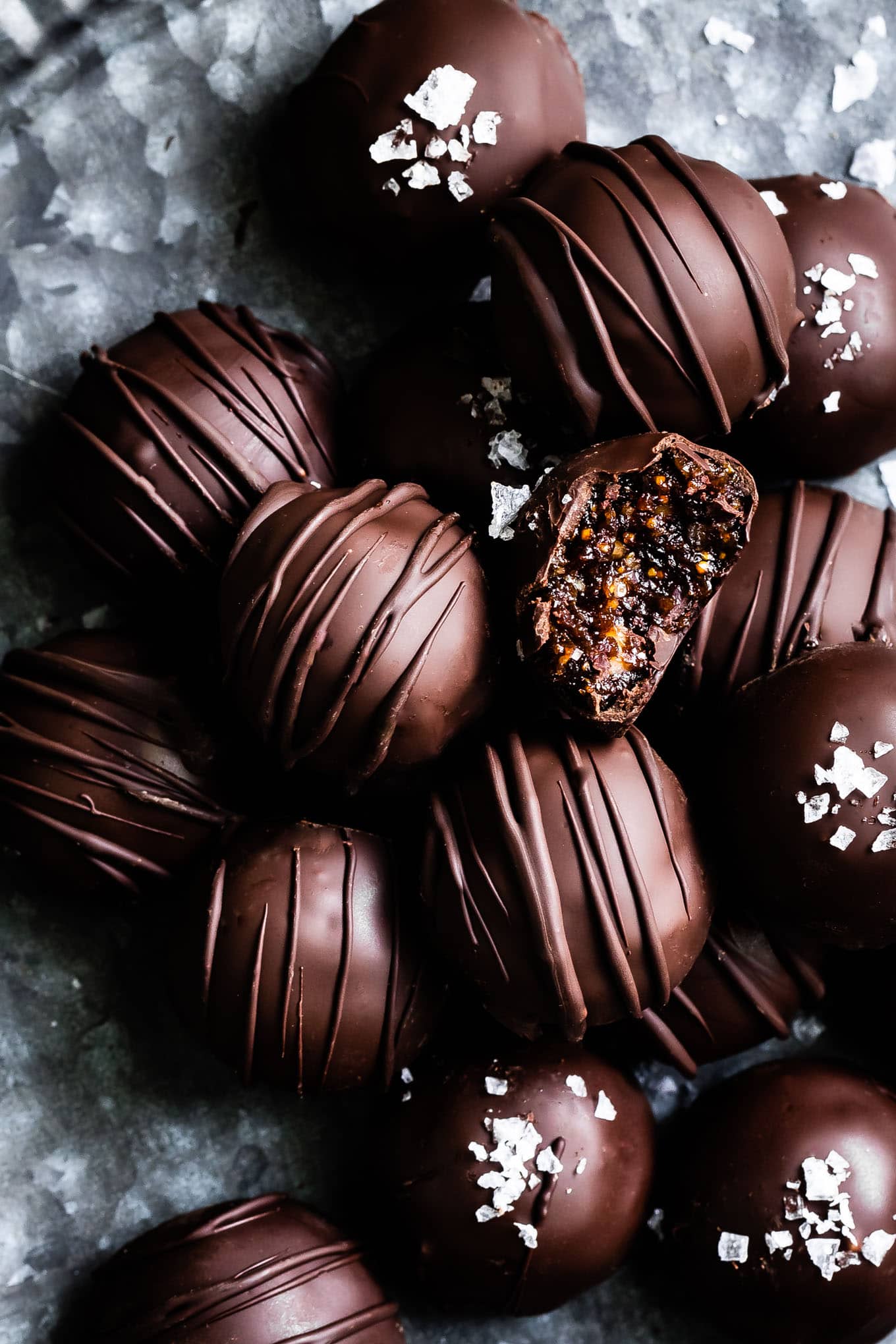 This post is sponsored by Valley Fig Growers, using their Orchard Choice or Sun-Maid California Dried Mission Figs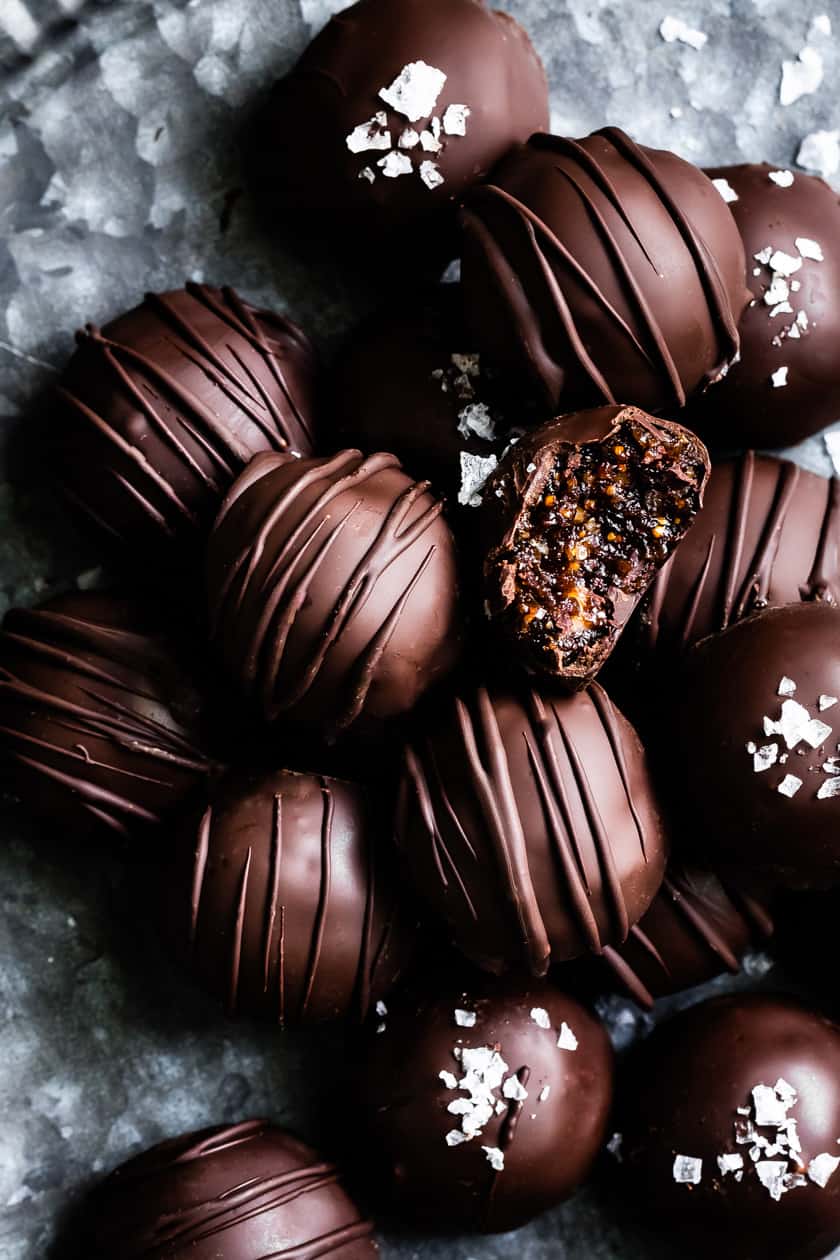 When I was in the chocolate aisle stocking up to make these dark chocolate honey fig walnut truffles, an older man reached over to grab a box of bittersweet bars. "This is the best chocolate," he told me. "I'm getting it to make my truffles. You'd think it would be too bitter to eat, but it's not."
I nodded in agreement, and making conversation, asked what kind of truffles he had planned.
"Raspberry truffles. I use it to make my truffles every year," he continued on our way to the check out stand. "Truffles are so easy to make. I buy fresh raspberries and squeeze out all the juice. Then I fold that into a ganache along with some ground freeze-dried raspberries. You'd think it'd be too bitter, but it's not."
He turned to the cashier and repeated himself again.
Then he paused and turned to me "It's from Belgium, you know." (It's not, but I didn't have the heart to tell him).
He never did tell me who was going to eat his homemade truffles, but he had over 4lbs of chocolate in his basket. The mere thought of this old man making homemade truffles every year to hand out to everyone he loves on Valentine's Day warms my heart.
If he can make truffles, so can you. And these dark chocolate honey fig walnut truffles are even easier to make, in my opinion!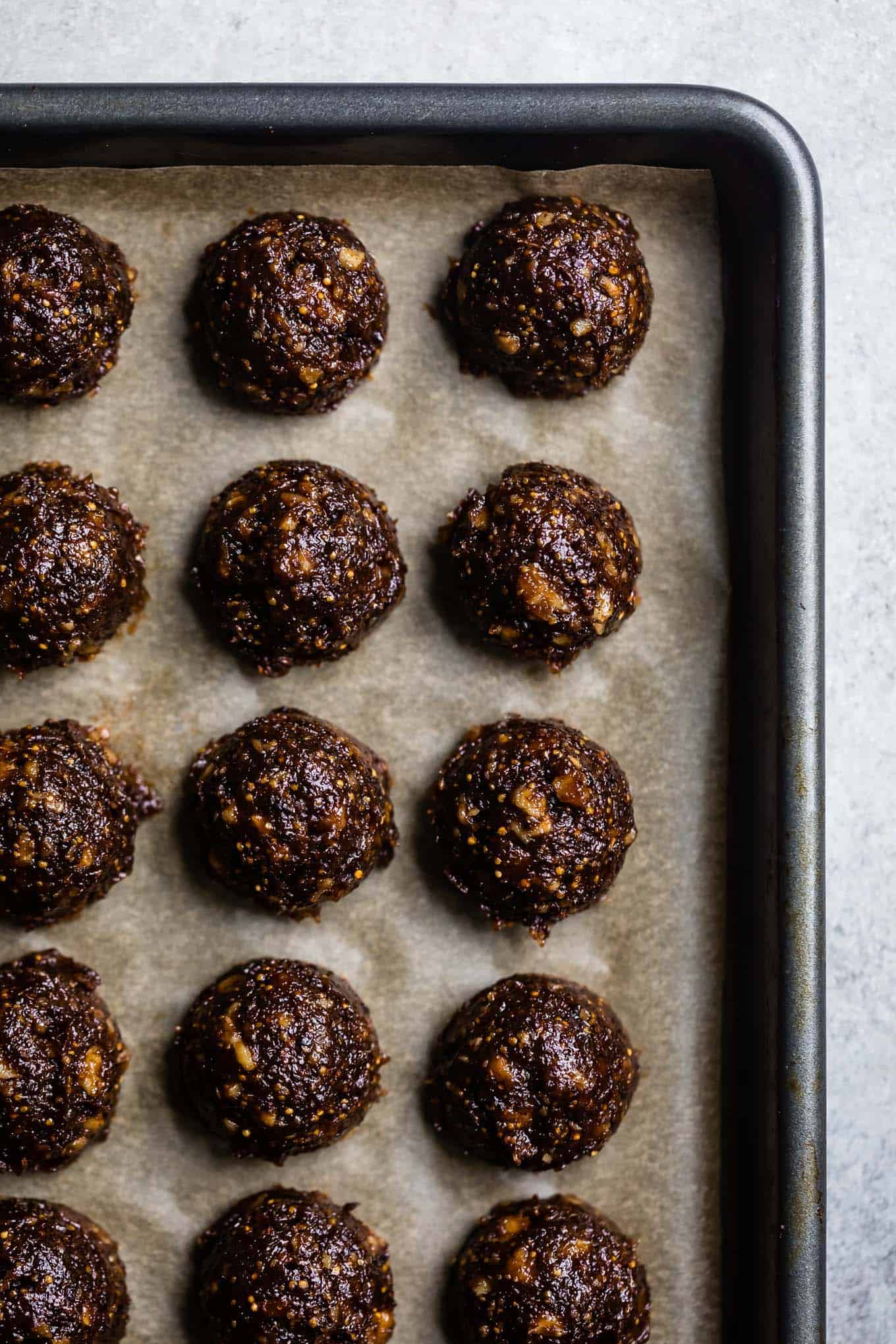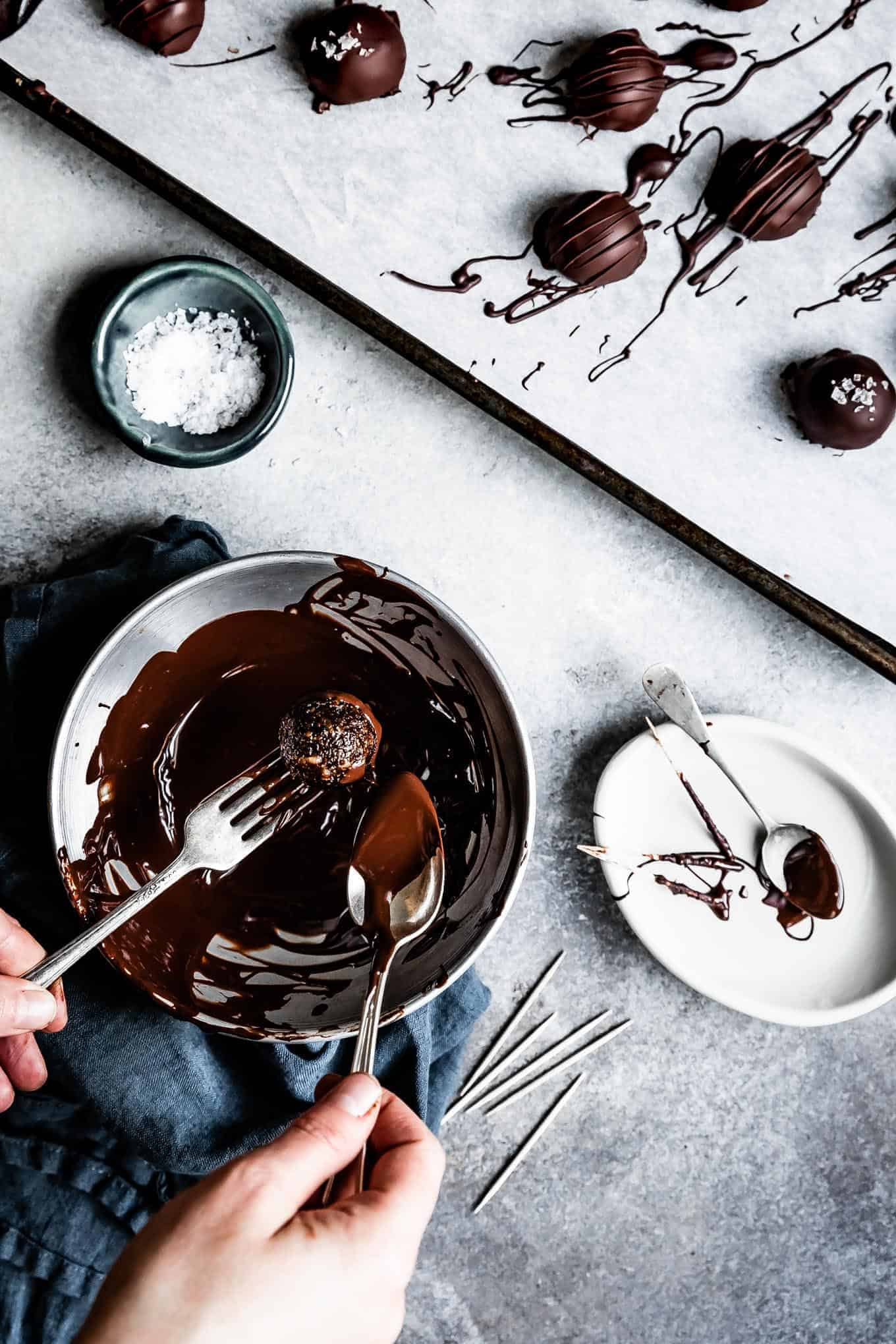 DIY Holiday Chocolate Box
These chocolate honey fig truffles make the perfect homemade gift for the holidays, treat for a New Year's Eve party, gesture of love on Valentine's Day, or chocolate-y confection for Mother's Day! Whatever the reason, you should make a batch of these honey fig truffles pronto. Pack them tight in a heart-shaped box for someone special, serve them up on a platter for dessert at a holiday party, bring a tray as a hostess gift, or eat them all yourself while watching your favorite movie with your cat. No judgements here.
I packaged up a half dozen for Zoella's teacher before stress eating the rest while my kids traded off waking each other up in the middle of the night...all night. Like I said, no judgements here.
Healthy Fruit Truffles
These nut and fruit filled truffles are still rich and indulgent like a good decadent truffle. A single truffle is enough to satiate your sweet cravings, especially when paired with high quality chocolate (unless you're stress-eating from crying children and no sleep...). Yet, they're much healthier than ganache-style truffles. Just figs, honey, and walnuts in the smooth jammy filling all enrobed in a heart-healthy deep dark chocolate.
The sweet smooth fig filling with crunchy candied walnuts pops against a bittersweet chocolate shell.
How to make honey fig puree
To make the honey fig puree, you need a high powered blender or food processor. I recommend using a small blender jar for this small batch, but if you don't have one, just double the filling so there's enough to puree in your blender - You can always freeze the truffle puree to make later!
Start with just a little bit of water, pulse, scrape down the sides, and add more water if needed. The key is to make the puree thick enough that it can scoop and hold its form for dipping, but soft enough that the center feels smooth and creamy when you bite down.
California Figs: The Best Dried Figs
The key to making this fig puree filling is using plump dried California Dried Figs. If you start with a sort of hard, sad, dried fig, you'll get hard, sad, dried non-jammy crumbles - in other words, the recipe won't work great. Instead, if you start with soft California Dried Mission Figs bursting with sweetness and notes of cabernet, you'll get a jammy smooth puree perfect for filling these truffles.
I find that California Dried Figs are the softest, plumpest, and most flavorful ones you'll find, which is due to the fact that California has the most ideal climate for growing figs. Fun fact: 100% of the dried figs grown commercially in the US are from California (I love my state, can you tell?). Look for Orchard Choice Mission Figlets (my daughter's personal favorite for snacking) or Sun-Maid California Dried Mission Figs - you'll know they're good just by feeling how soft they are.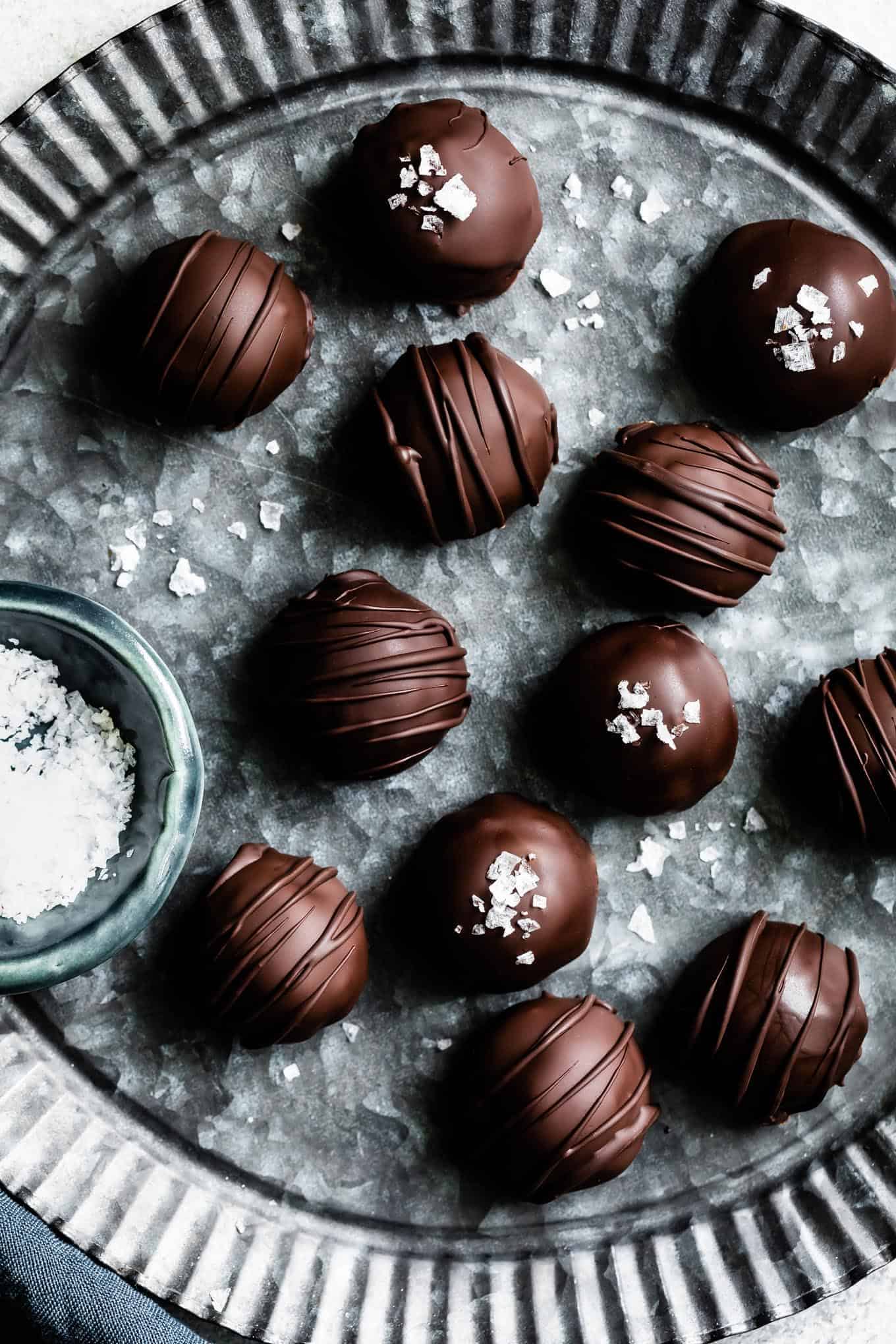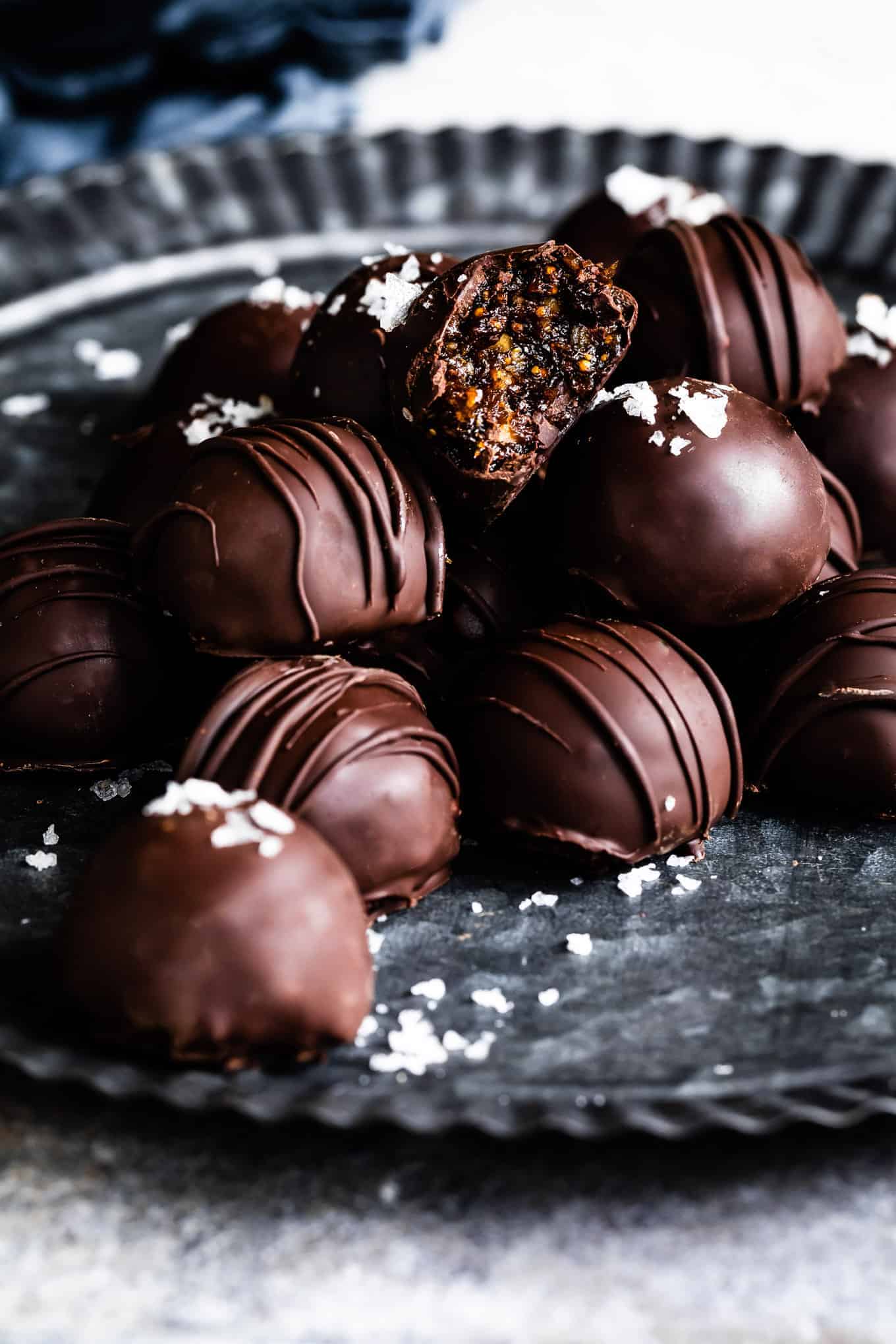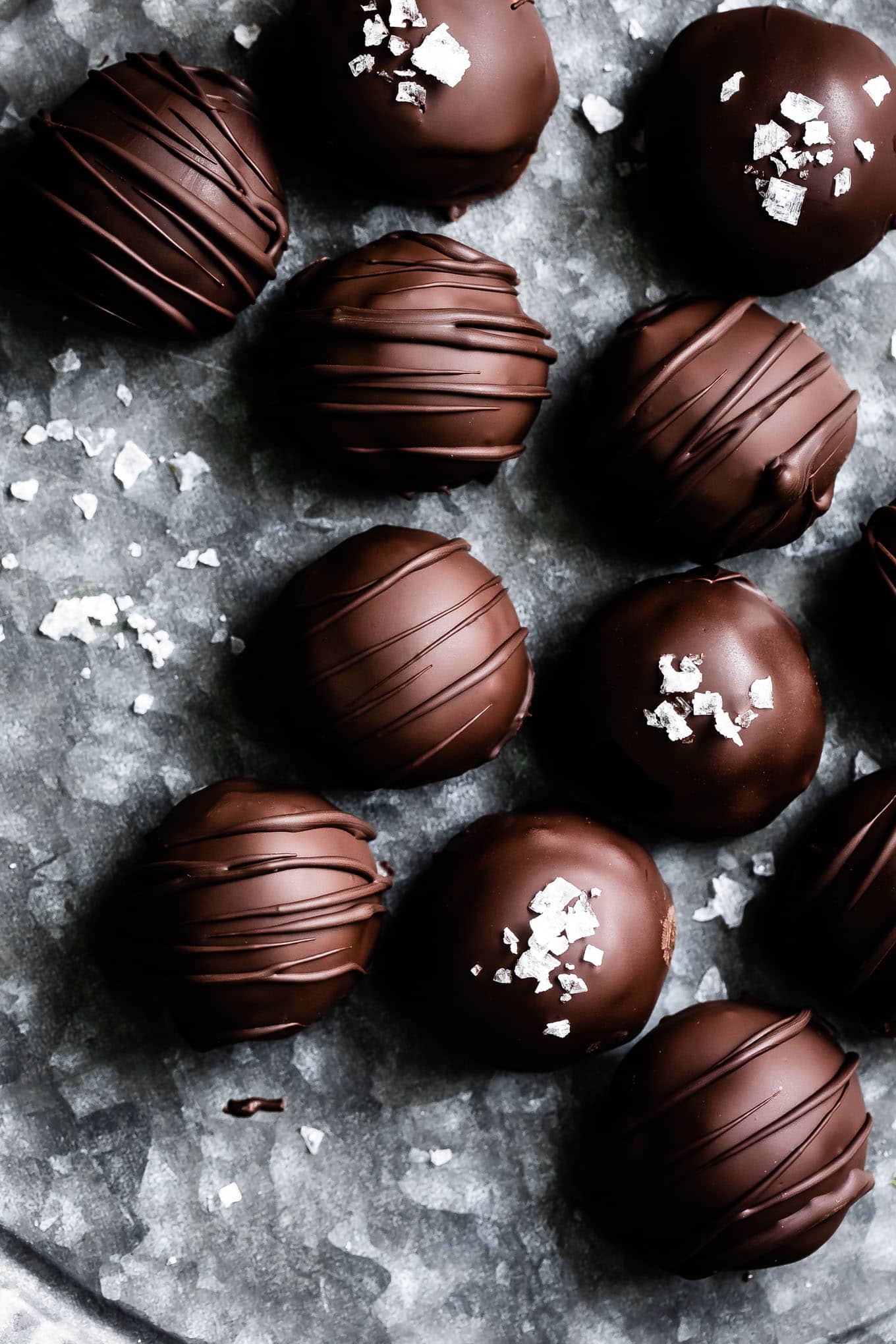 Aphrodisiac Trifecta: Honey Chocolate Figs
Do you need a sexy treat for a special someone in your life? With dark chocolate, honey, and figs, these truffles are an aphrodisiac trifecta. Ha! Honestly, I'm pretty sure aphrodisiacs are mostly myth, but it's fun to think about for Valentine's Day or for someone special's Christmas gift! If ever there's a moment to make a super sexy dessert, it's now. Why not just GO for it?
(And now, in retrospect, I realize my mom took a bunch home to my dad...I don't want to know what happened.)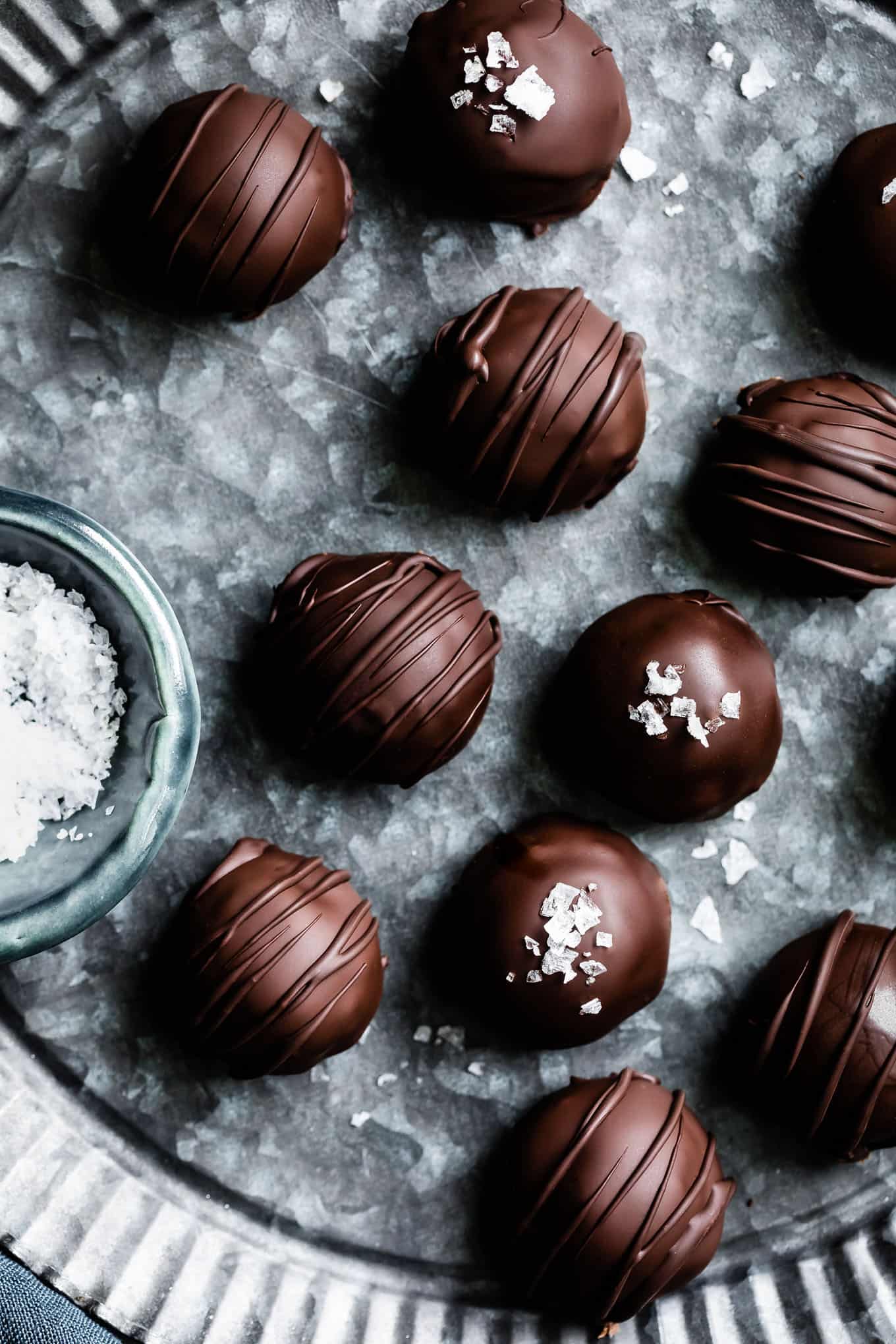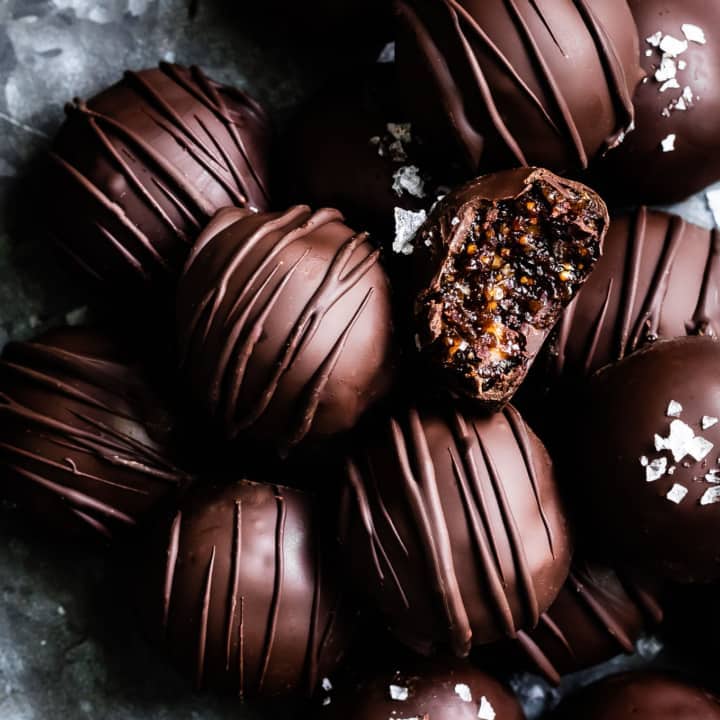 Dark Chocolate Honey Fig Walnut Truffles
Additional Time:
15 minutes
These homemade dark chocolate honey fig walnut truffles are a decadent yet healthy addition to a DIY chocolate box. The center is a soft walnut, fig, and honey jam enrobed in dark chocolate. Give them as homemade gifts to the people you love!
Ingredients
140g dried mission figs (I use Orchard Choice or Sun-Maid California Dried Figs, which are soft and plump)
¼ cup honey
¼ teaspoon pure vanilla extract
3-5 tablespoons hot water
½ cup medium coarsely chopped candied walnuts or chopped toasted walnuts (I used Diamond Nuts' Original Glazed Walnuts)
8oz bittersweet chocolate, finely chopped and divided (I use Guittard 74% bittersweet)
Flaky salt, optional
Instructions
If your figs are rather firm and dry, soak them covered in hot water for 5 minutes, then drain and press the water out before starting. If your figs are soft and plump, no need to soak. In a food processor or high-powered blender with a small blender jar, add the figs, honey, vanilla, and 2 tablespoons hot water. Blend until completely smooth, scraping down the sides and adding up to 2 tablespoons more hot water, as needed. I use exactly 3½ tablespoons, but this will depend on how juicy your figs are to begin with. The puree should be totally smooth, thick and not liquidy.
Transfer your fig puree to a bowl and fold in the chopped walnuts. Use a tablespoon or small cookie scoop to scoop perfectly rounded mounds with a flat bottom onto a parchment-lined baking sheet. If your mixture is too soft, freeze it for 20 minutes before scooping. Once you've made all your truffle mounds, place the baking pan in the freezer for at least an hour or up to several days.
When the truffle mounds are chilled, temper the chocolate. Fill a small saucepan with a few inches of water and set a heat-proof bowl over the top so a large portion of the bowl is touching the water. Being careful not to get any water in your bowl, add ⅔ (or about 5 ounces) of the dark chocolate. Cook, undisturbed until a little more than half has melted, then stir until the rest melts. Cook for a few minutes longer until the chocolate stings a little when touched on your wrist or just below your lower lip (a tip from The Kitchn!).
Remove the bowl from the heat (again being careful not to get any water in it) and add the reserved 3 ounces of chocolate. Stir until the chocolate melts. Let sit, stirring occasionally, until the chocolate feels just a bit cooler than your body temperature when touched to your wrist or below your lower lip.
Meanwhile, line another baking sheet with parchment paper.
Working quickly so your chocolate doesn't harden, dip the truffles (Tip: Remove only half of the truffle mounds from the freezer at a time to keep them firm and cold). Gently place one truffle mound into the chocolate bowl and spoon chocolate over the top. Gently lift the truffle out of the chocolate on top of a fork, then tap the fork handle on your wrist a few times to remove excess chocolate. Scrape the bottom of the fork tines on the edge of the bowl to remove any excess chocolate. Transfer the chocolate-dipped truffle to the prepared parchment-lined baking sheet, using a toothpick to help slide it off the fork. If desired, sprinkle flaky salt on top. Repeat with remaining truffles. Here's a great video tutorial for best tips on dipping truffles. Once you've finished dipping all your truffles, use any remaining chocolate to drizzle over the top.
Once the chocolate hardens, they're ready to eat! These honey fig walnut ruffles will keep in an airtight container on the counter for several days and are best eaten at room temperature.