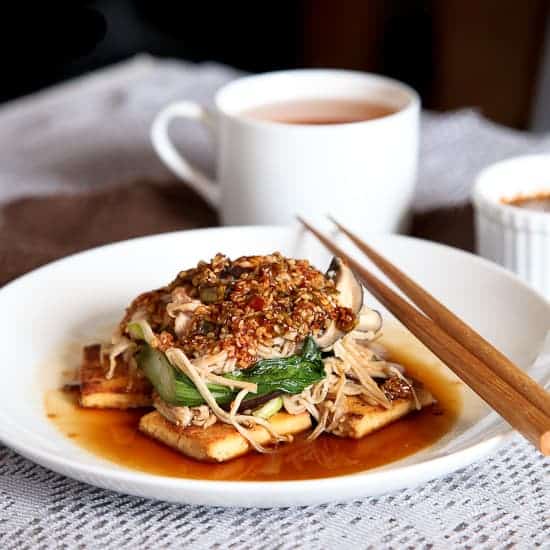 To most people who know me, it's no surprise that within a week of getting engaged, I had already planned out my entire wedding (read: planned, not executed). So what if I'd been secretly bookmarking dozens of dream wedding ideas for years?! At least I didn't create a public Pinterest wedding board before getting engaged like my mom did! (In her defense, she didn't realize it was public). Now you see where I get it? Planning is in my genes - I can't help it. A week later, my good friend Corey come through town for a weeknight slumber party to hear all about the wedding details, and in exchange, I cooked her this dish for dinner.
My pre-wedding diet includes cutting down on pastas and breads, and amping up the amount of vegetables I consume. And somehow, all I craved was pasta. That's how it works right? As soon as you tell yourself "no x," all you want is x. I usually cave into temptation and serve up a heaping bowl of noodles, but not this time! This time I will resist! And I did. Replacing stringy pasta with enoki mushrooms. I'm all about substituting healthier options in for pasta and enoki mushrooms are one of my favorite things to eat. Win win. The long skinny mushrooms totally satisfied my pasta craving while keeping the dish light and healthy.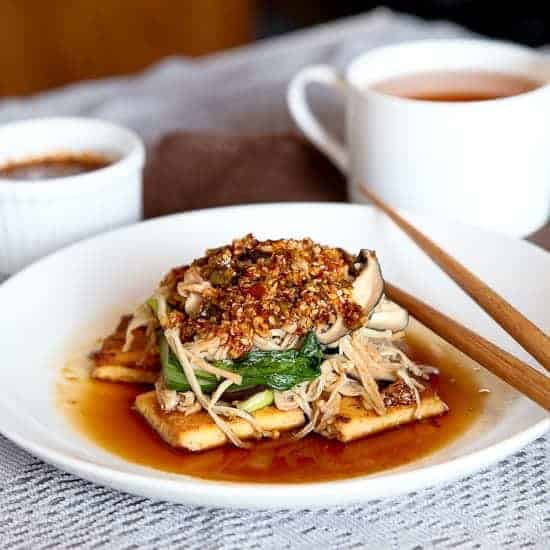 I knew tofu was up there on Corey's list of least-preferred foods, but when I pressed her, she only said that she never liked it before. I set out to change that. I'm pretty sure I succeeded because after her first bite, she started plotting ways to sneak tofu into her meat-loving husband's dinner (so keep an eye out, Dave). Crispy pan-friend tofu is leaps and bounds tastier than the soggy mushy substance that usually comes to mind when people think of tofu. Combine it with enoki mushrooms and a sesame soy sauce and you've got a crazy delicious healthy meal.
You can even toss it over some white rice if your fiancé needs all the extra carbs he can get to prepare for his upcoming marathon. And SPEAKING OF MARATHONS, Lucas placed TENTH overall in his very first marathon a couple of weeks ago. Two hours and 55 minutes to run 26.2 miles on a Sunday morning the day after a Saturday night wedding celebration. Oh, you know, no big deal. He makes it look so easy, doesn't he? Ha! Looks like we'll be going to Boston a year earlier than his original goal. So very proud of him!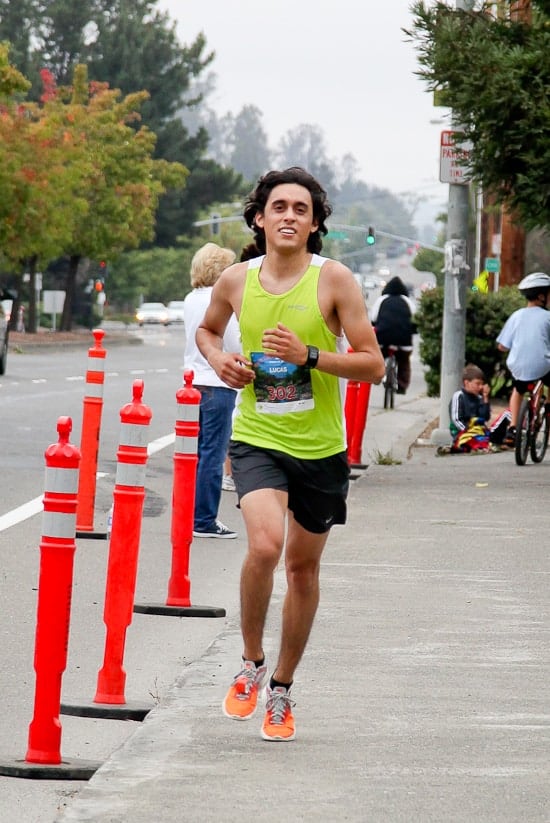 Crispy tofu and mushroom medley  (Adapted from Girl Cooks World)
Serves 3
1 pound extra firm tofu, rinsed, pressed between two plates for a few minutes, and patted dry with a towel
1 tablespoon olive oil
8 fresh shiitake mushrooms, thinly sliced
2 packages of enoki mushrooms, bottom inch of stems trimmed and discarded
5 baby bok choy, ends trimmed and ripped into leaves
¼ cup soy sauce
2 tablespoons rice wine vinegar
1 tablespoon honey
2 tablespoons water
2 tablespoons sesame oil
1½ teaspoons red pepper flakes
2 tablespoons sesame seeds, roasted for a couple of minutes on the stove and pulsed in a food processor
¼ cup green onions, thinly sliced
Slice the tofu into 1½-inch squares about  

¼-

½ inch thick. Season both sides of the tofu with salt and pepper. 

Heat 1 tablespoon of olive oil over medium heat in a medium cast-iron skillet. Add tofu in batches and cook, undisturbed, for 4-5 minutes, until crispy and browned. Use tongs to flip the tofu and cook on the other side for an additional 4-5 minutes. Transfer to a paper towel and set aside.

In the same skillet, add the bok choy and mushrooms over medium high heat. Stir fry until cooked through, about 4-5 minutes.

Meanwhile, combine the soy sauce, rice wine vinegar, honey, water, sesame oil, red pepper flakes, sesame seeds, and green onions in a small pan and cook over medium heat for about 3 minutes, until heated.
Divide the tofu between three plates. Top with mushroom and bok choy, and spoon some soy sesame sauce over the top to serve.