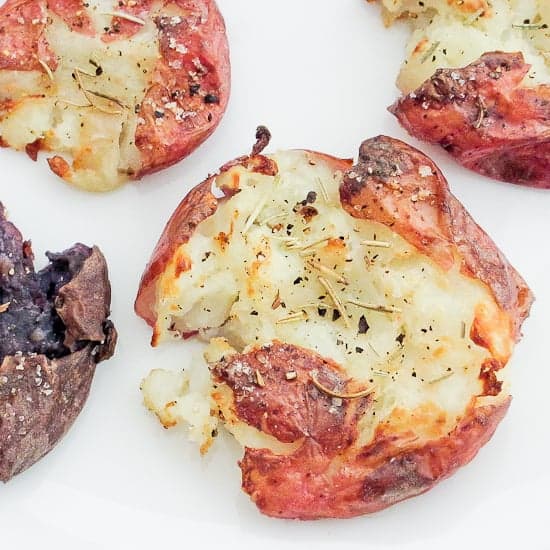 When deciding on the sides for the Texas style beef brisket, I thought back to our BBQ experiences on our trip to Texas. Baked beans, mac and cheese, coleslaw, and potato salad. I couldn't make baked beans or mac and cheese in such a short amount of prep time (I mean, I did have to get some work done too. Plus we just finished off two huge vats of broccoli mac and cheese). I also really wasn't in the mood to add spoonfuls of mayonnaise to my dish, so I settled on a less-caloric potato side. And, of course, I had to use red and purple potatoes because it was Valentine's Day.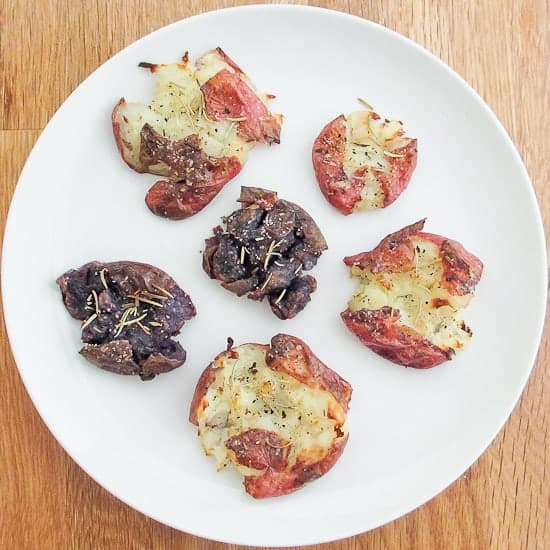 I guess I take after my dad because some days I just crave meat and potatoes. Actually, come to think of it, I didn't always love beef; I have clear memories of sliding pieces of chopped up meat under my chair at the kitchen table as a child, hoping no one would ever notice. At the time, I just assumed it got swept up and my mom was none the wiser, but in retrospect, our golden retriever probably had a feast cleaning up after me on steak night. Back to the potatoes. My family makes some mean potatoes. My dad's speciality is breakfast potatoes; waking up on Sunday morning to the aroma of dad's breakfast potatoes with sausage, onions, and gravy pouring through the house is one of the best feelings. My mom's niche is mashed potatoes - actually, one of her most-told kitchen blunders was putting potatoes in the blender when she and my dad were first married...I've been told it was not a good outcome, and have been sufficiently warned that blenders don't mash, they soup. She must have learned her lesson because her mashed potatoes are to die for these days. Some of my all-time favorite potatoes are my Aunt Lisa's scalloped potatoes. A recurring event very Thanksgiving is all of my cousins and I asking my aunt why she didn't make her scalloped potatoes, she always makes her scalloped potatoes. To which she always replies, "I make scalloped potatoes for CHRISTMAS, not Thanksgiving." By now, I think we all know this, but secretly wish she will make them for every occasion. One can dream.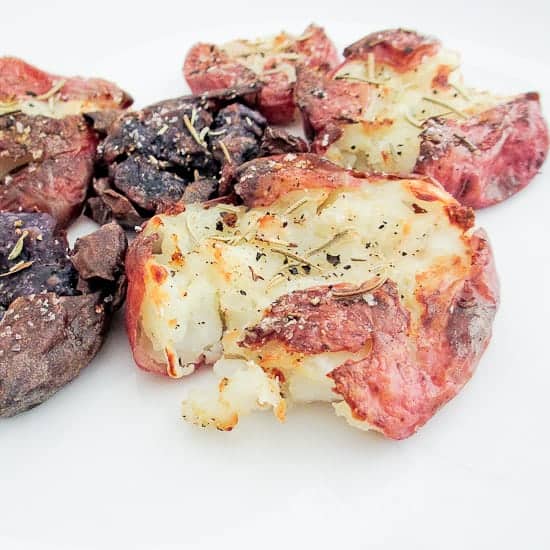 As for me, I don't make potatoes that frequently, but when I do, it's more often than not these smashed potatoes (I will exclude sweet potatoes from this sweeping claim based on the past month's worth of meals and because they're like dessert, which we all know I can't resist). These smashed potatoes are so perfectly crispy, salty, and flavorful - they're always a big hit. What's more, they're super easy to make.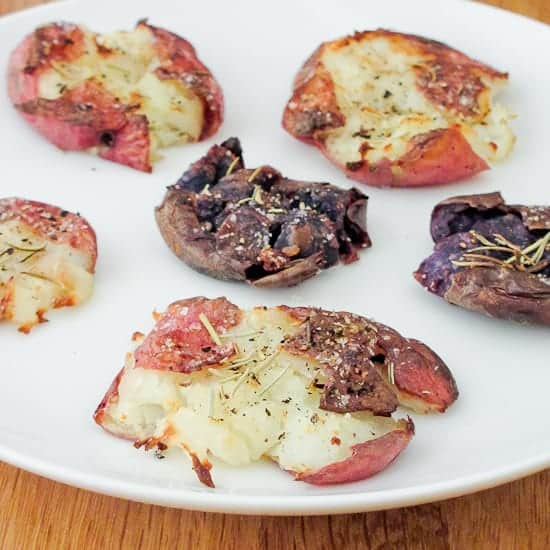 Smashed Potatoes
Small red (or purple) potatoes
1 teaspoon olive oil (or more depending on how many potatoes you're making).
Kosher salt, to taste
Freshly ground black pepper, to taste
Optional: Dried rosemary, to taste
Boil potatoes in a saucepan until tender when pierced with a fork (about 10-15 minutes).
Using a slotted spoon, transfer potatoes to a baking pan or cookie sheet.
Using a potato masher (or cup or spatula if your kitchen is missing some tools like mine is), smash each potato down.
Brush each potato with a bit of olive oil. Sprinkle generously with salt (you really can't over salt them). Add pepper and rosemary, to taste.
Put on the top rack of the oven near the broiler until they turn golden brown on the edges (about 5 minutes). Remove from oven and serve.