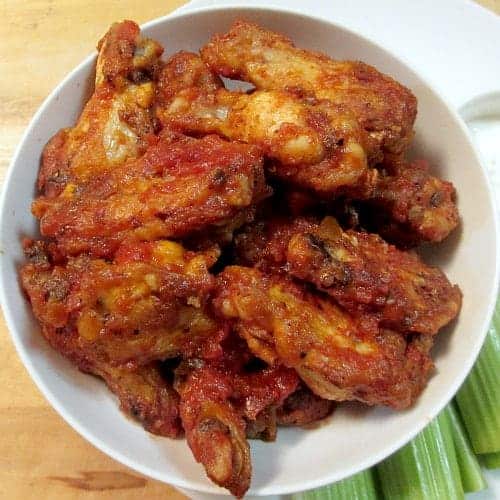 One fact you need to know about me is that I will rarely cook a recipe for which I don't have a picture. How am I supposed to make it when I don't even know what I'm striving for?! I'm a visual learner (and cook), and Jane Hornby's What to Cook and How to Cook it is a perfect cookbook for a visually-oriented cook like myself. Even if you don't cook and never plan to, this book makes a delightful coffee table read based on the photographs alone. I'm satisfied if a recipe has one accompanying photo, but Hornby does one better and pictorially lays out the entire recipe step by step on the page. These buffalo wings are adapted from her recipe, with a bit of spice added to give it a kick.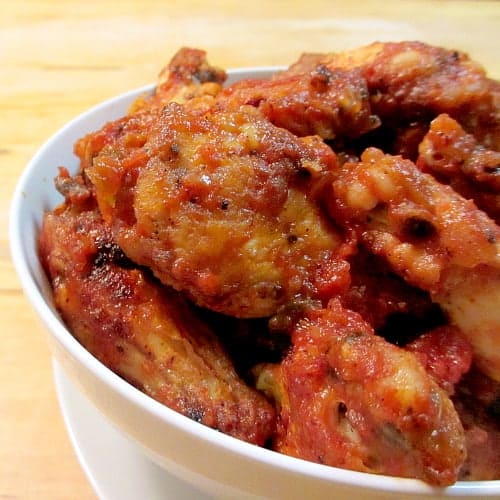 Crispy oven-baked buffalo wings
2 ½ pounds chicken wings, tips removed
Scant ½ cup of chile sauce (we've used many brands, but, like my Papa, my preferred brand is "Homade Chile Sauce")
½ to 1 teaspoon cayenne pepper, depending on how spicy you like them
¼ teaspoon chili powder
¼ teaspoon kosher salt
¼ teaspoon freshly ground pepper
Celery, cut into 2 inch sticks (optional)
Bleu cheese dressing (optional - I hate bleu cheese almost as much as I hate cilantro, so if Lucas wants bleu cheese as a dip, he gets bottled dressing rather than the homemade dip recommended by Hornby. We like the wings without the dip best).
Preheat oven to 400ºF.
Cut wings in half at the joint using a sharp knife. Toss wings with cayenne, chili powder, salt, and pepper.
Place wings on parchment-lined baking sheet (the parchment paper will significantly help with clean up), being sure not to overcrowd.
Roast wings for 40 minutes, turning once halfway through, until wings skin is crispy and golden brown.
Toss wings with chile sauce to coat. Serve with celery sticks and blue cheese dressing (optional).