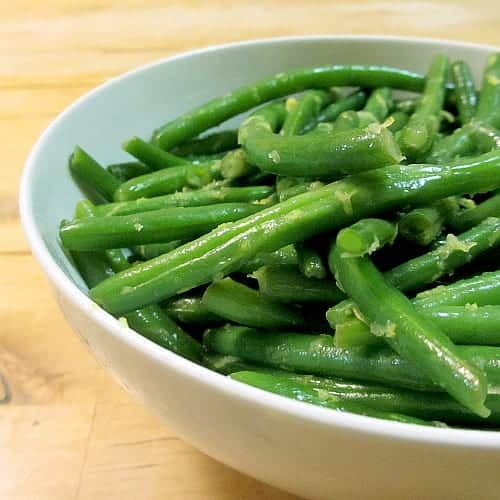 My namesake, "Big Sarah" (although I'm the taller one now), is an excellent home chef. She knows 100x more about food than I do, and has taught me much of what I know. When went off to college, Sarah sent me with a recipe book in which she compiled a handful of her favorite recipes. Still, whenever I get stuck, I call her for advice in the kitchen. I remember calling her for recipes, and insisting she tell me how much x she used. She'd often respond, "I don't know, I just do it by sight." After cooking quite a bit more and now trying to write up my own recipes, I now sympathize with not being able to answer the question of exactly how much x I put in a dish.
These green beans are one of the dishes Sarah taught me, and have become a staple in my cooking. We often try variations on green beans, but always prefer Big Sarah's green beans. This time, though, I used a local lemon infused olive oil from Oroville (a small farming town adjacent to my hometown, Chico, CA) that Aunt Lisa gave me for Christmas, and they turned out very flavorful. Sometimes I add toasted pine nuts (my good friend Zach jokes that my palate is defined by lemon, pine nuts, and shrimp), but at $29.99/lb, pine nuts are out of my lowly graduate student budget.
Crunchy lemon green beans
1 lemon, zested
4 heaping handfuls of green beans, trimmed
1 tbsp olive oil (lemon infused or regular)
⅛ cup pine nuts, roasted (optional)
Garlic, coarsely chopped (optional)
If preferred, soak garlic in olive oil while you prepare the green beans.
Steam the green beans for 7 minutes.
Remove from heat and add zest of lemon, juice of half the lemon, olive oil (garlic strained out), and pine nuts. Toss and serve.