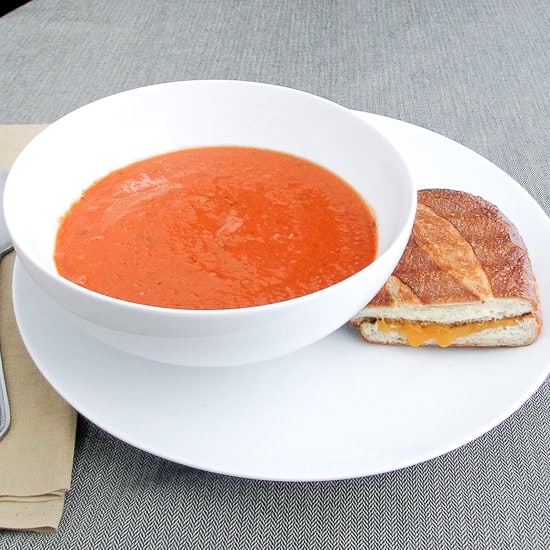 Is there one dish that you regularly crave? Tomato soup is one of those things that I get a sudden onset appetite for about once a month and must find some within the hour or something catastrophic will happen. I then go on a mad search calling every restaurant in Berkeley to find out whose got it as the daily special. For some reason, restaurants don't seem to keep tomato soup on their menu full-time, so when you want it, it's like winning the lottery if one of your frequented soup spots has decided to whip up a pot. And, usually I'm not so lucky and settle on Trader Joe's boxed tomato soup.
Last night, I had one of those cravings. It was really cold out yesterday, and soup is the perfect meal to warm you up. Rather than racking up a phone bill hunting for a bowl to satisfy my hankering, I figured tomato soup couldn't be that hard to make. I married two recipes I found online, picking out the steps I felt like following from each and this soup was born. My decision process when adapting the recipes really is entirely about what I'm in to mood to do, without much actual scientific thought behind my choices. I like to think of myself as a whimsical cook.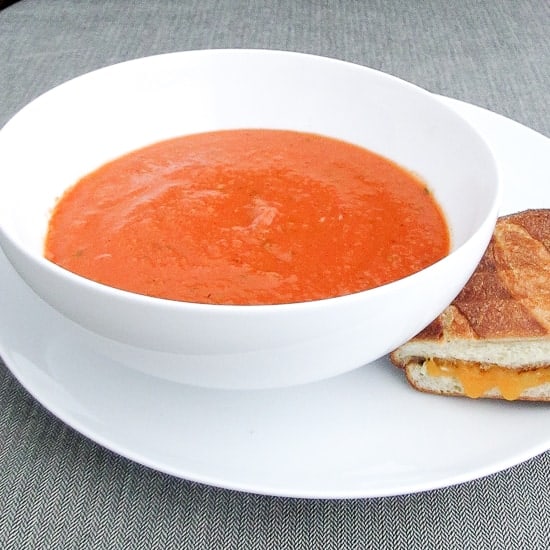 And, of course, every bowl of tomato soup must be served with a grilled cheese sandwich. I didn't eat tomato soup much growing up, but my former roommate Ashley taught me this pairing one frigid day in Philadelphia. I did eat quite a bit of grilled cheese sandwiches in my childhood though - it was one of my dad's specialities. Actually, when I was about ten years old, I proudly offered to make my dad one of these tasty sandwiches I'd seen him make a million times before. When telling anyone about my cooking skills, he still recalls the story of how I used mayonnaise on the bread rather than butter. This mayonnaise mishap has become a running joke in my family, but I've since encountered folks who really do use mayonnaise on their grilled cheese sandwiches. The thought of ruining a grilled cheese sandwich with mayo makes me cringe. For last night's grilled cheese, I used my George Foreman with some fresh sourdough panini bread and  skipped the mayo/butter debate altogether.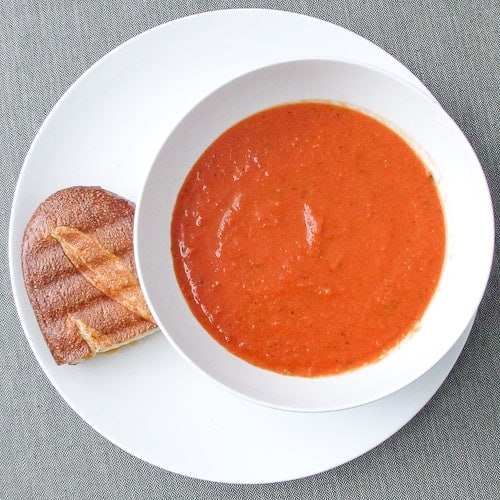 Normally, I would have puréed the soup with my food processor in batches; it would have been a huge mess because tomato soup is red, which increases my likelihood of spilling it tenfold. Instead, while simmering my tomatoes, I vaguely recalled that Lucas moved in with one (and only one) kitchen item: something in an old box that plugged in and had a wire whisk attachment...and maybe something else? When I pulled it out from its dust-collecting corner in the back of the shelf, I discovered that my instinct was correct - it was an immersion blender! Okay, to be honest, I actually googled "immersion blender" to verify that that was what I'd found. When I told Lucas, he was just as shocked as I was; his grandma had given it to him when he moved out to California because she'd never used it. He claims that at the time, he fancied himself becoming a gourmet chef; although, when I met him, he was eating out no less than six nights a week. It turns out that I didn't actually know how to use an immersion blender and still wound up with red splatter all over my kitchen. Don't worry, I figured out that it doesn't work like a hand mixer...only, a bit too late. Despite the mess, this soup was incredible - not too sour, salty, or sweet, but a perfect balance of all three. The tiny dash of ground cloves rounds out the flavors in a delicious way. And substituting yogurt for cream makes it healthier too. Next time, I'll double this recipe and freeze some to have on hand in case of emergencies.
Creamy tomato basil soup (Adapted from Some the Wiser and Pass the Sushi)
Serves 4 main course
1 tablespoon olive oil
2 tablespoons unsalted butter
1 medium yellow onion, diced
2 cloves garlic, diced
2 tablespoons tomato paste
3 (14.5oz) cans of diced tomatoes (I used two Hunt's regular and one Hunt's fire roasted)
1 tablespoon flour
1 bay leaf
1½ teaspoons salt
3 cups chicken broth
2 tablespoons honey
Pinch of cayenne pepper
Freshly ground black pepper, to taste
Smidgen of ground cloves (basically, use a REALLY REALLY little bit)
½ cup plain yogurt
Scant ¼ cup diced fresh basil
Optional: freshly grated parmesan cheese
In a large pot over medium high heat, heat olive oil and butter. Add onion, garlic, and tomato paste. Cook 2 to 3 minutes.
Drain diced tomatoes, reserving juice. Add tomatoes to the pot and cook, stirring, about 10 minutes.
Add flour and cook another minute.
Add bay leaf, salt, chicken broth, reserved tomato juice, honey, cayenne, black pepper, and cloves. Bring to a boil. Reduce heat to medium and cook, stirring occasionally until reduced by a cup, about 20-30 minutes.
Remove bay leaf. Add yogurt and basil. Purée with an immersion blender (or food processor) until smooth.
Cook an additional 5 minutes. Adjust seasonings if needed. Serve with a dollop of parmesan cheese (optional) and a grilled cheese sandwich (mandatory:).