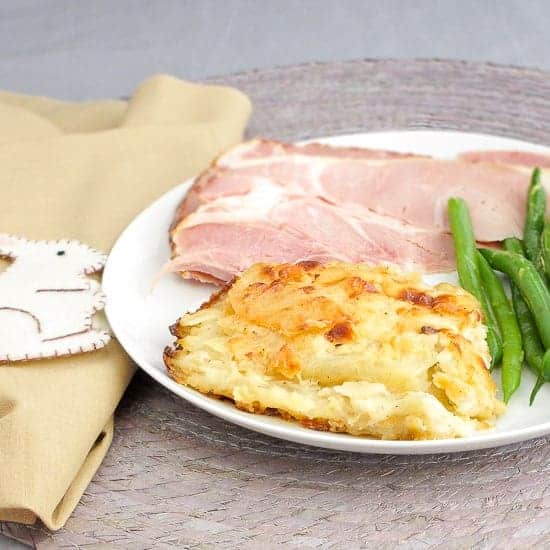 It's been years since I've spent Easter with my family and I miss it. I miss the epic egg hunts in my parents' backyard that always ended with a few unaccounted for hard-boiled eggs for the dog to discover later. I miss searching high and low for the basket of goodies the bunny hid somewhere in the house. Yes, my Easter Bunny was a sneaky one - he didn't just hide eggs, he hid the whole basket. Promises of sweet treats made Easter one of two days of the year (the second being Christmas) when I would voluntarily wake up with the sun. This is no small feat for a girl who regularly dragged herself out of bed no earlier than 2pm on Sundays. As an adult with much less excitement awaiting in the morning, Easter sunday is used for catching up on sleep.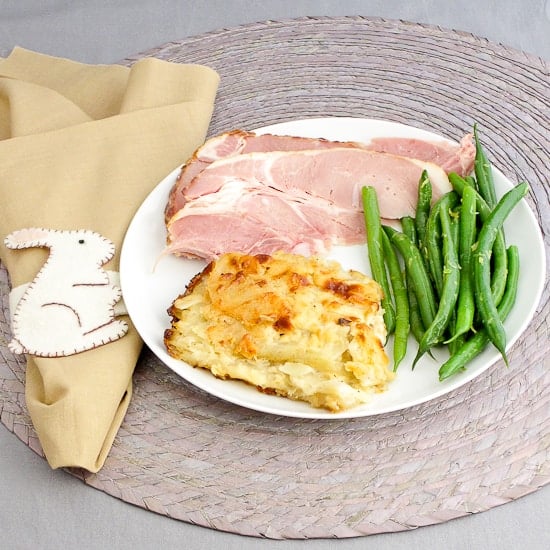 Now that I can buy myself all the candy my heart desires, what I miss most about Easter with the fam is the home-cooked meal. In particular, Aunt Lisa's famous scalloped potatoes. Actually, I'm not sure whether we ate these on Easter; these addicting potatoes are definitely on the Christmas menu, but I'm planning to make them a tradition for every occasion. When you're homesick for comfort food, it's best to make those dishes that remind you of family. And this recipe has been passed around the family for years. At age 12, my brother phoned our Auntie to get her beloved recipe so my mom could make it for him all year round. Luckily our mom knew better than to add flowers to the béchamel (see his transcribed copy below).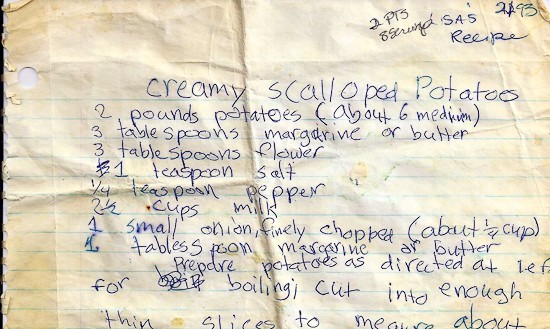 Lucas and I spent this Easter sunday with my namesake Sarah and her family. The last Easter I spent with them, Mattias, now 15 years old, was about 5, and he couldn't believe that goofy rabbit would hide his basket in the bathtub. Like clockwork, every Easter since then we've watched a video of precocious 5-year-old Mattias recounting the tale of the Easter bunny and his funny hiding spots. This year, we dined like kings on deliciously healthy pollock fish served with roasted tomatoes, olives, and Israeli couscous. The girls chatted in the kitchen while the boys filled the house with their music. I'm jealous of Sarah's five-burner stove and the way she prepares a complex gourmet meal with such ease - I'm much more frantic in the kitchen.
I didn't cook anything today, but I couldn't resist making our own traditional Easter meal a day early. Really I just wanted an excuse to use these sweet bunny rabbit napkin holders Nana gifted me for my birthday. Leftover scalloped potatoes for the next few days are an added bonus, and, let me tell you, as fabulous as these spuds are when they first emerge from an hour and a half in the oven, they are even better the next day. Make sure you give them plenty of time to crisp up in the oven because the almost-burnt brown edges are the best part. When the recipe was finally handed on to me, I was shocked that cheese wasn't a main ingredient; surely cheese was the only explanation for the flavorful golden brown. Nope - apparently these scalloped potatoes are way simpler than their richness lets on.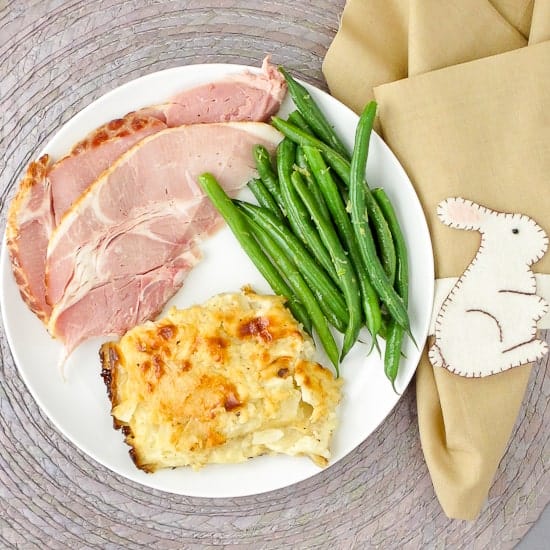 Aunt Lisa's Creamy scalloped potatoes
Serves 8
2 lbs russet or red potatoes (about 4-6 medium)
3 tablespoons butter plus 1 tablespoon
3 tablespoons flour
1 teaspoon salt
½ teaspoon garlic salt
¼ teaspoon black pepper
2½ cups milk (Aunt Lisa said she usually uses nonfat or low-fat - I had some leftover whole milk from baking that I used)
1 small onion, finely chopped (about ½ cup)
Preheat the oven to 350ºF.
If using russet potatoes, peel the potatoes. If using red potatoes, you can leave the skin on. Using a salad shooter, or the slicer from a food processor, cut the potatoes into enough thin slices to measure about 5-6 cups.
Combine flour, salt, garlic salt, and pepper together in a small bowl.
Heat 3 tablespoons of butter in medium sauce pan over low heat until melted. Add the flour mixture and combine. Cook over low heat, stirring constantly, until mixture is smooth and bubbly.
Add milk in 4 parts, whisking constantly to combine.
Bring mixture to boil, making sure you're attending to it the entire time. After it's boiling, cook for another minute and remove from heat.
Layer, in order, the potatoes, onion, and white sauce in three layers in a greased casserole dish. I used an 8x10 dish, but you can really use any size and the height of your casserole will vary.
Cut up the last tablespoon of butter into tiny chunks and sprinkle over the top.
Cover with foil and cook for 30 minutes.
Remove the foil off and bake for an additional 60-70 minutes, until the top is golden brown.