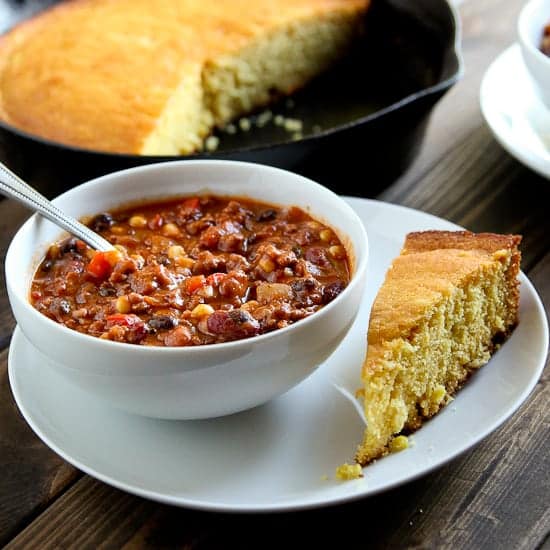 To fancy up my homemade turkey chili a bit more than the canned chili of my past, I served it up with a slice of the most delicious homemade buttermilk cornbread I've ever eaten. Seriously, where has this cornbread recipe been hiding all my life? Okay, so maybe it counters the healthiness of the chili, but at least I made the cornbread a teensy bit healthier by reducing the butter by half. This cornbread will knock your socks off with sweet corn flavor - it's super moist with crispy browned edges, and the perfect side for a bowl of warm chili.
If you don't have a cast-iron skillet, not to worry! You can use a metal cake pan or pyrex baking dish or even a muffin tray. For step 2, melt the butter in the microwave and spread it on the bottom and sides of the pan. You'll also need to adjust the baking time – it might take a bit longer or shorter depending on the dish you choose.
Buttermilk Cornbread
¼ cup unsalted butter
3 tablespoons vegetable oil
⅔ cup  sugar
2 eggs
1 cup buttermilk
½ teaspoon baking soda
1 cup yellow cornmeal
1 cup all-purpose flour
½ teaspoon salt
¾ cup frozen corn
Preheat oven to 375ºF. Lightly grease 9-inch cast-iron skillet with vegetable oil.
Melt the butter in the skillet.
Combine the melted butter, sugar, and vegetable oil in the bowl of an electric mixer on low speed.
Add eggs and beat on medium-low until combined.
Combine buttermilk and baking soda in a cup and pour the mixture into the bowl, mixing on medium-low speed until combined.
Add the corn and stir until scattered throughout.
In a separate bowl, mix together cornmeal, flour, and salt.
Add the dry ingredients to the wet ingredients and mix on medium speed until well combined.
Pour batter into the prepared skillet.
Bake for about 30-40 minutes, or until a toothpick inserted in the center comes out clean, or with just a few crumbs (Check the cornbread every 5 minutes after 20 minutes, to make sure you don't burn it! Every oven might be a little different and I want to cook it one more time before confirming the exact bake time).