While most people are prepping their finger foods for the Super Bowl, Lucas and I are celebrating our two year anniversary (with food) today. Last year, we mixed up the date of our anniversary and didn't realize until we were done wining and dining, so this year, we've arbitrarily picked today since he leaves for Taiwan tomorrow night. We met here 2 years ago plus or minus 2 days. Earlier this week, Lucas cooked up our plans for the occasion (pun intended): a day of food. He giddily already had a breakfast menu in mind when he suggested he take the morning shift, me the dessert shift, and then we each concoct two separate entrées - all meals as super top-secret surprises. I readily accepted knowing that when Lucas takes on a challenge like this, he doesn't mess around; for my birthday last year, he spent 6 hours shopping for, prepping, and cooking the most perfect paella. While I fudge a recipe because I just don't feel like measuring that carefully or I'm missing (or just plain don't like) ingredient x or y, Lucas is much more careful in his calculations, each move done with purposeful, yet creative, precision. His inventive (and suspenseful) scheme saves us the money we would have spent eating out at a likely expensive restaurant, plus it's way more fun. AND I get to blog about it.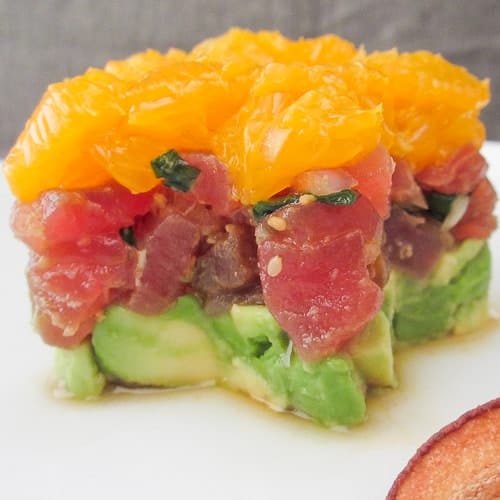 This post is dedicated to my first duty: half of a two-part dinner. I spent quite a bit of time asking everyone I knew what I should make for this meal - I am usually just fine meal planning on my own, but I wanted my inspiration to be something more than just what caught my eye; I needed it to mean something. I reminisced through all the food experiences Lucas and I have shared together searching for something that would evoke an idea and, of course, our first date came to mind. For our first date, we were supposed to meet at a swanky restaurant near his work before heading to a party, but I grossly underestimated traffic on the bay bridge and was over an hour late. We ended up heading to a greasy pizza joint by his apartment, and in true awkward-Sarah style, I wound up inviting his roommate to come along. Such a romantic. Consequently, I consider our second date as the first official "date." For this occasion, we shared a large platter of sushi (and I exploded sushi all over myself to ensure a good impression). Since then, we've bonded over our mutual love of sushi - we have our favorite worth-the-wait sushi restaurant and our favorite cheap-weeknight-to-go sushi restaurant, and every once in a while, we do something totally unexpected and try someplace new (Berkeley is not in shortage of sushi restaurants). To honor our first date and our shared love of raw fish, I made tuna tartare for our anniversary dinner. I knew it'd be a hit because Lucas was practically drooling over the yellowfin ahi tuna at the fish market last weekend.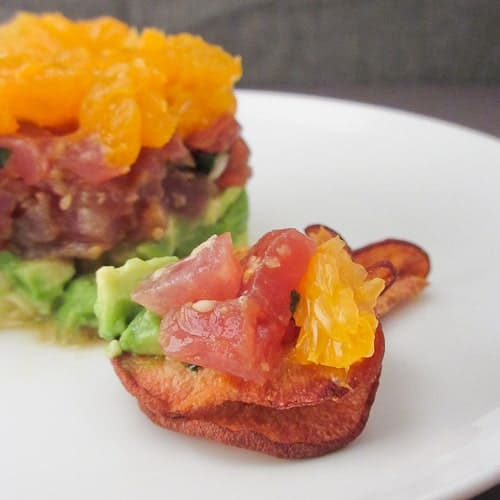 Tuna tartare is such a simple dish that I figured it couldn't be that hard to add my own flare. I made this dish totally blind, having no idea whether I would ruin the gorgeous piece of fish with a terrible flavor combination, but if Lucas can stomach a cinnamon burrito, I knew I'd be safe with whatever I whipped up. We both LOVED this spin on tuna tartare - the satsuma mandarins were so perfectly ripened and complemented the tuna in just the right way. I worried a tad about the ginger and shallots overpowering the dish, but next time, I might even add just a little more to offset the sweetness from the pear chips I used as a substitution for the typical wonton crisp serving "spoon." I didn't have a circle cookie cutter, but I DID have a star (thanks to a Disney cookie cutter set from Lucas's parents), so I served our date-night dish in this whimsical shape instead. Also, how cute would this be for Valentine's Day in the shape of a heart with blood oranges instead of mandarins?
Citrus tuna tartare
Serves 2-4 as appetizer
¼ cup soy sauce
2 tablespoons fresh orange juice (about 1 orange)
1 tablespoon fresh lemon juice (about 1 lemon)
½ tablespoon water
½ tablespoon mirin (sweet rice wine)
Dash of crushed red pepper
¼ to ½ teaspoon fresh ginger, peeled and finely grated
¼ teaspoon sesame seeds
4 green onions, thinly sliced
1 shallot, diced
½ pound sushi-grade yellowfin ahí tuna, chopped into ¼ to ½ inch cubes
8 satsuma mandarins (or your other favorite citrus fruit)
1 avocado, chopped into ¼ to ½ inch cubes
Add soy sauce, orange juice, lemon juice, water, mirin, red pepper, ginger, sesame seeds, onions, and shallot in a bowl and whisk until combined.
Slice off the top and bottom of each mandarin. Use knife to remove the peel and pith. Rip the fruit segments apart from in between the membranes and collect in a bowl.
Marinate the tuna in the soy mixture for a couple of minutes.
Put a cookie cutter on a serving plate and pack with avocado until it's about ½ inch high.
Slowly pull the cookie cutter up a little bit and pack with tuna pieces about ½ inch high.
Slowly pull the cookie cutter up a little bit more and pack with mandarin pieces. Slowly remove cookie cutter. Repeat until all tuna is used (For me, this made 3).
Serve with pear chips (recipe below).
Pear chips
2½ bosc pears, very thinly sliced (do not remove skin or core, but be sure to pop out the seeds with the tip of a knife).
Preheat oven to 225ºF.
Lay pear slices flat on parchment-lined cookie sheet. Be sure not to overlap pieces or they will stick together.
Bake for 1 hour, then turn each slice over and bake for another 45 minutes to an hour.
Remove pear slices from cookie sheet to cool and they will crisp up as they cool.
Enjoy alone or with citrus tuna tartare.