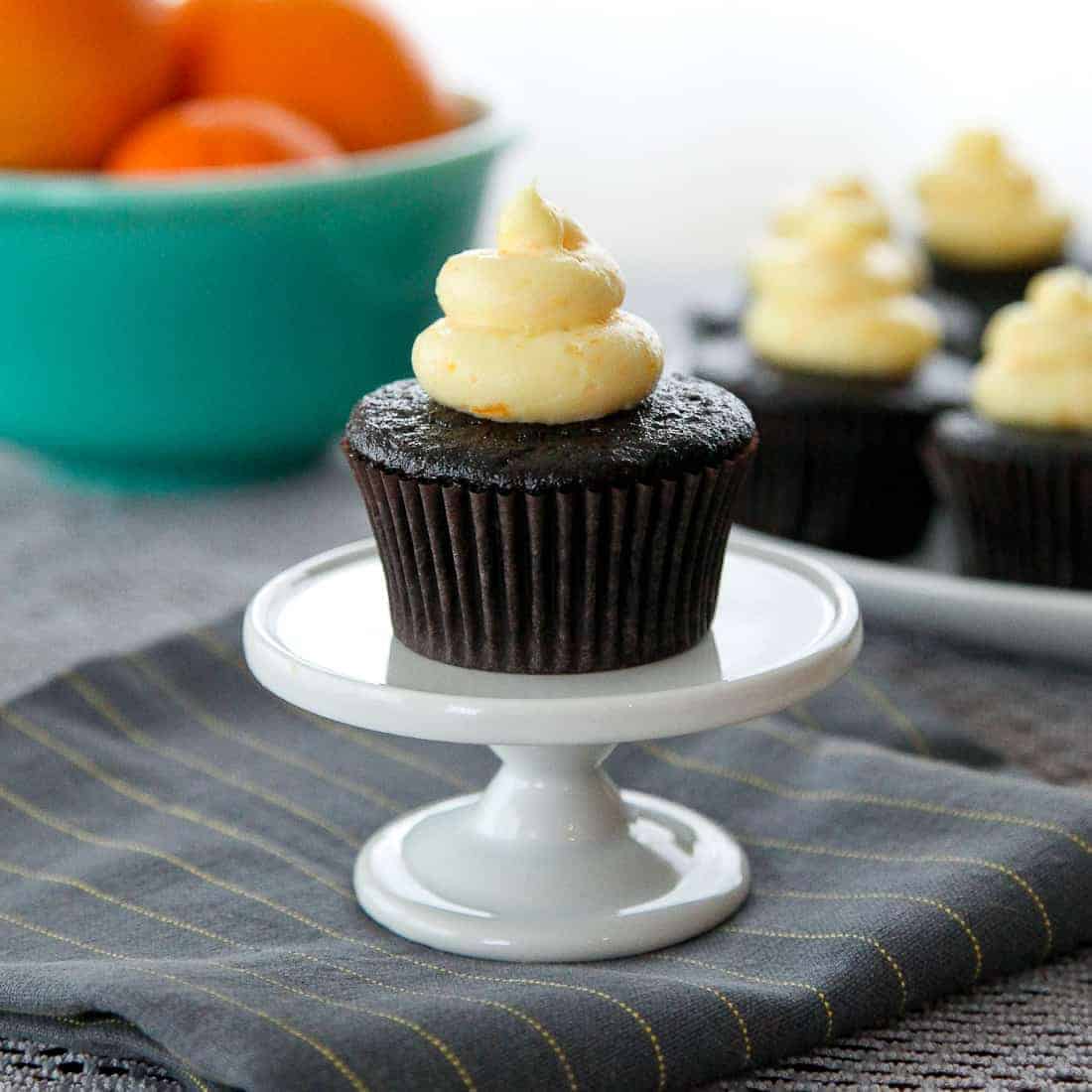 Cupcakes are my kryptonite. So good, but so so bad. I swore off gluten entirely yesterday when I had a massive headache and horrible nausea for two days straight after eating only one (oh so yummy) of these chocolate orange creamsicle cupcakes. Okay, two. I ate one on Friday when I served them because I had to make sure they weren't poisonous before giving them to guests and I had to eat another when photographing them because how else would you know what the inside looked like? Light, fluffy, moist, chocolate-y, summery citrus-y. I mmmmed and ahhhhhed after every single bite (and I don't even like chocolate all that much!).
Then I grumbled and complained for two days straight. One little confection puts me out like I've just indulged in one too many fruity cocktails the night before. I'm now convinced. F*&% gluten. To fight back, I went out and bought the most expensive flour of my life today: gluten-free and only $5/lb (oy vey). Cupcakes are going to be an expensive endeavor from here on out.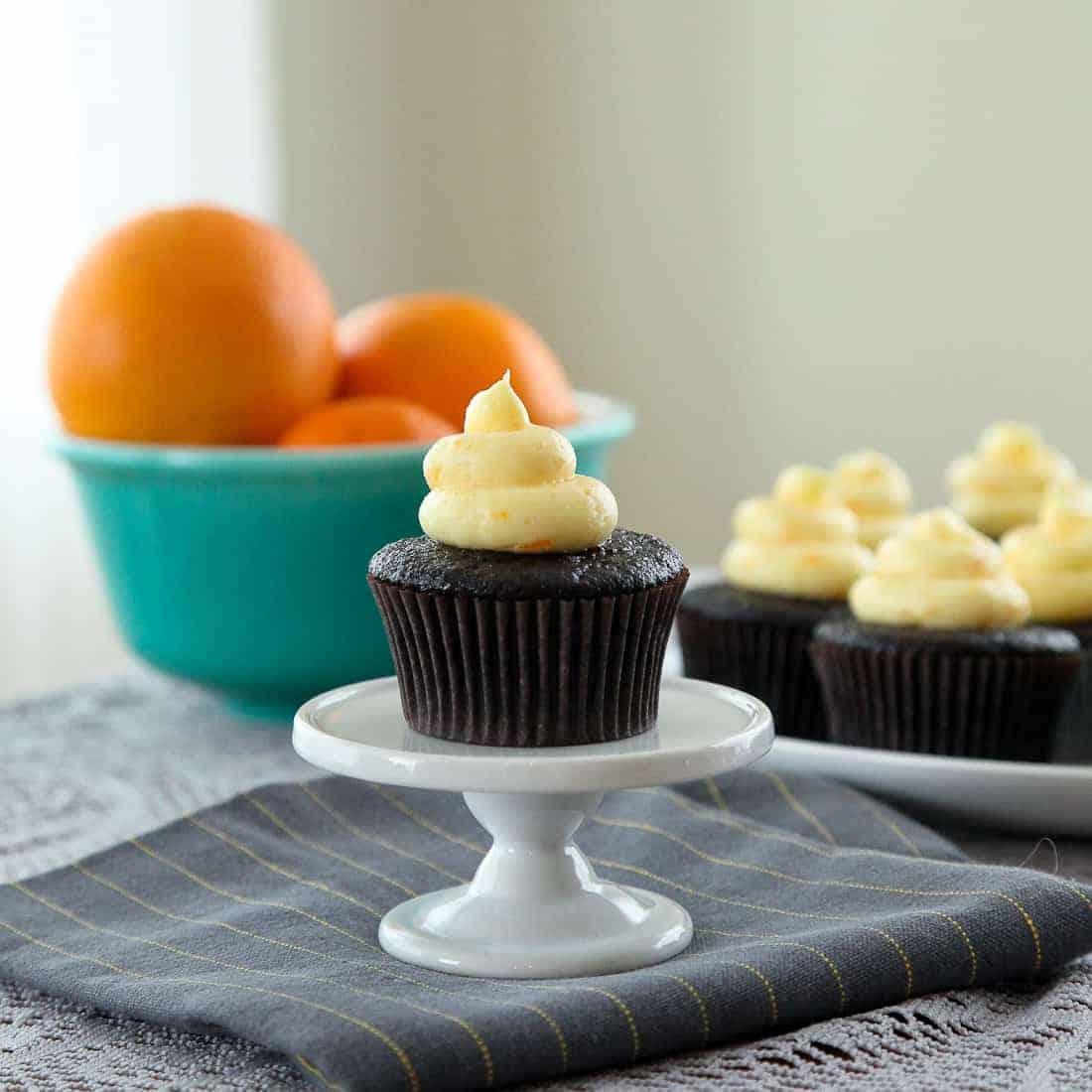 Before I go all anti-gluten on you folks, this cupcake deserves its spotlight. It's yummy. And for those of you without a nasty reaction to the wheat protein, you are in for a treat. Hell, everyone's in for a treat, but some of you (15%) might be upset the next day. We had some friends over on Friday night and I promised dessert. I knew I shouldn't be eating cupcakes, but I'd just ordered 1000 cupcake liners for the wedding from Bake it Pretty and I had to test them out to see if they'd hold their color.
You heard me, 1000, and no, we're not having 1000 cupcakes at the wedding...I just go overboard sometimes. To be fair, I also made a gluten-free strawberry lemon curd almond tart and strawberry ginger lemonade (recipes coming soon!) to go along with these cupcakes...I just didn't obey the "only eat the gluten-free dessert, Sarah" command implied by baking two desserts.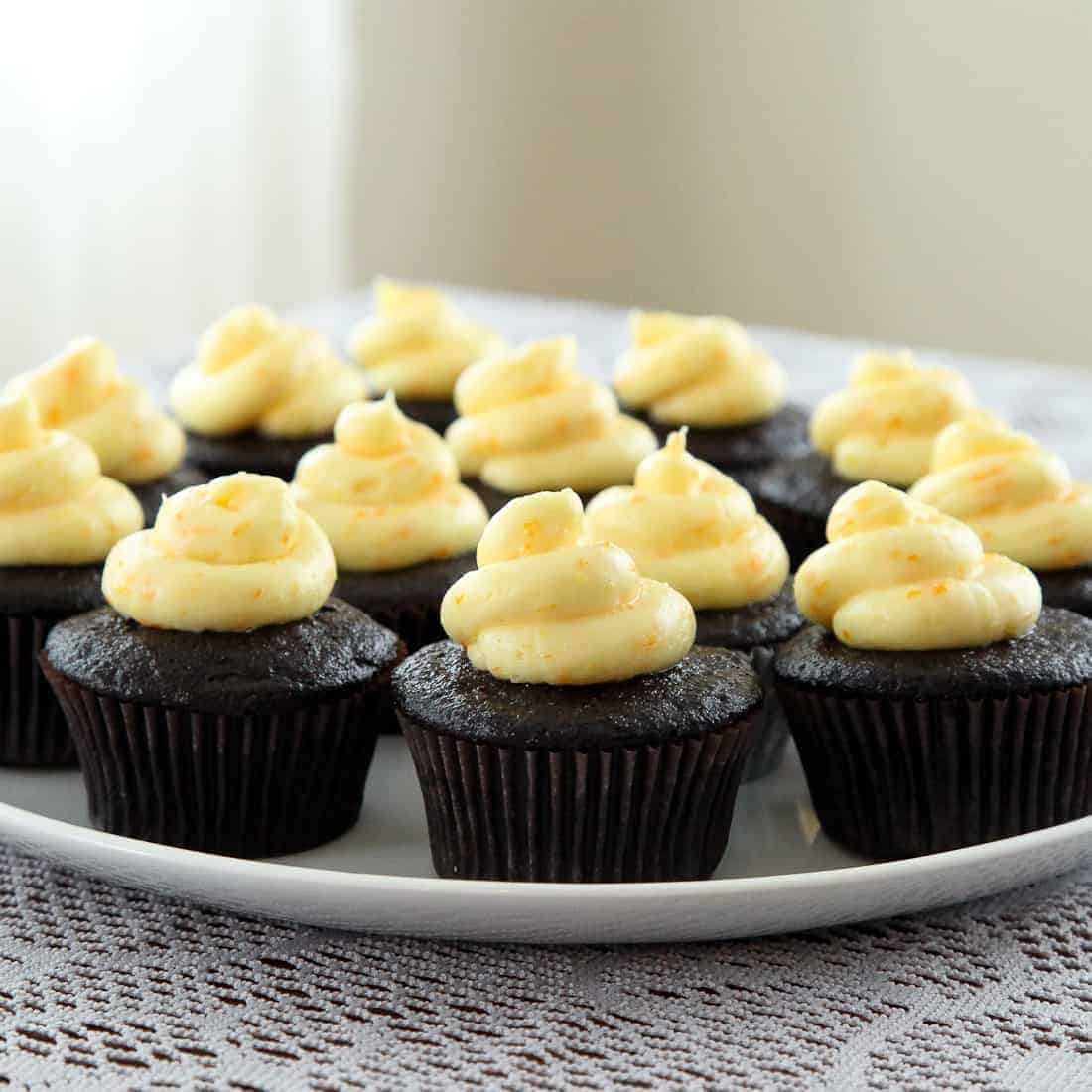 Chocolate was chosen as a stand-in for the equally-as-dark red velvet we'll be having at the wedding since I'm much too cheap to buy red food coloring. The liners pictured here (dark brown and silver) held their color perfectly and I'm so glad I bought a ridiculous quantity. I'll keep them for life. This orange cream cheese frosting tastes JUST like an orange creamsicle all whipped up. If you don't have a go-to chocolate cupcake or cream cheese frosting recipe, you do now (feel free to replace the orange juice with vanilla and leave out the zest for a vanilla frosting).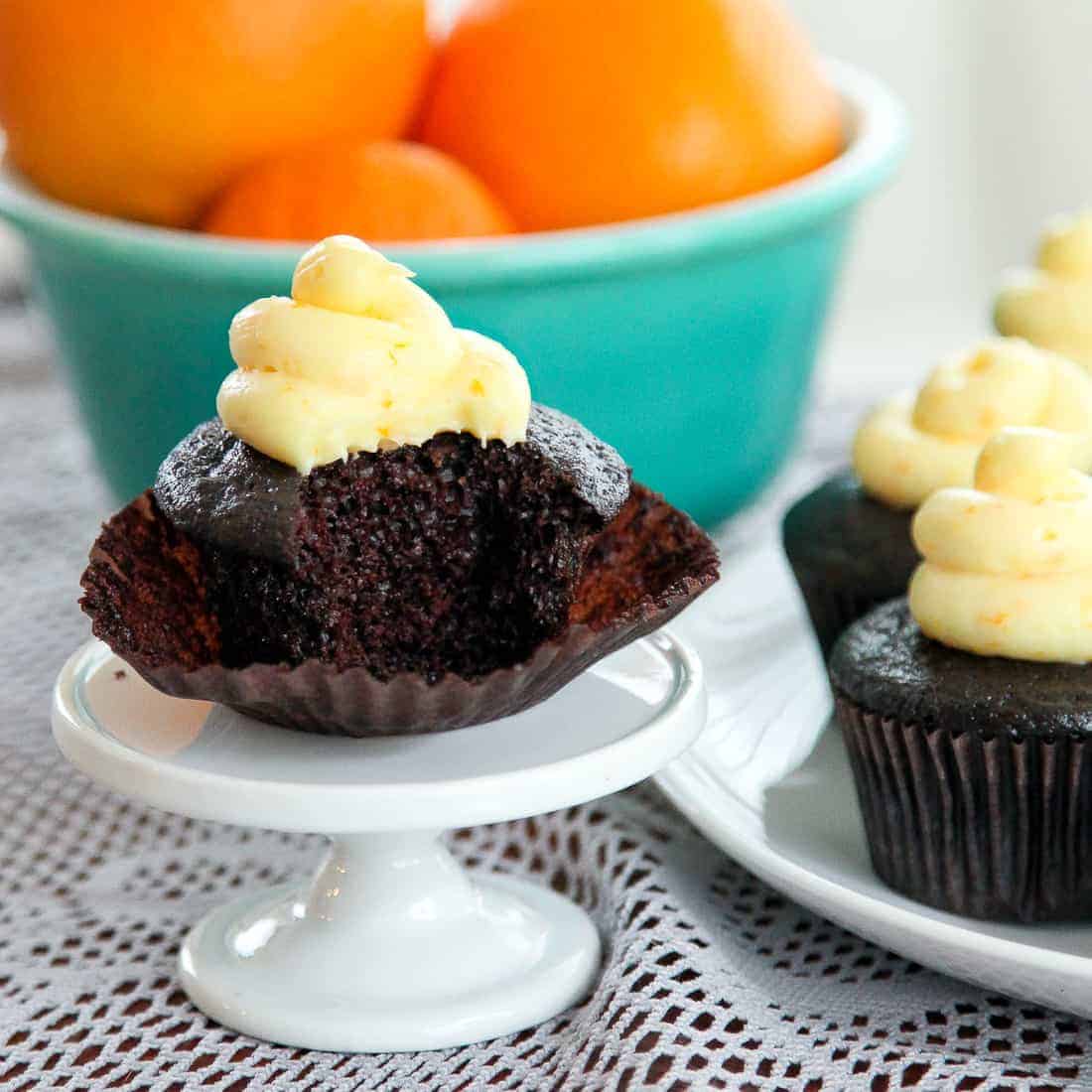 Goodbye, old friend Flour. I'll miss you. We've had some good times together. But srsly, stop being an a-hole. Yours truly, Sarah.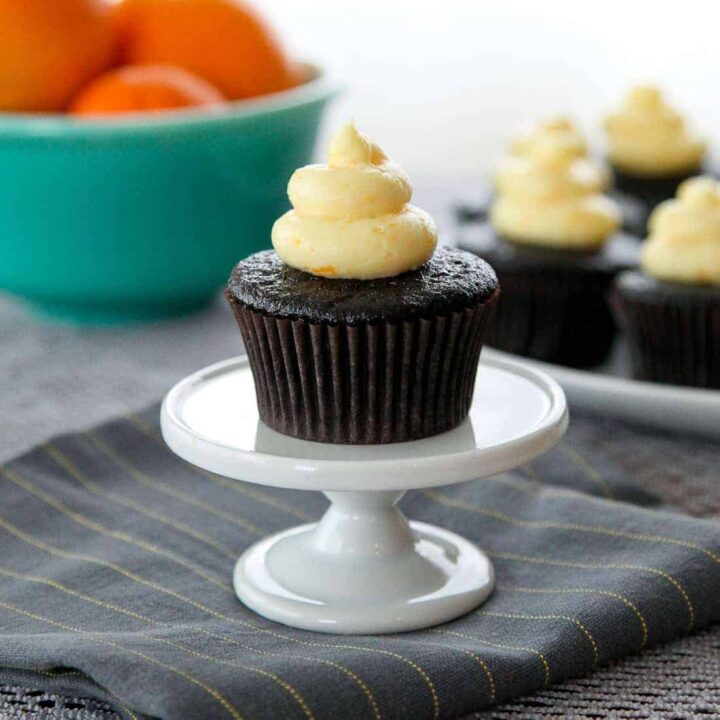 Chocolate orange creamsicle cupcakes
Yield:
About 2 dozen cupcakes
Ingredients
Chocolate cupcakes
1 cup plus ½ tablespoon milk
1½ tablespoon white distilled vinegar
1 cup plus 2 tablespoons unsweetened cocoa powder
2 ¼ cups all-purpose flour
2 ¼ cups sugar
2 ¼ teaspoons baking soda
2 ¼ teaspoon  baking powder
2 ¼ teaspoon salt
3 large egg
1 cup plus 2 tablespoons warm water
4½ tablespoons canola oil
Orange creamsicle frosting
16 ounces cream cheese, room temperature
1 cup unsalted butter, room temperature
3 cups powdered sugar, sifted
2 teaspoons fresh orange juice
4 tablespoons orange zest
Pinch of salt
Instructions
Chocolate cupcakes
Combine the milk and vinegar in a cup and let sit for 10 minutes.
Preheat the oven to 350ºF.
Sift together the cocoa powder, flour, sugar, baking soda, baking powder, and salt in the bowl of an electric mixer (or a medium bowl if working by hand).
Add the egg, water, milk, oil, and vanilla, and stir until just smooth.
Fill lined mini muffin tins ⅔ full.
Bake about 16-18 minutes, until a toothpick inserted in the center comes out without any batter and perhaps just a few moist crumbs.
Let cool in the pan for 3 minutes, then transfer to a wire rack to cool completely before frosting.
Orange creamsicle frosting
In the bowl of a stand mixer, cream the butter over medium speed.
Add the cream cheese and whip until combined.
Add the powdered sugar, in thirds, mixing on slow speed until combined.
Add the orange juice, orange zest,and salt, and beat on medium speed until smooth.