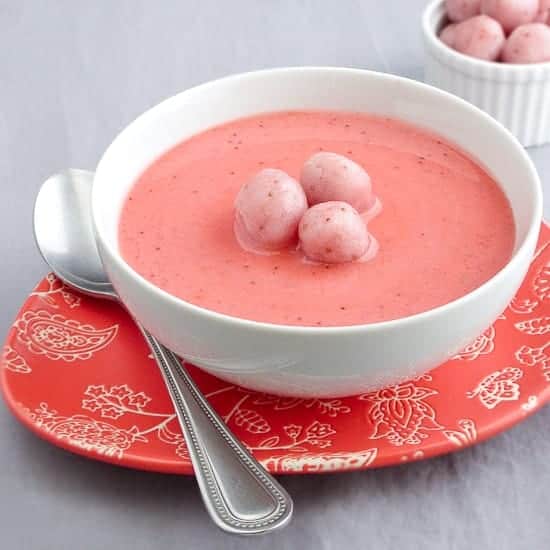 As an obsessive planner, I'm notorious for over-buying key ingredients just in case something goes wrong. As if I don't live half a block from the produce market. Consequently, I'm up to my ears in strawberry purée from the baby-shower-pink Strawberries Wild Cupcakes Danielle and I baked Saturday. Even with my overstocking issues, I feel strongly against letting food go bad. If I accidentally let a head of lettuce wilt, I usually keep it a couple of days longer because I can't part with it. Maybe, just maybe, tomorrow it won't look so brown and I can throw it on some tacos?! No, I'm not a hoarder, I just have a hard time coming to terms with the fact that I've wasted a perfectly good romaine. The same horrible feeling comes over me when I've lost something; I can't sleep and my disposition changes drastically - how could I have let that happen? Am I that absent-minded?!  Such a waste!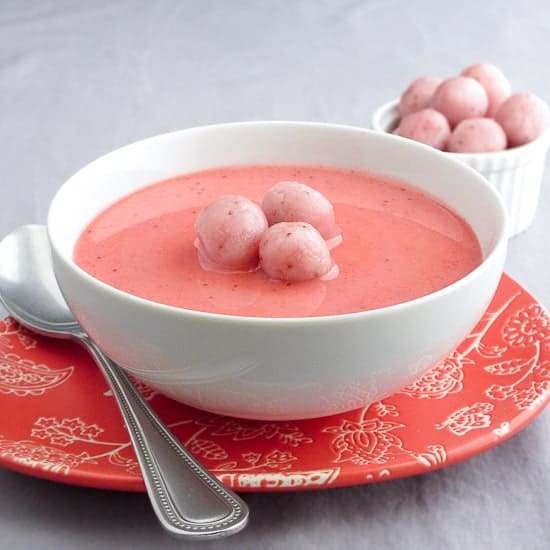 I saw to it that this sweet strawberry purée wouldn't have that fate. A smoothie would have been the obvious choice, but I had my mind on experimenting; strawberries are expensive, so why not turn them into something decadent? This dessert soup is just that; an imaginative trip for your tastebuds. Familiar flavors with unexpected textures. And the strawberry inundation is swoon-worthy.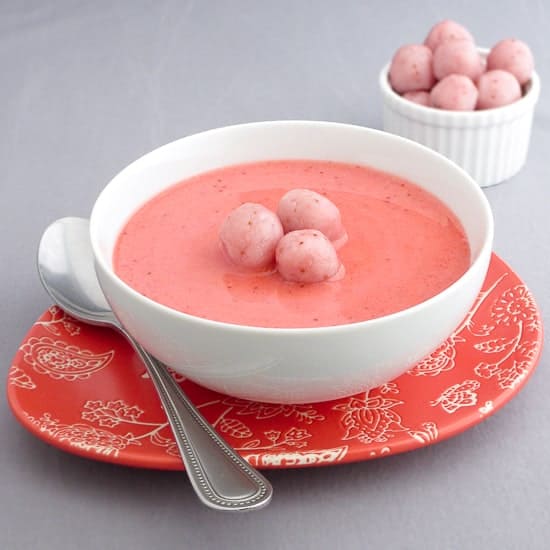 As an inventive fifth grader, a class trip to a strawberry field to gather our own crimson berries turned scandalous when I became convinced that my teacher had the hots for my dad. Something I've discovered about my dad (and myself, too) since then is that he delights in giving people a hard time. So when Mrs. Early didn't follow through on the promise of fresh strawberry shortcake at the end of our harvest, my dad wouldn't let her hear the end of it. He put up with whiny brats all day and didn't even get dessert?! Feeling guilty, she later baked a strawberry pie and hand delivered it to my dad after school. In my adolescent world, someone punches you and they're crushin' hard, but they bake you a pie?! That's love. I held onto my suspicions about a secret affair between my favorite teacher and my dad for years, or at least until my definitions of friendship and love matured and we could laugh about it.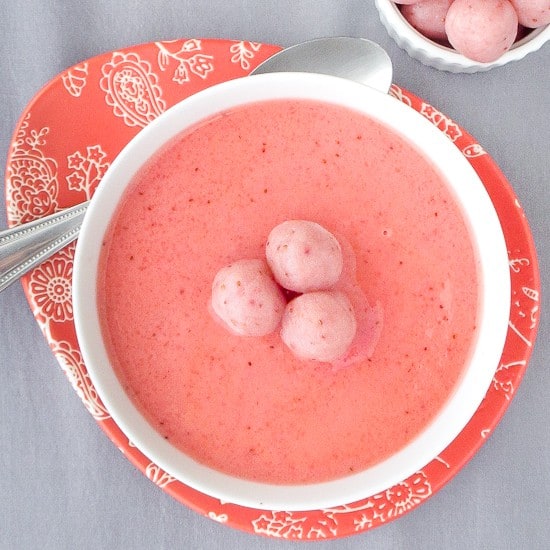 So next time you want to tell someone "I'm sweet on you," strawberries are the magic key, and this strawberry soup will do the trick. The melted chocolate-y center to the chewy strawberry sweet rice balls surprises and charms. The combination of textures between the soup and rice balls most closely approximates a fruity boba smoothie, only better. As you well know by now, I'm not a chocolate fan, but even I have a hard time resisting a marriage between strawberries and chocolate. In the next couple months, as strawberries take over the supermarket shelves, this chilled soup is a refreshing way to welcome the warm weather (she says as it's raining outside).
Chilled strawberry soup with strawberry chocolate sweet rice balls
Makes 2 servings
Chilled strawberry soup
3 tablespoons sugar
3 tablespoons water
1 cup fresh strawberry purée (about 2 to 2½ cups whole strawberries)
⅓ cup plain yogurt
3 tablespoons seltzer water
Juice of 1 lemon
In a small pot, combine the sugar and water over medium heat. Heat until the sugar is dissolved and cook a little longer, about 5 minutes.
Combine the remaining ingredients in a food processor or blender. Slowly add the melted sugar, and blend to combine.
Refrigerate until chilled.
Strawberry chocolate sweet rice balls
½ cup glutinous rice flour
3 tablespoons powdered sugar
5 tablespoons fresh strawberry purée (about ½ cup to ¾ cup whole strawberries)
Optional: 20 chocolate chips
Boil water in a medium pan.
Mix the rice flour and powdered sugar. Add strawberry purée until a pasty dough forms. Knead until the dough no longer sticks to your fingers and you can form it into balls.
Roll dough into bite-sized balls, sticking a chocolate chip in the middle of each one.
Drop the rice balls into boiling water and cook until the rice balls float to the top (approximately 5-10 minutes).
Serve in the chilled strawberry soup.