Last updated on June 23rd, 2014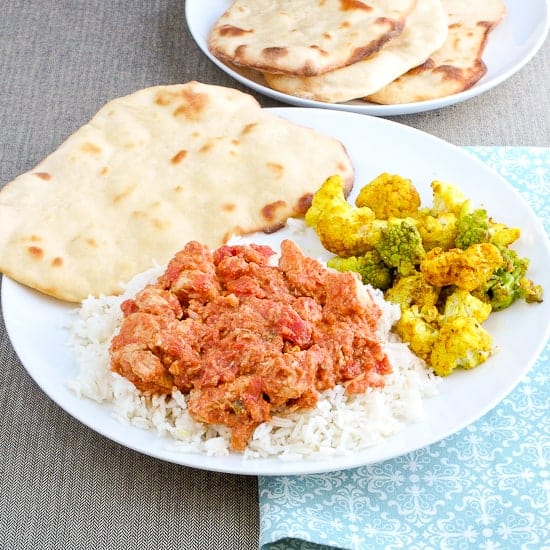 This past week was one for facing food fears head on. Indian food falls into this category. While in college, I lived next door to a group of five male graduate students from India, and they loved to cook – especially for other people. The first time I joined them for dinner, they asked in advance if there was anything I didn't like. Trying not to be too complicated or picky, I told them I would eat anything except cilantro. They assured me that their Indian food was cilantro-free, and sat me down at the table to watch me take a bite. For some reason, I was the only one eating while they stood around me in anticipation as I tasted and reviewed their dish. One bite and I knew that the detestable green herb had somehow made its way past the cooks and onto my plate of Indian food. That sneaky herb! We all had a good laugh when we discovered that they knew the bit of green I hated so much by another name: coriander. To these generous chefs, this dish was Sarah-proof and cilantro-free.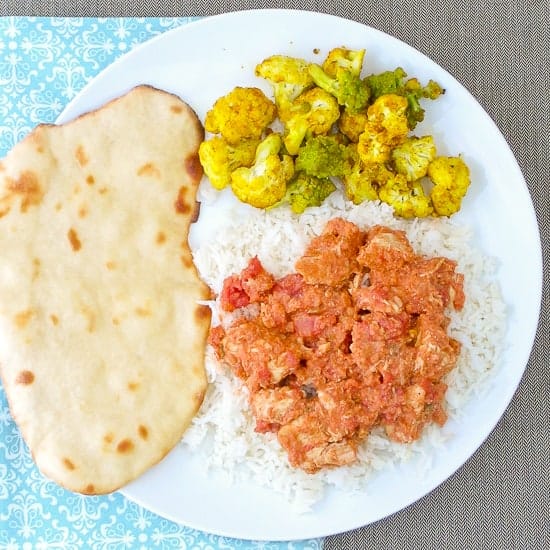 I have quite a few more experiences with Indian food that all involve surprise visits from cilantro, so you can understand why I generally steer clear. That is, until recently when I found the dish that gives me the flavors of India without the soapy add-in. My landlady introduced me to her most-frequented lunch spot – an Indian restaurant down the street with an all-you-can-eat buffet. She held my hand the first time we went and pointed me toward the best trays of food. That's where I met chicken tikka masala and fell in love – totally void of cilantro and incredibly flavorful.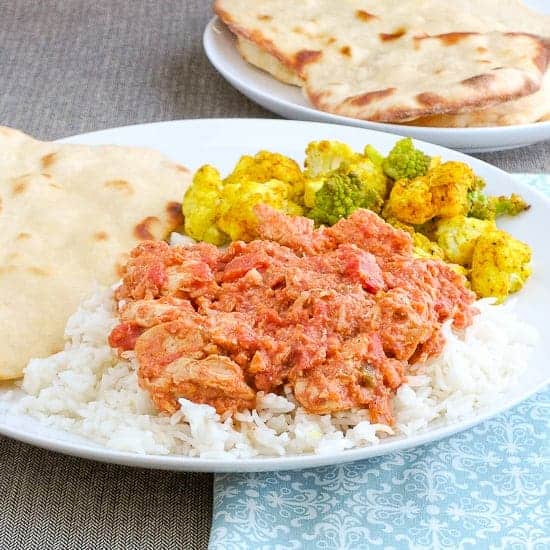 Rather than worrying about cilantro peeking its head out from behind a piece of chicken every time I dine on Indian food, I decided to recreate this faved dish in my own kitchen, where I have complete control. Once everything is chopped and ready to go, it's a very quick recipe and tasted exactly the way I wanted. Just be sure to add the cream because it ties each element together; I forgot the cream on the first go around and, although still delicious, it was not quite like the Indian dish I remembered. I went back and added the cream and the meal instantly mimicked the proper flavors. I served it up with some basmati rice, homemade yeast-free naan bread, and curry spiced cauliflower (recipes to follow shortly!). Man oh man it was a fantastic meal. I brought leftovers for my lunch to my research group meeting the next day and someone walked in and proclaimed, "it smells like Indian food in here!" which gives me confirmation that I did something right.
Chicken Tikka Masala (Adapted from Merryweather Mama)
Serves 4-6 main course
For chicken seasoning:
2¼ pounds boneless skinless chicken breasts
¾ teaspoon ground cumin
¼ teaspoon cayenne pepper
1 teaspoon Kosher salt
For chicken marinade:
1¼ cups plain yogurt
2 tablespoons vegetable oil
2¼ teaspoons garlic, minced
1 heaping tablespoon freshly grated ginger
For sauce:
3 tablespoons vegetable oil
1 medium white onion, diced in a food processor
2¼ teaspoons garlic, minced
2 teaspoons freshly grated ginger
¾ jalepeño, minced, ribs and seeds removed. (Add more, or even Seranno peppers, if you like your food spicy!)
2 ½ tablespoons tomato paste
1 tablespoon garam masala
2 14.5-oz cans diced tomatoes (I also added the liquid from a third can and kept the tomatoes for another project. If you would prefer no tomato chunks in your dish, use crushed tomatoes)
2 teaspoons sugar
½ teaspoon salt
¾ cup heavy cream
Optional: 2 cups basmati rice, cooked
Chicken seasoning: Combine the cumin, cayenne, and salt in a bowl. Pat both sides of each chicken breast with seasoning mixture. Place chicken in a glass baking dish and cover with plastic wrap and refrigerate for 30 minutes.
Chicken marinade: Whisk together yogurt, vegetable oil, garlic, and ginger in a medium bowl. Spray a broiled pan with a tray underneath with cooking spray. When chicken is done chilling, dip each breast in the marinade and completely cover each side. Lay marinated chicken on the oiled broiler pan. Pour any remaining marinade evenly over the breasts. Place tray about 6 inches from the broiler in the oven and broil for 15-25 minutes, depending on how large your chicken breasts are (mine were pretty big, so it took closer to 25 minutes. You're going to cut the chicken up afterward, so when in doubt, just slice one open and check the progress). Chop cooked chicken into 1-inch pieces and set aside.
Sauce: Meanwhile, heat vegetable oil over medium high heat in a large dutch oven pan. Add the onion and cook, stirring, until softened and translucent. Add garlic, ginger, and jalepeño and cook for a few minutes (being carefully not to burn the garlic). Add tomato paste and gram masala, and cook for 3 minutes, stirring.
Add the diced tomatoes, sugar, and salt, and bring to a boil. Reduce heat to simmer and cook, stirring occasionally, for 15 minutes.
Add the heavy cream and stir to combine. Bring to a simmer. Remove from heat.
Add the cooked chicken chunks and stir to combine. Cook for a couple of minutes longer if your chicken needs to be reheated.
Serve over cooked basmati rice with curried cauliflower (optional) and naan bread (optional)