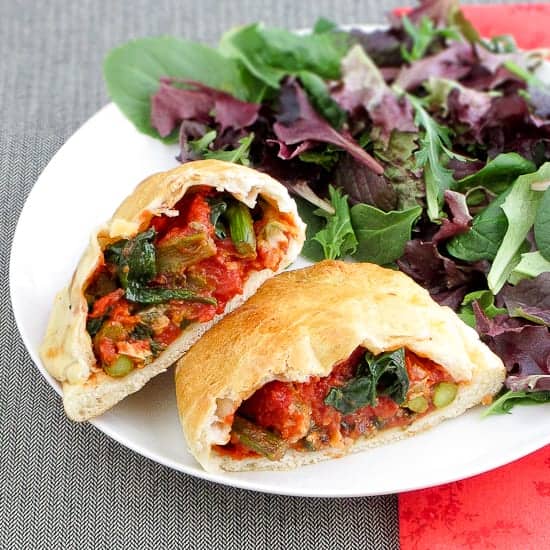 Like I said, I make pizza often. Since a dessert pizza was already in the works, I decided to mix it up a bit for dinner and flip pizza over on itself to make calzones. Let's be honest, calzone is just a fancy word for "hot pocket." And since I filled it with spinach and asparagus, it became a healthy hot pocket - much better for you than the frozen turnovers from your teenage years that you microwaved in futuristic cardboard sleeve to simulate the oven. Unlike those greasy hand pies, with homemade calzones you have the freedom to add whatever filling you want! I wanted mushrooms. (Spoiler alert: there are no fungi in these pizza hand pies).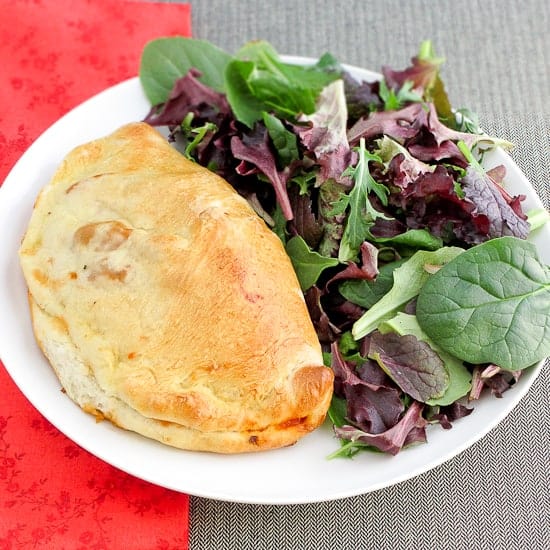 Chuy - talented architecture student, Mac creative extraordinaire, geek chic style icon, and world's pickiest eater (seriously, he's pickier than I am) - came for dinner Friday night, and in planning what I would make, I couldn't stop thinking about mushrooms. Chuy hates mushrooms and all I wanted to do was eat mushrooms. I think I may have even sketched a mushroom in the margins of the paper I was reading. You know those days when nothing sounds appetizing? I was having one of those days, except the one thing I wanted to eat, I couldn't have. Next, I turned my attention to vegetables, which got an unenthusiastic response from Chuy, and the cycle continued.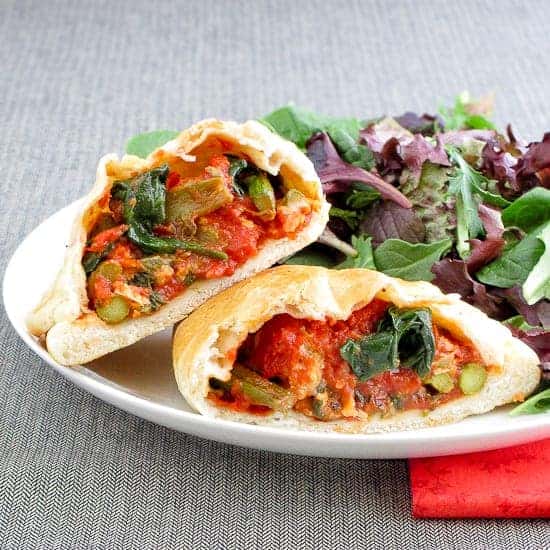 I was in such a food funk that I even begged Lucas to come up with some inspiration all the way from Taiwan...for food he wasn't even going to get to eat. After shooting down all of his ideas, I knew the only way I could get Chuy to eat the vegetables I wanted would be to mask them with melted cheese, rich marinara, and crispy pizza dough. The result was a pizza-like hot pocket that packed all the flavors of something that must be truly terrible for you, but was actually stuffed with tons of healthy vegetables and only a tiny bit of cheese. Delicious and filling. These calzones turned out so tasty  that I wound up freezing a couple for Lucas to try when he gets back.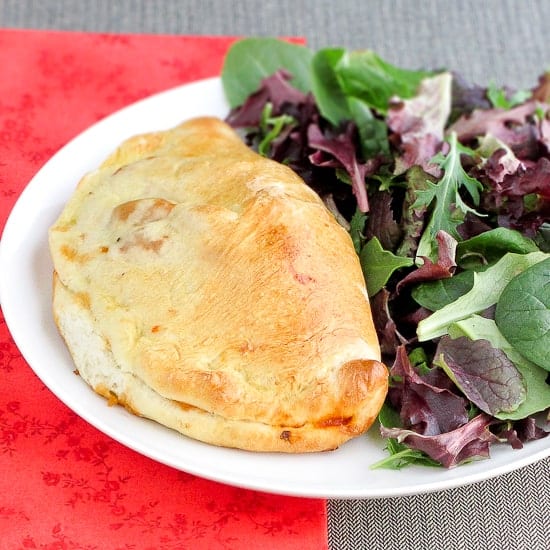 Calzones with hot Italian chicken sausage, asparagus, and spinach (Adapted from Bev Cooks)
Makes 8 medium to small calzones
Pizza dough (recipe below)
Homemade marinara sauce (recipe below)
2 large hot italian chicken sausage links, broiled until cooked, and chopped into bite-sized pieces
½ pound of asparagus, ends discarded, and stalks cut into 1-inch pieces
About 3-4 cups of raw spinach leaves
½ tablespoon of olive oil
1 cup grated parmesan cheese (or mozzarella - I actually used a combination of both because I'm terribly indecisive)
1 egg, lightly beaten
Make pizza dough according to instructions below.
Preheat oven to 450ºF.
While the pizza dough is resting, make marinara sauce according to instructions below.
In a large skillet, heat olive oil over medium heat. Add asparagus, and cook, stirring, until slightly tender, about 5 minutes. Add spinach, and cook, stirring, until spinach reduces. Add a tablespoon of water if needed. Remove from heat. Add chicken sausage pieces and combine.
When the dough and sauce are ready, roll out each piece of dough to a 6-8 inch circle on a floured cutting board, one at a time.
Fill one half to the dough with about two tablespoons marinara, three heaping spoonfuls of veggies and sausage, two tablespoons parmesan, and another layer of marinara.
Fold the other half over, and crimp the edges to close. Place on a floured baking sheet and brush with egg. Repeat for all 8 calzones.
Bake for about 20-25 minutes, until lightly golden brown on top.
Dough (from earlier recipe)
1 (¼ ounce) package active dry yeast
1 cup warm water (about 100ºF)
1 teaspoon honey
2½ cups all-purpose flour, plus extra for sprinkling
½ teaspoon salt
1 tablespoon olive oil
Mix honey and yeast with ¼ cup warm water and let stand for about 3 minutes until yeast foams.
Whisk together flour and salt in large bowl (or stand mixer). Add yeast mixture, olive oil, and the remaining ¾ cups of water and mix. Using dough hook (or by hand) knead dough until it is stiff, but smooth and elastic.
Place dough in an oiled bowl, cover with plastic wrap, and let rest for 30-60 minutes.
After it has rested, split dough into 8 equal pieces and let rest in separate bowls for another 15 minutes.
Marinara Sauce
1 tablespoon olive oil
2 medium garlic cloves, minced or pressed
1 (28 oz) can diced tomatoes
1 can tomato paste
½ teaspoon sugar
1 teaspoon salt
½ teaspoon dried oregano
1 teaspoon fresh basil, minced
¼ teaspoon freshly ground black pepper
Pinch of crushed red pepper
Head olive oil in medium heavy-bottomed pot. Add garlic and sauté until just lightly browned (be careful not to burn!).
Add tomatoes, tomato paste, sugar, salt, oregano, basil, black pepper, and crushed red pepper.
Reduce heat to medium-low and simmer, stirring occasionally, until reduced to a thick sauce.