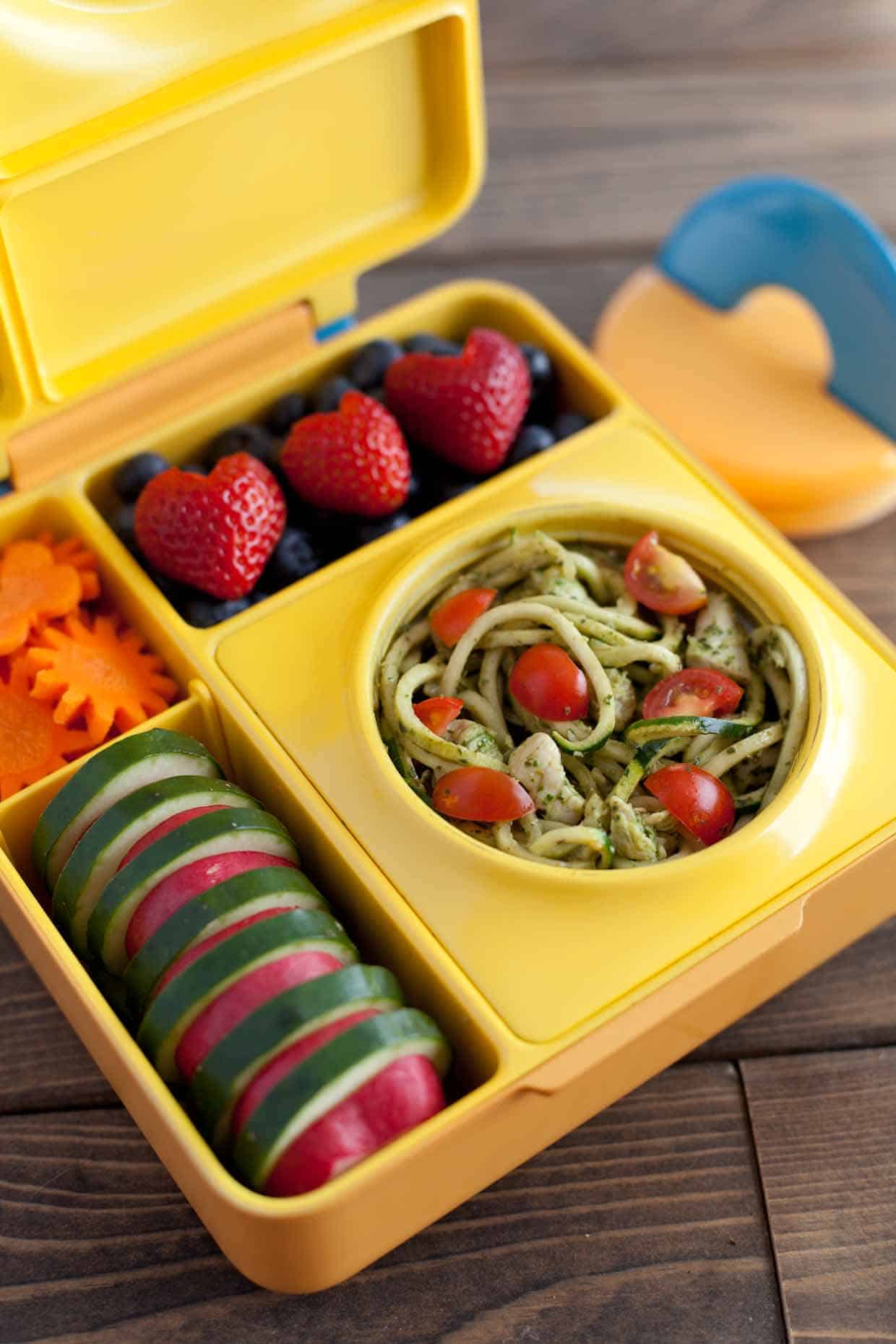 My mom packed me a turkey sandwich for lunch every day of elementary school. And every day I threw my sandwich in the trash. I'm not sure why I never told her to just stop packing the sandwich. I could have saved her a fortune on bread and lunch meat. Maybe then she would have gotten me that pony. Or let me go ahead with my bedroom add-on I'd carefully sketched out.
Turns out I'm not alone: lunch food is the #1 waste produced by schools each year. If only an insulated lunchbox like OmieBox existed when I was a kid, she could have sent the healthy food I'd actually eat. And it'd still be warm at lunchtime! Dishes like these chicken pesto zucchini noodles, healthy turkey and veggie chili, or even cauliflower macaroni and cheese. (See my OmieBox weekly healthy lunch menu below).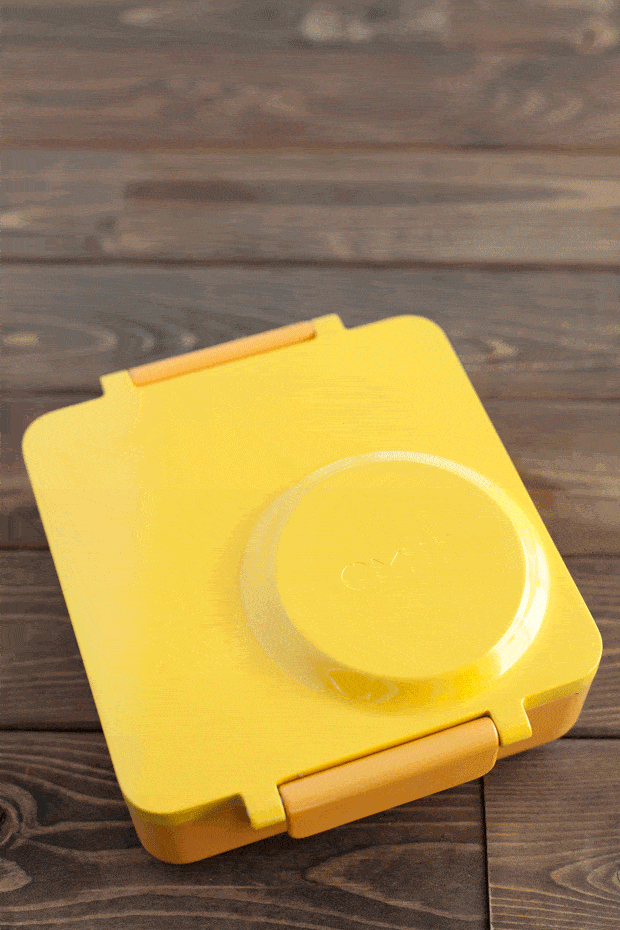 Good news for you: OmieBox finally exists! Not sure yet what makes it the coolest lunchbox in all the land? The fact that my husband built it isn't enough? Keep reading…
We spent an hour in the lunchbox aisle of Tokyu Hands while on our honeymoon. You know, normal couple activities. By proxy, I now know quite a bit about the current lunchbox market.
And what I know is this: There's no integrated way to send hot food with your kid and still have it be hot at lunchtime. If hot food is what you're looking for, you have to pack a separate insulated container. These containers are difficult for small hands to open, especially when you factor in the extra pressure built up with hot food inside.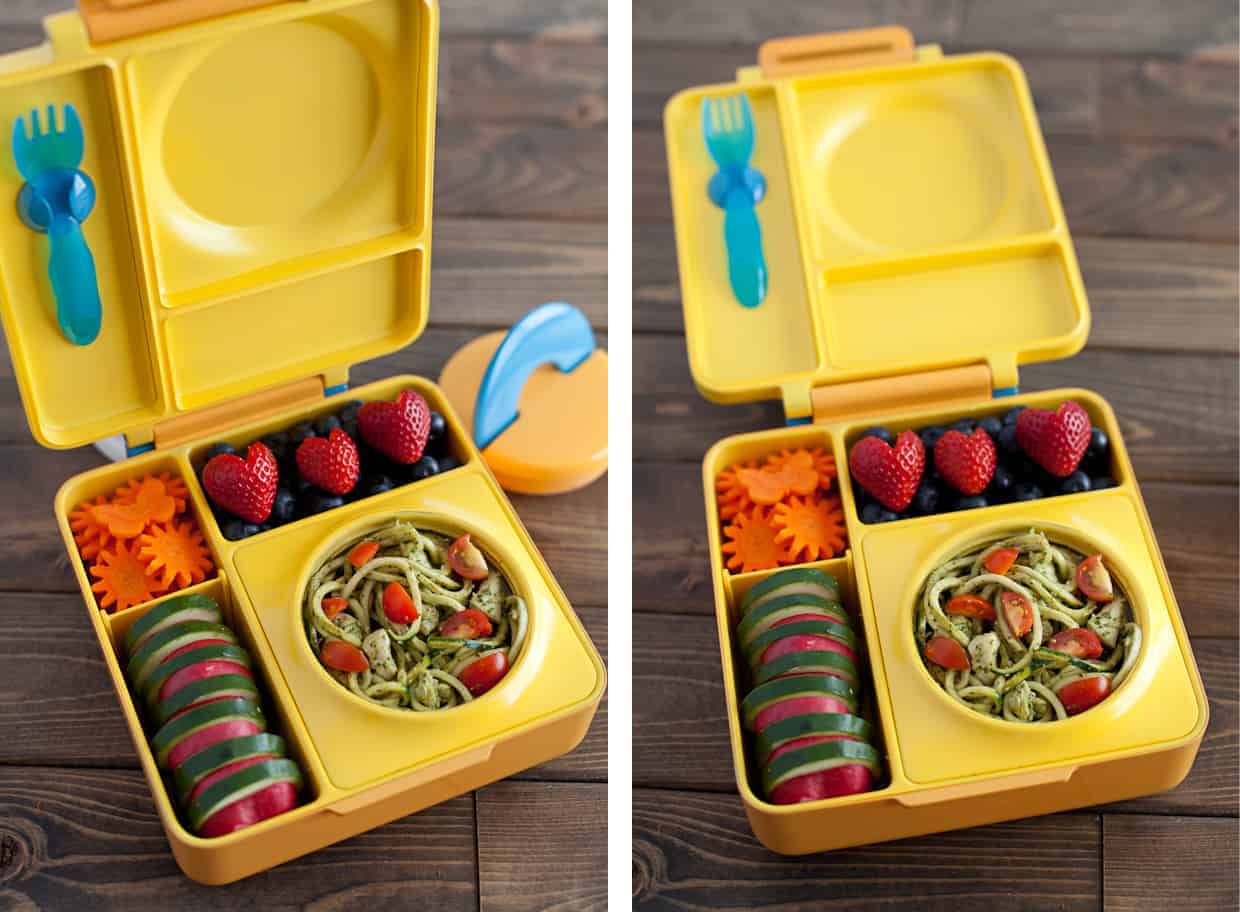 In walks OmieBox. The first lunchbox that allows you to pack hot and cold food in the same box, and it'll still be hot when your kid goes to eat it. Save time by sending heated-up leftovers (my go-to-move). Each of the two leak proof side compartments can be further divided to give you tons of options. And if your kid does like the occasional sandwich, the insulated container can be removed for days when you're not sending hot food.
In the same way my mom is hanging onto my enormous hippopotamus collection for her future grandchildren, I plan to store a couple OmieBoxes away for the day my hypothetical children start school. That's totally normal right? They might not have a crib, but they'll have a lunchbox.
My future children are likely going to go through various stages of "my mom loves me" and "omg mom you're so embarrassing!!" but either way, they're going to eat vegetables and fruit cut in the shape of hearts for Valentine's day and scary monster eyeballs for Halloween. My growing itty-bitty cookie cutter collection is already setting this fate in motion. I had a ridiculous amount of fun styling the food for the first OmieBox photoshoot.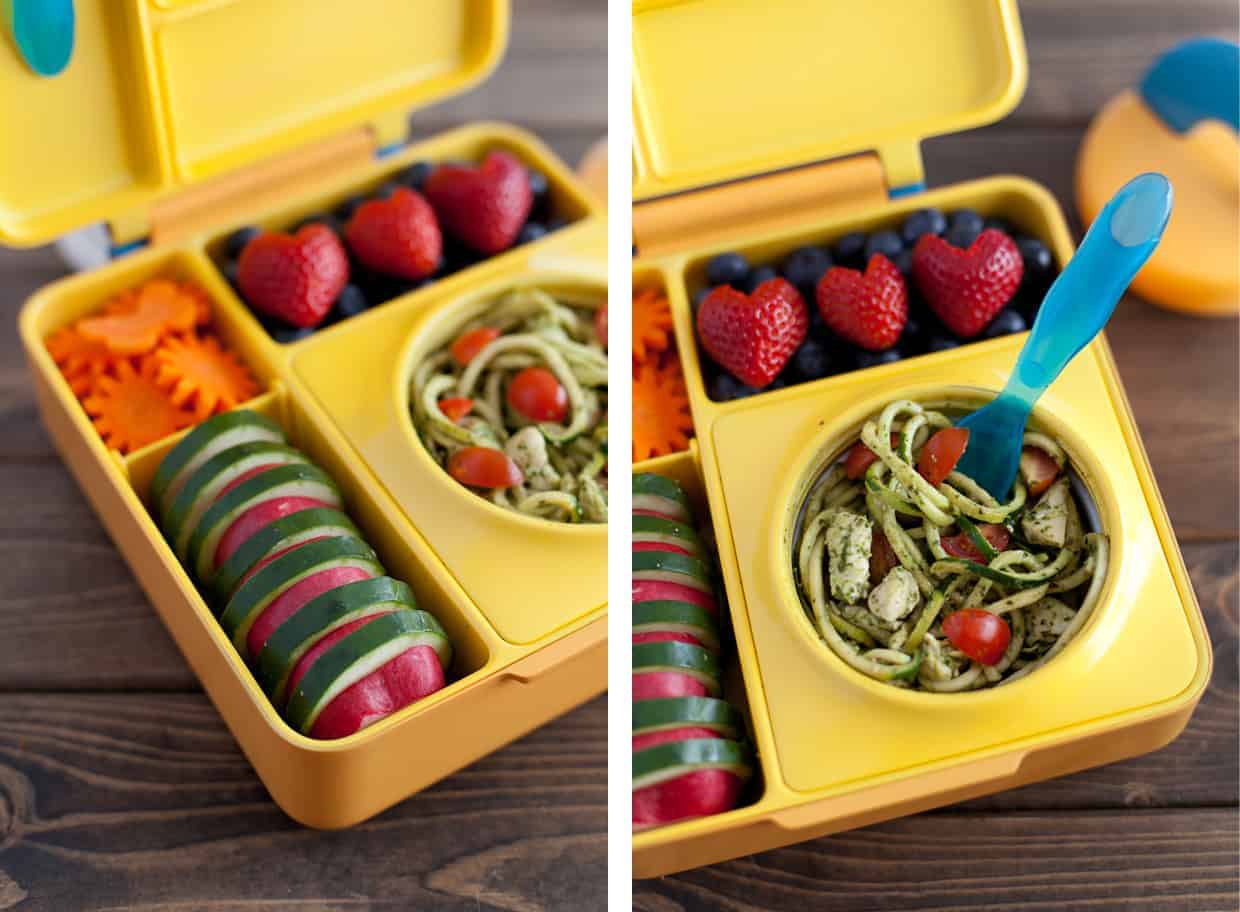 Don't have a kid? OmieBox might still be for you. With the deep side compartments, it actually holds enough for an adult like me. A small entrée and lots of snacks. As a snackmonster, that's my preferred menu.
For those custom order level donors, I'll be creating a personalized monthly healthy lunch meal plan for your kid's likes, dislikes, dietary restrictions, etc. Here's a sample summer weekly OmieBox meal plan.
Summer OmieBox Weekly Lunch Plan
---
Main Entrée
Top Compartment
Side Compartment
M
Chicken pesto zucchini noodles
Blueberries & strawberries
Carrots | Cucumber & radishes
T
Whole wheat or GF Crackers
Turkey & hummus wraps
W
Whole wheat pita slices
Cherry tomatoes & cucumber | Hummus
Th
Teriyaki stir-fry over brown rice
Edamame | Radishes
Cubed watermelon
F
Whole wheat or GF crackers
Salad w/ lettuce, tomatoes, and carrots
These chicken pesto zucchini noodles are the perfect healthy lunch entrée or quick weeknight dinner. Healthy spiralized zucchini smothered in fresh pesto with a bit of protein tossed in. Top with cherry tomatoes for an addicting sweet dimension. A simple dish that highlights some of summer's finest produce. Dear basil, I love you. Also, if you don't yet have a spiralizer, you're missing out on all the summer squash fun you could be having!
I want to hear all of your creative lunch ideas: What would you pack in your OmieBox?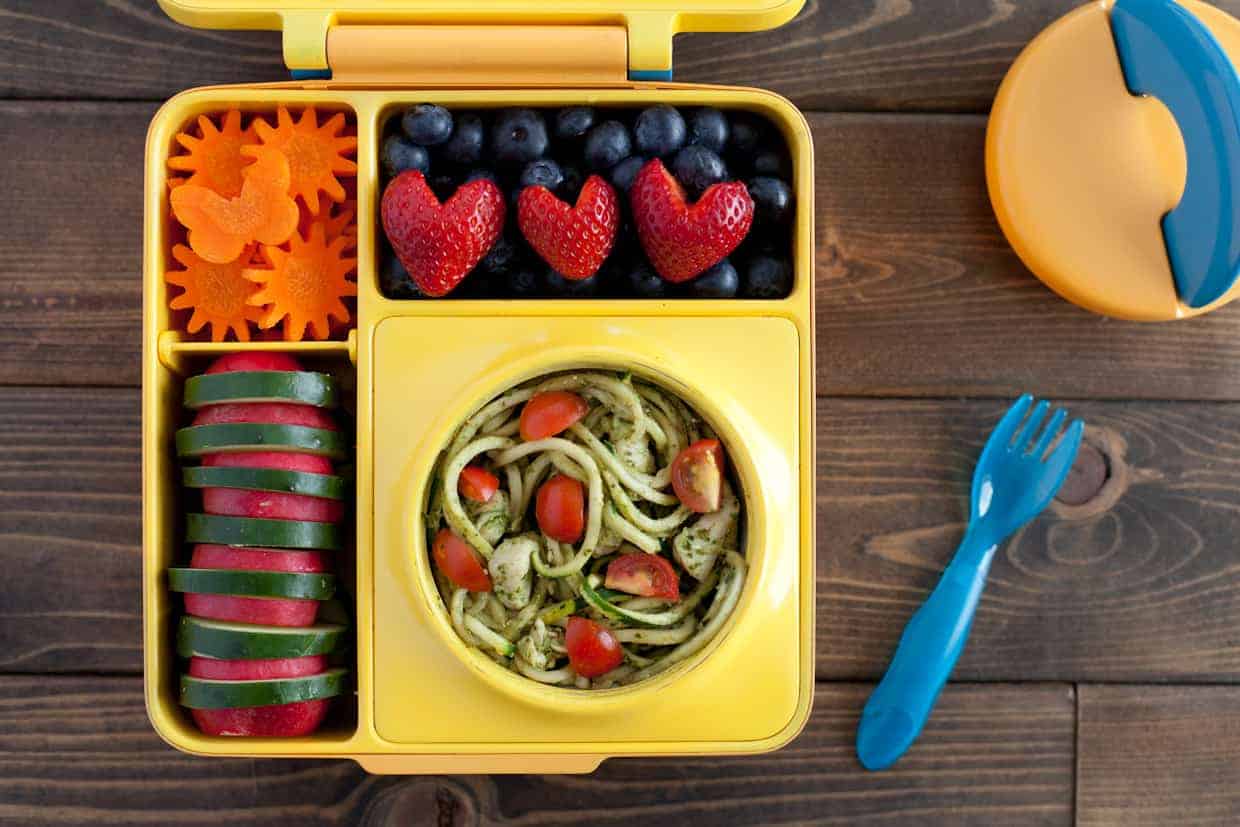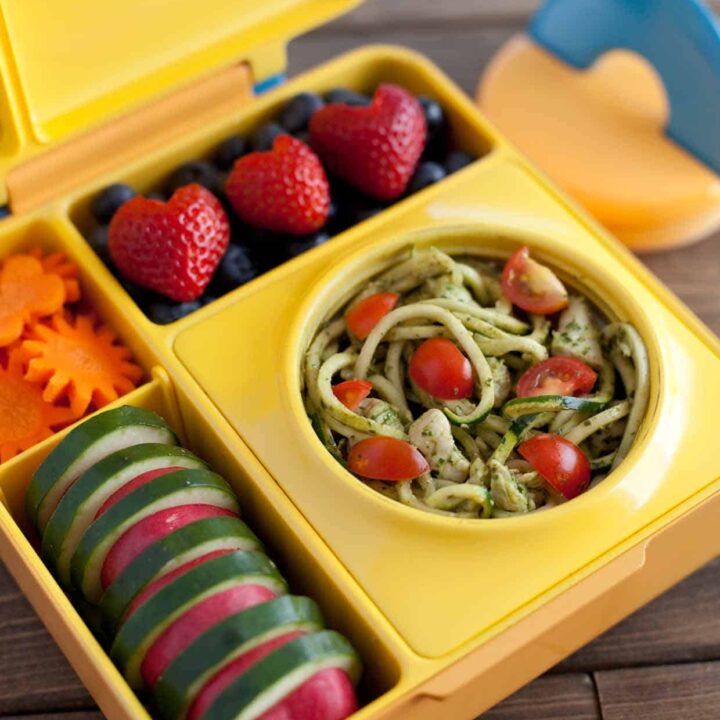 Chicken pesto zucchini noodles
Yield:
2 adult-sized servings
Ingredients
Chicken pesto zucchini noodles
1 tablespoon olive oil
1lb boneless skinless chicken breast, chopped into bite-sized pieces
⅓ cup homemade pesto (recipe below), plus more to taste
3 medium to large zucchini
1-2 cups cherry tomatoes, quartered
Pepper, to taste
Homemade pesto (makes 1 cup)
4 ounces fresh basil leaves (about 2-½ cups, packed)
¼ cup pine nuts
½ cup freshly grated parmesan cheese
4 cloves garlic
3 tablespoons olive oil
Instructions
Chicken pesto zucchini noodles
Prepare the zucchini noodles: slice off the very top and bottom of the zucchini and then slice it in half cross-wise (so you have two short cylindrical zucchini. Run the zucchini through the spiralizer with the small noodle blade, cutting the noodles every 12-15 inches. Here is a zucchini noodle cutting guide with pictures of the process.
Heat the olive oil in a large skillet over medium heat. Add the chopped chicken breast and one tablespoon of pesto. Sauté until the chicken is cooked through. Transfer to a plate and cover.
Add the zucchini noodles, cherry tomatoes, and rest of the pesto to the pan and sauté for 1-2 minutes until the zucchini noodles just begin to cook (you want them to still have substance and not be too soggy).
Season to taste with pepper.
Toss the zucchini noodles with the cooked chicken and serve.
Homemade pesto
Add the basil, pine nuts, parmesan cheese, and garlic to the food processor. Pulse until finely chopped.
With the food processor running, slowly drizzle in the olive oil and mix until fully incorporated and smooth.
Store any leftover pesto with a small drizzle of olive oil on top in an airtight container in the fridge for up to 3 weeks or in the freezer for up to 3 months.