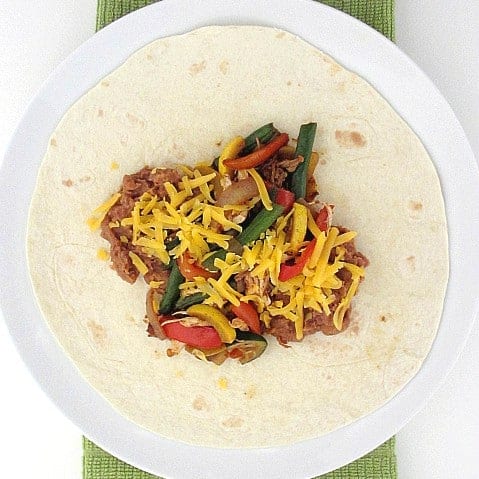 Prior to meeting Lucas, my experience with cooking flavorful Mexican food was limited to Lawry's Taco Seasoning packets. When I first made tacos for Lucas, he was appalled at my affinity for the mysterious mix, but agreed to let me do my thing when I insisted it was the way to go (a common theme in our relationship:). Don't get me wrong, I still sometimes crave the super authentic flavors of these envelopes, but Lucas taught me how to adjust a range of seasonings to mimic his mom's home-cooked food. Seasonings are a fitting segue for me to brag about my boyfriend and how he cultivated my curiosity with spices; check out the beautiful spice rack he built out of repurposed wood to hold all my spices (in alphabetical order, of course)! I never imagined owning enough spices that would necessitate an entire rack, but it turns out I'm overflowing into the cabinets; I need a bigger rack now (That's what she said - I'm sorry, I couldn't help myself).
Back to the food. Lucas is a master at arroz con pollo; his sage advice is to sample the seasoned water/broth before steaming the rice until it, "tastes like my mom's." I've never had his mom's cooking, but there's some delicate combination of cumin, paprika, salt, and pepper (and perhaps a dash of cayenne if you're feeling frisky). Tonight, I traded in my trusty taco seasoning to flavor these burritos the traditional way. For the time being, I've got little hot pink sticky notes on top of each spice tin to keep me from putting curry powder in my chai tea (you can kind of see one peeking through), but eventually the front of each tin will don a stylish and functional label in my dad's all-capitalized contractor's handwriting. Apparently, my trusty neon notes are not doing their job because I put 2 teaspoons of CINNAMON instead of cumin in my burrito vegetables. I couldn't figure out why my seasoning tasted unusual (I make this recipe at least once a month). I kept adding a little more...and a little more...until Lucas got home and instantly asked why the house reeked of cinnamon - "that's not the smell of Mexican food," he said. After I got over my initial disappointment, we had a good laugh at my Amelia Bedelia moment. As it turns out I was just emulating his mom's cooking after all; her famed cooking fiasco was this exact same switcharoo.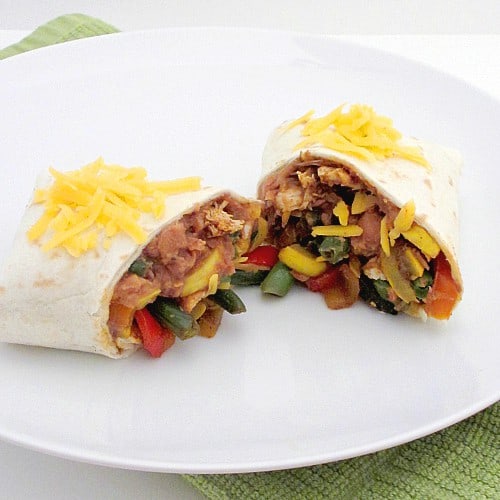 Pretend for a minute that the burritos in this picture are seasoned perfectly - they way I have seasoned them so many times before. Don't they look pretty? If you follow the (time-tested) recipe below (refraining from my inadvertent cinnamon swap), you'll have yourself a tasty meal, I promise. Despite Lucas's tex-mex spice advice, (vegetarian) refried beans, cheese, and a (lard-free) tortilla, there's nothing else traditional about these burritos. Sautéed fresh green beans, zucchini, yellow squash, onion, enoki mushrooms, and red pepper take this burrito to a whole new level. Who knew green beans in a burrito would be so amazing; normal burritos have been missing out in all the crunchy fun. I'm sure you're skeptical, but I strongly encourage you to go with me on this one. Typically, we make this (super quick and easy) wrapped meal with just the aforementioned ingredients (minus the mushrooms), but in honor of the roasted chicken chronicles, I threw in some shredded leftover chicken breast. Although not the most gourmet of meals, these unconventional burritos certainly hit the spot (when using the appropriate spices), and are a great way to mix up a simple weeknight dish for one.
Chicken and vegetable burritos
Serves 2-4 burritos, depending on size of vegetables
Approximately 1½ teaspoons cumin, or to taste
Approximately 1½ teaspoons paprika, or to taste
Approximately ½ teaspoon cayenne pepper (or more if you're daring)
Approximately ½ teaspoon Kosher salt, or to taste
Freshly ground pepper, to taste
2 cloves garlic, pressed
1 teaspoon olive oil
Small handful of green beans, trimmed and snapped into bite-sized pieces (about 1½ cups)
1 small yellow squash, cut in half lengthwise, then chopped into bite-sized pieces
1 small zucchini, cut in half lengthwise, then chopped into bite-sized pieces
1 small red pepper, sliced, then cut in half into bite-sized pieces
½ medium yellow onion, coarsely chopped
1 roasted chicken breast, shredded into bite-sized pieces (I used the breast of my roasted chicken from two nights ago)
1 can of vegetarian refried beans
2 large flour tortillas
½ cup cheddar cheese, shredded
Heat olive oil in a large sauté pan over medium heat. Add garlic red pepper, onion, green beans, and spices (with a tablespoon of water) and cook, stirring, until the vegetables begin to soften (about 5 minutes). Feel free to add more of each spice at this point, if needed. Add squash, zucchini, mushrooms and cook, stirring, until zucchini is softened. Add cooked chicken and cook until just heated through. Remove from heat.
Meanwhile, heat refried beans in a small saucepan over medium low heat.
Heat a medium pan over medium heat. Add a tortilla to the pan and heat. Flip and heat other side. Set aside (in tortilla warmer or under a kitchen towel).
Fill each tortilla with vegetables, beans, and a bit of shredded cheese. Roll and serve.