These cheesy pumpkin taquitos are the perfect vegetarian dish for your holiday spread or weeknight dinner. Topped with a roasted jalapeño crema and toasted pepitas, it's like a cross between enchiladas and taquitos with fall flavors.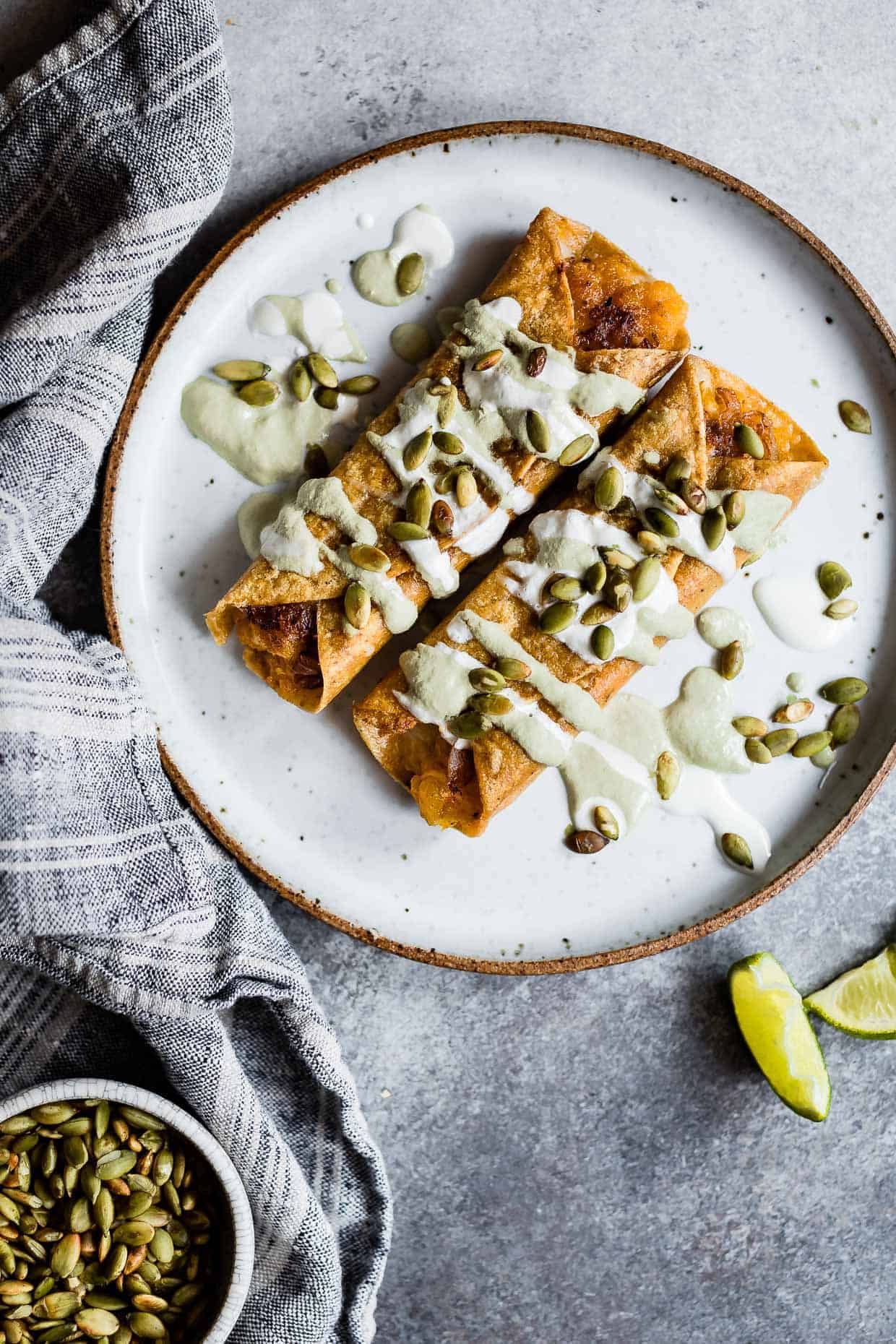 It's officially pumpkin season. Usually I grab a can of purée if I'm looking for pumpkin or turn to butternut when I want roasted squash, but sugar pumpkins deserve their own special seat at the table. Plus, the internet is having a virtual pumpkin party and I wanted to serve pumpkin on pumpkin on pumpkin with these cheesy pumpkin taquitos with roasted jalapeño pepita (pumpkin seed) crema and toasted pepitas.
With my summer menu video series all wrapped up, these fall pumpkin taquitos are kicking off my holiday video series in collaboration with Roth Cheese. While taquitos' reputation proceeds them as a party finger food, these cheesy pumpkin taquitos are best served as a vegetarian main or side dish in your holiday spread. Imagine an enchilada crossed with a taquito with fall harvest flavors - that's what we're serving up first! Stay tuned for a cheesy holiday appetizer up next. Scroll to the bottom for the recipe and video!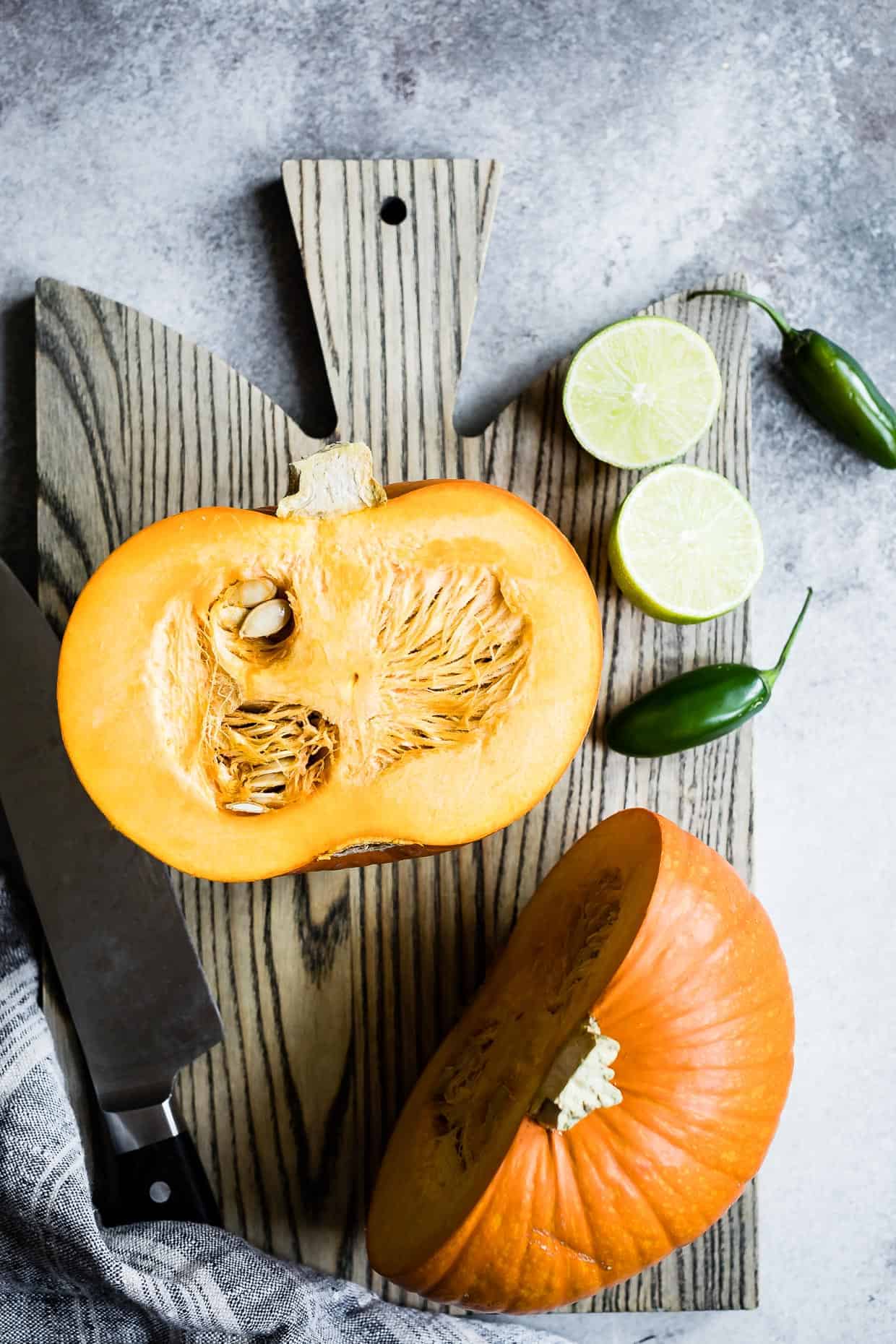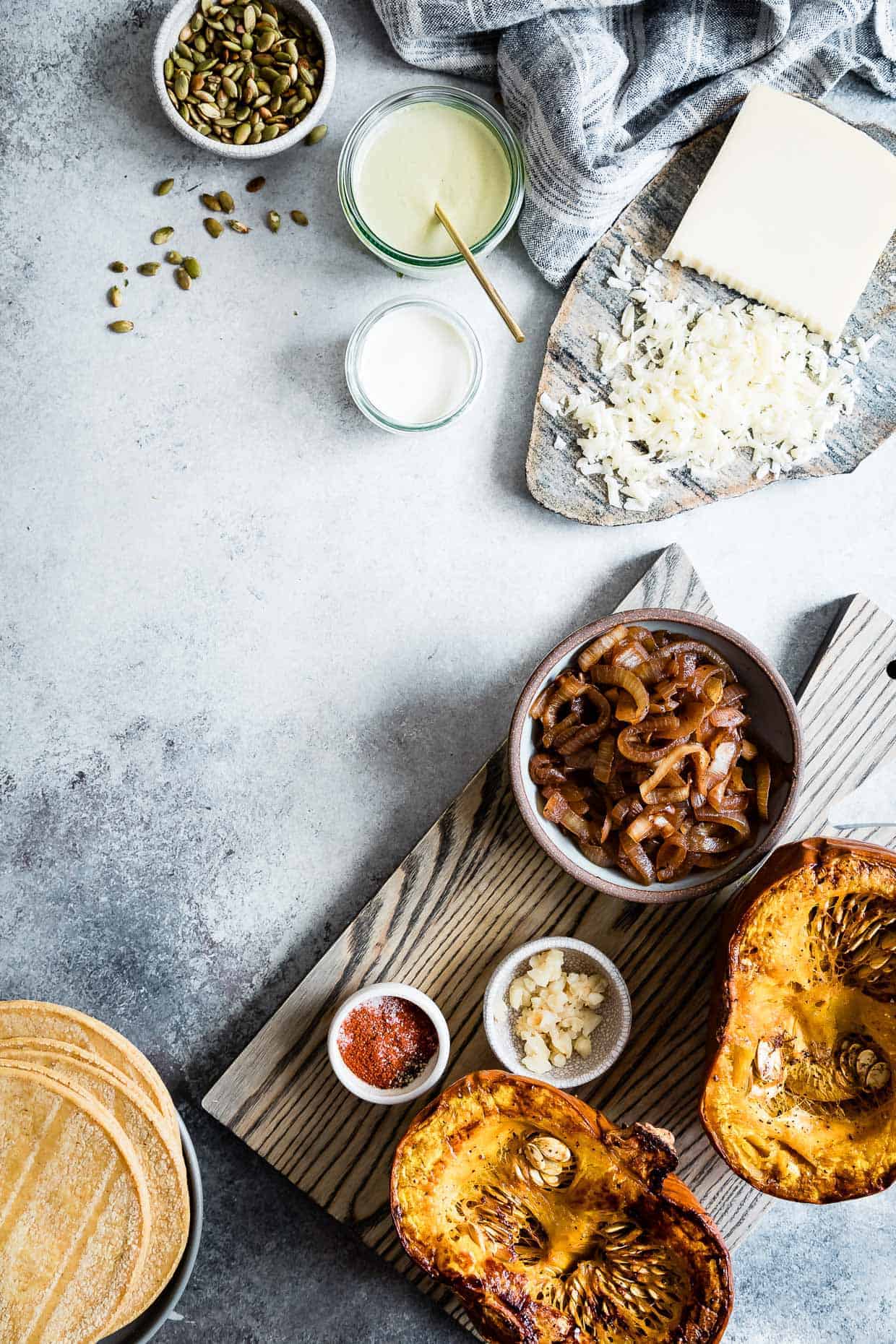 Compensating for my mom guilt from missing out last year, we made sure to hit up a pumpkin patch early this year. This real-deal pumpkin patch has pumpkins you pick from the vine, a corn maze, a corn pit, a giant hay mountain, and farm animals. Something to satisfy the pumpkin patch nostalgia from my childhood (just as long as I ignored the brightly colored bounce houses and cotton candy/lemonade fairground concessions peeking up from behind the rows of corn). We left with a "daddy pumpkin," "mama pumpkin," and "lella pumpkin" (That's what Zoella calls herself) for our porch.
Two days later, the big pumpkin rotted from the inside out.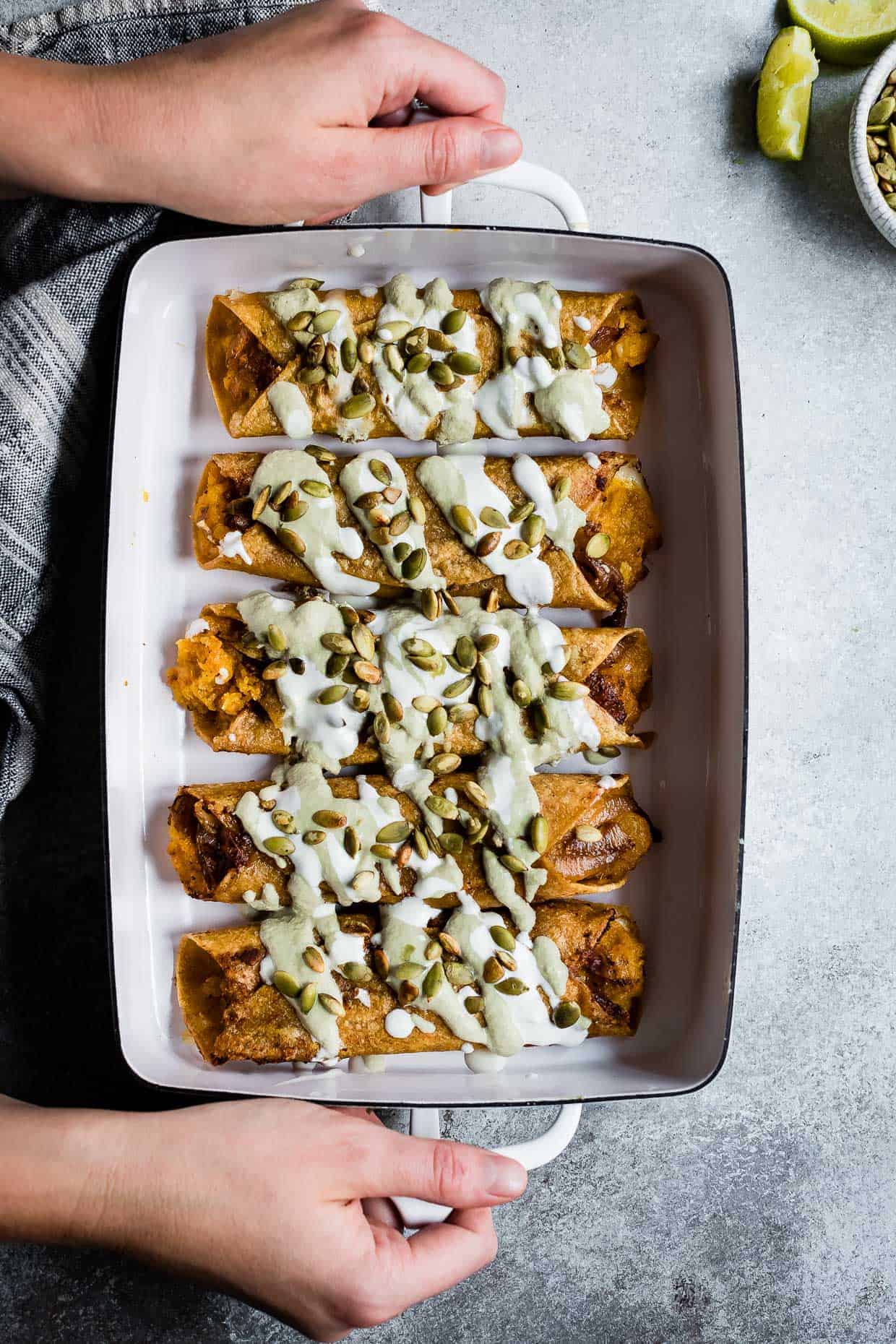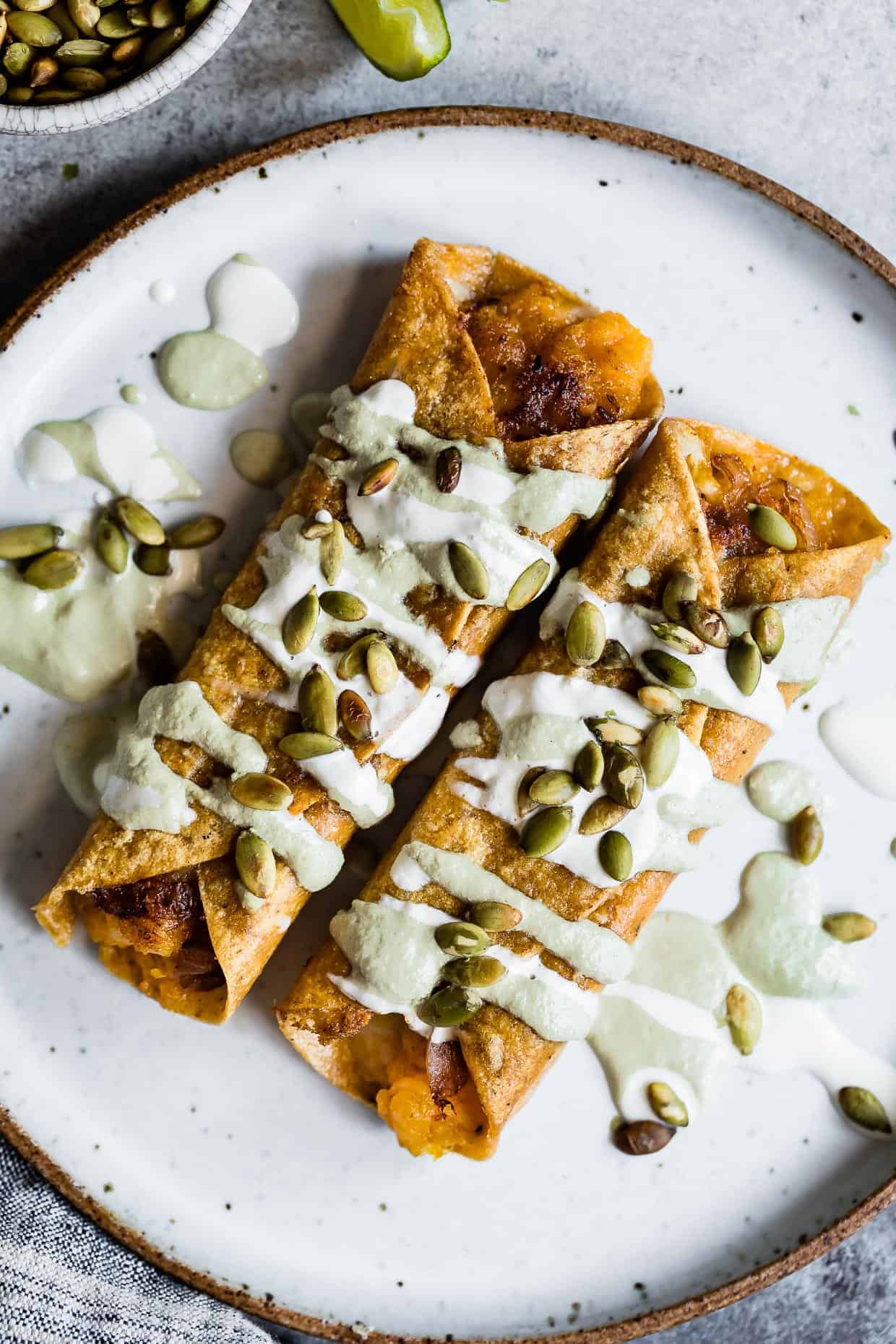 This got me thinking. When we visited my cousin's farm late September, the cherry tomatoes and pluots were trickling out with winter squash ready for the picking. Even so, he told us restaurants weren't yet ready for them. Late summer was still on the menu.
Apparently this is not a concern though because winter squash lasts for a long time. He still has butternuts in his barn from last fall that are perfectly good! "That's why they call them winter squash," he told me.
I can't help but wonder if this means the first butternuts at the market might actually be from last year's crop? (Could it really be?)
And even further, what if our rotten pumpkin was actually from last year's crop too? In my memory, we picked this pumpkin right off the vine, but thinking back, we didn't really. Sure, there were plenty of pumpkins growing on the vines, but there were just as many cut pumpkins littered throughout the rows. And that's what we chose.
What if they were staged?! It's a pumpkin conspiracy! More likely we just bought a rotten pumpkin, but sticking decoy pumpkins into the patch does sound like a pretty good way to peddle old squash, if you ask me.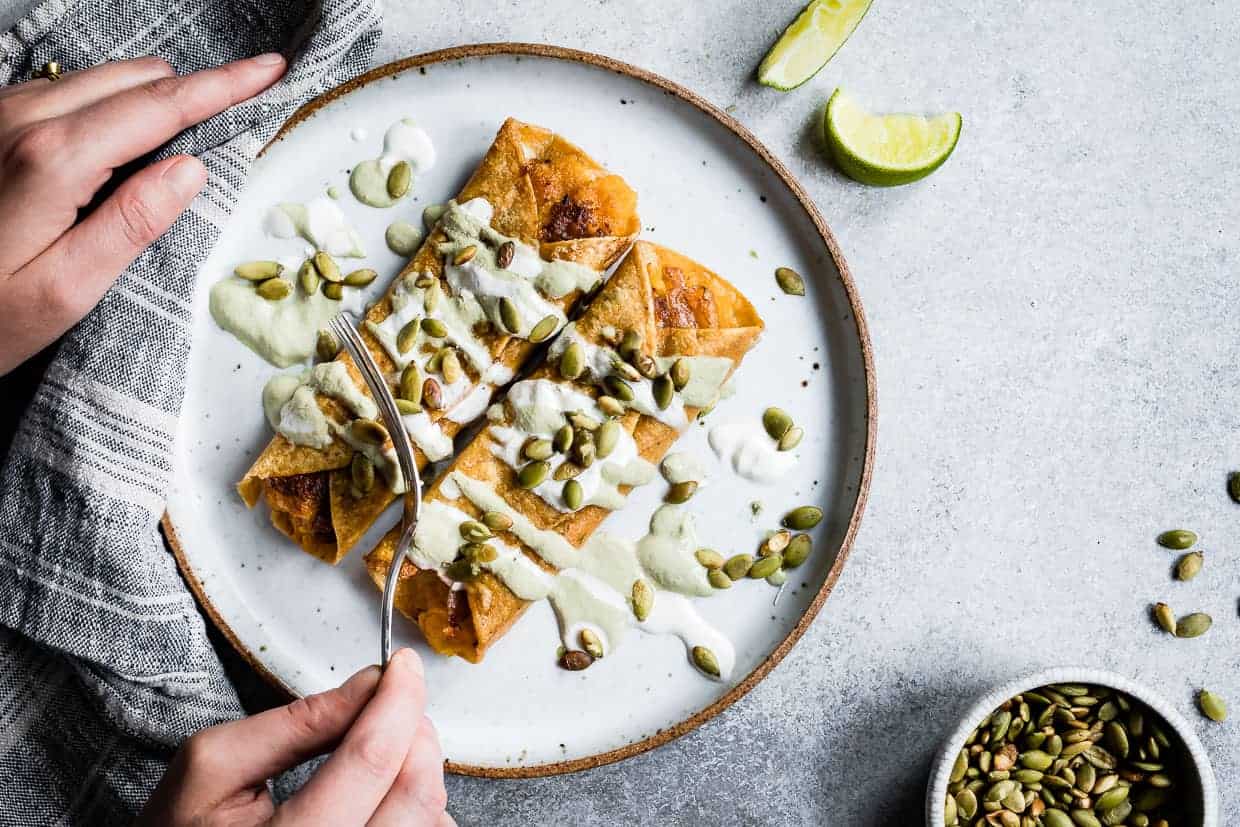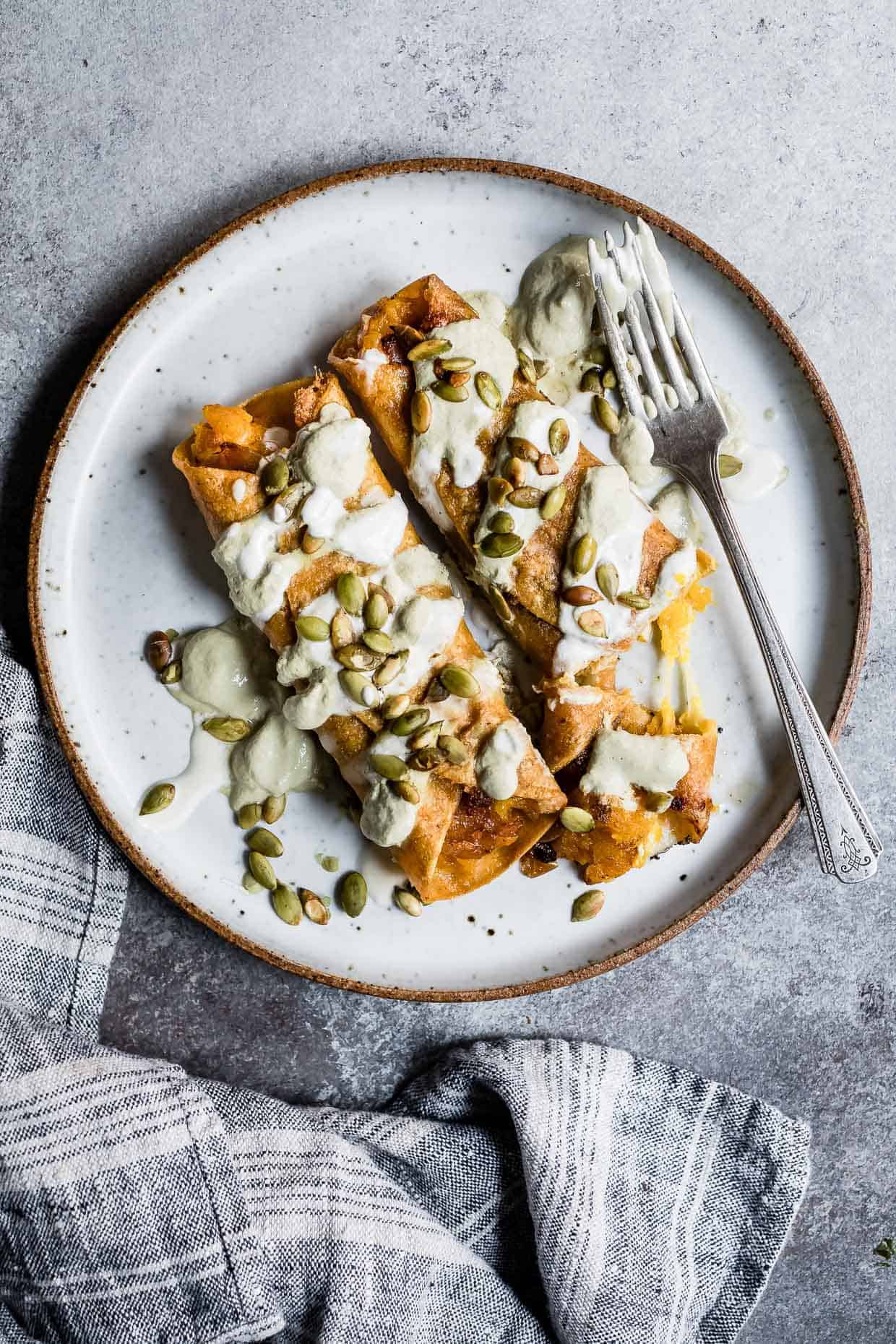 Don't go shopping in a pumpkin patch for these cheesy pumpkin taquitos. You'll need a sugar or pie pumpkin (or a butternut will do too!) from the market. Tortillas rolled up with smoky sweet pumpkin, caramelized onions, and nutty Roth Grand Cru, then fried for a crispy shell and melty cheesy filling. I have a major crush on this cheese and its versatile ability to go from snacking cheese to melty filling.
A roasted jalapeño pumpkin seed crema on top bring a little refreshing heat, but don't let that intimidate you from making these taquitos! If you want to save time, just blend up the roasted jalapeño with some crema or sour cream, a little lime juice, and salt for a modified topping.
But whatever you do, don't skip the cheese.
None of these videos would be possible without the help of my videography partner, Alanna. See more of our videos on our Storied Provisions channel!
Disclosure: Special thanks to Roth Cheese for sponsoring this post! And thanks to you for supporting the companies that keep Snixy Kitchen cooking!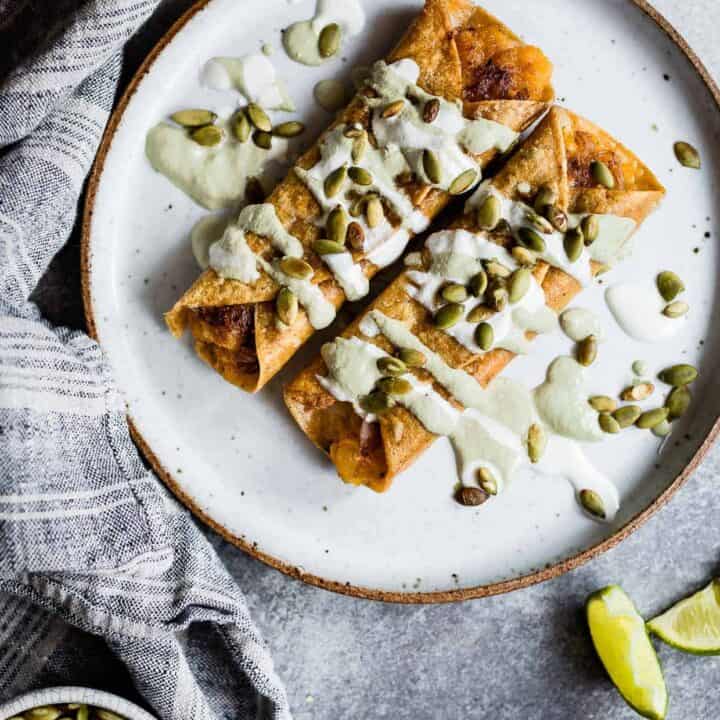 Cheesy Pumpkin Taquitos with Roasted Jalapeño Pepita Crema
Yield:
12-16 taquitos (4-5 servings)
Ingredients
Spicy Pepita Crema
1¼ cup toasted pepitas (pumpkin seeds), plus more for serving
2 small jalapeño, halved and seeded
¾ teaspoon salt, plus more to taste
3-4 tablespoons lime juice (from 3 limes)
1¼ cups water
Cheesy Pumpkin Taquitos
1 3lb sugar pumpkin or other winter squash (butternut is great too!)
1 tablespoon + 1 teaspoon extra virgin olive oil, divided, plus more for frying
¾ teaspoon kosher salt, divided
¼ teaspoon pepper
4-6 large cloves garlic, unpeeled
1 teaspoon smoked paprika
1 medium yellow onion, halved and sliced
12-16 corn tortillas, warmed in a dry skillet
¼-1/2 cup Mexican crema or sour cream
2 tablespoons lime juice
Instructions
Pour 4 cups of boiling water over the pepitas in a heat-proof bowl and let sit for about 10 minutes.
While this soaks, prepare the pumpkin filling. Preheat oven to 400°F and line a baking sheet with parchment paper.
Cut the pumpkin in half, drizzle it with 1 tablespoon olive oil and sprinkle with ¼ teaspoon each salt and pepper. Place face down on the parchment-lined baking sheet. Addthe garlic cloves and halved and seeded jalapeños for the spicy pepita crema to the pan.
Roast for 20 minutes. After 20 minutes, remove the garlic cloves and jalapeños and set them aside. Continue baking until the pumpkin or squash is completely soft, about 25 more minutes. Remove from heat and let cool just enough to touch.
While the pumpkin roasts, prepare the pepita crema. Drain the pepitas well and add them to a food processor or high-powered blender along with the roasted jalapeño, salt, lime juice, and ¾ cups of the water. Blend until completely smooth and just runny enough to drizzle, adding up to ½ cup more water to reach desired consistency.
Meanwhile, caramelize the onions. Heat 1 teaspoon olive oil in a large skillet over low heat and place a cup full of water nearby. Add the onion to the skillet with a pinch of salt. Cook, stirring, until the onion begins to caramelize. Stop stirring and increase the heat to medium-low. Once a brown glaze has formed on the bottom of the skillet, pour 2-3 tablespoons of water into the pan to deglaze it, using a spatula to scrape up any brown bits and stirring them into the onion. Repeat this process until the onion has been thoroughly caramelized, 10-15 minutes. Set aside.
When the pumpkin is soft and slightly cool, turn the pumpkin halves over, scoop out the seeds and discard (or save them for roasting later!).
Scoop out the cooked pumpkin flesh into a medium bowl. Peel and mince the roasted garlic. Mash the pumpkin with smoked paprika, ½ teaspoon salt, and minced roasted garlic.
Roll your taquitos. Fill each tortilla with 3 tablespoons pumpkin filling, a tablespoon caramelized onions, and 1-2 tablespoons grated Grand Cru cheese. Roll each taquito up tightly, nestling them in a casserole pan to keep them rolled.
Heat 2-3 tablespoons olive oil in a large skillet over medium-high heat. Working in batches, pan fry the taquitos for 2-3 minutes per side, until golden brown and crispy. Transfer to a serving dish and repeat with all taquitos.
Meanwhile, mix the crema with lime juice until it's thin enough to drizzle, adding a teaspoon of water at a time, if needed.
Serve taquitos warm drizzled with roasted jalapeno pepita crema, lime crema, and sprinkle with toasted pepitas.
Thanks for reading Snixy Kitchen! To stay up on what's coming out of my kitchen, follow me on Facebook, Instagram, Twitter, Bloglovin', or Pinterest, or subscribe via e-mail to get new recipes right to your inbox.