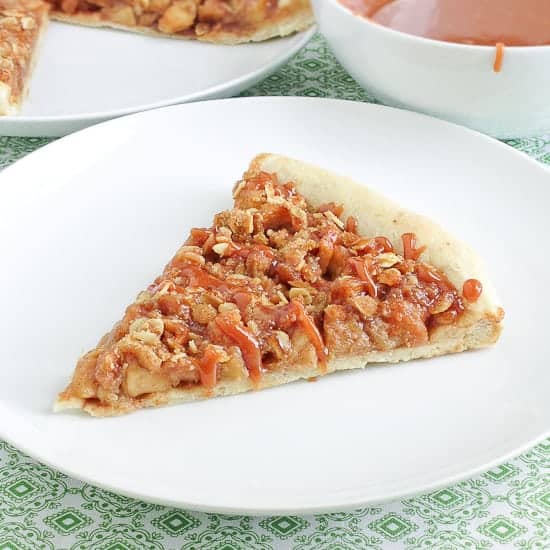 Pizza is one of those foods that I have to actively try not to eat or I would shove my face with it three meals a day. I mean, what's not to like? Cheese...bread...sauce. As you can probably tell, I make a lot of pizza. In my defense, I usually top it with loads of veggies to make it healthier than hitting up my local pizzeria. Now, imagine for a second, that you were given the task of making this crust-filled heaven even more delicious. But how?! The solution, of course, is to load it with sugar, top that with more sugar, and then drizzle the entire thing with even more sugar. Follow those steps and you'll get caramel apple pizza pie. I don't care what you say, this pizza is still healthy - an apple a day keeps the doctor away, right? Well this pizza has TWO apples, so there.
I've been dreaming up this creation since Lucas and I stopped by Woodstock's pizza in Davis on our way up to Tahoe a few weekends ago. To pair with their normal pan pizzas, they offer a variety of dessert pizzas. We didn't try one, but I took note of the idea. And Lucas was a good sport while I asked the cashier all kinds of random detailed questions, including what kind of dough they use for their desserts. THE SAME CRUST AS THEIR SAVORY PIES! I thought for sure you'd need to add sugar or something, but no - I now know that a traditional pizza crust paired with your favorite dessert toppings will yield a flavor combination that will knock your socks off.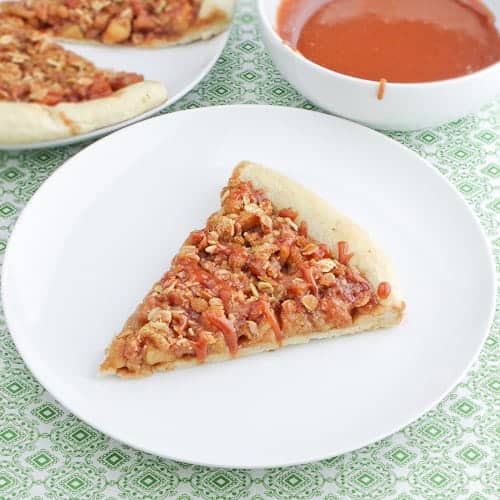 I've been looking for an excuse to make more caramel sauce ever since those irresistible miniature apple pie puffs a few weeks back. Those puffs are the stuff that dreams are made of, but I guess it's important to venture out of my comfort zone and cook up new desserts to share with you. I'm glad I did, because this sweet pizza pie is mouth-watering. For all you skeptics, I likened the dough and sweetness combination to cinnamon toast, to which Chuy replied that he didn't know what that tasted like. Clearly he was neglected as a child. This dessert pizza most reminds me of when I make cinnamon toast on Trader Joe's handmade flour tortillas. Yes, I'm nearly 27 years old and I still make cinnamon toast for breakfast when I need the day to start off on a good note...or when I'm sad...or when it's a special occasion...or really just anytime I want, okay?! I've finally discovered why most pizza dough recipes yield two 14-inch pies - one for dinner and one for dessert, obviously.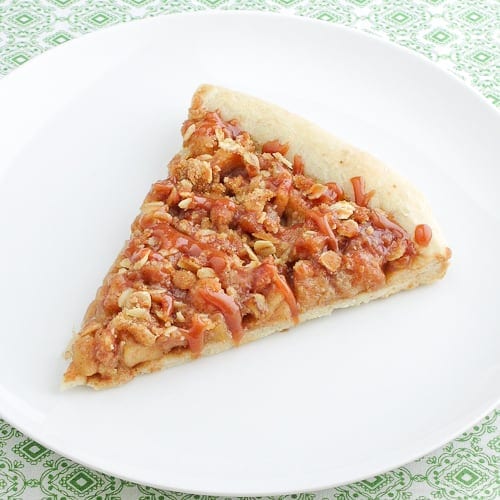 Caramel Apple Pizza Pie
Makes 1 (14-inch) pizza
1 pizza dough (recipe below)
Rolled oats crumble topping (recipe below)
½ cup caramel sauce (recipe below)
2 Granny Smith apples, peeled, cored, and cut into ¼-inch squares
1 tablespoon unsalted butter
1 heaping tablespoon sugar
2 tablespoons brown sugar
1 teaspoon cinnamon
Dash of salt
Smidgen of ground cloves
Smidgen of ground nutmeg
Juice of one lemon
1 tablespoon flour
Prepare the pizza dough according to the recipe below.
Melt butter in medium pan over medium heat. Add apples, sugar, cinnamon, salt, nutmeg, cloves, and lemon juice. Cook, stirring, until apples are softened to your preference, about 10 minutes.
Remove from heat and stir in flour. Transfer to a bowl to cool.
Prepare the rolled oats crumble topping and caramel sauce according to the recipes below.
Spread the cooked apples over the par-baked pizza crust. Sprinkle the rolled oats topping over the entire pizza.
Bake for an additional 6-8 minutes, until the crust is slightly browned.
Drizzle warm caramel sauce over the top and serve (if the caramel sauce has cooled too much, you can microwave it for 30-45 seconds before drizzling).
Pizza Dough (Adapted from earlier recipe)
Note: Dough makes two 14-inch pie crusts, but you only need one for the recipe above. You can either use the other crust to make a savory pizza, another type of dessert pizza, or wrap it in wax paper and put it in the freezer in a Ziploc bag.
1 (¼ ounce) package active dry yeast
1 cup warm water (about 100ºF)
1 teaspoon honey
2 ½ cups all-purpose flour, plus extra for sprinkling
½ teaspoon salt
1 tablespoon olive oil
Mix honey and yeast with ¼ cup warm water and let stand for about 3 minutes until yeast foams.
Whisk together flour and salt in large bowl (or stand mixer). Add yeast mixture, olive oil, and the remaining ¾ cups of water and mix. Using dough hook (or by hand) knead dough until it is stiff, but smooth and elastic.
Place dough in an oiled bowl, cover with plastic wrap, and let rest for 30-60 minutes (I let it rest for about 3 hours because I was busy making calzones, but that's not necessary).
Preheat oven to 450ºF.
Spray a 14-inch pizza sheet with cooking spray and cover with flour. Discard excess flour from sheet.
After it has rested, split dough in half (it's okay if it deflates a little when you cut it). Press one of halves of dough onto the prepared pizza sheet. Prick dough with fork to avoid air pockets. Save the other half of the dough for another use.
Par-bake the crust for about 5 minutes until firm, but not browned.
Rolled Oats Crumble Topping
⅛ cup brown sugar
2 tablespoons unsalted butter, melted
⅛ cup flour
⅛ cup rolled oats
In a bowl, combine the butter and sugar.
Add the flour and rolled oats and mix until crumbly.
Makes about ½ cup
½ cup sugar
⅛ cup water
¼ cup heavy cream
½ tablespoon butter
Pinch of salt
Measure out cream, butter, and salt and keep them handy.
In a 2-quart saucepan, add water and sugar, making sure that sugar is not stuck to the side. Turn heat to medium high, and insert candy thermometer.
As sugar starts to melt, stir to make sure sugar distributes evenly. Stop stirring and continue cooking.
Watch CAREFULLY. As soon as the mixture begins to turn color, it will change very fast. Just as the candy thermometer reaches about 320ºF and the caramel is an amber color, remove from heat and pour in cream all at once (Stand back as it will react and sizzle quite a bit). This stage is key, if the caramel gets too dark before you remove it from the heat, it'll taste burned and bitter.
Add butter and salt. When the sizzling calms down, return to medium low heat and cook, stirring constantly, for 3 minutes.
Pour into a warmed cup or bowl and let cool a bit before drizzling over pizza.