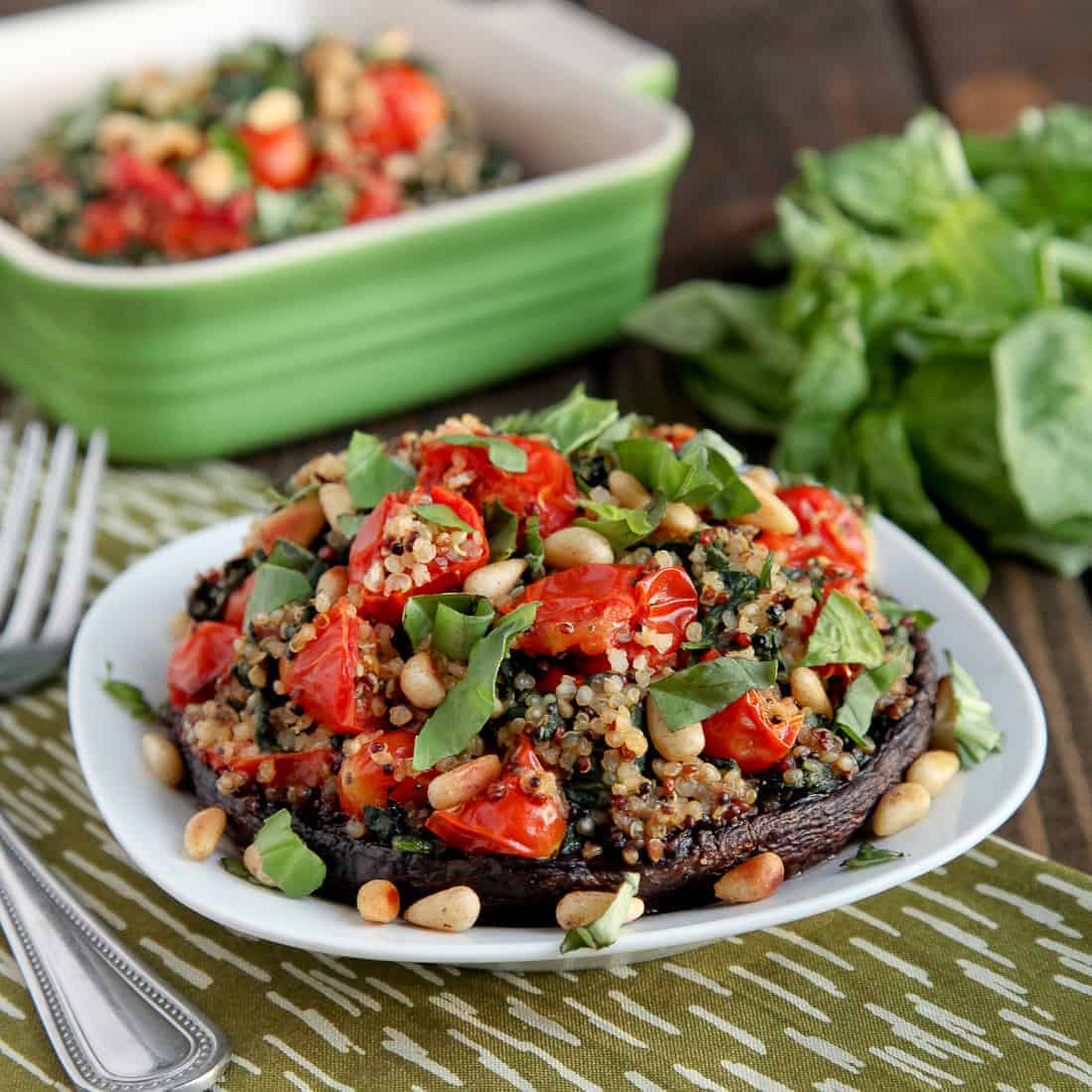 Happy 2013! This year's gonna be a good one - filled with a wedding(!) and house hunting. That's right, folks, we've set a June deadline for moving into a place with a larger kitchen. Don't worry, with the rental prices in Berkeley,  the kitchen will likely still be pint-sized, but the goal is that it'll be larger than 26 square feet (Update: We've found a place!). Back to the wedding talk. In addition to the hundreds of crepe paper flowers I'm going to make over the next 6 months, I'm also strictly back on my healthy eating regimen. The pre-wedding get fit fast meal plan. I may have gorged on cupcake after cupcake over the holidays, but the new year put an abrupt end to that. Starting with these super food quinoa stuffed portabella mushrooms.
We spent Sunday at the drawing board planning our week's healthy menu and accompanying shopping list. Lower complex carbs, less fat and sugar, and more vegetables and grains. And for some reason all I wanted was pasta mixed with white rice on top of bread baked into a flakey, buttery pie crust. I love sugar and carbs. But goshdarnit, I WILL have self-control. I will not bake cookies every night. I will not bake cookies every night. This is my mantra. Notice that I said, "every night" because, in full disclosure, I will still be baking every once in a while and sometimes I deserve a cookie, ok? But mostly I'll give it all away to my friends. Now there's a plan, when I cave, I'll just send boxes of cookies and cupcakes to my bridesmaids - to fatten them up so ;) Muahaha. Who knows - I do love me some sweets, so anything's possible. Stay tuned to see how I turned Ben & Jerry's Cherry Garcia ice cream flavors into a healthy meal!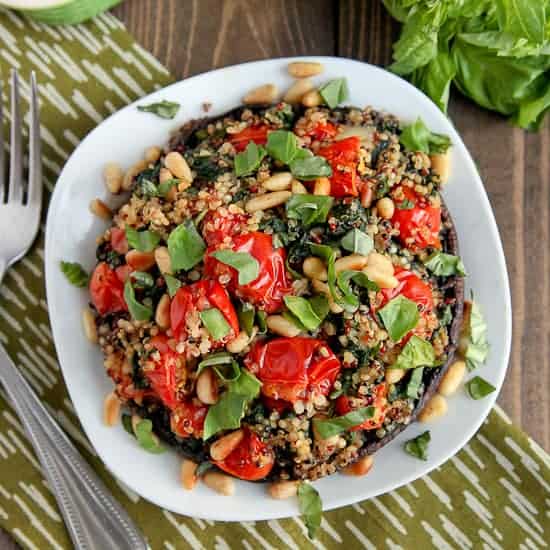 While scouring the internet and flipping through my thousands of cookbooks for recipes, I had a second goal in mind. On Christmas, my cousin asked me for some gluten-free vegan recipes. As I've mentioned, my brother has been basically vegan for several years now, but it became quite apparent while searching through my repertoire of recipes that vegan and gluten-free is a section of the food Venn diagram I haven't spent much time cooking in. And with that, this recipe for stuffed portabella mushrooms topped our weekly menu. This one's for you, Aaron!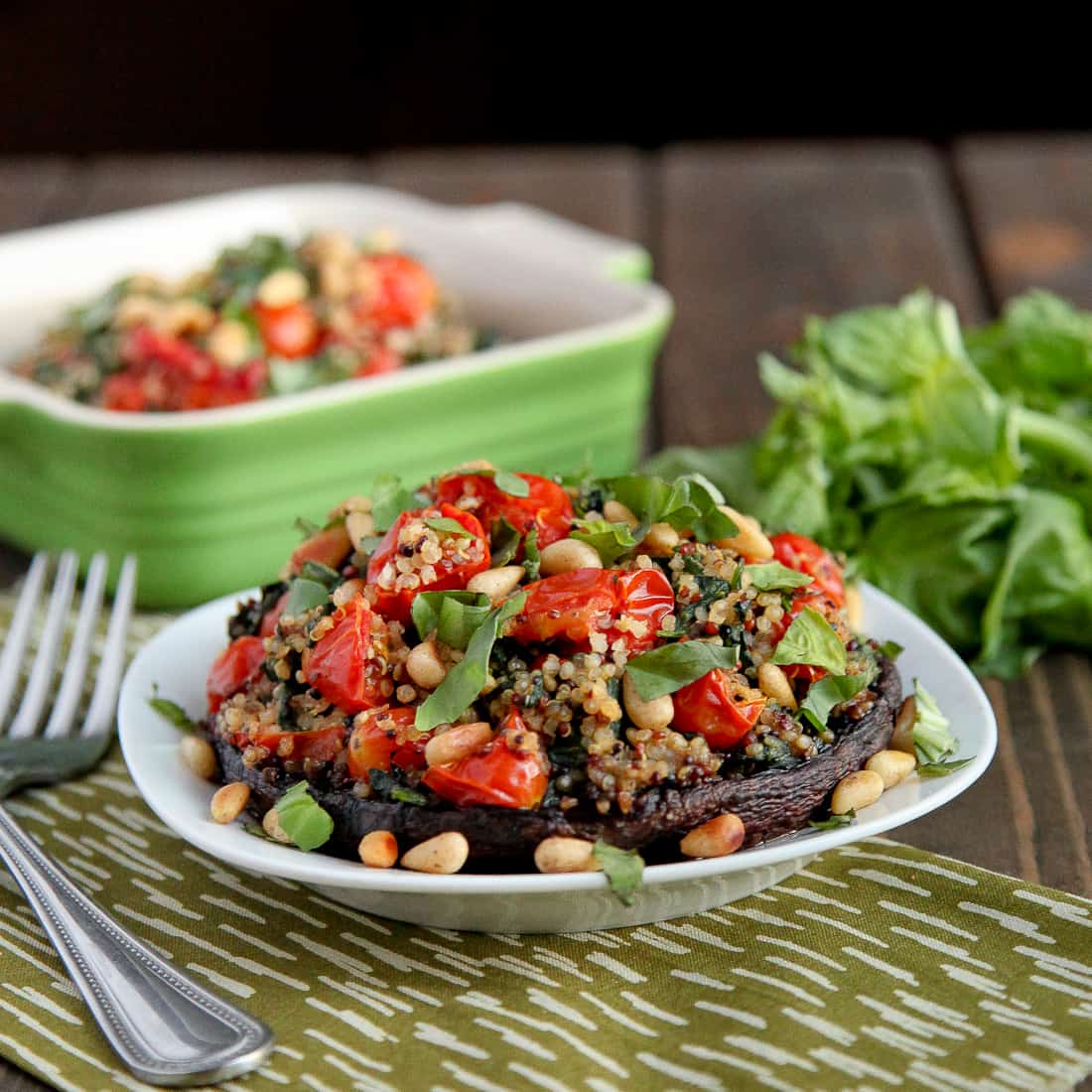 The thing I love most about meal planning and grocery shopping at the beginning of the week is that when Tuesday at 5pm rolls around, and figuring out a dinner plan sounds torturous because I'm inevitably exhausted with a headache, all I've got to do is pull out the ingredients and whip up a quick dish. It's awesome not having to pick a recipe, make a list, go to the store for ingredients, and come back home to cook it in a single night. At that point, I'd rather just order take-out, which we discovered happened way too often while I was studying in November. These stuffed portabella mushrooms are so frickin' fantastic, though, that I'd gladly go to the store on a week night to pick up the ingredients. As a great alternative to meat, portabella mushrooms make this recipe hearty, substantial, and an excellent source of protein. The tiny melty pockets of fresh mozzarella add depth that ensures excitement with each bite without leaving you feeling guilty. Week 1 of healthy eating complete!
Caprese salad quinoa stuffed portabellas (Recipe adapted from The Café Sucré Farine)
Serves 4
12 ounces mini plum tomatoes, halved
¼ teaspoon dried thyme
4 large portabella mushrooms, stems sliced off
3 tablespoons pine nuts, lightly toasted
⅔ cup quinoa
1-⅓ cups low sodium vegetable broth
2 tablespoons basil pesto
3 cups fresh spinach, stems removed
1½ ounces fresh mozzarella (or vegan mozzarella), cut into ¼-inch cubes
2 tablespoons fresh basil, chopped
¼ cup of freshly grated parmesan cheese (optional)
¼ teaspoon red pepper flakes (optional)
Kosher salt and freshly ground pepper, to taste
Olive oil
Preheat the oven to 420ºF. Line a large baking sheet with parchment paper. Spread the halved tomatoes out on the parchment paper, drizzle with a couple teaspoons of olive oil, sprinkle with the dried thyme, and season with a dash of freshly ground pepper and kosher salt. Toss to combine and roast in the oven for 18 minutes.
Line another large baking sheet with parchment paper. Brush both sides of the portabella mushrooms with olive oil and season with salt and pepper, to taste. Place the mushrooms cavity face up on the baking sheet and, when the tomatoes are done, roast for 10 minutes. Remove from pan and place them on a plate with paper towels to absorb the moisture.
Meanwhile, bring the quinoa and vegetable broth to boil in a medium pan over medium high heat. Reduce the heat to low and simmer for 10 minutes. Add the spinach and stir to wilt the spinach.
Add the roasted tomatoes, pesto, mozzarella cubes, red pepper flakes (optional), salt, and pepper and toss to combine.
With the mushrooms face up, scoop ½ cup of the quinoa mixture and mound it on top of each mushroom.
Return it to the oven for another 10 minutes.
Serve topped with chopped basil, toasted pine nuts, and parmesan (optional).