Last updated on April 2nd, 2020
These butter mochi cupcakes are dense and chewy with a crispy buttery exterior that's completely addicting! A spin on the classic Hawaiian dessert, this butter mochi recipe is baked mini in a muffin tin with brown sugar, coconut milk, and toasted sesame seeds for rich toffee-like caramel and nutty notes.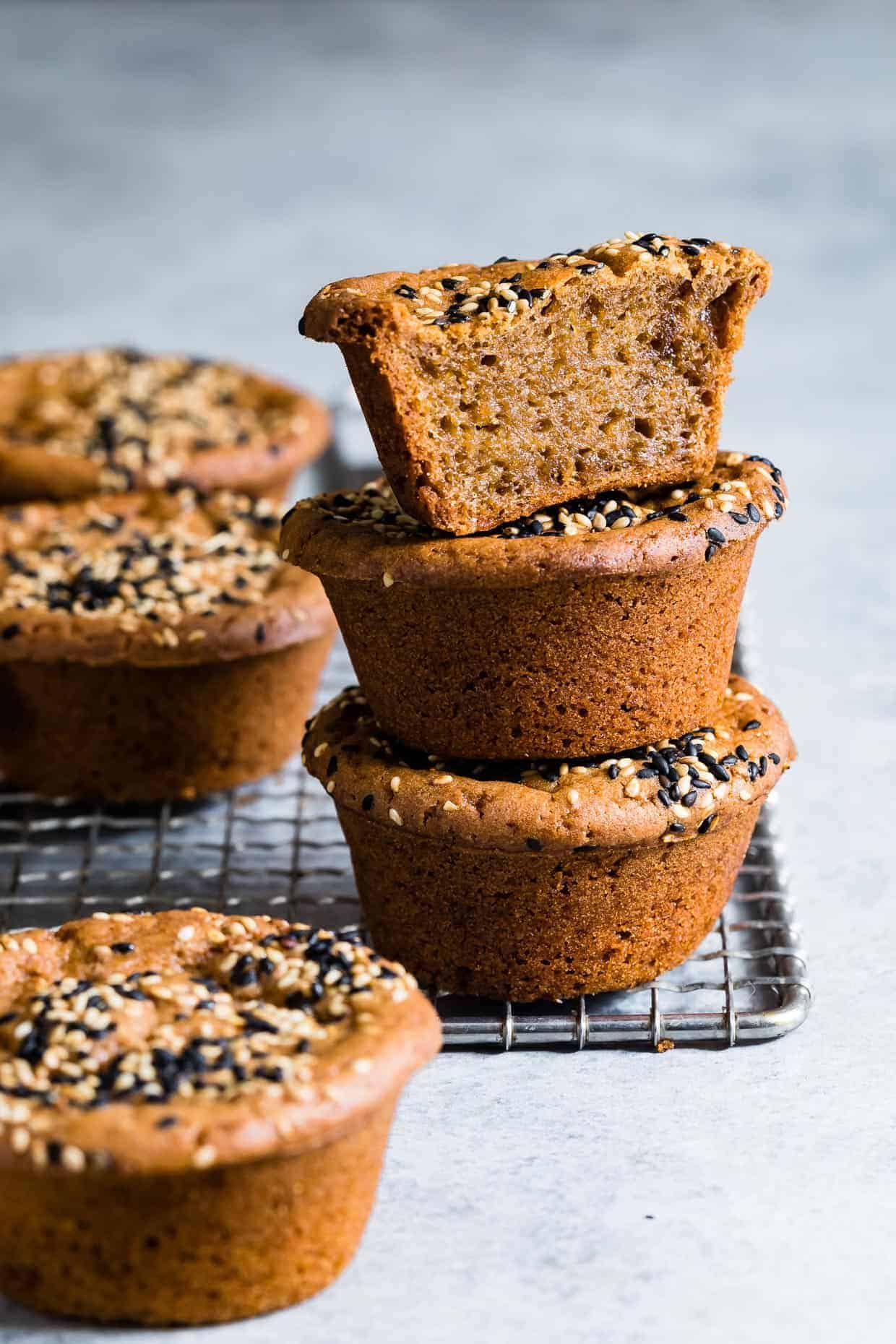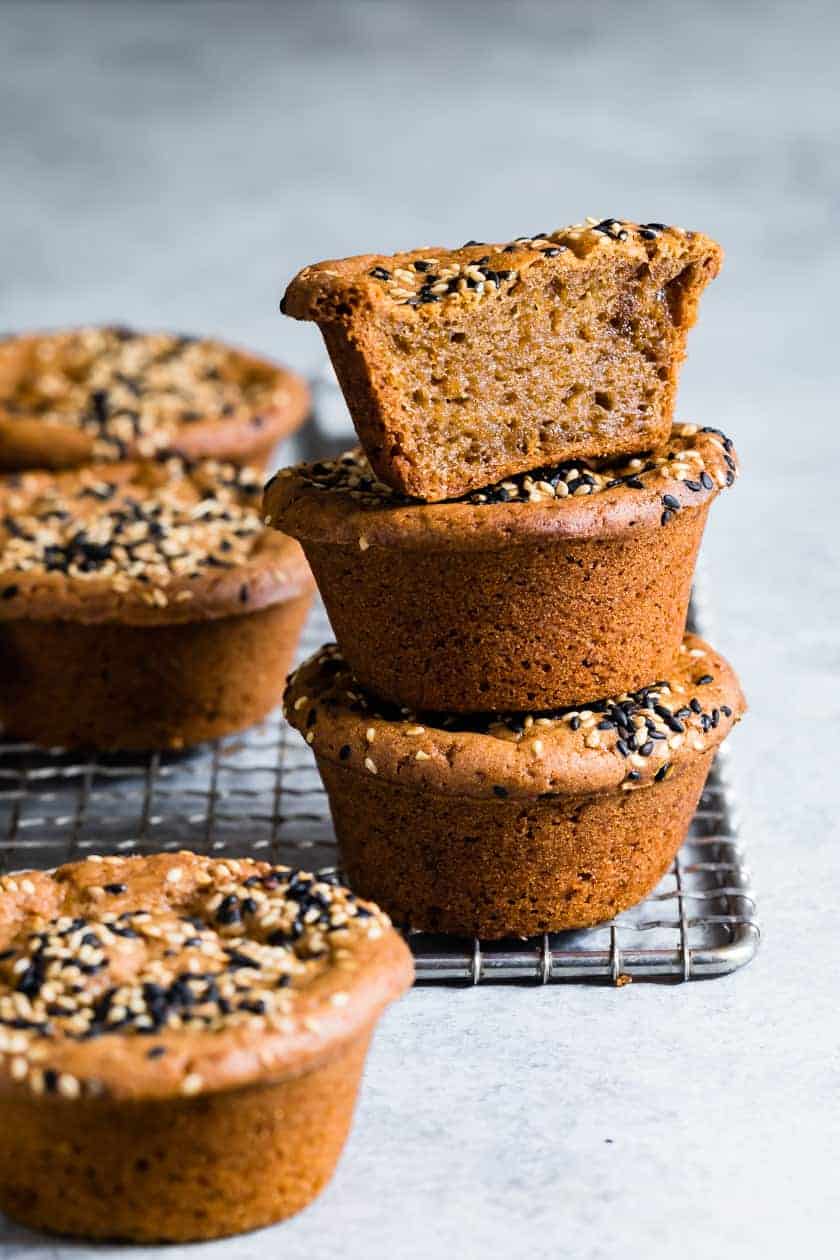 The title for this recipe – butter mochi cupcakes should tell you: these are absolutely dessert. Calling them cupcakes may be misleading though, so let me clarify. I don't want you going into this expecting some sort of frostable cupcake. They're called mochi cupcakes because they're butter mochi cake baked into mini cakes in a muffin tin instead of a sheet pan. This mochi cake is dense and unbelievably chewy inside, with a slightly crunchy browned crust that together make a textural paradise. The muffin shape is there simply to ensure the highest ratio of delicious crispy browned crust. So butter mochi cupcakes it is, ok?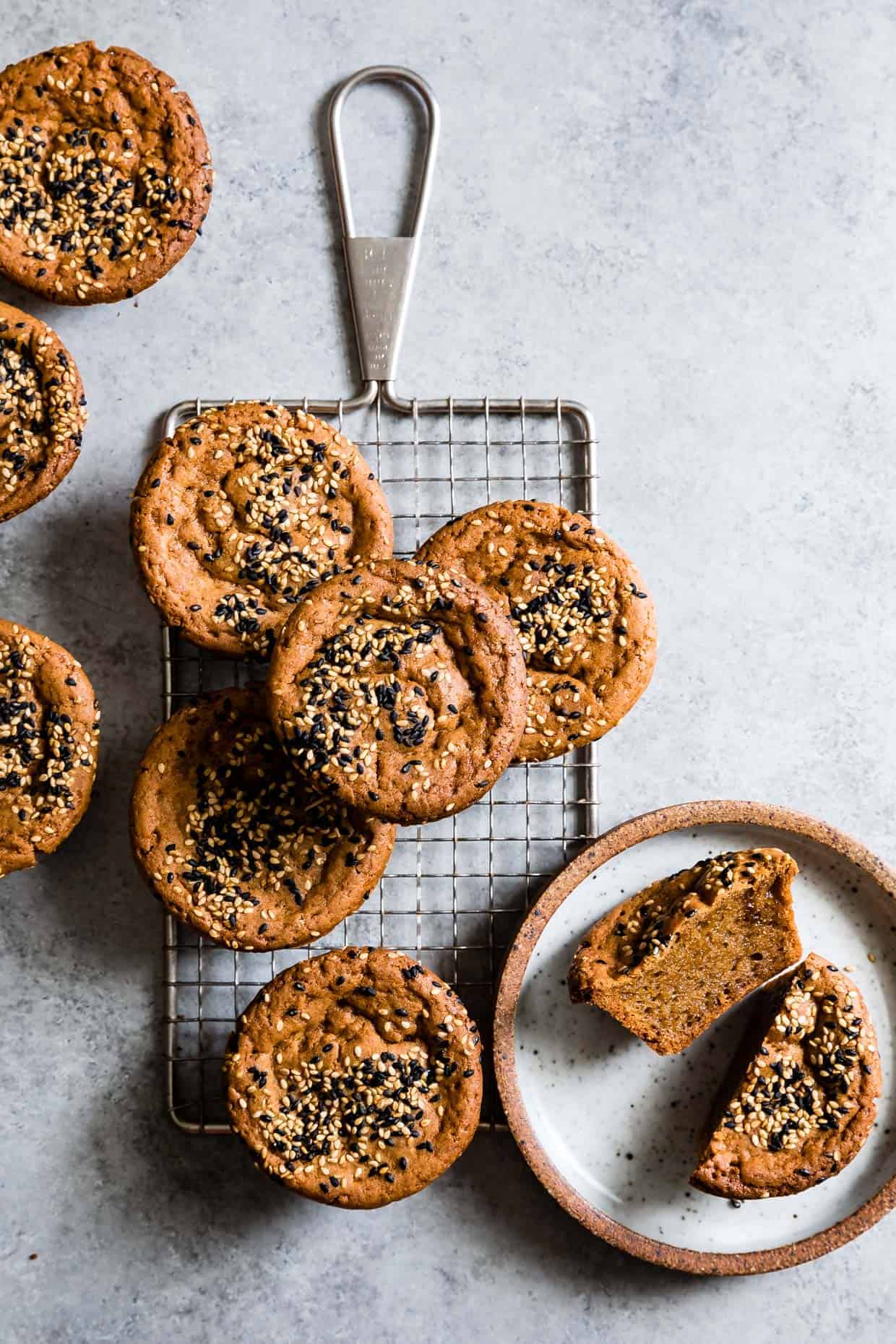 Butter Mochi Cake Baked in a Muffin Tray
They're baked in a muffin tray though, so you can definitely definitely eat one muffin for breakfast. I won't judge you for having cake first thing in the morning. These are magic cupcake muffins that might turn you into an irrational beast trying to savor and defend the muffins from being eaten by anyone but you. I would know.
I mentioned before that my neighbors brought over a batch of – what he called – homemade gluten-free muffins the day we brought Ira home from the hospital two months ago. It was a batch of butter mochi cupcakes. There were at least a dozen "muffins" (ahem: cupcakes) – plenty for everyone, but I knew how special they were. They were my favorite kind of muffin and I didn't have a recipe for them yet.
So when I caught Lucas at midnight eating one of these butter mochi cupcakes in two bites like a monster, I snapped at him about how these weren't meant to be midnight snacks you shove into your face like marathon fuel, they were special treats for our breakfast. I'd just birthed a 9lb baby and my hormones were all over the charts, but I had to protect my mochi cupcakes (our mochi cupcakes). After all, they were MY cupcakes (they definitely weren't).
I'm fully aware how ridiculous that was and that I'm lucky he's still my husband. But now you know: these butter mochi cupcakes are so delicious and addicting that you'll be tempted to eat one right after another in huge bites, but, in my opinion, every last crumb is meant to be savored and enjoyed. Do either or both though. I won't come after you in an unreasonable fit of rage, I promise.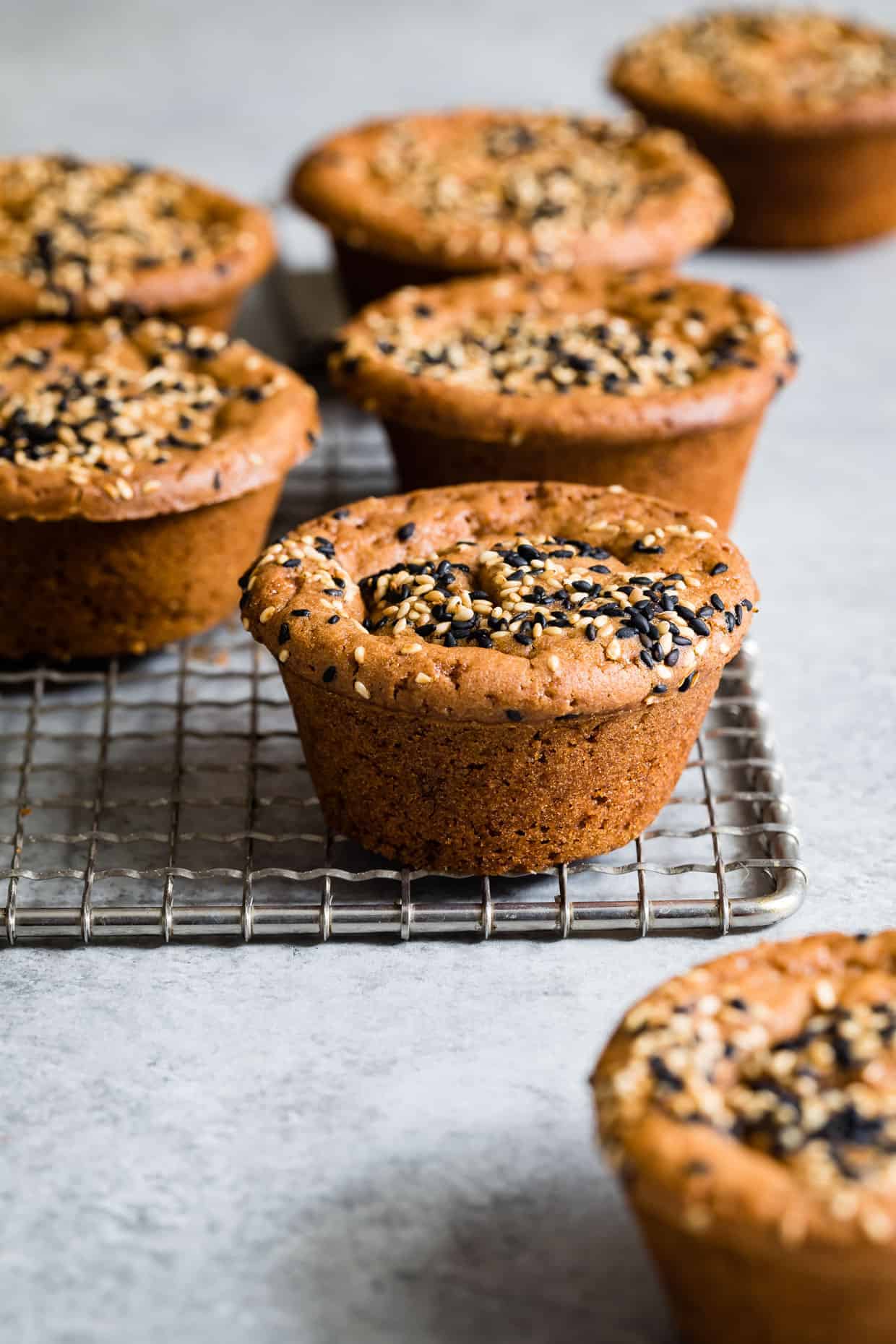 What is butter mochi?
Butter mochi is a classic Hawaiian dessert that bakes up as a dense chewy cake that's typically sliced into pieces. My butter mochi cupcake recipe is like a classic Hawaiian butter mochi cake recipe baked into a muffin tin – inspired by the Original Mochi Muffin that's taking over cafes here in the East Bay Area.
Whenever I go for boba (often), I also grab a sesame-topped Mochi Muffin made by Third Culture Bakery. It's one of my favorite snacks and, and I've been wanting to make them at home for years. Apparently so has everyone else because, according to the baker, folks have been trying to sneak into his kitchen to steal the recipe, which is under lock and key! They've dialed in their recipe and it's worth all the hype.
When my neighbor showed up with a batch of similar muffins I immediately texted for the recipe. Using his recipe as a jumping off point, I made several more batches – some with coconut sugar, some using evaporated milk – until settling on this very simple version that, in my mind, is homemade mochi cupcake perfection.
Butter mochi ingredients
The classic Hawaiian butter mochi cake uses eggs, sugar, butter, coconut milk, and mochiko (sweet rice flour). In my research, I also noticed many recipes call for evaporated milk or sweetened condensed milk, neither of which are ingredients I keep on hand nor prefer to use. My friend in Hawaii confirmed that his friend who is in charge of mochi cake for all their fundraisers and events uses both coconut milk and evaporated milk, while is auntie uses only coconut milk.
I went the latter route with just coconut milk because I prefer the simpler, cleaner ingredients.
The East Bay Berkeley Mochi Muffin man uses Indonesian palm sugar and infuses his batter with pandan, both of which add distinctive notes to the muffin. If you can, you should definitely try to get your hands on one of his Original Mochi Muffins (update: you can now order them online)!
Ultimately, I want a muffin or cupcake I can make when the craving strikes using pantry staples. So I adapted and tweaked my friend's recipe to capture that toffee-like flavor without hard-to-find ingredients.
These butter mochi cupcakes get their flavor from organic dark brown sugar and an extra splash of molasses. Combined with the sweet tropical notes from coconut milk and nutty toasted black and white sesame seeds, these cupcakes are exactly what I've been looking for while baking at home.
They also make the perfect dessert OR breakfast, so win-win.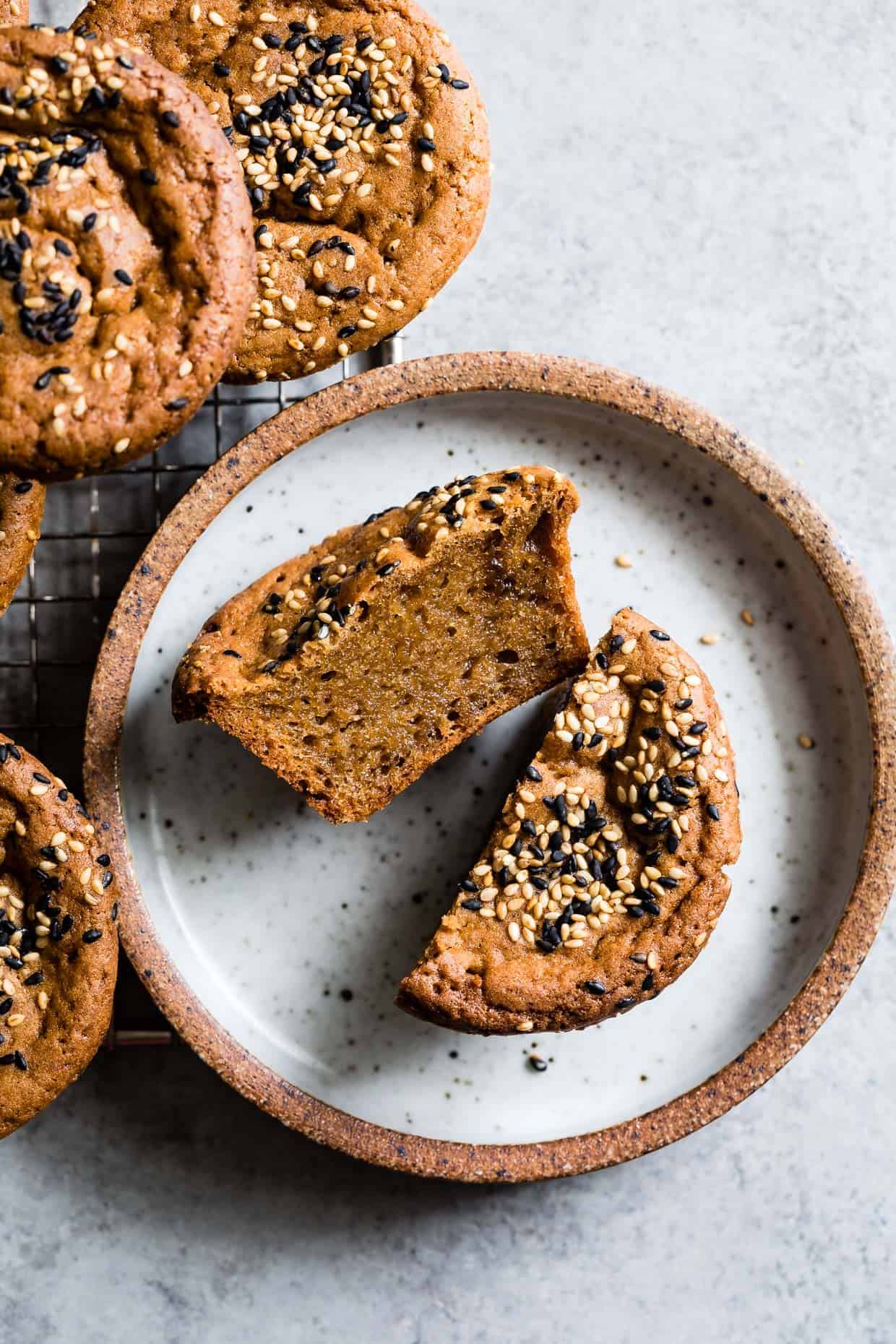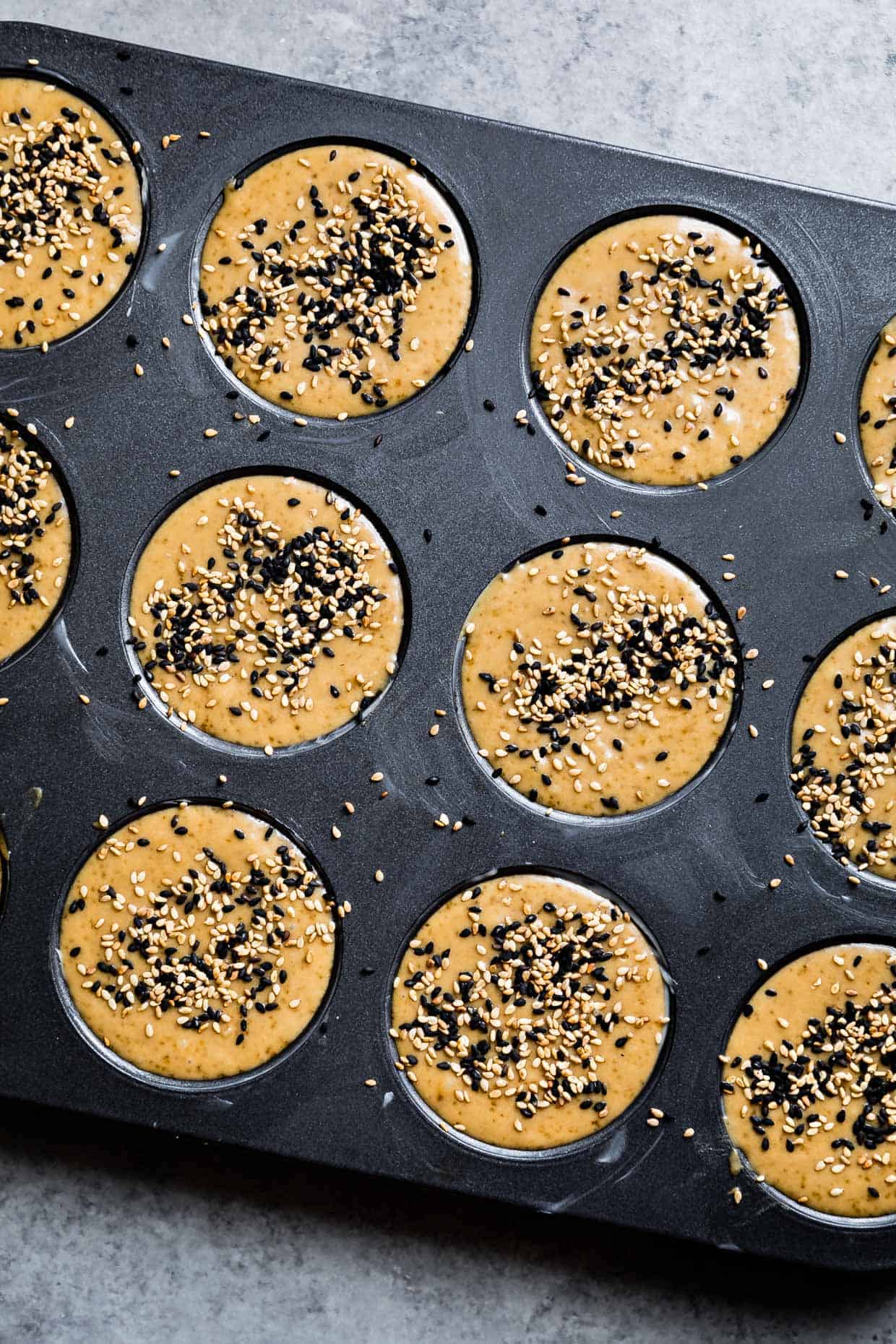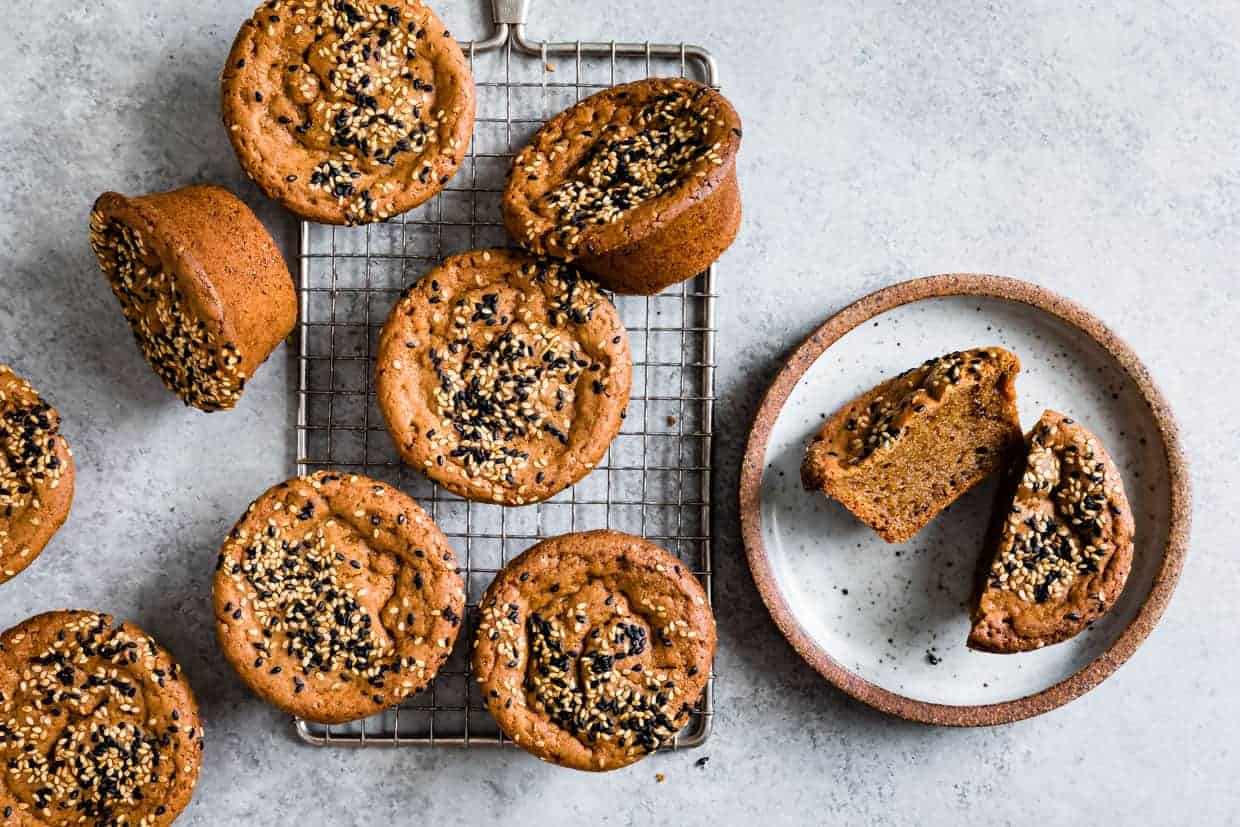 How to make mochi cupcakes
The best part? They're super easy to make. Add the wet ingredients to the dry ingredients, divide among a greased muffin tin, sprinkle with sesame seeds, and bake until golden brown with a slightly crispy shell. The muffin tray will create a dark brown shell that's, in my opinion, the best part. If you know, you know.
Now I won't have to go into attack mode when someone tries to eat one of my prized mochi cupcakes because I can always make more.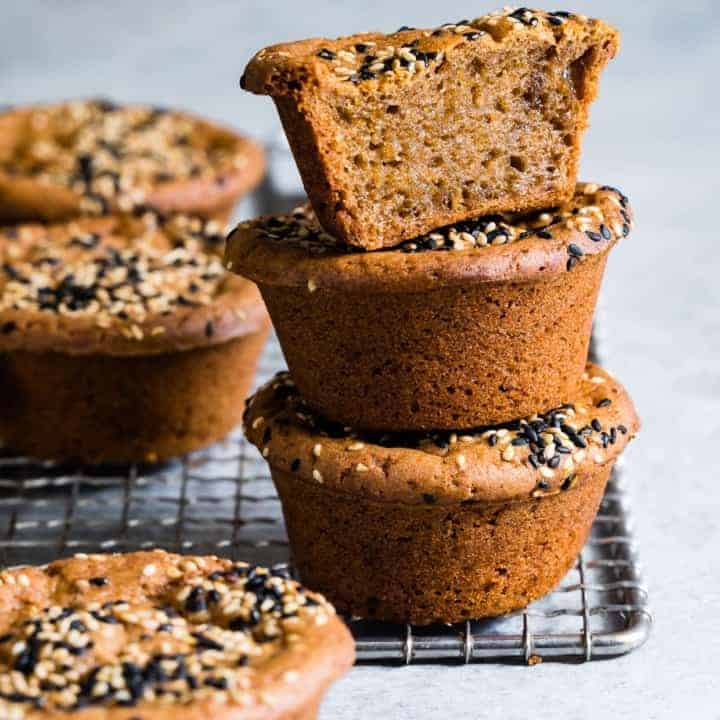 Butter Mochi Cupcakes
Total Time:
1 hour
10 minutes
These butter mochi cupcakes are dense and chewy with a crispy buttery exterior that's completely addicting! A spin on the classic Hawaiian dessert, this butter mochi recipe is baked into mini cakes in a muffin tin with brown sugar, coconut milk, and toasted sesame seeds for rich toffee-like caramel and nutty notes.
Ingredients
1/4 cup (2 ounces) unsalted butter, melted and cooled, plus more for greasing pans
1 cup (200 grams) organic dark brown sugar*
2 teaspoons baking powder
1/2 teaspoon kosher salt
1 13.5-13.66-ounce can full-fat coconut milk
2 large eggs, room temperature
1½ teaspoons vanilla extract
1 teaspoon molasses (optional, added for flavor)
1½ tablespoons each, black and toasted sesame seeds, for garnish
Instructions
Preheat oven to 350°F and place the oven rack in the middle of the oven.
Generously grease the sides and top of a 12-cup muffin tin** with soft butter.
In a medium bowl, whisk together the sweet rice flour, dark brown sugar, baking powder, and salt.
In the bowl of a stand mixer fitted with the whisk attachment or a large mixing bowl, whisk together the melted butter, coconut milk, eggs, vanilla, and molasses.
With the mixer on low speed, slowly add the dry ingredients to the wet ingredients and mix until completely combined.
Divide the batter among the prepared muffin tin, filling each cup all the way to the top. Note: the thickness of your batter will vary depending on the brand and thickness of your coconut milk and temperature of your butter. If your batter is thicker than mine pictured, that's okay and it will still bake up delicious!
Sprinkle the tops with black and white sesame seeds.
Bake 55-65 minutes*** until the top is brown and crispy and the cake springs back when poked with a finger.
Let cool 10 minutes in the pan, then transfer to a wire rack to cool completely.
Store in an airtight container for up to 4 days.****
Notes
*Organic dark brown sugar is richer and more caramel-y than conventional, but you an use conventional in a pinch!
**Any muffin tin will do, but for ultimate crispy exterior, I recommend a dark non-stick muffin tin.
***If using a light muffin tin, you may have to bake the cupcakes a little bit longer.
****If keeping them for longer, they'll lose their crispiness after a day or two in storage, but you can pop them in the oven for a few minutes to get them crispy again before eating.