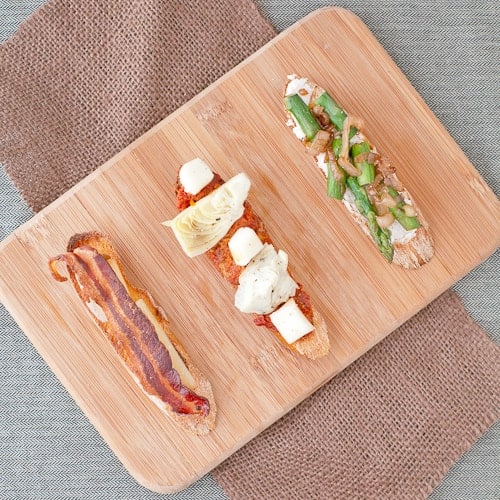 My absolute favorite restaurant in Philly that has a frequent diner's card - for every $500 spend, you receive a $50 gift card. Whenever I eat there with friends, the entire bill gets tallied on my card, and let's just say, I've earned multiple $50 gift cards. My Philadelphia friends don't need me to introduce the restaurant; they'll probably agree that it was only a matter of time until Tria got a spotlight on my blog (they're all rolling their eyes right now, I'm sure). I once brought a few of my guy friends to this wine, cheese, and beer cafe and they still complain about the small portions (so much so that our friend Zach refuses to try it as a matter of principle). The small portions (with reasonable prices) are exactly what I love about Tria. My favorite way to eat out is to sample a few bites of many different dishes; you can imagine how much I love tapas (despite how pervasive cilantro is in Spanish cooking). Tria not only incorporates the tapas style of dining that I prefer, but also uses a deliciously unique flavor profile sans cilantro; their bruschetta is incredible. I miss dining there so very much - it was the irreplaceable restaurant that got away when I moved back to California (I love it so much that when I took Lucas to Philadelphia for the first time, we ate there twice in three days).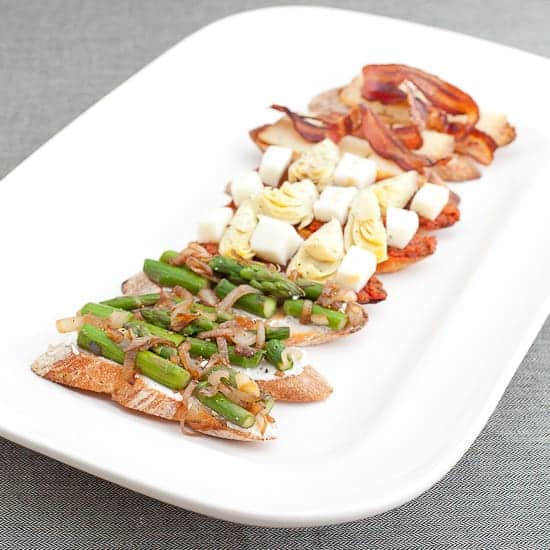 Our lunch yesterday harkened back to these favored flavors. We had some leftover cheese that needed to be used up before Lucas flies off the Taiwan (AGAIN!), and I got inspired when I saw asparagus on sale for $1.49/lb (can't resist that price). My friend Cas and I invented this asparagus bruschetta one similar afternoon in February two years ago when we also found the vegetable super cheap and California-grown. I later served this same asparagus crostini at my friend's bridal shower and it was a big hit as a finger food appetizer. This trio of topped toast is super delicious, and each one balances the others nicely. Note: some people might argue that these sliced baguettes with savory toppings are called crostini, but because I'm honoring Tria, I'm sticking with their terminology.
Trio of non-traditional bruschetta
Makes 6 of each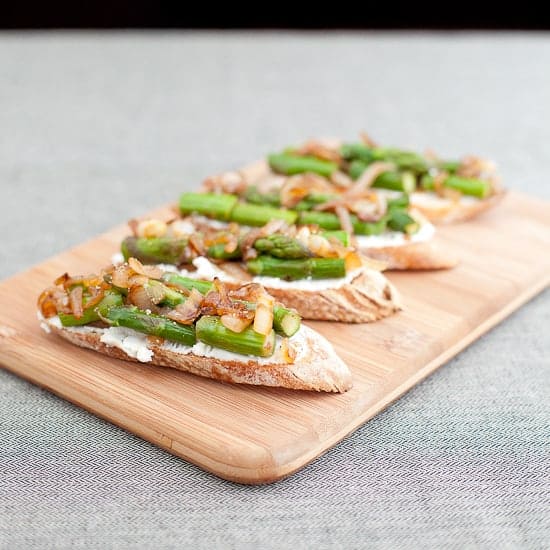 Asparagus, shallot, and goat cheese
⅓ of a baguette, sliced diagonally into six ¼-inch slices and toasted
6 spears of asparagus, cut into ½ inch pieces
½ shallots, coarsely chopped
About 1½ ounces goat cheese
1 teaspoon olive oil
Salt and pepper, to taste
Heat olive oil over medium heat in a skillet. Add asparagus and shallots, and sauté until softened.
Spread goat cheese on baguette slice. Top with asparagus and shallots. Sprinkle with salt and pepper, to taste. Repeat for all six bruschetta. Serve.
------------------------------------------------------------------------------------------------------------------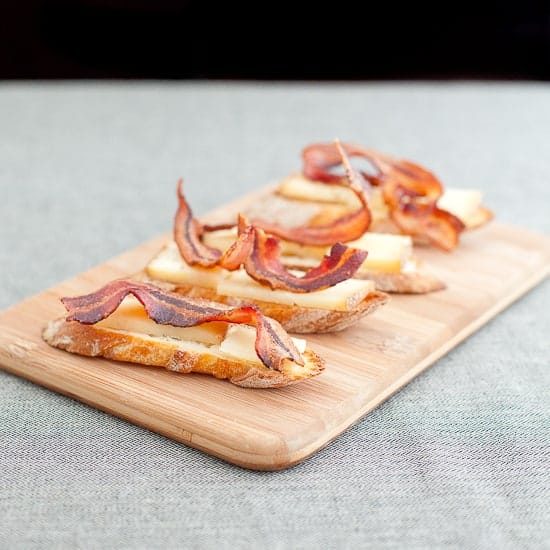 Toscano black pepper cheese and pancetta
⅓ of a baguette, sliced diagonally into six ¼-inch slices and toasted
Toscano black pepper cheese (from Trader Joe's), sliced
4-6 thin slices of pancetta
Cook pancetta in a skillet over medium heat until crispy. Transfer to a paper towel to drain.
Top baguette slice with a piece of cheese and a slice of pancetta. Repeat for all six bruschetta. Serve.
------------------------------------------------------------------------------------------------------------------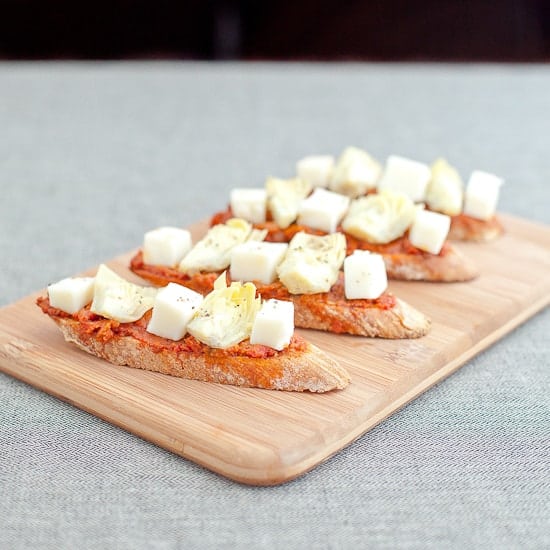 Sun-dried tomato pesto, artichoke hearts, and mozzarella
⅓ of a baguette, sliced diagonally into ¼-inch slices and toasted
About 1½ ounces sun-dried tomato pesto
12 canned artichoke hearts, quartered
About 1½ ounces fresh mozzarella cheese, cut into 18 ¼-inch cubes.
Freshly ground black pepper, to taste
Spread tomato pesto on baguette.
Top baguette slice with three mozzarella cubes and two artichoke hearts, alternating. Repeat for all six bruschetta. Serve.