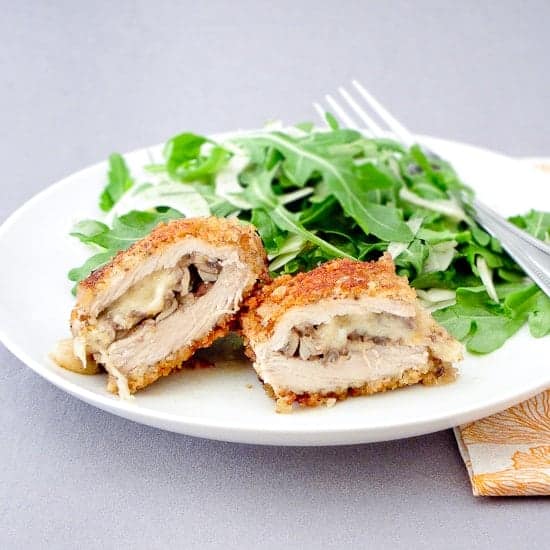 I'm pretty sure I could eat mushrooms for every meal and life would be grand. There's something about these little fungi that make a dish seem super savory and comforting. This feeling most likely stems from my nostalgia for my mom's mushroom soup chicken, which I'm sure I'll highlight here sometime in the near future. The point is: mushrooms are fantastic and all you haters out there are missing out...big time.
High up on my priority list for weekend activities is to pick and plate some mushrooms of my own. I have memories of my childhood pal Kira's dad walking in with handfuls of morel mushrooms he'd hand-picked in the wild. He, however, is a brilliant local farmer with a PhD from Cornell and is much less likely than I am to accidentally harvest a hallucinatory 'shroom. In fact, I can pretty much guarantee I would do that if I went out hunting for fungi on my own. Fortunately we live in a food lover's haven where there are plenty of guided trips in the Berkeley hills to forage for local mushrooms. Added to my bucket list.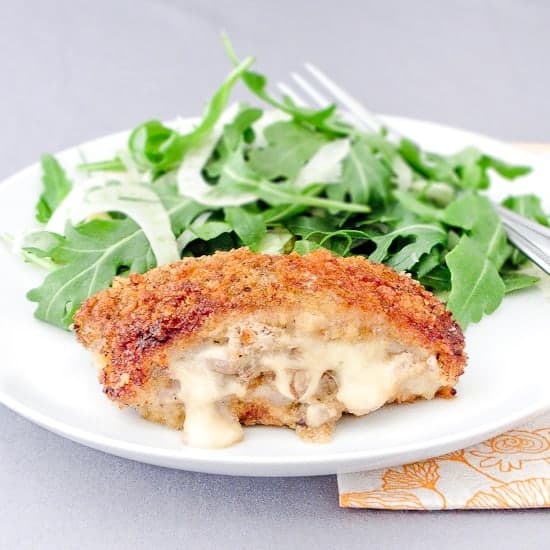 Mix mushrooms with cheese and breaded pork, and they'll become even more exquisite. The inspiration for these pork cutlets came from one of my formerly favorite restaurants that I abandoned when I left sunny LA. Luckily, they have a second restaurant in SF so I could get my fix when I moved to the bay. Unluckily, they recently changed chefs and the once-always reliable menu became static and less interesting. Lucas and I gave it a couple of valiant efforts after the switch, but it was obvious that the spark that gave it a seat on my Top Ten had disappeared. Without it, I long for the breaded stuffed pork cutlets that I would inevitably order as one of our courses. The dish I created comes pretty dang close to those flavors and is incredibly mouth-watering. I've given this pork a spot on my running list of favorite dishes. Unfortunately, taking pictures of dinner at 8:30pm means horrible lighting and this picture barely does the dish justice; trust me when I tell you that the mushrooms and cheese ooze out to make it crispy and flavorful on the outside and super moist and tasty on the inside.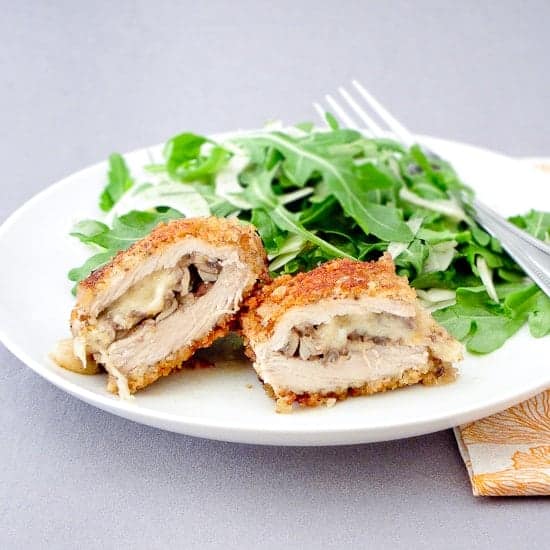 Breaded pork cutlets stuffed with mushrooms and parmesan
Ingredients
2 boneless pork lions hammered down to a ½-inch thickness (my local butcher did this for me)
About 1½ cups chopped brown cremini mushrooms (about 10)
½ cup freshly grated parmesan cheese
1-2 cups panko breadcrumbs spread out on a plate (gluten-free, if needed)
Kosher salt and freshly ground black pepper, to taste
3-4 tablespoons olive oil
Instructions
Heat a skillet over medium heat. Sauté the mushrooms until cooked through, adding a tablespoon of water, if needed. Transfer to a bowl and set aside.
Using a sharp knife, cut a pocket along the thin edge of each pork cutlet. Make the pocket almost as large as the cutlet itself, leaving the other three edges connected.
Stuff each pocket with mushrooms and grated cheese until full.
Sprinkle salt and pepper on both sides of the pork. Lay each cutlet in the breadcrumbs to cover both sides.
Heat enough olive oil to cover the surface of a medium cast-iron skillet over medium-high heat. When the oil is hot enough that drips of water sizzle, but before it starts smoking, lay each cutlet in the skillet.
Cook until the bottom side is golden brown, about 2-4 minutes. Flip the over and cook an addition 2-4 minutes until the second side is also golden brown.
Transfer to a plate and cover with a bowl for about 5 minutes.
Serve.