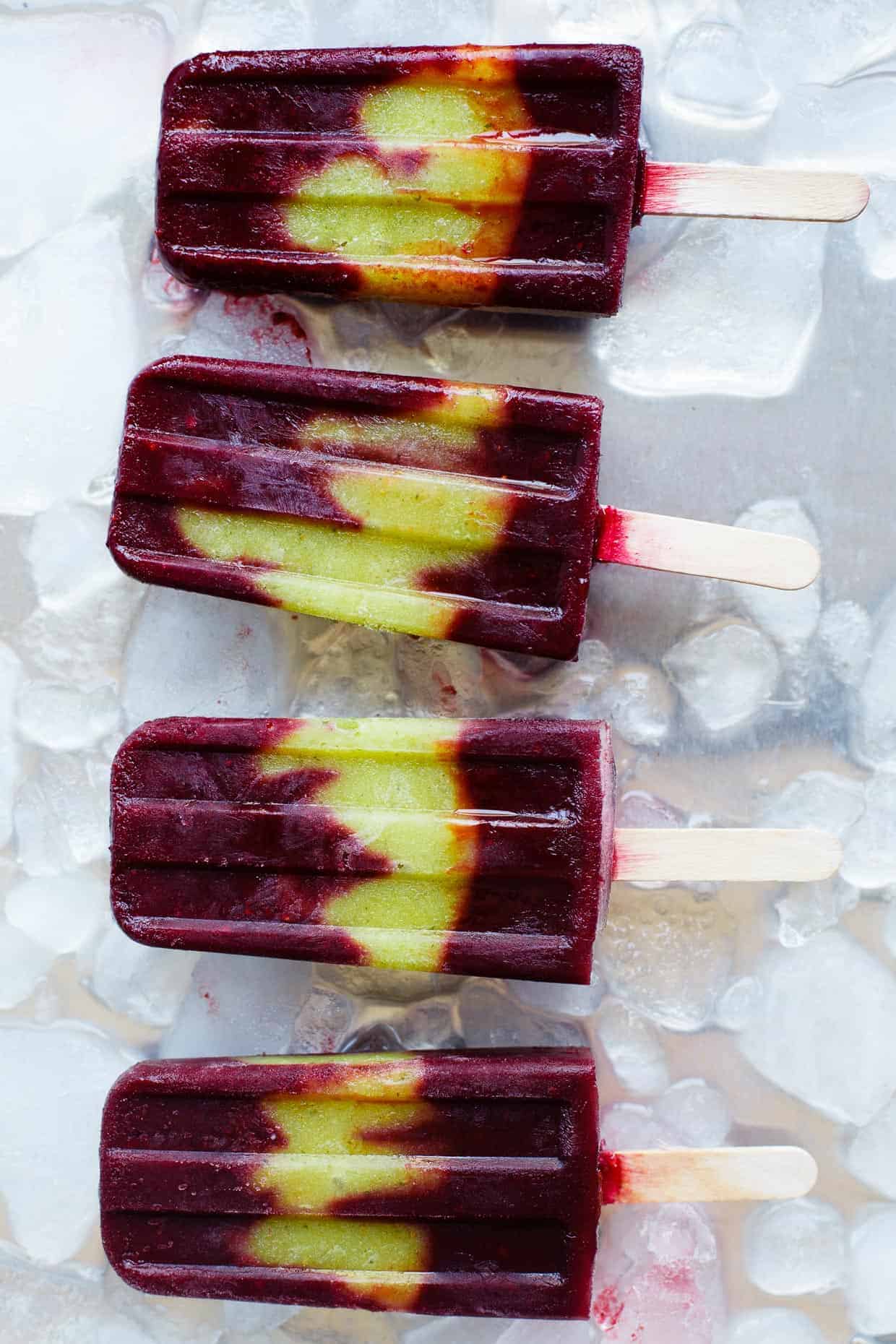 Holy popsicle week! If there's one thing that can pull me out of hibernation it's the promise of popsicles. Especially if you're talking about these blackberry fig sage popsicles.
This summer has been unbearably warm and muggy in our house. When we first toured this house in the wintertime before we moved in, I remember thinking how it soaked in all the warmth and felt so cozy. A big bonus for March. But right now it's July and it's still doing that. I don't want to feel cozy in July - I want to stick my head in the freezer and live there all month.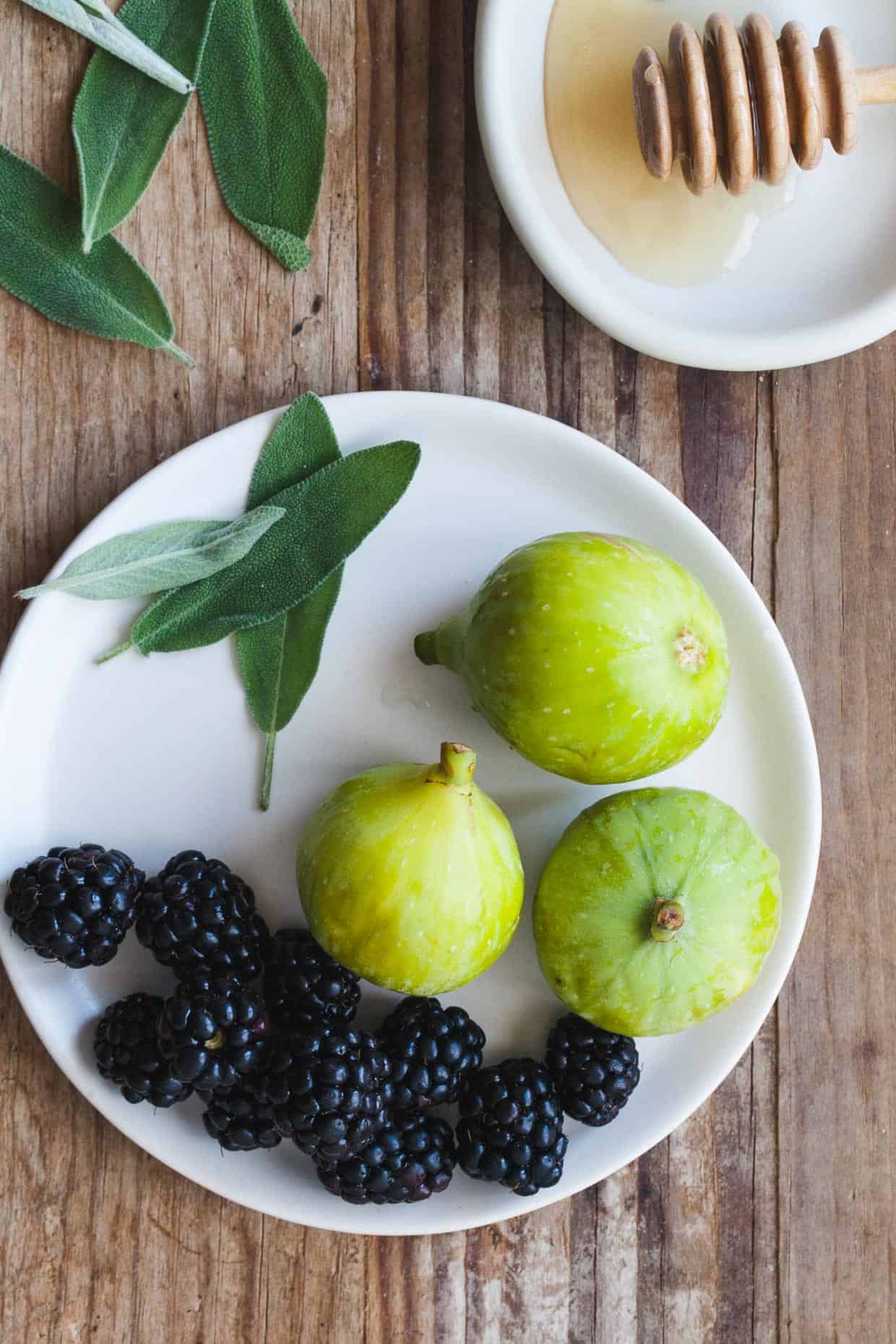 So I've been chewing on ice and nomming my way through multiple boxes of popsicles for breakfast, lunch, dinner, dessert, and midnight snack. This is not an exaggeration - after snapping pics, I ate five of these blackberry sage fig popsicles in a row.
As it turns out, even the cats love popsicles - always trying to sneak a lick when I turn away. Fending off hungry felines has become a necessary part of my popsicle routine.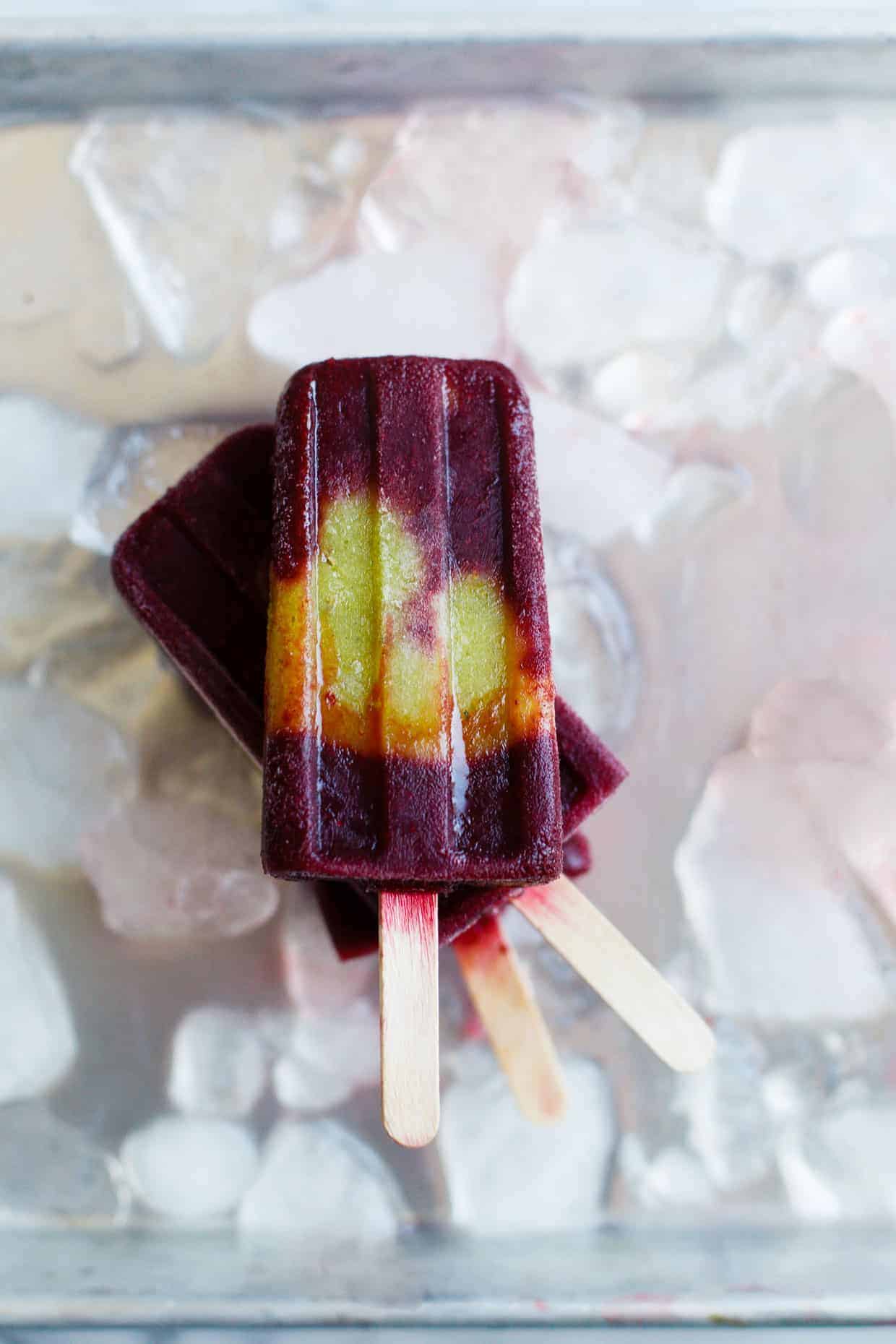 Earlier this week, Betty and Alanna came over to spend the day making hand pies - with the oven on for 6 straight hours. (Stay tuned for our epic picnic pie post!). We were so into pie-making that we barely noticed the house had trapped us in a sweaty hot embrace - until it came time to clean up and I wanted to crawl back into the freezer. A small price to pay for freshly baked pie though.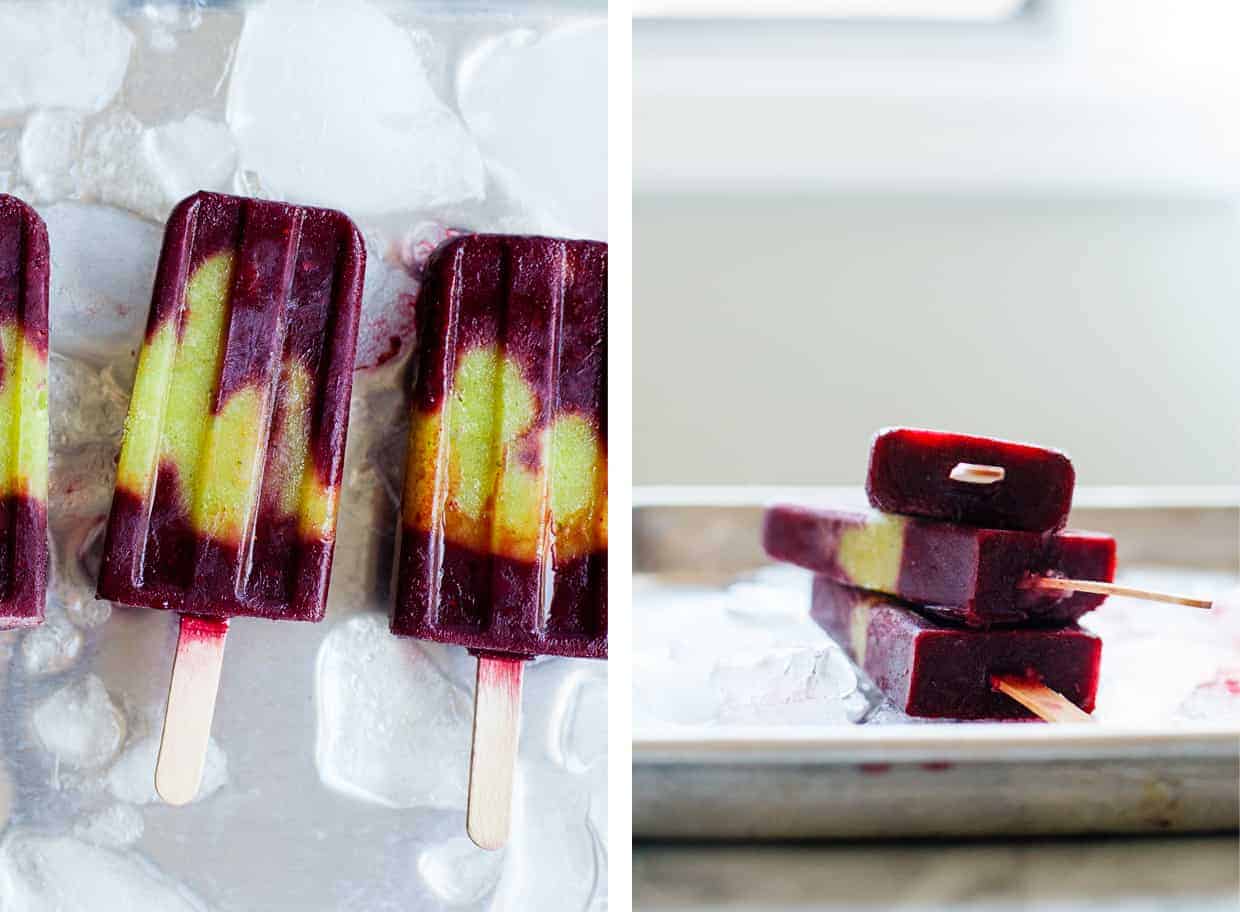 These deep magenta and green pops are the brainchild of three hungry ladies at the market. We grabbed a basket of the first-of-the-season green Kadota figs for a salad and I snatched up another basket for popsicles. Then we used popsicle week as an excuse to linger among the seasonal summer fruit brainstorming what to pair them with for just a little bit longer.
Both blackberries and figs offer a subtle sweetness that when mixed up with aromatic sage simple syrup make a vibrant grown-up popsicle. If you're like me, you'll eat no less than five in one sitting.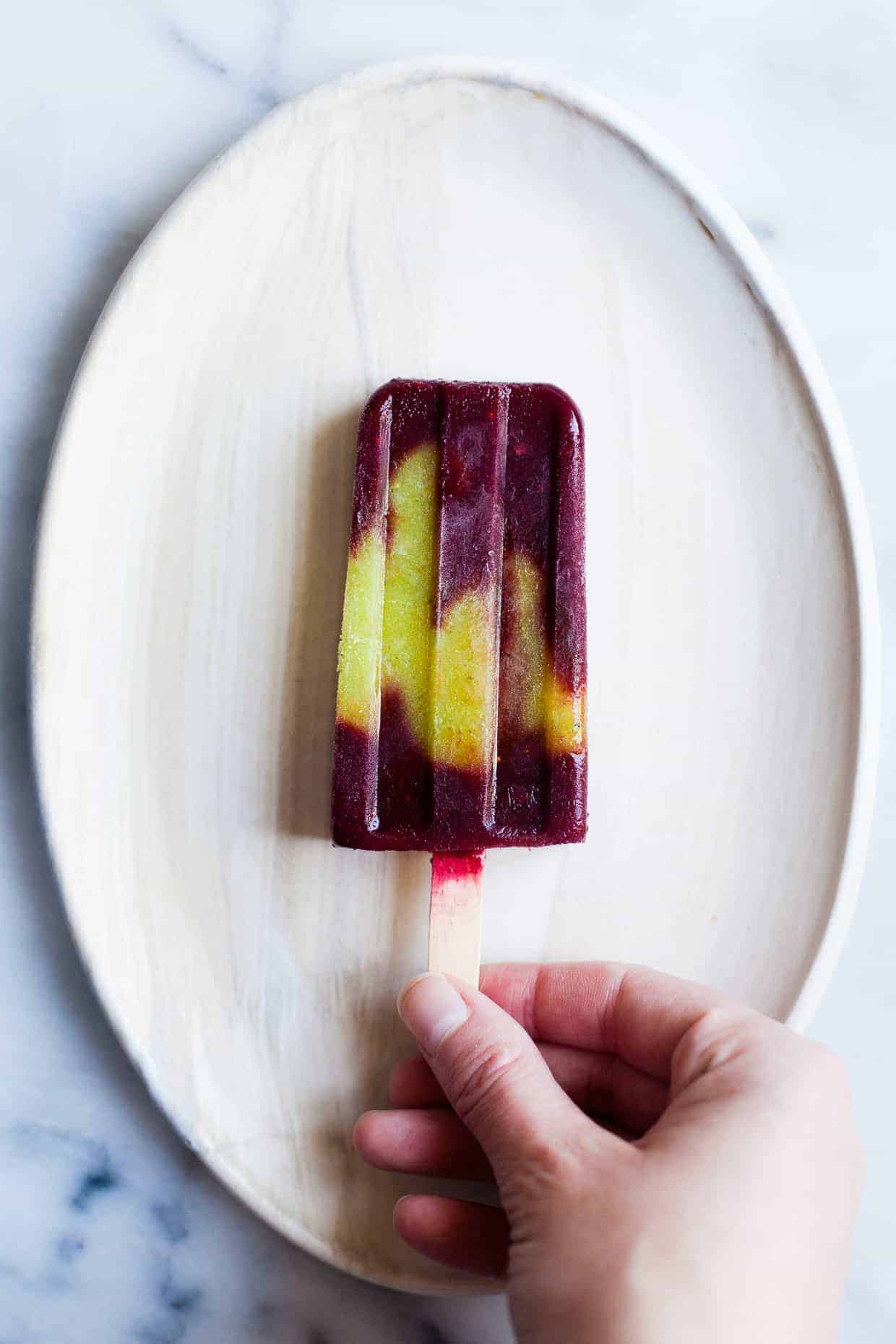 Added bonus: they look like Barney.
Triple bonus: Popsicle week!! Billy's rounding up all the popsicles going on this week from awesome bloggers around the web - be sure to head over Wit and Vinegar to get your popsicle on!
Thanks for reading Snixy Kitchen! To stay up on what's coming out of my kitchen, follow me on Facebook, Instagram, Twitter, Bloglovin', Pinterest, or subscribe via e-mail to get new recipes right to your inbox.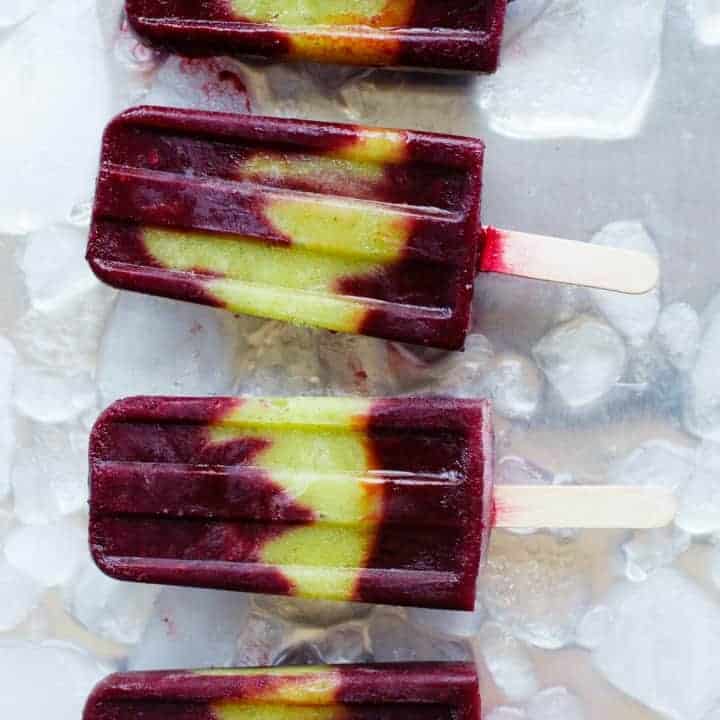 Blackberry Fig Sage Popsicles
Ingredients
⅔ cup water
½ cup sugar
2 tablespoons honey
30 sage leaves
1¼ cup blackberries
1 tablespoon lemon juice
¼ cup + 1 tablespoon coconut water
12 Kadota figs, tips removed
Instructions
Combine the water, sugar, honey, and sage in a small saucepan over medium-low heat. Cook, stirring occasionally, until the sugar dissolves and it just begins to simmer. Remove from heat, cover, and let steep for 20 minutes. Strain the sage leaves out of the simple syrup, reserving the leaves.
Add ½ of the simple syrup to blender with blackberries, lemon juice, coconut water, and 4-5 reserved sage leaves. Purée until smooth. Transfer to a spouted cup, like a glass measuring cup.
Give the blender a quick clean and add the remaining simple syrup, kadota figs, and 4-5 reserved sage leaves. Purée until smooth.
Pour about 1 tablespoon of the blackberry purée into each popsicle mold (about 1-inch high).
Divide the fig purée among the popsicle molds, leaving room for another layer of blackberry purée.
Divide remaining blackberry purée among the popsicle molds.
Place the lid over the mold and insert your popsicle sticks as straight at possible.
Freeze for 4-6 hours, or until frozen solid. For best results, freeze over night.
To help remove your popsicles from the mold, fill a large bowl with warm water and briefly dunk the bottom part of the mold in the bowl, or briefly run the bottom of the mold under warm water.