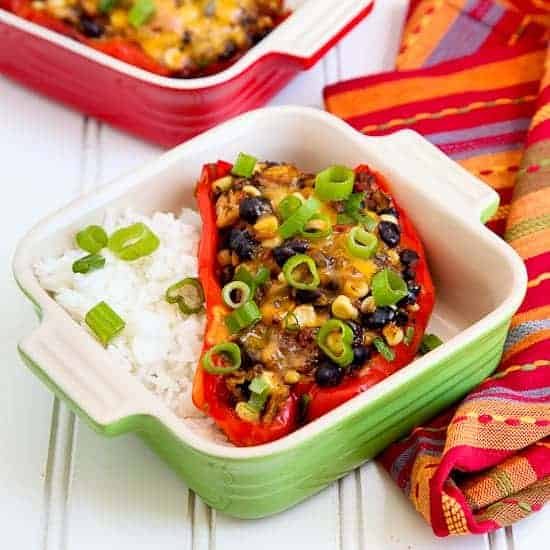 Everyone has a handful of those friends who you can fall out of touch with for months, but when you meet again, it's like no time has passed. These are the friends worth keeping around, and my pal Kira is one of these forever friends I don't see often enough. Two Wednesdays ago, I had the pleasure of spending a long overdue day with Kira and her boyfriend Chris as they passed through town. There was a time in our lives when we could slip through an arched opening in the bushes concealing a fallen fence board between our adjacent yards to meet up for mischief. Since then, a new family has moved in and patched the hole, leaving the hedges no choice but to grow over. The days of clowning around (quite literally) in Kira's backyard may be over, but our grown-up get-togethers are just as fun, only now we get to eat fancy food like chili stuffed peppers.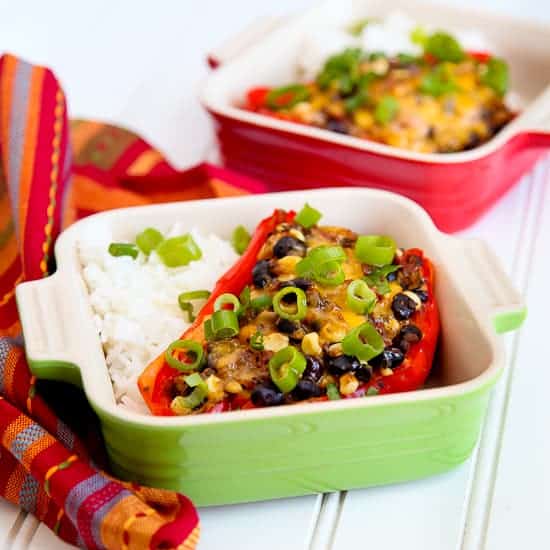 Their only request upon touching down at my apartment just before noon was a bagel and egg sandwich from the cafe down the street. Much to their dismay, breakfast comes off the menu at 11:00 on the dot. Somehow I convinced them I could fix up the sandwich they craved with a quick stop by the market, and shortly after, we were lugging two huge bags of fruits and veggies back up the hill to my house (who can resist organic strawberries for $2.49/lb?!). Chris ooed and ahhed over his ham and egg sandwich and agreed to stay for a home cooked dinner. It's highly probable the promise of another trip to the market where he could admire the local produce swayed his decision more than the sandwich I'd just plated for him. Even though my busy week kept me from planning ahead, the nice thing about my dad's new job is that he's just a phone call away from coming over. So when I realized at about 2pm that he'd probably love to see Kira, he had plenty of notice to make it happen.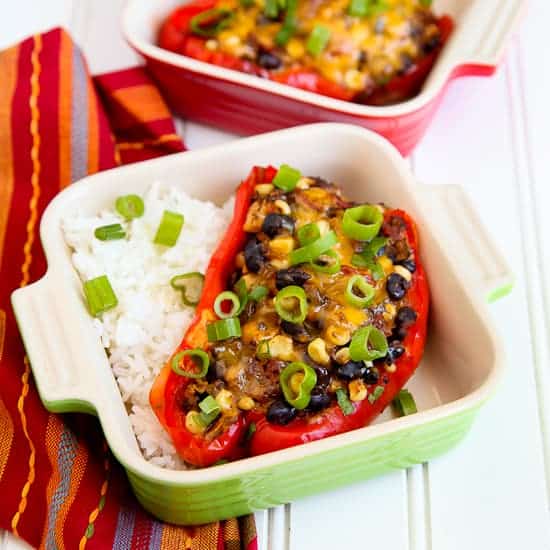 Adapted from my friend's recipe over at The Picky Eater, these black bean chili stuffed peppers are the perfect meal to share with family and friends at a backyard picnic table during a uniquely warm Bay Area summer sunset. They're warm enough to balance the evening cool and they take full advantage of seasonal summer sweet corn. Having made these stuffed peppers multiple times, I've found that the difference between delicious and out-of-this-world show-stopping depends on flavorful corn; the contrast between the spicy jalapeños and sweet corn will hook your taste buds. And, if you've got a miniature oven that can only hold a few peppers at a time like mine, then you can throw any leftover chili into a tortilla with some shredded cheese for super fast and addicting leftover lunches throughout the week. T
he only thing keeping me from making this recipe every week is the time it takes to prepare the veggies. Typically, my kitchen is much too pint-sized for more than one cook, but this dish came together significantly faster with Kira and I splitting the chopping duties. This time, we added chicken to the original recipe to appeal to my meat and potatoes lovin' dad, but I'm pretty sure no one (including him) would have noticed if it were missing. If not for the company, I know my dad's glad he came to taste these amazing healthy stuffed peppers. At his Father's Day meal exactly a week after our dinner with Kira and Chris, he reported that the black bean chili stuffed peppers were so tasty that he's gonna keep coming over each Wednesday as long as the food's good.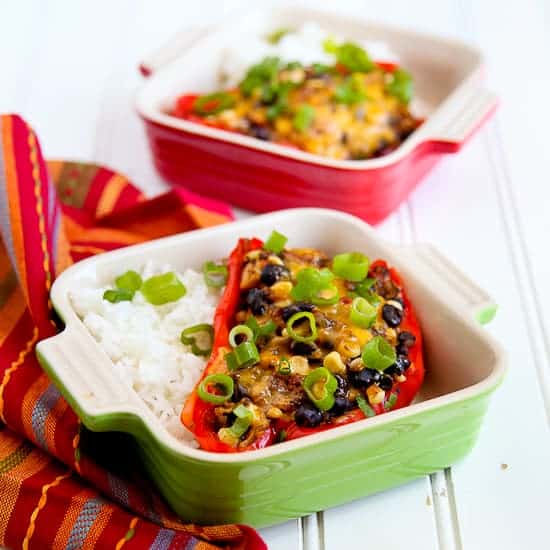 Black bean chili stuffed peppers (Slightly adapted from The Picky Eater)
Serves 4
1 teaspoon olive oil
1 medium yellow onion, finely chopped
3 cups cremini mushrooms, finely chopped
1 jalapeño pepper, minced
1 15-ounce can black beans, drained and rinsed
2 ears of sweet corn, cooked and cut off the cob
1 14.5-ounce can diced fire-roasted tomatoes
Optional: 1 large chicken breast, cooked with salt & pepper and ripped into bite-sized pieces
1 teaspoon smoked paprika
1 tablespoon chili powder
1 teaspoon cumin
1 teaspoon oregano
¼ teaspoon cayenne pepper
1 teaspoon salt
4 red bell peppers, sliced in half lengthwise and seeded
1 cup shredded cheddar cheese
5 green onions, sliced
Preheat the oven to 400ºF.
Heat the olive oil over medium heat in a large skillet. Add the onion and cook for a few minutes until it softens.
Add mushrooms and jalapeño and cook a few minutes until the mushrooms begin to sweat.
Add the black beans, corn, fire-roasted tomatoes, chicken, paprika, chili powder, cumin, oregano, cayenne, salt, and pepper (to taste). Cook until the tomato liquid cooks off and the chili thickens.
Fill each pepper with the black bean chili. Lay the stuffed peppers on a parchment-lined baking sheet and bake for about 35 minutes until the peppers are tender.
Divide the cheese among the peppers and bake for an additional 5 minutes until the cheese melts.
Top with sliced green onions and serve with white rice (optional)