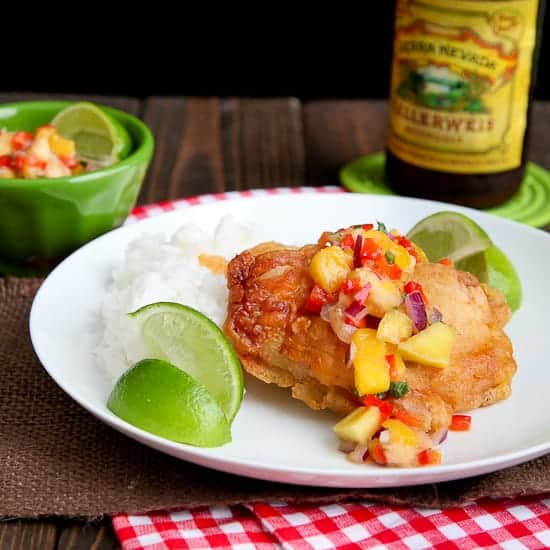 Sometimes worlds collide just so. Over Thanksgiving, my brother (who, you may recall, works for Sierra Nevada) sent me home with an assorted six-pack of Sierra Nevada beer to use in my cooking as part of their Flavor Up challenge (always lookin' out for his lil' sis'). Just this week, with my quals finally behind me, we made plans to join our newlywed friends Stacey and Cavan at their place in the city to cook dinner. That is, Stacey and I would cook and the boys would help eat. After spending three years of college working in the Sierra Nevada taproom, Stacey's got a nostalgic fondness for all things Sierra Nevada. As the nicest eatery in my hometown, I've frequented the taproom restaurant where, in addition to local seasonal ingredients, the chef uses beer in every dish. I couldn't have dreamed up a more ideal evening to take on the challenge of throwing Sierra Nevada into a recipe, and Stacey was on board, as evidenced by the multiple exclamation points at the end of her text after I first suggested the idea.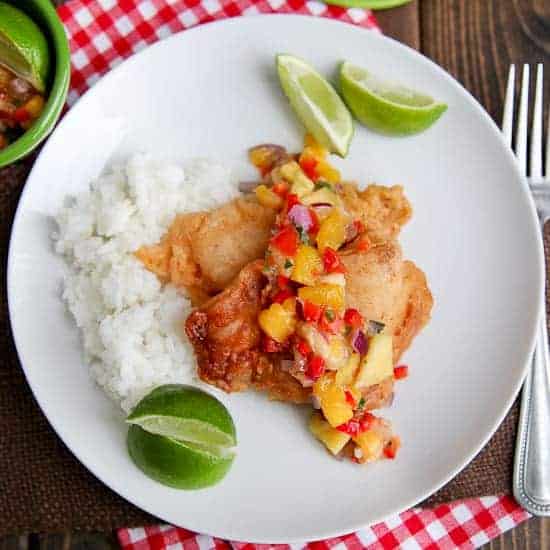 You know those people who've been in your life so long that they effectively become family? Over time, my parents have weaved our family up so closely with their friends' that my extended "family" is bursting at the seams (but there's always room for more!). Stacey is one of those people. Our dads go as far back as high school when it's certain they bonded over their mutual sarcasm (you know, the kind that makes both of their wives cover their faces in embarrassment when Tom & Mitch get together). We're so close that my parents and I joined her family as Stacey and Cavan unwrapped their mountain of wedding gifts not long ago. I spent the majority of the time dreaming up all the delicious food I could make with their new kitchen gadgets. Me = super jealous. (There's a joke in my family that my parents decided to get married when they realized they needed new pots and pans).
So now this happy couple has cabinets full of fancy new kitchen tools, but neither of them cook all that often (YET, I should say). For her bachelorette party, I interviewed Cav for a video dating game where we'd match his pre-recorded responses to Stacey's. When asked his favorite dish that Stacey cooks, he laughed, "Stacey knows why I'm laughing." He ultimately chose a bolognese dish, which he later admitted is also Stacey's favorite dish that he cooks, and in fact is really the only dish that either of them knows how to cook. Fast forward a week. In response to the same question, Stacey too laughed, "Cav knows why I'm laughing," she exclaimed and also chose the same pasta recipe. Their love was meant to be. When she could see the drool seeping out of my mouth as they packed up their new kitchen items, Stacey invited me over to help her break them in. Score!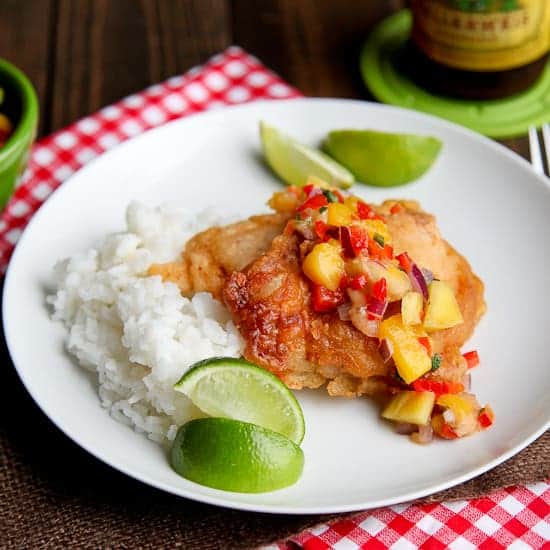 The night before the big date, I texted Stacey my plan to make beer battered fish to which she admitted that Cavan was super picky about fish, but he'd probably eat whatever I made. As a Maui native, I interpreted his pickiness as though he's a bit of a fish snob, turning his nose up at anything but perfectly cooked, high-quality fish. You always see the judges on Top Chef dock contestants for their overcooked or undercooked fish; what if my untested recipe didn't cook the fish exactly to Cav's liking?! With this new information, I flip-flopped between this fish dish and my trusty homemade pasta. On the one hand, I could tell Stacey wanted to cook with beer. On the other, I was terrified of being told to pack my knives. In the final hour, I decided to go for it and nervously told the guy at the fish market that I was cooking for someone from Maui and needed nothing but the best. As it turns out, Cavan is super picky about fish because he doesn't LIKE fish. I'm not sure which situation is scarier - cooking fish for someone who is use to first-rate fish or for someone who hates fish.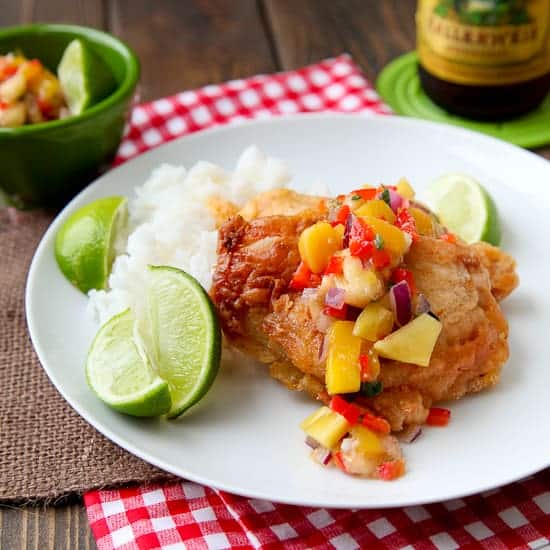 We charged forward with our original plan anyway and boy am I glad we did. Even Cavan decided he'd eat fish more often if it came like this. Dipped in beer and pan-fried. With hints of cloves and banana, Sierra Nevada's Kellerweis is the perfect complement to the spiced tropical flavors of this recipe. The splash of cloves in the batter and banana in the salsa draws out these notes, and makes your mouth dance with excitement. You won't be able to resist seconds even though you know you're full from the first serving. Bite into a light crispy exterior with moist buttery fish topped with spicy, minty, and fruity salsa. Yum. To find out other creative ways to use Sierra Nevada in your winter cooking, click here to see their Flavor Up recipes.
Kellerweis beer battered fish with banana mango salsa (Flavor Up with Sierra Nevada)
Serves 5-6
Beer battered fish
Two 12-oz bottles of Kellerweis beer
1¾ pounds mild white fish (we used pollock)
2¼ cups all-purpose flour, plus more for dredging the fish
1 teaspoon garlic powder, plus more for seasoning the fish
½ teaspoon of cayenne
½ teaspoon of paprika
¼ teaspoon cloves
Pinch of salt, plus more for seasoning the fish
¼ teaspoon pepper, plus more for seasoning the fish
Canola oil
Optional: Rice, for serving
Cut the fish into small pieces (about 2-4 inches long and 1½-3 inches wide, or to your preference)
Season both sides of the fish with salt, pepper, and garlic powder.
Whisk together the flour, garlic powder, cayenne, paprika, cloves, salt, and pepper.
Add the beer and mix until completely combined.
Heat about ½ an inch of oil in a large skillet over medium high heat.
Dredge each piece of fish in flour then dip in the beer batter to coat. Transfer to the heated skillet in batches and cook for 3-4 minutes on each side, until golden brown and crispy.
Transfer to a plate covered in a paper towel to drain.
Serve with banana mango salsa, lime wedges, and rice.
Banana mango salsa
1½ large mangoes, chopped into ¼-inch pieces
2 medium firm bananas, sliced into thin rounds and then quartered
½ jalapeno, minced
1 small red bell pepper, diced
½ small red onion, minced
1 teaspoon mint, minced
Juice from 4 limes, plus 2 more limes for serving
Salt and pepper, to taste
Combine all the fruit and veggies in a medium bowl.

Toss with mint, lime juice, salt, and pepper.

Serve on top of the beer battered fish with lime wedges.