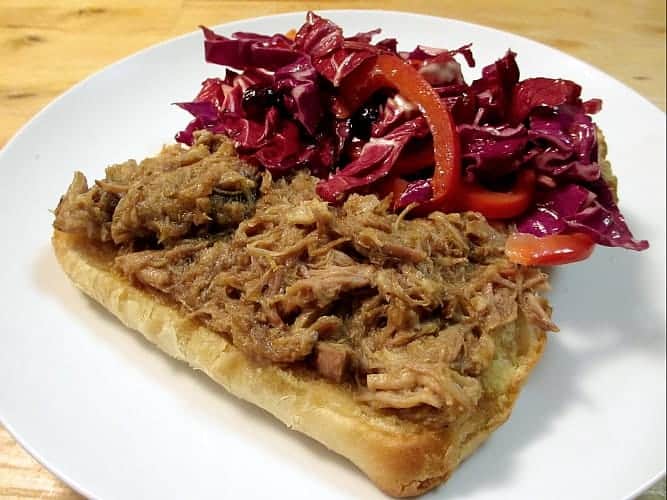 I've been couponing for the past year and a half (thanks to Margot:), and will eventually share some of my tips and finds. My most recent big bargain is the crockpot I got for free from CVS on black friday (yes, free!). My mom uses her crockpot all the time, and I aspire to create just as many delicious one-pot dishes as she has. My first adventure in one-pot dishes taught me that I shouldn't put the apples and potatoes in at the same time as the beef chuck or it will turn into baby food (I blame a recipe for that one). My second adventure taught me that my crockpot gets much hotter than most crockpot recipes anticipate, and that I shouldn't put the BBQ sauce on the beef brisket until the very end or it will burn into a crispy inedible lump. This third attempt was a big success, and my faith in one-pot meals has been restored. Although you could make your own BBQ sauce, I used bottle of Sierra Nevada BBQ Sauce I gave Lucas for Christmas to go with his cookbook and grill tools. Unfortunately, I think you can only buy it at the brewery in Chico (at least my googling attempts have been unfruitful).
In addition to couponing, I also meal plan. I spend Sundays planning our week's worth of breakfast, lunch, and dinner meals, which allows me to search for the appropriate coupons and use leftover ingredients from prior meals. This strategy saves me so much time during the week because I never have to think about what I'm going to make for dinner at the last minute. This week, I had leftover cabbage from the shrimp tacos with spicy cabbage slaw that I wanted to use. I adapted this slaw recipe from Bon Appétit, and it paired perfectly with the pulled pork sandwiches. If eaten alone, though, I think I would have preferred to use the savoy cabbage recommended in the original recipe to eliminate some of the bitterness. I lured Chuy and Angi over for dinner by promising playtime with the cats, Artichoke & Aioli, and the sandwiches got their seal of approval.
BBQ pulled pork sandwiches with blood orange slaw
BBQ pulled pork sandwiches
Serves 5 or 6
1 ½ pounds of pork butt
1 bottle of ginger beer
1 bottle of your favorite BBQ sauce
5 or 6 sandwich rolls, toasted (my preferred brand is Columbo)
Put pork butt and ginger beer in crockpot on low heat until cook through and pork shreds with a wooden spoon (about 5 hours for my crockpot)
Turn to "warm" setting until ready to serve. About 30 minutes before serving, add BBQ sauce to taste and heat on low.
Serve on toasted sandwich roll with slaw (below)
Blood orange slaw (Adapted from Bon Appétit)
12 tablespoons fresh blood orange juice
1 ½ teaspoons rice vinegar
1 teaspoon honey
¼ cup olive oil
¼ cup mayonnaise
1 ½ tablespoons shallot, finely chopped
2 ½ cups red cabbage, shredded
2 ½ cups of radicchio, shredded
1 large red bell pepper, thinly sliced
½ cup dried cranberries
Kosher salt and freshly ground pepper, to taste
Whisk juice, vinegar, and honey in bowl. Whisk in oil, mayonnaise, and shallot. Season with salt and pepper, to taste. Chill covered 2 hours.
Mix cabbage, radicchio, and bell pepper in large bowl. Toss vegetables in dressing. Season with salt and pepper, to taste. Sprinkle with dried cranberries.
Serve on pulled pork sandwich.