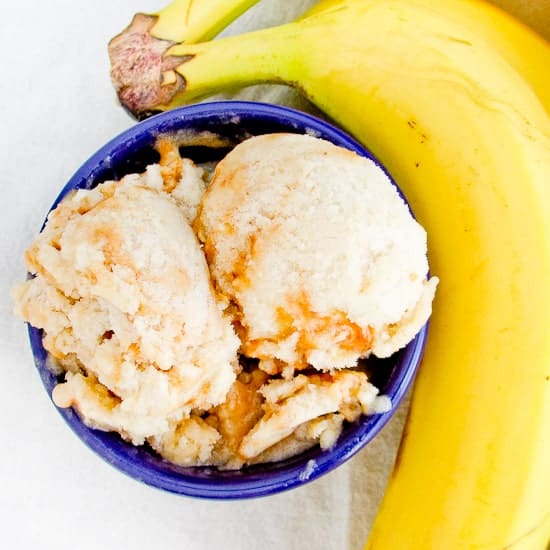 I recently read a blog by a woman whose philosophy on food was that she only eats what she wants, which turns out to be mostly raw and vegan. I thought about this notion and came to the conclusion that if I only ate what I want, I would weigh a million pounds. I want sweets. All sweets, all the time. I don't know that I've ever reached a point where I had eaten too many sweets. I could eat dessert three meals a day and be totally satisfied (and malnourished). Rather than stuffing my face with sugary processed ice cream, tonight I made myself some banana's only ice cream. Well, it was banana's only until I had the even-more brilliant idea of swirling in the leftover caramel from my apple pie puffs. Now I call it "two ingredient banana caramel swirl ice cream," which might be a slight misnomer because, in fact, I used more than one ingredient to make the caramel (but you should have some leftover from making the apple pie puffs too, right? You did make the apple pie puffs, didn't you?). The best part is that this ice cream is so very easy  to make that it'll blow your mind - you don't even need an ice cream maker (an ice cream maker attachment is added to the list of kitchen gadgets I dream of owning).
Even though I mixed in the caramel sauce, I still don't feel one bit guilty about eating this frozen treat and you shouldn't either - it's only about 150 calories a serving (cut that down to about 90 calories if you eliminate the caramel), which is WAYYYYYYY better than regular store-bought ice cream. Plus, I don't get a stomach ache like I do after eating creamy ice cream (I'm slightly lactose intolerant, but I just can't resist a bowl of rainbow chip). When making this recipe the past, I've added chocolate chips instead of caramel (crazy for someone who hates chocolate, I know, but they taste okay to me with the bananas) or even just left it banana's only. My mom added peanut butter once and reported that it was super tasty; I imagine the peanut butter might cut the sweetness for those of you who can't handle a sugar rush.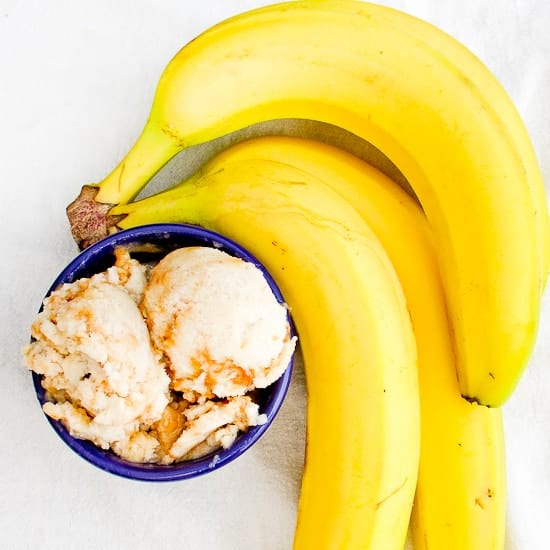 It's so delicious even kitties dream about getting a bite.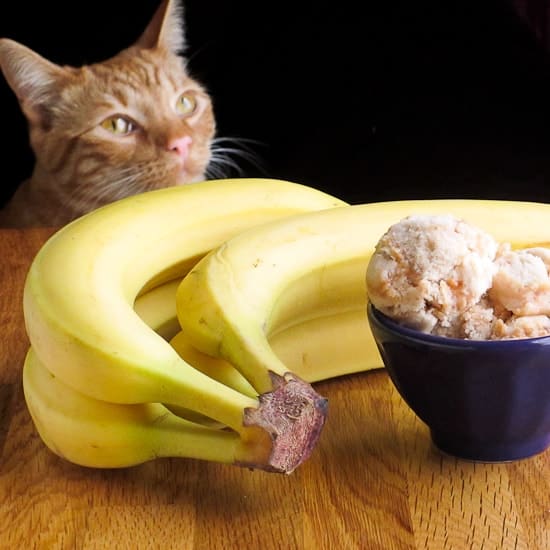 Two ingredient banana caramel swirl ice cream
Makes 4-5 servings
 4 bananas
Optional: caramel sauce or your other favorite additive such as chocolate chips or peanut butter (recipe for caramel sauce here)
Slice bananas into ¼-inch thick rounds and line on a cookie sheet.
Put cookie sheet with bananas in the freezer for 2-3 hours, until frozen solid.
Toss the frozen banana slices into a food processor and process until creamy, stopping to mix around with a wooden spoon occasionally. First it's going to turn to a coarse meal, and you're going to wonder if it'll ever turn into ice cream, but just keep at it (maybe around 5-10 minutes), continuing to push it around with a spoon. Eventually, it'll turn into a white fluffy creamy delicious frozen yogurt looking ice cream.
Optional: add caramel sauce and stir just to swirl it around, but not too much.
You can enjoy the fruits of your labor (pun intended) now and it'll be much like soft-serve ice cream or frozen yogurt, or, as I prefer, put it back in the freezer in a tupperware for a few hours until it's thick like ice cream.